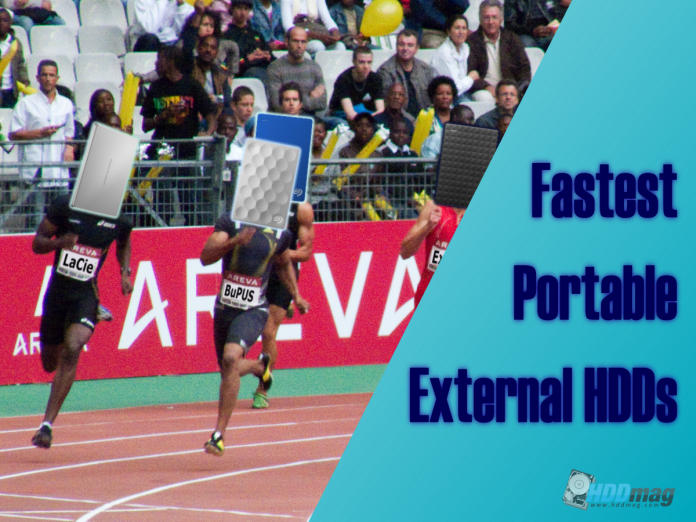 Portable hard drive capacity is a feature that you can specify yourself from the given HDD lineup, depending on your needs and budget. Additional features, such as backup software, encryption features, and ruggedized exteriors can drastically change the value of a drive, alongside its price.
However, one of the more important features of these hard drives – data transfer speeds – is often swept under the rug. This is why we've compiled a short list of the currently fastest portable hard drives – to give you a perspective on which drive might grant you the highest possible performance.
Hard drive performance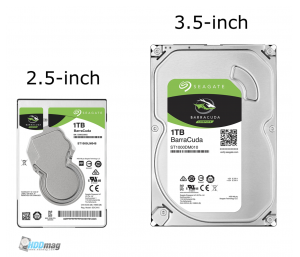 The main specifications of a hard drive that affect its real-life transfer speeds are its spindle speed and form factor. In order to make them smaller, the vast majority of portable hard drive manufacturers use smaller, 2.5-inch hard drives in their enclosures, most of which are also slower 5400RPM drives. Using the less storage-optimized USB connection also swallows a few megabytes. All of these factors combined make portable hard drives to be slower than most stationary hard drive bays or RAID systems with 7200RPM drives, not to mention SSDs.
Still, portable drive speeds can be compared to one another, although the speed difference between most hard drives is quite small and can change between different systems. More importantly, some inconsistencies in portable hard drive manufacturing may change these comparisons completely as slightly different internal hard drive models can be used in the same portable hard drive enclosure. Overall, just take the precise benchmark numbers with a grain of salt and know that all hard drive speeds are subject to change because of different and newer drive models.
Fastest portable external hard drives
As we mentioned before, any new drive model in each of the following drive series can change this top list drastically. Just know that any of these drives will deliver the highest single (non-RAID), portable HDD performance currently available. For more portable hard drive options check out our portable hard drive buying guide or our fastest SSD list of the fastest SSDs.
The fastest portable hard drive
1. Seagate Backup Plus Ultra Slim review
On most reviewer and benchmarking sites, the Backup Plus Ultra Slim pops up as the fastest portable hard drive. This drive is slightly more premium version of the regular Backup Plus Slim and, as the name suggests, also a bit thinner. You'll often see 125-135MB/s sequential benchmarks of these drives which makes it the fastest among portable hard drives. Although it costs a bit more than most other quality portable hard drives, it also delivers a bit more and gives you, at the very least, that slight performance edge.
The Ultra Slim is available only in 1TB and 2TB capacities but these will fit most people's needs. As with most external hard drives, the Ultra Slim uses the USB 3.0 connection but comes with a slightly shorter 2-year warranty. The drive's dimensions are 4.5 x 3 x 0.38 in (11.4 x 7.6 x 0.96 cm) – less than a centimeter thick. Ultra Slim drives are available in silver and gold colors.
| | |
| --- | --- |
| Capacity | 1TB / 2TB |
| Read/Write | ~130MB/s (5400RPM) |
| Interface | USB 3.0 |
| Size | 4.5 x 3 x 0.38 inches / 11.4 x 7.6 x 0.96 cm |
| Weight | 4.77 oz / 0.135 kg |
| Warranty | 2 years |
---
The most popular portable hard drive for a reason
2. Seagate Backup Plus Slim review
Undoubtedly, the most popular portable hard drive is Seagate Backup Plus Slim – Ultra Slim's big brother. Although bigger, this drive fails to achieve the superb performance of its thinner counterpart but reaches one of the highest data transfer speeds anyway – 115-125MB/s sequential read and write.
Available in 1TB, 2TB, 4TB, and 5TB capacities, the Backup Plus Slim manages to also be spacious and affordable. As with most other drives, it uses USB 3.0 connectivity and comes with an average 2-year warranty. The Backup Plus Slim is simply the best middle-ground drive for people who aren't looking for anything specific.
| | |
| --- | --- |
| Capacity | 1TB / 2TB / 4TB / 5TB |
| Read/Write | ~120MB/s (5400RPM) |
| Interface | USB 3.0 |
| Size | 4.53 x 0.47-0.82 x 3.1 inches / 11.5 x 1.2-2.1 x 7.8 cm |
| Weight | 5.64-8.82 oz / 0.16-0.25 kg (depends on model capacity) |
| Warranty | 2 years |
---
One of the poshest portable hard drives that's also fast
3. LaCie Porsche Design Mobile review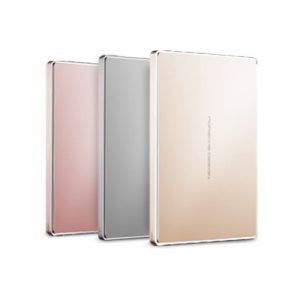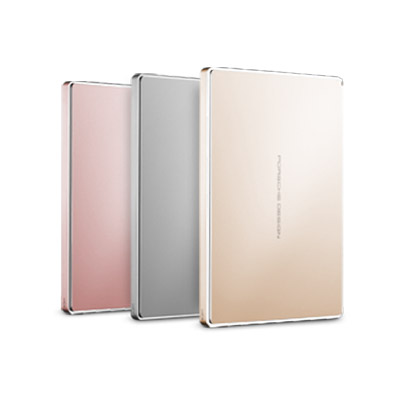 To many, the first thing associated with classy design is cars, specifically – ones from premium manufacturers like Ferrari or Porsche. One of these companies, namely Porsche, has helped design a portable hard drive for LaCie, hence the aptly named LaCie Porsche Design Mobile. As you might expect, such outstanding exterior should contain a worthy hard drive and it does – the drive inside has reached 125-130MB/s on most benchmarks, though many results are inconsistent.
At the same time, don't expect to get this drive for cheap as all of its features will cost you an arm and a leg – Porsche Design Mobile costs almost twice as much as most other portable hard drives. This drive is available in 1TB, 2TB, 4TB, and 5TB capacities, with the latter two being noticeably thicker than the former (0.4 vs 0.8 inches / 1 vs 2 cm).
The drive also utilizes USB-C connectivity and comes with both a USB-C to USB-C cable for MacBooks and a USB-C to USB-A cable for most other devices with the regular USB port. LaCie Porsche Design Mobile comes with a somewhat disappointing 2-year warranty, considering the high price. Overall, this is a hard drive for people with plenty of money to spare but, regardless of whether we'd recommend it, is one of the fastest portable hard drives.
| | |
| --- | --- |
| Capacity | 1TB / 2TB / 4TB / 5TB |
| Read/Write | ~125MB/s (5400RPM) |
| Interface | USB 3.0 (USB-C) |
| Size | 5 × 3.3 × 0.4-0.8 inches / 12.8 × 8.4 × 1-2.1 cm |
| Weight | 6.8-11.1 oz / 0.19-0.32 kg (4TB and 5TB models are larger) |
| Warranty | 2 years |
---
Cheapest of the speedy portable HDDs
4. Seagate Expansion review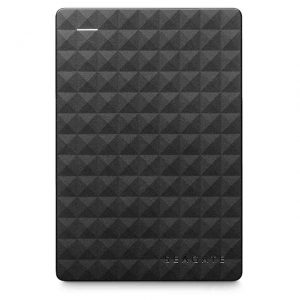 In a weird twist, what is to be considered Seagate's budget portable hard drive turned out to be one of the fastest reliable external hard drives on the market. With 115-120MB/s sequential read/write benchmarks, this relatively cheap drive manages to outperform most premium and rugged hard drives that often cost some $10-20 more.
Other than the low price and high performance, there's not much to this drive. The Expansion comes in 1TB, 2TB, 3TB, and 4TB capacities, all of which utilize the USB 3.0 connection but come with a very short 1-year warranty. It has nothing to offer in terms of additional encryption or backup software and is simply, as the name would suggest, a storage expansion to your system. Still, if you know what software you need and simply want a bare portable hard drive with decent performance, Seagate Expansion is the way to go.
| | |
| --- | --- |
| Capacity | 1TB / 2TB / 3TB / 4TB |
| Read/Write | ~115MB/s (5400RPM) |
| Interface | USB 3.0 |
| Size | 4.8 x 0.6-0.82 x 3.2 inches / 12.2 x 1.5-2.1 x 8.1 cm |
| Weight | 6.4-8.3 oz / 0.18-0.24 kg (4TB version is larger) |
| Warranty | 1 year |
---
Great design for an affordable price + good performance
5. WD My Passport review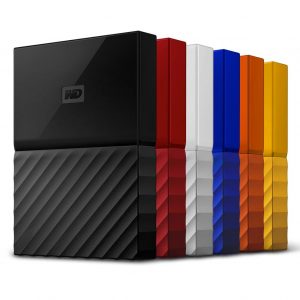 You've probably noticed how this list has been dominated by Seagate drives thus far, so we decided to add the fastest and most reliable drives from their main competitor – Western Digital. My Passport drives are pretty fast, reaching 110-115MB/s sequential read/write speeds in most benchmarks. Though slower then the aforementioned competition, it's slightly better received by its customers because of the more durable WD drives.
What may be the more appealing part is the polished design with multiple color and capacity options – 1TB, 2TB, 3TB, and 4TB models are available in black, red, blue, orange, yellow and white cases. My Passport drives come with a 2-year warranty and use the regular USB 3.0 connection for data transfer. The 1TB model is 0.2 inches (0.5cm) thinner than the other capacities, making it even more compact. Overall, this is a great drive with a well-rounded software package that also delivers quite decent performance.