XBLA has been one of the most creative and lucrative decisions made by Microsoft – an online marketplace that allows gamers to download demos, and then purchase, video games that are usually exclusive to the Xbox 360 console. Along with the greatest games available on XBLA, you'll also find that there are a few shining examples of the worst purchases one could make – summarized here for review and consideration. Also check out The Top 10 Best Xbox Live Arcade (XBLA) Games.
Wits & Wagers : The questions are arcane and there is no possible way that most people would even be able to hazard an educated guess as to many of the anwers to this annoying trivia game. All questions are numerical in nature and a gimmicky betting system on the anwers adds no fun to the mix. Silver Lining? You can wiggle your analog stick to make your characters perform silly actions, the funniest part of the game.
Outpost Kaloki X : An early release on XBLA, Outpost Kaloki X is a very stripped down management simulation set in a science fiction universe – and is far too basic to hold the attention of any experienced gamers. May be suitable for children or for people looking to kill an hour or two – but certainly not a very compelling or unique game.
Texas Hold 'Em : Uninspired, repetetive, and low quality. Casino games rarely do well on consoles, and this barebones version lacks any sense of accomplishment or suspense. Why not load PokerStars or PartyPoker and enter a freeroll?
Spongebob Squarepants : Underpants Slam! : While it may entertain the youngsters very briefly, this game is essentially a strange version of the early arcade classic "Mario Bros", complete with a sports-announcing shark and a lack of real depth in gameplay features. A glorified flash game, and a waste of Microsoft Points.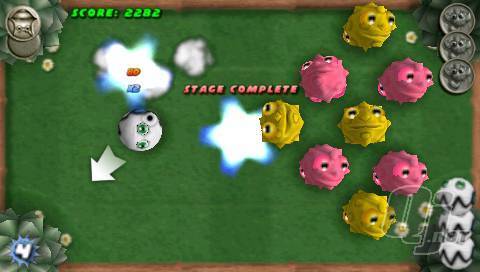 Bliss Island : While minigames are inexpensive and offer a great value for casual gamers on XBLA, Bliss Island poses frustrating control issues and combines poor character design with a very high challenge rating that does not mesh at all with it's obvious target demographic – elementary schoolchildren. Unimaginative and very little variety in minigames.
Rocky & Bullwinkle : Over 100 mediocre, flash type games packed into an unfunny bundle. Terrible programming, zero fun factor, and extremely overpriced. Not at all reminiscent of the cartoon series with regards to humour.
Double D Dodgeball : It becomes painstakingly obvious after sitting for an hour online, waiting for players to join a game, that the game is horrible. Laughable A.I and a heft price tag make this a definite game to avoid.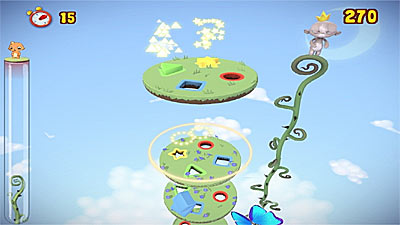 RooGoo : Perhaps one of the least inventive games posted to XBLA – RooGoo involves attempting to move a series of discs to allow the descending shape to fall through. This Fischer-Price approach to minigames is tedious, barely qualifying as a source of entertainment at all. With the depth of an Atari 2600 program without any of the fun factor, RooGoo is surely near the bottom of the heap.
Yie-Ar Kung Fu : Download the demo and play it. No further evidence will likely be required.
Yaris : So bad that many reviewers feel ripped off at the low, low price of "Free", Yaris is an exercise in patience. Piloting a Toyota Yaris through poorly rendered tubes brings back memories of bargain basement Playstation 1 games. The only game thus far to actually have been removed from XBLA, though not for it's obvious poor quality.
That about wraps up the very worst of the worst – and with Microsoft eyeing a new delisting program, time may be short to snap up these soon-to-be-rare gems!