There are tons of portable hard drives out there that are made up of a hard drive and a regular plastic box around it. This might not be enough for some people who want a more stylish look to their gadgets, which is where LaCie Porsche Design portable hard drive comes in.
This drive, although minimalistic, comes in posh, metallic case finishes and definitely stands out among its competition in terms of aesthetics. But is it as beautiful on the inside as it is on the outside?
Specs
PROS
Up to 5TB capacity
A bit faster than most other portable hard drives (125-130MB/s)
Stylish design
CONS
Quite expensive relatively to other portable hard drives
Reportedly sharp case edges and faulty USB-C cables
Breakdown of Features
Starting with the basics, the LaCie Porsche Design Mobile is available in four capacities – 1TB, 2TB, 4TB, and 5TB and uses the USB 3.0 (USB 3.1 Gen 1) 5Gbps interface. Although the drive itself can connect to devices via a USB-C connection, this doesn't make data transfer any quicker but simply allows you to connect your drive to different devices, including some newer MacBooks and smartphones (USB-C is basically just the plug). The drive comes with both USB-C to USB-C and USB-C to USB-A cables, so don't worry about not having the right connection or having to buy extra cables for this drive. The drive has a bit shorter but still reasonable 2-year warranty.
As with most other HDDs, LaCie doesn't boast any estimated read/write speed values, as they depend on the way the drive is used. However, most reviewers who've benchmarked the drive have found it to be slightly faster than most of its competitors, with read/write speeds around 125-130MB/s.
What LaCie has also kept to itself is the fact that the HDDs inside the Porsche Design Mobile case use SMR (Shingled Magnetic Recording) to achieve higher capacities per volume. This might be because the write speeds of such drives reduce over time since it's harder to overwrite existing data as the structure of the drive's surface changes after the first write. Whether the drive inside the product actually features SMR is subject to change since manufacturers often times change the innards of their portable drives, plus, the only real benefit you gain from it is before your eyes – the capacity.
LaCie Porsche Design Mobile comes only with the LaCie Backup Assistant software but you can also download the LaCie Private-Public encryption tool. There's nothing more to the drive aside from the stylish design, of course, that we'll discuss below. Porsche Design Mobile might be too costly for many users, coming in at around 4.5-8.5 cents per GB (most regular portable drives go for around 3-6 cents per GB), which is quite a lot even for the special, posh design and the USB-C connectivity.
Design and Alternatives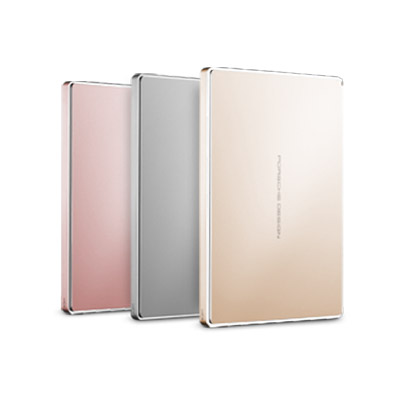 The most notable feature of the LaCie Porsche Design is its dashing looks. This portable hard drive is available in a stylish aluminum case with a silver finish. The 2TB version is also available in rose gold and gold colors, which lets you match your drive to the color of your MacBook. The case itself is pretty simplistic, featuring an outcropping around its sides and not much else. The 4TB and 5TB models are twice as thick as their smaller counterparts, making them less appealing if you're looking for a very portable hard drive.
We focused on design when picking the closest alternatives to Porsche Design Mobile and Seagate Backup Plus Ultra Slim and G-Tech G-Drive Mobile seemed to have a similar aesthetics and performance. If you want to check out more alternatives, you can go through our list of the best portable hard drives.
Backup Plus Ultra Slim is available in gold and silver color schemes and an interesting design. Although the drive inside the case is 5400RPM, its transfer speeds surpass almost all of its competitors in most benchmarks (120-128MB/s sequential read/write). However, the capacities available are relatively small (although 1-2TB will fit most people's needs) and connecting this drive to USB-C devices would require buying a separate USB Micro B 3.0 to USB-C cable. Overall, Seagate Backup Plus Ultra Slim is a more average drive in all metrics, making it somewhat of a poor man's Porsche Design.
G-Technology G-Drive Mobile, however, is a much closer competitor to LaCie Porsche Design Mobile since it features USB-C connectivity and 7200RPM drive speeds right out of the box. Although the design of the G-Drive is a bit more simplistic than LaCie's, you will have a hard time trying to find sharp edges on its case. However, the G-Drive is on average $10-20 more expensive than Porsche Design, yet offers similar features and performance. It might be the more practical choice if 1TB of storage is enough for you but the higher price for basically the same value makes the G-Drive much less appealing.
User Experience
Most people who've purchased LaCie Porsche Design Mobile have been happy with the product as it has worked for them as intended and has been quite fast at transferring data. However, there's a lot more negative reviews with this one than most other portable hard drives. The main concerns are the added USB-C cables often times not working at all, the sharp edges of the drive case, and the unresponsive customer service.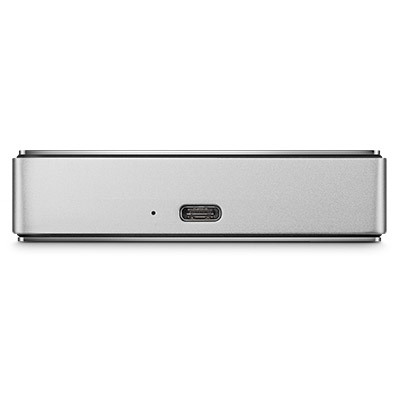 The USB-C to USB-C cables are apparently impossible to return as LaCie/Seagate will only exchange entire products i.e. the entire package or nothing at all. That is if you can even get in touch with the customer service, as many people with faulty drives or cables have not received any answer after contacting LaCie support. Also, some users have accidentally cut themselves with the sharp edges of Porsche Design's metallic case. Since the case is made from aluminum, this is a valid concern for any user, cut or not, making this basically an oversight by the manufacturer.
Other reviewers, in most cases, acknowledge the drive's high performance, capacity options, and of course the stylish design. Their main concern has also been the price of Porsche Design Mobile which may be up to 1.5 times higher than most other portable hard drive's, depending on the retailer.
What's in the Box
The package will include one LaCie Porsche Design Mobile portable hard drive of your chosen capacity, a USB-C to USB-C cable, a USB-C to USB-A cable (no need to buy extra cables for computers other than MacBooks), and a quick install guide. You should also be able to find the LaCie Backup Assistant installation file on the drive.
Verdict
LaCie Porsche Design Mobile definitely stands out among other portable hard drives with its exquisite looks and slightly higher performance. While its performance may fall over time or simply be different because of different systems the drive is used on, it's still good to know that the drive will most likely transfer your data at least a bit faster than other drives and won't trade looks for performance.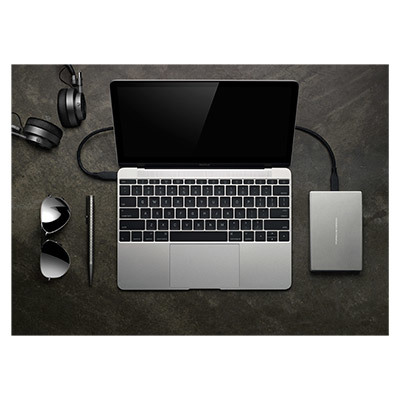 However, the number of people who've run into issues with this drive is concerning, even though most of them involve quality of life issues. Then again, cutting your hands while picking up a portable hard drive might be more than that, alongside the bad customer support that might not even answer to your requests or questions.
So, if you're willing to pay for the dashing looks of LaCie Porsche and don't mind some minor issues along the way (like the USB-C cable not working), this drive would be well-suited for your needs, as it is fast, spacious, supports USB-C connectivity, and above all – features a unique and eye-catching design.