The classic internal hard drive has always been unbeaten when it comes to getting the largest capacities at considerable prices. Nonetheless, people become nomads even while working and their data has to come with them. As a result, they are looking for ways to carry a portable storage for their files, documents, presentations, and media files among other forms of data. Portable hard drives never seem to fail the expectations of people now that they are also available at up to four-terabyte capacity. Simply imagine how long you can use such a hard drive for your work and personal needs.
The selection of the best portable hard drives has to be stringent since not all expensive storage devices from big names in the industry are worth the buy. It is also still necessary to take your preferences into consideration.
Table of contents
Main Features of External Portable Hard Drives
A hard drive has the big responsibility of keeping your files intact since everything you do on your computer is kept in said storage. Even your operating system is kept on a hard drive. This is the reason why you have to take care of your hard drive. Once it gets damaged, you may lose everything, which is why a backup system is always recommended.
The ability of a hard drive to store files is dependent on its capacity. Hard drive capacity is measured in terabytes (TB), gigabytes (GB), and megabytes (MB). 1TB=1000GB and 1GB=1000MB. Consumer-grade hard drives can offer as much as ten terabytes nowadays, with 2-4TB being the most common capacity on the market. If you examine a hard drive's construction, you will find rotating platters where the data is stored virtually. These platters have a magnetic surface that saves data within microscopic, magnetically charged sectors of the surface.
Before proceeding to our selection of the best portable hard drives, you have to be aware of the different types of the storage. By learning the basics, you will not get confused when computer terms are used by a sales clerk explaining the features of a portable hard drive. Understanding this will also give you the advantage of evaluating hard drives more efficiently and make it easier to find things you'd prefer in a drive.
SSD vs HDD
The main difference between different portable storage devices is whether it is a Hard Disk Drive or a Solid State Drive. The former saves information on a spinning, metallic platter, akin to old vinyl records. The latter saves information digitally, in tiny electronic chips, similar to one of those tiny flash drives. The main differences in functionality are capacity, speed, and price.
HDDs usually provide more capacity, have slower data transfer speeds, but cost a lot less than SSDs. This is why HDDs are usually used for smaller media files that don't have long loading times, to begin with, so the slower transfer speeds don't matter as much and you're left with a lot of capacity for less money.
SSDs are accordingly smaller in capacity, provide much faster transfer speeds and are accordingly more expensive. SSDs are mostly used to store more demanding media files (like 4k movies, for example), programs, games, and even operating systems because the faster transfer speeds shorten loading times for all demanding software by a lot. The tradeoff of this, of course, is the price. However, scientific progress with HDDs is slowly coming to its limits, while SSDs keep on being improved and optimized. So after 10 years, HDDs may be inferior in all metrics and may become a relic, similar to what floppy disks are today.
Portable Hard Drive Interfaces
Given below are the most popular types of hard drives, in terms of interface (before evaluating your personal pros and cons of each interface, make sure you have a port of that type in the first place):
USB
We'll start with the interface that you probably already recognize. Pretty much any computer has at least a couple USB ports, making a USB-based portable drive appealing. The three main versions of USB are 1.0 (12Mb/s), 2.0 (480Mb/s), and 3.0 (5 or 10Gb/s), all of which are compatible with one another. 1.0 is pretty much a relic from the nineties, 2.0 is still very common, however, most modern devices have a USB 3.0 (5Gb/s) or 3.1 Gen 2 (10Gb/s) ports.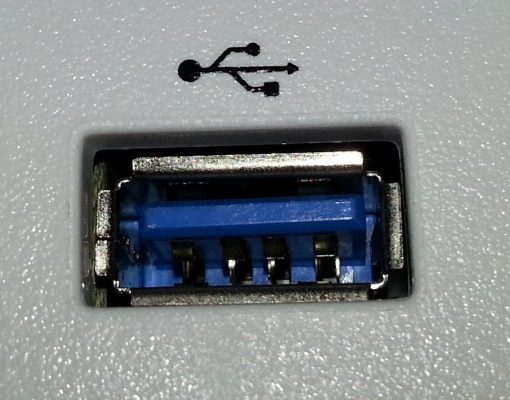 While compatible, the older versions may not be able to handle the faster speeds provided by the fastest, most modern drives out there. Considering the fact that the fastest hard drives have reached around 550MB/s (around 4.4Gb/s) speeds as of now, a USB 2.0 port may bottleneck such a fast drive. Even the 3.0 might not provide optimum speeds for such drives because of extra data processing. So, while most portable drives will provide a USB 3.0/3.1 connection, make sure your computer can handle it.
SATA & eSATA
This hard disk interface stands for Serial Advanced Technology Attachment and is found in the belly of your computer. Many SATA drives have seven pins – four of these pins are designated for receiving and sending data, while three pins are grounded. More often than not you will see 15-pin SATA drives, with the extra 8 pins being used for powering the drive. There are three SATA versions – SATA 1.0 (1.5Gb/s, almost extinct interface), SATA 2.0 (3Gb/s), and SATA 3.0 (6Gb/s). In a single SATA cable, only one hard disk can be connected, which means that the drives do not have dedicated bandwidth for data.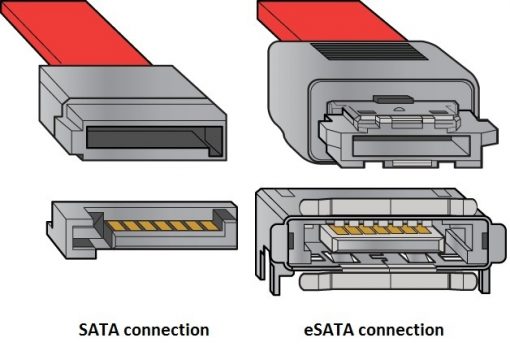 The SATA interface came as a replacement for the older PATA / IDE interface that's discussed below. It is also among the interfaces that provide the fastest file transfer regardless of file format since SATA was developed with data storage in mind.
More relevant to portable drives are eSATA ports, which are basically just a handy extensions of the internal SATA interface to the outside of your computer case. In turn, if you have a 3Gb/s internal SATA interface, the eSATA port that leads to it will support those speeds, same with 6Gb/s. Keep in mind that eSATA drives, for the most part, require a separate power cable, making that portable drive just a bit less portable.
Thunderbolt
Thunderbolt is an interface more commonly found on Macs. This is technically the fastest interface, with version 1.0 at 10Gb/s (per channel), 2.0 at 20Gb/s, and the latest 3.0 version at 40Gb/s. Keeping in mind the previously mentioned fastest hard drives barely reaching 5-6Gb/s, Thunderbolt is overkill. This is because its main focus is supporting entire media systems, chains of devices or RAID hard drive systems (discussed below).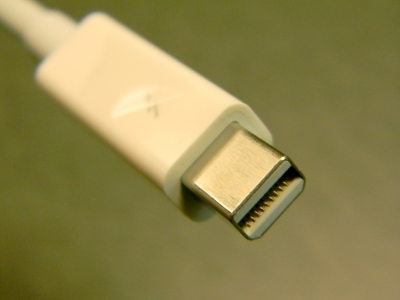 The latest version of Thunderbolt is not backward compatible, however, it supports USB-C devices. USB-C is a more smartphone/tablet-focused interface, similar to the lightning plug or Micro-B that's on your phone right now. Overall, if you don't have any grandiose plans for your Thunderbolt port, having an external Thunderbolt drive run at its max speed is a decent investment.
USB-C
While USB 3.0 is the most popular interface for any device right now, the newest interface in the USB family may at some point surpass all of its predecessors. That interface is USB-C, which is a lot smaller and easier to use. The file transfer speeds of USB-C reach 10Gb/s, which is the same as USB 3.1 Gen 2 ports, plus the easy connectivity. What makes that connectivity simpler, is that USB-C plugs are reversible, meaning that it doesn't have an "up" side and will work regardless of how you plug it into the port. The engineers finally fixed the age-old problem of plugging the USB cable in at least three times to get it right.
The USB-C interface also delivers more energy to devices, which makes charging portable devices a lot faster. But, while the higher bandwidth and power are great features, the main goal of this version of USB is to provide universal connectivity. This means that all of your devices – smartphones, tablets, portable hard drives, PCs, and laptops will have the same port. The USB-C interface is not overwhelmingly popular right now but has all the potential to catch on in the future, making portable USB-C hard drives absolutely future-proof.
Our Picks for the Best Portable Hard Drives
There are a lot of products being released today claiming to bring all the latest features that the portable hard drive market has to offer. Do not be easily lured into purchasing these expensive devices, while there are cheaper, possibly all-around better options out there. It is crucial to evaluate the items based on the tips and guidelines given above, as opposed to solely trusting the marketing front of the product.
To make your selection considerably quicker, we made a short list of our best picks of portable hard drives, each with its advantages and downsides, but all of them worth the money:
* Results may vary a lot, depending on system configuration and software used for tests. This is why the benchmarks shown here are primarily from UserBenchmark, where speed results are aggregated from hundreds and thousands of singular benchmarks. This puts all of these drives on a more comparable scale with some of the most reliable results.
Best Portable Hard Drive Reviews
1. Seagate Backup Plus Slim
The Seagate Backup Plus Slim has been deemed by many to be one of the best external HDDs out there. It is a newly upgraded slim hard disk from Seagate, which has been a trusted manufacturer of hard drives. You can buy this slim hard disk in a variety of capacities – 1TB, 2TB, 4TB, and 5TB. You could never go wrong with this product when it comes to data transfer rate either since it is among the fastest HDDs out there.
You can manage this hard drive with Seagate Dashboard application, making your use of the backup storage more effective. The Seagate Backup Plus Slim portable hard drive features USB 3.0 connectivity, ensuring quicker data transfer. The drive itself works at 5400RPM, but many satisfied customers have deemed it to be even a bit faster than some 7400RPM drives.
While the description states that the Backup Plus Slim is formatted for use with both Windows and Mac, the drive's initial format is NTFS (Windows format, read-only for Mac), so don't expect it to work right out of the box for your Mac. You can, as the description suggests, download the previously discussed NTFS drivers, or, if you're not going to use it on Windows at all, reformat it for Mac. Backup, however, is just a click away – movies, videos, photos and documents are secured and readily accessible via the Seagate Dashboard software. Unfortunately, there's no security software included with the drive, so you'll just have to use your OS's native encryption or some other 3rd party tool.
Apart from its excellent performance, Seagate Backup Plus Slim also wins it big in the portable design department. It is extremely slim (as the name suggests), making it user-friendly and very mobile. The portable hard drive measures 4.5 x 3 x 0.5 in (11.4 x 7.6 x 1.21 cm) at lower capacities (4TB and 5TB models are 0.8 inches / 2.1 cm thick). You can select from four colors – blue, black, red, and silver.
Read full Seagate Backup Plus Slim review
Pros
Offers up to 5TB of storage space
Fast transfer rate
Slim, portable profile
Cons
Short two-year warranty
No security features included
2. WD My Passport
The WD My Passport is another well-received portable hard drive that is built for every file's security. You can use it to auto backup your data whenever necessary via the WD Backup software. Protection is also enforced for your documents by its hardware encryption and password security features, enforced by the WD Security software. This drive is also aesthetically pleasing, while also giving you a variety of case colors to choose from.
The My Passport portable hard drive is designed to fit in your palm, but at the same time will never compromise your need for extra storage. It is formatted in NTFS for Windows 10, Windows 8, and Windows 7. This 5400RPM drive is available in 1TB, 2TB, 3TB, and 4TB capacities, and uses the USB 3.0 connection. The hard drive comes with the WD Backup software, WD Security application, a USB 3.0 cable, and the manual. The reimagined portable hard drive's dimensions are 4.3 x 3.2 x 0.85 in (11 x 8.15 x 2.15 cm) and weighs just 0.37 lb (0.17 kg). The 1TB version is a bit thinner at 0.64 in (1.63 cm).
WD My Passport became one of the most sought hard drives given its automatic backup feature for making sure your files will never be lost. You can schedule the backup feature according to your preferences by selecting a frequency and time. You can also set up additional password protection for your hard drive via the WD Security software.
Read full WD My Passport review
Pros
Provides enough capacity for most people's needs
Comes with native security features
Automatic backup software
Stylish, colorful design
Cons
2-4TB versions are a bit bulky
Some tests show little improvement over older model
3. Seagate Backup Plus Ultra Slim
Similar to its counterpart Backup Plus Slim, the Backup Plus Ultra Slim is known for its more compact profile and design. The difference in construction is clearly visible in its textured and robust metal aesthetics, as well as the drive's thickness of just 0.38 in (9.6 mm). It also provides access to the Seagate Dashboard application, providing you with simple tools for backing up files on a schedule.
The biggest downside of the drives is a lack of variety in capacities, with the 1TB or 2TB options also being somewhat small in comparison to other portable drives. While the Backup Plus Slim seemed compact, this drive is way more portable with dimensions of 4.5 x 3 x 0.38 in (11.4 x 7.6 x 0.96 cm). The drive weighs only 0.3 lb (0.14 kg). While you only have two color options – platinum and gold, both of them will make your device setup seem very chic. It can easily be stored in your bag alongside your essentials. File transfer of this 5400RPM drive is also pretty fast since it is constructed with USB 3.0 connectivity.
It also ships with free Microsoft OneDrive cloud storage of up to 200 GB for two years, allowing you to access files through the internet from any device. Just note that this doesn't add too much to the value of this drive since there are plenty of free cloud storage services.
Pros
Very lightweight and slim
Quick data transfer
Backs up automatically
Comes with limited access to OneDrive cloud storage
Cons
Lack of variety of capacities and colors
4. Samsung T3 Portable SSD
Samsung is not only known for their smartphones but a variety of other electronics as well, including SSDs. According to Samsung, the T3 SSD transfers files quicker and stores them with increased protection. Despite its small size, the T3 Portable SSD can pack enough capacity for a decent backup storage device alongside super-fast speed and durability. Even when you are on the go, this portable drive will store your files and keep them safe until you remove them. Samsung prides itself on enforcing four times faster performance on this storage unit with a read/write rate of up to 450 MB/s.
Samsung clarified that the speed may vary depending on the configuration of the device, and as any promise by a manufacturer, should be taken with a grain of salt. This SSD is available in four capacities – 250GB, 500GB, 1TB, and 2TB. Apart from the considerable performance of the hard drive, users also commended its compact and lightweight construction. The drive's business card-like dimensions are 2.91 x 2.28 x 0.41 in (74 x 58 x 10.5 mm), and it weighs just 1.8 oz (51 grams).
Though small, the hard drive is constructed with a durable metal casing for support and resistance against shock. The T3 doesn't just protect your data with a sturdy case as it also features AES 256-bit. The drive uses the USB 3.0 Gen 1 interface (5Gb/s) but has a USB-C connector on the drive itself. The Samsung T3 portable SSD was built mainly for use with Windows and Mac computers, however, it will also work with devices using the USB-C connection. Though this will require a separate USB-C to USB-C cable, and there is only a USB-C to USB 3.0 A cable included with the drive. Connecting with these devices has at times resulted in some software-related issues regarding the connection and access to the drive.
Pros
Lightning-fast file loading speeds
Future-proof with the USB-C connection
Very portable
Cons
Quite pricey, even for an SSD
5. Seagate Expansion
Seagate is one of the industry leaders in producing top-of-the-line portable hard drives that never fail to exceed expectations. The Seagate Expansion is the third of the top options you can get from Seagate.
Seagate Expansion features fast transfer rate for a 5400RPM drive since it is constructed with USB 3.0 connectivity. If you need lots of extra storage, this may be the portable drive for you since it comes in four capacities – 1TB, 2TB, 3TB, and 4TB.
The product comes pre-formatted for Windows operating system (NTFS), but the plug-and-play functionality allows simple and short installation process. Whether it's a console or simply a different OS, the drivers will already be there or will be automatically installed. Note that formatting still involves a bit of your own input, but the process itself is still simpler, alongside fewer to none connectivity issues.
The Seagate Expansion also has high energy efficiency with the aid of its power management feature. You can consider this hard drive as the no-frills storage. However, there is no included backup software or encryption functionality, which, alongside the 1-year warranty, makes the drive a bit less reliable.
Apart from accessing it via PC, you may also find it helpful in storing files from your media player or gaming console. It measures 4.8 x 3.2 x 0.6 in (12.2 x 8.1 x 1.5 cm) and is compact enough to be slipped in your backpack or purse. It weighs only 5.93 oz (0.168 kg).
Pros
Plug-and-play allows simple, automatic installation
Quick file transfer for a 5400RPM drive
Large storage capacity
Cons
Does not feature encryption
Short 1-year warranty
6. WD Elements
The Western Digital Elements portable drive is the slightly cheaper counterpart of the My Passport portable drive. The bulkier design is the result of a bit more durable case for protecting the 5400RPM drive inside. WD's portable hard disk is powered with USB 3.0 connectivity for faster transfer rates since it pushes close to the maximum transfer speeds of a 5400RPM HDD. But the most notable characteristic of WD Elements is price – it's one of the cheapest portable hard drives out there.
It is formatted for Windows by default, so reformatting will be required of Mac users. Currently (as of May 2017), you can buy 1TB, 2TB, 3TB and 4TB versions. The WD Elements models have been updated a few times before in terms of capacity, so, if you want, you can seek out older models, featuring capacities below 1TB. However, some of them cost even more than the 1TB version since they are outdated. Unfortunately, this drive is cheap for a reason, as it is bare bones in terms of extra features and has no encryption software included, with the backup software trial being only 30 days long. Such software is easy to download nowadays, but it still reduces the value of the drive just a little bit.
In every package, you will get the portable storage device, USB cable, and the manual. Once you have purchased this product, you will have access to the WD SmartWare Pro backup software's free 30-day trial. The dimensions of the drive are 4.4 x 3.22 x 0.85 in (11.1 x 8.2 x 2.15 cm), and it weighs 0.51 lb (0.23 kg).
Pros
Respectable transfer speeds
Comes with a backup software trial
One of the cheapest portable hard drives
Cons
The backup software trial is short, no integrated security features
Short Warranty
7. Toshiba Canvio Connect II
The Toshiba Canvio Connect II is a great option if the standard portable HDD features are not enough for you and you expect more. If you want dual purpose hard disk that can act as backup storage and personal cloud solution, than Canvio Connect II has you covered. It comes with the Pogoplug software, which allows the drive to be used as a cloud storage device, allowing you to access data via the internet. There is a major downside to this, though, in that your computer has to stay on with this USB 3.0 drive still connected for this to work, but it's an interesting feature nonetheless.
This drive comes in four capacities – 500GB, 1TB, 2TB, 3TB. When it comes to transferring rate, the Canvio Connect II again doesn't disappoint, by coming close to the top speeds of around 120MB/s that a 5400RPM drive can physically deliver. The drive also features the NTI Backup Now EZ, which backs up your data in secure ways, making sure you never lose anything important. This is paired with the previously mentioned access to your files anywhere on the web via Pogoplug. And the software feature list doesn't end there, as this NTFS-formatted drive also comes with NTFS drivers for Mac, making it the best portable hard drive for Mac and Windows PC users in terms of connectivity.
Apart from its reasonable performance and features, the design of the Connect II is pretty sleek with a metallic finish. You can select from white, black, satin gold, red, and blue colors (black only for 500GB version). This portable hard drive is also pretty compact – 4.29 x 3.07 x 0.77 in (10.9 x 7.8 x 1.95 cm), but is a bit heavier than other portable drives at 0.51 lb (0.23 kg).
Pros
Features cloud access software
Easy to use backup software
Decent data transfer speeds
Already features NTFS drivers for Mac
Cons
Cloud service requires your PC to be on
8. Transcend StoreJet M3
The Transcend StoreJet M3 is known as one of the most durable portable hard drives out there. Apart from its superior hardware protection, it comes in three capacities – 500GB, 1TB, and 2TB. Among the most striking features of the portable hard disk is its One Touch Auto-Backup Button, which is a blue button found on the corner of the device. This allows you to back up files on your StoreJet effortlessly. For the auto backup feature to work, you need to set up Transcend Elite application. This allows you to set the time and frequency of file backup.
Apart from this feature, the StoreJet M3 also runs the Bookmark Sync software, which will input duplicates of your browser's bookmarks to the hard disk. This is also accompanied by easy access to your Google Drive file storage cloud, making data transfer from it to your StoreJet super-easy. Another feature in the array of software that comes with StoreJet is RecoverRx, that can recover accidentally deleted files even after formatting. Lastly, you also have Crypto, a feature designed for decryption and encryption of folders and records.
When compared to its rivals, StoreJet M3 can compete well in terms of fast transfer rate. It can reach the highest transmission speeds of 5400RPM drives at around 120 MB/s read/write speeds via its USB 3.0 interface. Regardless of the operating system, it appears to sustain more than average pace in reading and writing files. However, it has to be noted that the speed may vary a lot depending on the utilization of software and hardware.
The Transcend StoreJet 25M3 portable hard drive comes formatted for Windows (NTFS) but can be easily reformatted. The dimensions of the drive are 5.1 x 3.2 x 0.8 in (13 x 8.2 x 1.9 cm) and it weighs 8.3 ounces (0.23 kg).
Read full Transcend StoreJet 25M3 review
Pros
Fast transfer rates
One-touch backup
Robust hardware protection
Comes with an array of software
Cons
9. Silicon Power Rugged Armor A60
If you ever wanted to know what a tank turned into a hard drive would look like, the Silicon Power Rugged Armor A60 would be the closest bet on the market. According to Silicon Power, it is compliant with the drop-test standards of the U.S. Military, MIL-STD 810G protocol 122cm drop test. The protective layer made from silicon guarantees seismic protection as well as protection from water splashes, indicated by the IPX4 protection marking, with X being an unmeasured value of dust protection, and 4 being protection from splashes.
The Power Rugged Armor A60 comes in four capacities – 1TB, 2TB, 3TB, and 4TB. As for performance, it works fast given its USB 3.0 interface. Reading and writing speeds are quicker than the average 5400RPM drive at around 110MB/s, saving you a lot of time when backing up both text-based and media documents. Even if you are working on high definition videos, this hard disk will still sustain its transfer rate. You can also buy a version of this drive that features USB-C connection, thus adding future-proofing to all that durability. Note, that while the USB-C interface allows faster throughput, this connection will not make the portable hard drive itself faster.
The case's anti-slip surface is also resistant to scratches. The case comes with its own USB 3.0 cable that can be secured to the hard drive case. The drive also works with the SP Widget backup software. The dimensions of the drive are 5.47 x 3.4 x 0.91 in (13.9 x 8.6 x 2.32 cm) and it weighs up to 0.74 lb (0.336 kg, smaller capacities may be a bit lighter).
Read full Silicon Power Rugged Armor A60 Review
Pros
Decent transfer rate
Resistant to drops, scratches, and water splashes
Relatively cheap, considering the extra features
Cons
The short and rare USB-A to USB-A cable could be difficult to find a replacement for
Tips on Selecting the Best Portable Hard Drive
It is always better to have a backup of your data than regretting an unexpected loss of your files. Computer internal drives are meant to store large amounts of data, but this does not mean that you have to rely on it entirely. Although cloud storage options are available, their performance depends on internet access and speed, making their usage clunky and overall pretty expensive in the long run. Your own portable device, however, can be accessed easily and is pretty much completely under your control. This is important and is the reason why you have to purchase an external hard drive. Portable hard drives are available on the market with a variety of differences and similarities, making the selection more complicated. This is why remembering the following criteria is extremely important when picking the best portable hard drive for your needs.
Consider the Type – SSD vs HDD
When it comes to portable drives, durability is added to the previously discussed differences between HDDs and SSDs. The hard disk and other moving parts in HDDs are more prone to breaking than the compact, soldered parts of an SSD. While external cases of the drives themselves are often enough protection, there is still higher risk of mechanical damage to the drive in case of HDDs. Other than that, the same preference of HDD capacity and price vs SSD data loading speeds should be applied to your portable drive choice.

Consider Your Capacity Needs
You may find HDDs that can offer up to as much as ten terabytes nowadays. However, if you don't need that much storage space, you may consider a more ubiquitous two-terabyte HDD. If you are only storing documents instead of media, you may not even fill a one TB drive.
However, 1TB is pretty much the minimum for any type of storage, considering the price/GB increases at lower capacities. Knowing that there's always a whole lot of free space on your drive is reassuring. Plus, the huge amount of computer data we use all the time may leave you with a filled up hard drive one day.
Find Out the Transfer Rates
Transfer rate may not be a big deal for others, but it does matter if you will back up your files regularly, or if you want to store entire programs on the drive. You certainly would not want to spend hours simply to copy a few photos or videos on your backup drive, nor do you want to wait for an hour for your favorite game to load. Faster transfer rate is imperative if you often keep larger files, such as 4k videos.
Don't forget that your computer's ports can greatly affect data transfer speeds. A fast USB 3.0 drive plugged into a USB 2.0 port may be roughly 10 times slower. At the same time, if you're looking at HDDs, almost all previously discussed interfaces will handle an average 5400RPM drive. So you might as well use that eSATA port if you don't intend on buying a super-fast SSD.
Determine the HDD Rotation Speed
This is only important for HDDs since there's nothing spinning in an SSD. Nowadays, 5400RPM (Revolutions Per Minute) drives are the slowest but are as common as their 7200RPM counterparts. More high-shelf options provide 10000RPM, with even faster drives being developed for professional and industry use.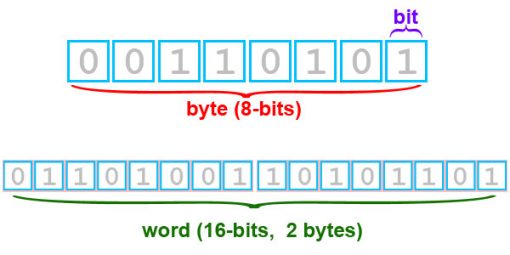 RPM does not directly tell you how fast a drive is but for the most part RPM correlates to a certain range of transfer speeds. For example, 5400RPM drives usually provide 70-120MB/s read/write speeds, while 7200RPM drives ramp it up to around 100-160MB/s. A simple multiplication by 8 to turn those bytes into bits will tell you that both SATA 3Gb/s and 6Gb/s will be plenty to support any 7200RPM HDD. Meanwhile, a USB 2.0 port will most likely cut down potential performance, so having a USB 3.0 port is vital to having decent data transfer speeds, even with slower HDDs.
Check the Data Security Features
Your portable hard drive should not only be practical when it comes to storing data but also when it comes to the security of your files. There are portable hard drives nowadays that are equipped with hardware-based encryption – a special processor within the drive adds an extra layer of encryption. You should not compromise the safety of your private information, particularly when you are traveling around because the more you move around, the more susceptible your files are to being stolen.
However, such extra security will cost you more but this is better than purchasing drives that can only serve as storage boxes and nothing more. Extra protection must be enforced either in collecting or backing up data and even if you don't choose a hardware-based encryption drive, make sure you use some sort of software-based protection against file theft. The best option here would be AES 256-bit encryption, which has been deemed by many to be almost unbreakable.
Consider Your Need for Cross-Operating System Compatibility
It's important to be reminded that the ports on your computer may bottleneck drives, as discussed before. That leaves the software part, which isn't as simple as just shoving ones and zeroes into the drive. It needs to be able to interact with your operating system, whether it's Mac or Windows. To do so, it has to be formatted for that OS, however, there are different formats, each with their pros and cons.
The main formats that Windows and Mac recognize are NTFS and HFS+, respectively. One OS will not allow you to fully access the other's format, but formatting options like FAT32 and exFAT exist, that are recognized by both OS. These have limitations, though, like limited file and partition sizes. You can also choose from the array of pretty well-rounded drivers for reading different formats. To fully access Window's NTFS files on a Mac you may use NTFS-3G, Tuxera NTFS, and Paragon NTFS software. To access HFS+ on Windows, use HFSExplorer or Paragon HFS+. We also have how-to articles about formatting a hard drive for Mac and Windows.
Take Note of How Portable and Durable the Drive Is
If you often leave home with the portable hard drive, it just makes sense to find one that weighs less. There are hard disks that can fit in your pocket and don't trade any performance for it.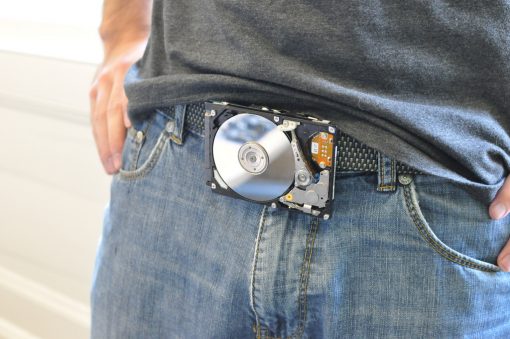 If you spend a lot of time outdoors, it is important to have a durable portable drive. Manufacturers often list the materials and safety features that make up the portable unit so check them out to make sure you don't buy a fragile drive. Aluminum and tough yet flexible plastics are good materials. If a drive has any special protective features, the manufacturer will surely advertise it, making it easy to tell apart "posh" drives from rugged ones.
Try Storing Your Information In a Network Attached Storage
This is not a priority for individuals, but if you are, for example, an owner of a small business, you may consider network-attached storage (NAS) devices. This feature allows more than one computer to access the files in the storage. Each of the units also has the capability to back up its files when necessary. As you might guess, such solutions are more expensive than your regular HDD or even SSD but may be perfect if you just want to access files from your own home or office through multiple computers. The niche nature of such external storage is why we have a separate list of the best NAS servers for home.
How to Prolong Portable Hard Drive Life
Computers are among one of the most important possessions of people nowadays. You rely on it to complete your work and protect your personal files at the same time. Same goes for a portable hard drive – the storage unit may be compact, but regardless of size, it has to protect the data from damage. And no matter how durable the drive case may be, sharp drops and huge mechanical shock may still damage the data.
Such a mishap may lead to not only data loss but also slower performance and lack of some functions. Here are some tips to help you with proper use and maintenance of portable hard drives:
Avoid Storing Downloaded Files
The web is filled with inconspicuous viruses that could damage your hard disk, leading to loss of all your files. It is necessary to think twice before downloading files, especially if you plan to store them alongside other important ones. Your internal hard disk may be at risk of a malicious file if your computer starts to act weird, such as allowing a lot of pop-ups and opening browsers that you never installed (just one example). This means that malware may have infected your hard drive already.
It is best to protect your portable hard drive by keeping only the most important documents you need. The less you download to your backup, the safer that drive and computers connected to it will be.
Store Your Hard Drive Properly
Some people encounter data loss and premature failure of hard disks due to improper storage. External hard disks are mostly designed to be kept lying flat in order to keep the moving parts of the read/write head to have small but constant stress on them. Putting your drive on a flat surface when using it also removes such sideways stress, which is especially important when said parts are moving.
There is a possibility for the needle to position either far or too close to the platter if the portable hard drive is not lying flat. Consequently, this could also influence the hard drive's performance of reading or writing data.
Remove Hardware Connection Safely From Your PC
Most of us are guilty of not removing our USB devices, including portable hard drives properly from our laptops or PCs. The importance of the "Safely Remove Hardware" notification is often times overlooked, with many believing it to be a useless feature.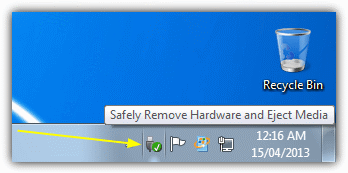 However, removing the hard disk before choosing the safe removal option may result in data corruption. This would make sense if you're writing files onto the drive – a half-written part of a file on the drive would be wasteful gibberish at best and potentially harmful code at worst. But in reality, your computer caches different files in the background, so in a way, the writing process may be taking place at any time, which is why safe removal is necessary. Windows has made this more fool-proof while yanking a drive out of a Mac or Linux computer is a lot riskier. While there is a one in a million chance of ever ruining your data like this, it's super easy to avoid it completely, so why not do it?
Enforce Security on Your Files
It is true that external hard drives are also available with encryption technology, either software or hardware-based. However, you should not depend solely on these protective solutions. There are actually ways for you to increase the security of your data. For instance, you can set up a hard drive password when your computer boots. Just press the according button to access BIOS options (usually Esc or one of the Function buttons) before your OS starts loading, select Security Options and then set up a password. Note, that you will have to enter it every time you turn on your computer, so make sure you remember it.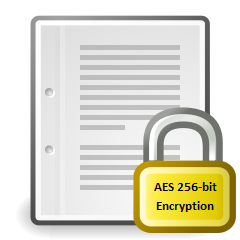 Hackers today can access your files no matter how strong the encryption is, which is why it is worth the try to double up the layers of protection. If you don't have much time to add passwords to every file on your hard drive, just prioritize the most sensitive information in the storage, or add one or more passwords for the whole drive.
Prevent Dropping or Striking Your Portable Hard Drive
Drops are often accidental, which may lead to the hard drive's mechanical components loosening, which in turn affects the performance of the storage device. But you should always be careful when handling your hard drives nonetheless. To avoid premature damage to your hard drive, always look for added protection to the unit's hardware and exterior. Some portable hard drive cases are durable enough to keep your hard drive flat and safeguarded even while being transported.
Make Sure You Back Up Your Data
Many looks for portable hard drives for this exact purpose – to back up their files. But even this isn't your intention, it is a good practice to keep an extra copy of all or most of the files on your computer and/or a cloud storage service. This way you ensure you won't lose data since breaking your portable drive and getting a virus on your computer at the same time is an ungodly amount of bad luck.
Avoid Exposure to Excessive Heat and Water
Hard drives may be designed to work in varying temperatures, but it is still imperative to keep it away from the harshest conditions. If you can, always find an area where it will not be exposed to extreme sunlight. It is also good practice to keep liquid containers far from the storage unit when being used. While this is the kind of thing your mom would tell you as a kid, it never hurts to remind it, considering how careless we become of the outside world in the digital age.
When using your hard disk, allow a good air flow as well in order for it not to overheat. This means you have to remove the unit from its carry pouch whenever being used and not having it on soft blankets etc.
Summary
There is a huge amount of knowledge required to even begin searching for a good portable drive for your needs, let alone find the perfect one. Even separate portable hard drive models have experienced changes in design and capacity over the last couple years, making the search for the best portable hard drive pretty much impossible. However, there are plenty of great portable hard drive options out there and with the right know-how, which makes it just a matter of going through all the models out there to find the right one.
This is why we'll shortly recap that know-how:
Pick an HDD for the media file and document storage and an SSD for quickly loading programs or tons of files.
Check your computer's ports and evaluate which one you can spare for an external hard drive (most likely that will be a USB 3.0 port).
Roughly evaluate how much storage space you would need for your files. If you don't have any special preferences, just go for a middle of the road 2TB drive.
Check the approximate read/write speeds of drives, since even a super-optimized HDD could bring fast enough loading speeds for all your needs.
If you carry your portable drive around a lot (for photography, drone footage etc.) go for a more rugged drive for safety.
From our list, the best middle of the road option would be the WD My Passport, alongside the Seagate Backup Plus Slim since both have decent software support complemented by a ton of capacity.
If a super-fast portable drive is what you're looking for, definitely go for the Samsung T5 SSD, but if SSD prices are a bit too steep for your budget, go for Toshiba Canvio Connect II, which is the fastest HDD on our list.
If you need a rugged drive for travel or outdoor work, go for the SP Rugged Armor A60, which could protect your drive from most accidents you could encounter in nature. The Transcend StoreJet 25M3 would provide a bit less protection but a bit more performance in return.
With these tips in mind and our short selection of the best portable hard drives, you may have already found the best portable hard drive for you. If not, keep looking at one of our many external hard drive reviews or simply around the market. Either way, we hope that our portable hard drive buying guide helped you understand the various features and characteristics one can encounter in the hard drive market.