With the ever-growing amount of data we use today, having a handy, portable storage device is a good thing to have for both work and pleasure. Hard drive manufacturers know this as well, which is why there are hundreds of portable hard drive options in the market. Even though many of the will be flat-out better than the competition, it's important to know what makes a portable hard drive great, and what model to go for exactly. Today we'll look at Seagate's Backup Plus Slim portable drive, which is very popular among hard drive users, and see what makes it great and why you should try it out.
Specs
No products found.
Pros
Slim, as the name states. 1-2TB versions half as slim as most other portable drives
Comes with Seagate Dashboard backup tool
Offers a huge 5TB version
On average slightly faster than most other drives
Cons
No security software included
Comes with only 2 years of warranty
Breakdown of the Features
The Backup Plus Slim is one of the largest portable hard drives as of now, at 5TB max capacity. It's also available in 1TB, 2TB, and 4TB capacities. While speed isn't too important with portable hard disk drives, having quicker backups and overall better performance is definitely a plus. This is where Backup Plus Slim beats its competition because it delivers, on average, a bit higher performance than most of its competitors. The drive uses USB 3.0 (3.1 Gen 1, 5Gbps) connection, which is backward compatible with USB 2.0, just don't expect the same transfer speeds from the older interface.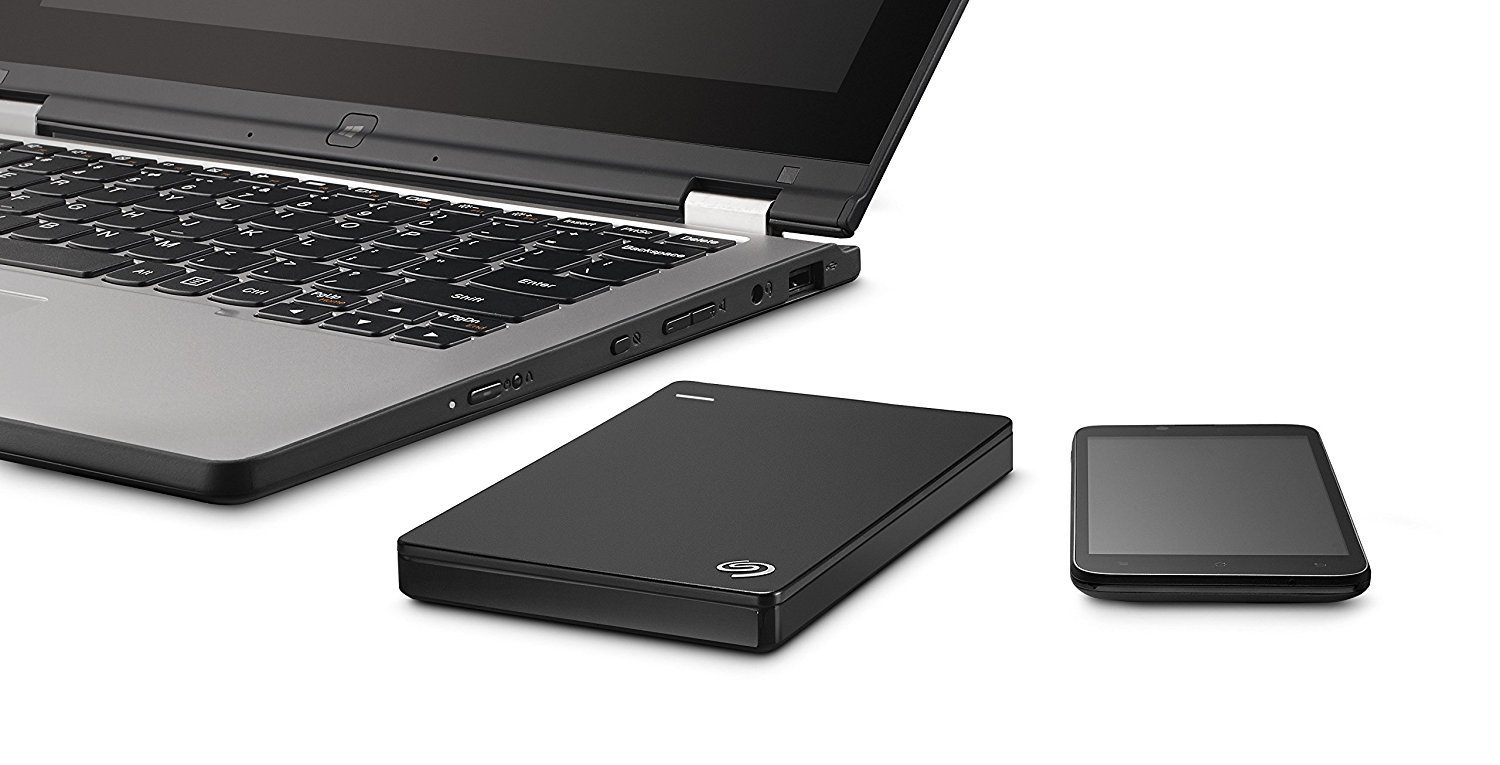 Backup Plus Slim comes formatted in NTFS for Windows operating systems. Since Seagate's main focus is easy access, and user-friendly interface, they've developed their own NTFS driver for Mac computers called Paragon (not included with product). This tool allows you to avoid formatting issues associated with the FAT formats and allows easier access to your NTFS files from any Mac. The drive also comes with the Seagate Dashboard software tool for automatic backups but, unfortunately, doesn't include native security features. If data security is important in your field of work or if you just want your files to be safe from theft, use other 3rd party encryption tools. If you want a drive with more security features, check out our list of the best portable hard drives.
Design and Alternatives
The Seagate Backup Plus Slim is, well, slim – almost half as slim as most other portable drives at lower capacities. I had to mention capacities here, because only the 1-2TB capacities are noticeably thinner than other drives, with the 4 and 5TB capacities being on par with other portable drives, in terms of thickness. The drive is available in four colors – black, red, blue, and with a metallic silver finish. Other than the smaller size, there's nothing more to the drive's case.
Some of the Backup Plus Slim's closest competition comes from WD, in the form of Elements and My Passport Ultra drives. The Elements is a bit cheaper but is just a bare bones drive with no special software features. Meanwhile, My Passport Ultra has the added AES 256-bit encryption feature alongside a backup software but it's a bit slower (on average) than the Backup Plus Slim. So, if you don't think you're data is in much danger, go for Seagate's drive. If data security is important in your everyday life, and you don't want to look for special encryption tools yourself, the My Passport Ultra from Western Digital might be a better alternative. As mentioned before, the 1-2TB models of Backup Plus Slim are also much thinner than the other two hard drives. You can check out more alternatives in our portable hard drive buying guide, or our list of the best external hard drives, depending on your needs.
First Impression
I can't say I was surprised by anything when the Seagate Backup Plus Slim 2TB hard drive arrived at my doorstep. The box included everything it had to and the drive was as slim as promised.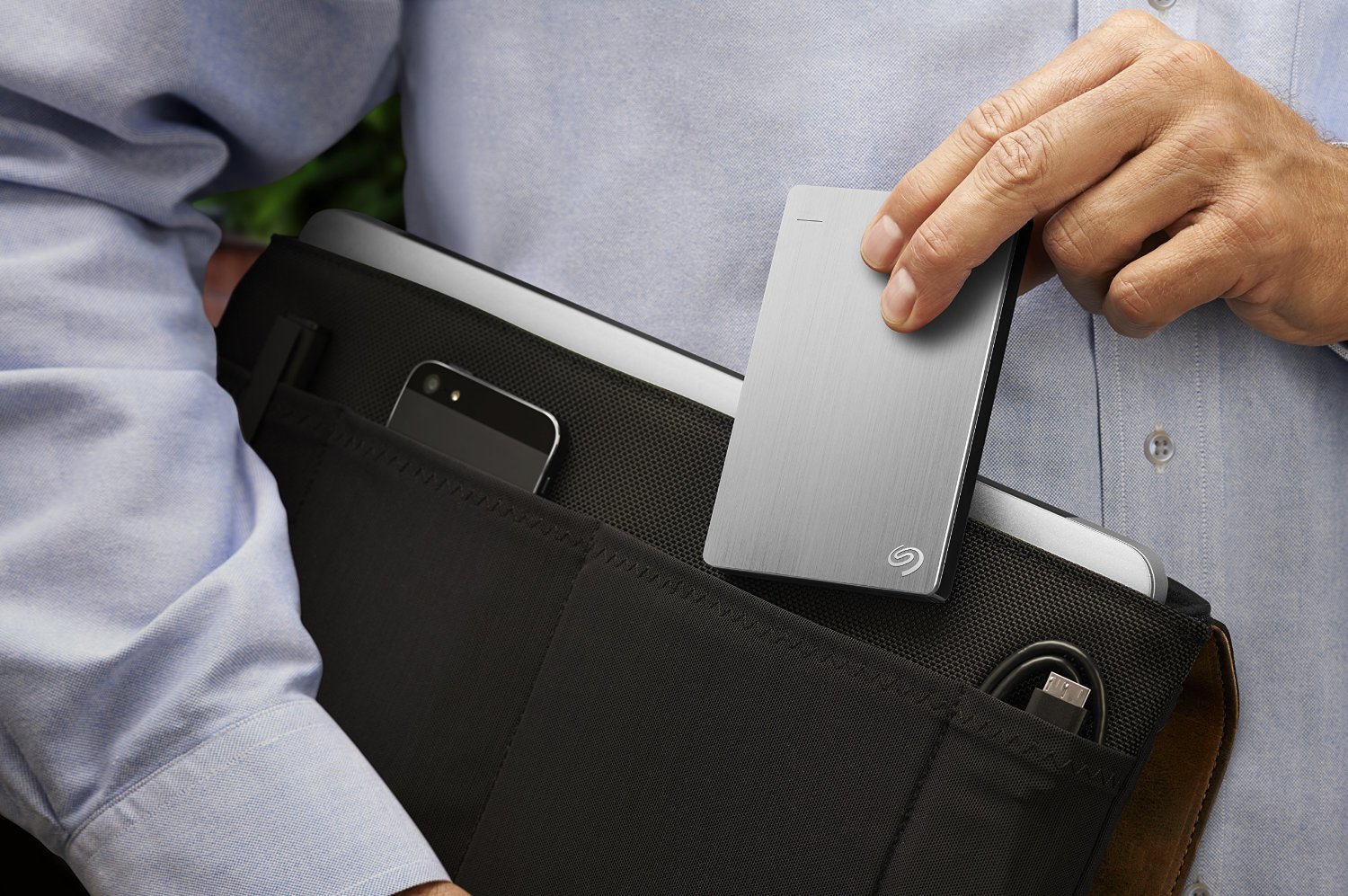 Seagate designs their products with the average consumer in mind, meaning you don't have to be a tech genius to use their portable hard drives. The user-friendly "plug-and-play" feature is at the forefront of their functionality, and the product I received delivered just that. The drive was ready to use right after plugging it in for the first time, and a quick software download later, I could do the same on my Macbook.
Ideally, a portable hard drive should be very small and easy to carry around and the Seagate Backup Plus Slim is certainly that without sacrificing any of the needed storage capacity. I can fit very easily into my book bag and I imagine it is small enough to fit in an average sized purse. After around 5 months of usage, the drive is still working great and performing backups without a hitch
Ideally, a portable hard drive should be very small and easy to carry around and the Seagate Backup Plus Slim is certainly that without sacrificing any of the needed storage capacity.
What's in the Box?
It comes with the cables you will need in order to use it. While it's not a lot, it's everything you need to get started with the hard drive. Let's not forget that it also comes with the external hard drive itself!
Verdict
Overall, the Backup Plus Slim is an all-around great drive – it's fast, it's spacious, and more compact than almost all of its competitors. Not only is it one of the most portable external hard drive, it also comes with a backup software tool from Seagate.
The main downside of this drive is the lack of encryption software – even though you can download other encryption tools, like VeraCrypt, or use the Windows and Mac native tools, the lack of an integrated security tool goes against the user-friendly approach of Seagate. Nonetheless, it's a great drive for a reasonable price, and I would definitely suggest it as one of the best portable drives out there.
Last update on 2020-08-20 at 15:37 / Affiliate links / Images from Amazon Product Advertising API