Most portable hard drives contain an internal hard drive and a case around the drive that protects the delicate device from mechanical forces and basic environmental hazards, like water drops or dust. Most cases do just that and nothing more, barely protecting the drive from basic damage.
However, when you look beyond the most popular brands, you can actually find gems, such as Silicon Power's Rugged Armor A60, that has a whole lot more to provide in terms of durability.
Specs
PROS
Extremely durable case
Up to 5TB capacity
Included software covers most portable hard drive user's needs
Scratch-proof surface and handy cable carrying mechanism
CONS
The Toshiba drive inside is far from being top-of-the-line in terms of both reliability and performance
Breakdown of the Features
Let's start off with the basics – the Rugged Armor A60 portable drive is available in 1TB, 2TB, 3TB, 4TB, and 5TB capacities. It can use a USB 3.0 connection, as well as a USB Type-C one. Accordingly, you can purchase a model with just the USB-A to USB-A cable, or pick a model with both USB-A to USB-A and the USB-A to USB-C cable included. The regular USB cable will be compatible with both USB 3.0 and 2.0 (at lower transfer rates), while the USB-C cable will work only with USB-C ports. USB-C is a newer connection standard, making the USB interface more compact and easier to connect to. Whether you need the extra Type-C cable depends on whether you own one of the newer modern devices that support this handy and fast connection. Even if you don't, some retailers might sell the model with the extra cable for around the same price as the basic package.
The drive inside the case can be different depending on the model's age and capacity, but thus far has always been a Toshiba drive. This 5400RPM drive's performance is pretty decent, coming in at around 100-115 MB/s read and write speeds, depending on usage specifics.
But the hard drive itself isn't necessarily the most interesting part of the package, as the drive's enclosure has been built to withstand all kinds of damage. It has been rated as IPX4 and complies with MIL-STD-810G (overall military testing) Method 516.7 (shock-proofing test) Procedure IV (3m transit drop test), which is a fancy way of saying "we dropped it a bunch of times from 3m / 9ft height and it still worked".
As for the IP code, since portable drives are rarely marked with a specific IP rating, we'll discuss its specifics right now. The first part (X, in this case) determines the solid particle protection of a product, while the second digit (4, in this case) indicates how well the device is shielded from water. While most computer devices don't point out their IP rating specifically (since it has to be rated by professionals, which costs money), most such devices rank in at around IP22, meaning you can't stick your fingers in them and they're protected from dripping water under most conditions. Rugged Armor's IPX4 means that it's protected from water splashes from all directions (rated 4), while the X means that its particle protection is unrated. This, however, doesn't mean that it has no particle protection, it just means that it's not officially tested. Most likely the protective measures for water splashes would cause the case's particle protection be around 4 as well (particles between 1-2.5 mm in size).
Technicalities aside, the drive's case will endure anything you throw at it in regular every-day usage, whether it be a liquid spilling on it, dropping it somewhere etc. The Rugged Armor A60 case is also scratch-proof and comes with handy clips to hold the short included cable close by at all times. As you might imagine, such impressive safety and quality of life features should come with a lengthy warranty, which in this case is 3 years.
The only software tool included with Rugged Armor A60 is SP Widget, which is a backup, recovery, and encryption tool. It offers scheduled backups, connectivity with Dropbox for easier file access, and AES 256-bit encryption. The SP Widget also backs up your browsing information and internet bookmarks.
Design and Alternatives
Aside from the protective features of the case, there's not much more to Rugged Armor A60 in terms of aesthetics since the drive is only available in the black & green color scheme. The drive is also a bit bulkier because of the protective layers of silicon, with its dimensions being 5.5 x 0.9 x 3.4 inches / 14 x 2.3 x 8.6 cm. Rugged Armor A60 also weighs a bit more than other drives, coming in at 9 oz / 255 g.
There are two other portable hard drives that have become very popular because of their extra protective features – the Rugged Mini from LaCie and Transcend's StoreJet 25M3. LaCie Rugged Mini is similar to Rugged Armor A60 in terms of protection, even though they don't provide the precise IP and test results, like Silicon Power has done. LaCie Rugged drives also come in different connection types, like Thunderbolt and RAID-optimized. However, the LaCie drives are ungodly expensive in comparison to other, similar drives, and many people have reported various issues with the drive. All in all, the Rugged Armor A60 is just better and more reliable than LaCie's drives in almost all metrics.
StoreJet 25M3, however, is a more worthy competitor to A60. StoreJet offers much less protective features but still enough for your drive to be extra durable and safe during everyday use. The StoreJet costs almost as little as regular, non-rugged drives from more popular manufacturers, which makes it the less-protective yet less-costly alternative to the Rugged Armor A60. Other than that, StoreJet's software package is similar to A60's, except it lacks the USB-C connectivity. In short, if you don't want to drag your drive through a forest, the Transcend StoreJet might be worth a look.
For more info on Transcend StoreJet 25M3 as well as other, more casual alternatives, check out our portable hard drive buying guide.
User Experience
The vast majority of Rugged Armor A60 users were pleased with the product. Most didn't push the drive to its limits or tested the safety features of the enclosure but in everyday usage, the drive was functional and easy to use.
However, the main issue that some customers encountered was related to formatting, as the drive had, in some cases, appeared empty and demanded to be reformatted. Other complaints involve various cases of data loss, but the few complaints that A60 has can be written off as common with any computer device. Unfortunately, while the Rugged Armor A60 enclosure is very well crafted and designed to endure many years of usage, the Toshiba drives inside the enclosure isn't exactly special and may encounter problems at some point.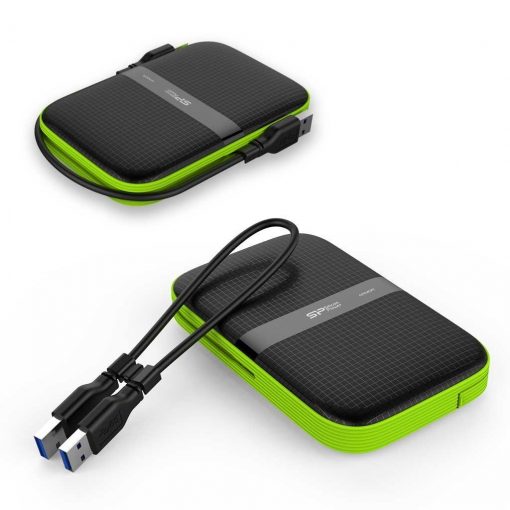 What's in the box?
There's nothing much in the box, just one of the most durable hard drives on the market. Every box contains the Silicon Power Rugged Armor A60 portable hard drive of your chosen capacity, as well as a short (~1 ft / 33 cm) USB-A to USB-A cable. If you order the Type-C package, you will also receive the USB-A to USB-C cable alongside the default USB-A to USB-A one.
Verdict
Silicon Power Rugged Armor A60 doesn't just boast about being durable, it has the data to prove it, both from professionals and everyday users. The drive definitely appeals more to people who work with data outdoors, like photographers or drone pilots. While A60 is still also viable for regular users, the idea behind has clearly been "put whatever drive in our awesome enclosure", making simpler, more reliable (in terms of performance) drives like WD My Passport to be more fit for regular everyday usage, where you're not going to drop the drive every now and again or drag it through water.
Either way, if you want to try the Rugged Armor out, go for it, because it doesn't cost much more than some less durable portable drives from other manufacturers. All in all, it's a decent drive in an incredibly durable and practical case, which makes it a valuable purchase