There are tons of reasons external hard drives are worth having, and considering the low investment cost of obtaining one it actually becomes more difficult to argue why you shouldn't have one. From gaming to photos and documents, external hard drives are an inexpensive way to protect yourself against data loss.
In the case of the Seagate Backup Plus Ultra Slim 1TB, the portability part of the external drive is taken to a whole new level. If you are looking for an external hard drive that allows you to store tons of data but is also lightweight and extremely compact then this is definitely the product you've been looking for.
Related: External Hard Drive Buying Guide
Seagate Backup Plus Ultra Slim Specs
PROS
Thinner and more lightweight than most other external HDDs
One of the fastest portable hard drives in most tests
CONS
A bit more expensive than most portable HDDs
Inconsistant benchmarks, a couple even showing it to be slower than average
Breakdown of the Features
Seagate Backup Plus Ultra Slim comes in 1TB and 2TB capacities, which isn't a lot but will do just fine for most casual users. Plus, higher capacities would cost the drive its sleek design. The drive features a USB 3.0 connection and an average 2-year warranty.
As for transfer speeds, the Ultra Slim delivers one of the highest sequential read/write speeds among portable hard drives. 125-135MB/s sequential benchmarks are common with this drive and are higher than the usual 110-120MB/s that most other drives deliver. However, it's worth noting that some benchmarks actually showed it to be slower than most of its competition, showing speeds around 110-115MB/s. While there were only a couple of such benchmarks that we could find, they showed that consistently high transfer speeds are not guaranteed with this device. Still, you would barely notice the difference as most hard drives from the largest manufacturers deliver similar read/write speeds as the Ultra Slim.
Although fast and small, the Backup Plus Ultra Slim is also quite expensive, reaching 4.2 cents per GB for the 2TB version, and 6.5 cents for the 1TB version on most major retailer sites. Most portable drives are in the ballpark of 4.5-5 cents/GB for lower capacities, making the Ultra Slim slightly more expensive. But the slim and dashing silver or gold design does add to the value of this drive, so it's far from an unreasonable price.
My First Impression
When I was looking for a new external hard drive one of the biggest priorities was lightweight portability. The last one I had was a Western Digital and it was a little too big to be conveniently carried around in my work bag. It was always getting jostled around because it was too bulky to fit anywhere except the main compartment. So, you can imagine how pleased I was when I found the Seagate Ultra Slim, which looked to be about the size of a phone. I ordered it and when it arrived the size was as advertised, which was perfect for fitting it nicely in a zipped up compartment in my bag to keep it from rattling around with everything else.

It came ready to use and it has a fairly fast transfer rate, enough that it didn't take long at all for me to load all my music, videos, and digital portfolio onto it in only a few minutes. It came ready to use upon delivery and I was able to quickly plug it into my PC and start transferring my data. Personally, I use this as a heavy duty flash drive so I can have my music and digital portfolio with me at all times as it is too much for a flash drive to handle and I want to keep my portfolio backed up at all times without having to worry about cloud-based security breaches that could corrupt my files. I was also very happy with its compatibility with both Windows and Mac without having to reformat which is great for sharing information with clients regardless of their operating system.
The Advantages of the Product
The first big advantage this product brings to the table is cost. External hard drives, in general, are a fairly low-cost way to protect important information against data loss, and the Seagate Ultra Slim is no exception. Though portable hard drives don't typically offer the RAID protection that comes with servers they are significantly less expensive and are usually ready for use upon arrival.
Additionally, another great benefit this driver has to offer is how easy it is to replace should something go wrong. Because of the low cost of the initial investment, should the drive become damaged in any way they are usually easy and cheap to replace, unlike internal hard drives which are generally more expensive and require some skills in order to safely replace them. Ideally, your hard drive should only be used as a backup for data, keeping your information protected should anything happen to the original material, meaning as long as you replace the faulty drive quickly and backup your information to the new one your data is still protected.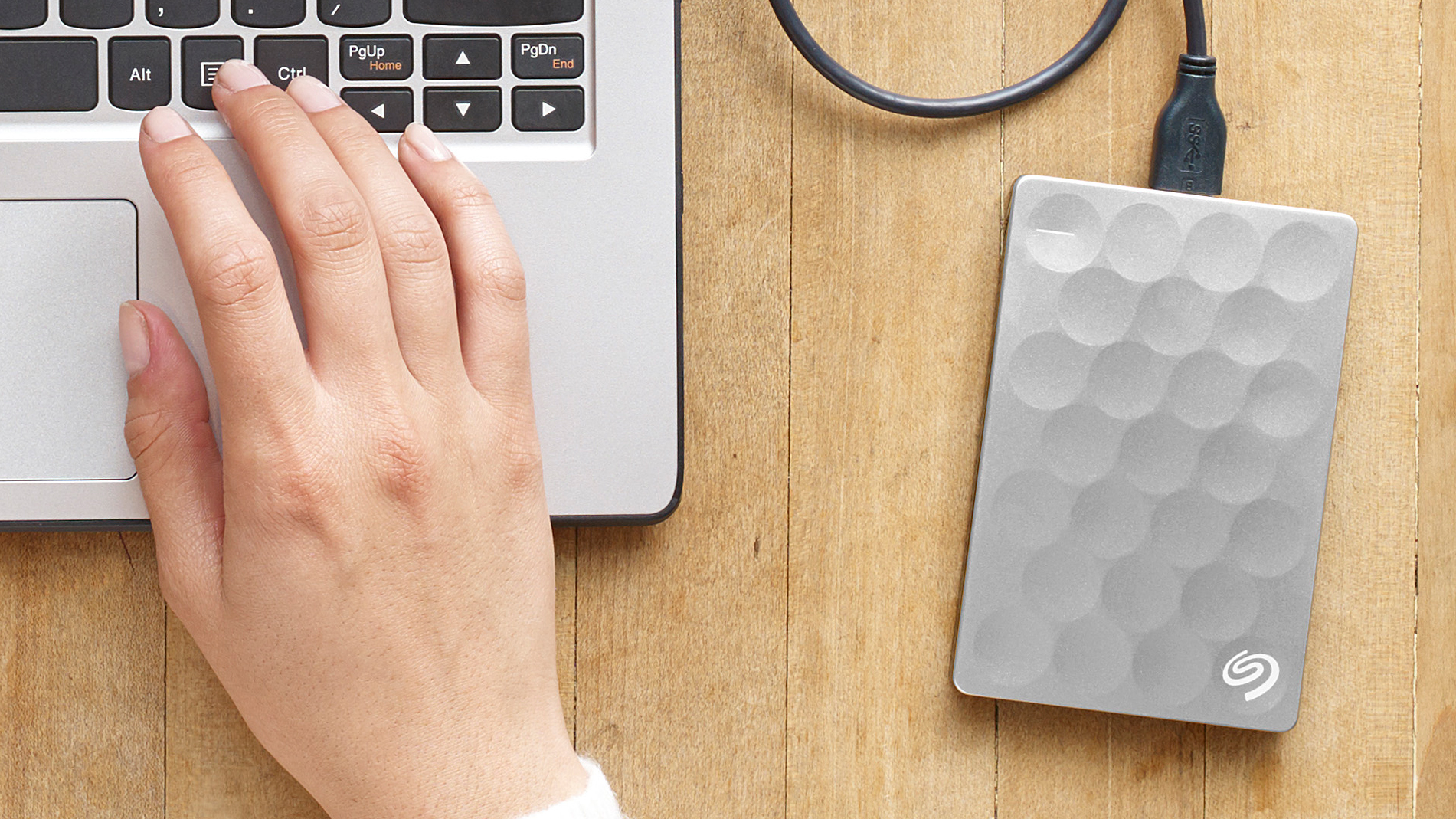 Another great advantage is the amount of space it can store. Unlike flash drives that can usually only store a dozen gigabytes, external hard drives can store terabytes. In the case of this particular drive, it comes with 1 TB, which is enough to store two million HD photos. That is enough to back up entire family albums over several generations. Sentimentality aside, looking at the storage capacity is an easy way to put into perspective just how much space it has. If you are looking for a device to store videos on then you will need this kind of space as a flash drive simply won't cut it; especially, if you are on the move and need to share files across multiple computers in different spots. Which brings me to my next point.
Unlike flash drives that can usually only store a dozen gigabytes, external hard drives can store terabytes. In the case of this particular drive it comes with 1 TB, which is enough to store two million HD photos.
Portability. Whether you are a student or holding down a senior position in your career field nearly everyone needs to be able to share information and it definitely helps when that information is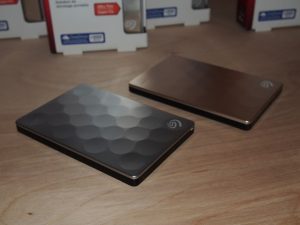 accessible from any computer. Granted, lots of people store information in some kind of cloud-based storage, however, the space is usually limited and less secure than an external hard drive. With the Seagate Ultra Slim External Hard Drive, you can back up your information and bring it with you to be accessed from any point. And the Ultra Slim makes portability especially easy because (as the name suggests) the slim drive is compact and lightweight in order to be easily carried around with you wherever you go.
Yet another benefit of going with this device over its competition is its compatibility with both Windows and Mac operating systems without needing to reformat. This allows you to seamlessly share data over a wide variety of computers and a wide number of users. It is also compatible with several apps which allow you to access cloud documents for additional security of file accessibility as well as sharing photos or videos to social media platforms.
Which brings me to the final advantage the Seagate Ultra Slim has to offer, which is peace of mind. As I mentioned before, the Ultra Slim is easy to replace should anything go wrong, however, I would like to take a quick look at why you would be using it to back up your information, to begin with. And the simplest reason is to protect your data from system failure. Now, I don't mean that it protects the information from being stolen (as basically anyone can steal a driver) but rather the protection against catastrophic data loss, which can often be the result of contracting a virus or having an unforeseen software issue. There are lots of reasons you could lose your data, however, the more places you have it stored the better your chances of maintaining your files.
The Disadvantages of the Product
The only real disadvantage to this product is that since it is so slim it is a little less durable than some other drivers, though this is a fair trade for the price and the convenience of portability. I just keep mine in a case when it is in my bag and that seems to work just fine in keeping it more secure and protected. In my opinion, it is an easy fix as long as you take precautions and aren't too rough with the device. It's also an understandable tradeoff for how compact the device is, but in the end, it is really a judgment call on the person who is purchasing the product. If you tend to be a little rough on your devices then maybe you will need to go with a bigger and more durable drive, however, if you don't mind being careful it shouldn't be an issue. But, in the end, I suppose it is simply a matter of preference or priority.
If you tend to be a little rough on your devices then maybe you will need to go with a bigger and more durable drive
What's in the Box?
The only items that come in the box are the hard drive and the USB cord to plug and go!
The Final Verdict
Overall, I think this is a great device for the price and is one of the smallest external hard drives I have ever seen, yet it still can store 1 TB of data. You get a lot for your money with the Seagate Ultra Slim and it is extremely easy to store in a work bag or even a purse. Though it may need a little more care than a larger hard drive since it is so thin I don't think that is too that big of a problem and mine hasn't had any issues or damage. In the end, I think it is the smallest drive you can get and the price is hard to beat.