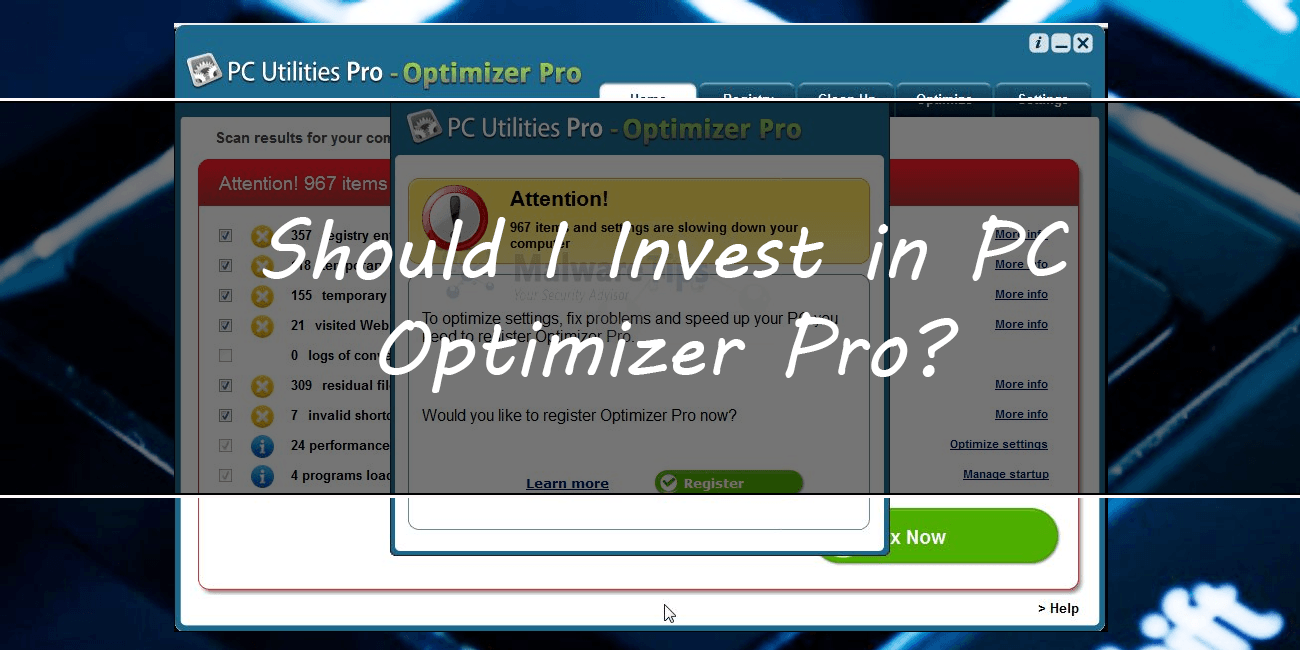 It is incredibly frustrating when your computer starts acting slow and sluggish. A system optimizer can clean up unwanted junk and enhance PC performance so that you can put off buying a new computer. In this PC Optimizer Pro review, we examine this software and provide additional recommendations.
If your computer is running slowly, you may be looking for a solution to this pesky problem. Many people opt to invest in a system optimizer to remedy the issue. In our PC Optimizer Pro review, we examine this software program and give our own recommendations when it comes to the best system optimizers on the market. Our aim is to give you helpful advice on how to get your lagging computer running at optimal performance once again.
What Is a System Optimizer?
Replacing an old computer with a spiffy new model can be exhilarating. One of the best parts of powering up a new PC is seeing just how fast it operates. You push the power button and it's ready to go within seconds. You start your favorite game and it runs without any buffering or lag time. You open multiple programs at once and you have no problem toggling from one to the other.
After a while, you start to take this speed for granted. Then a few years down the road, you begin to notice a slower response time. Powering up takes longer; the same programs freeze over and over, requiring you to reboot; and that favorite game becomes too slow and frustrating to even play anymore.
So, why does this happen? Why can't that new PC stay new forever? There are plenty of reasons. Over time, lots of little issues begin to pile up, affecting the computer's operation:
Your hard drive gets packed to the gills with useless files and folders you don't even remember creating.
You download lots of apps, many of which you rarely use. When you decide to delete the ones you no longer need, drivers and other unnecessary system junk gets left behind.
Program caches get larger and larger without you noticing, bogging down the hard drive.
When all of this detritus adds up, it puts great pressure on your operating system. Plug-ins and toolbars inhibit your web browsers from behaving normally. Old drivers stop working the way they were designed to work. Simply put, your PC operation becomes slower than molasses in January.
There are few things more frustrating than a computer that refuses to perform simple functions in a timely manner. When you're on a work deadline or in the middle of a challenging game level, it can make you want to pull your hair out. This is when many people decide it's time to bite the bullet and purchase a brand-new PC. That's well and good if you have the money and the time to transfer files and folders and re-upload all the programs you need onto another computer. However, PC optimizers provide another, less costly solution.
A system optimizer is a program you can download to locate and fix trouble spots in your computer. It addresses issues with Windows Registry, removes duplicate and unnecessary files and programs—thereby freeing up disk space—and defragments your hard drive. These actions serve to get your computer running faster and more smoothly.
PC Optimizer Pro Review: Should You Invest In This Program?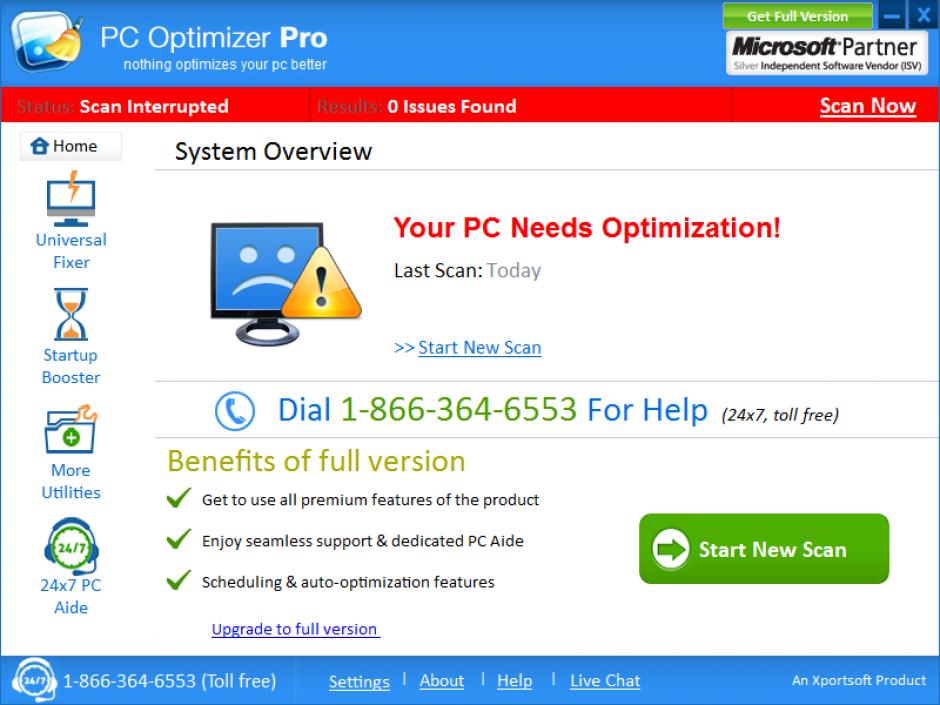 PC Optimizer Pro advertises itself as one of these system optimizers. However, at best it is unnecessary and at worst it is a scam. It is considered by industry experts to be rogue software. Rogue software is a type of malicious software that convinces users that there is something wrong with their PCs. It then scares them into paying for additional software that will purportedly "fix" the imaginary problem. Often, this additional software is dangerous in and of itself, and actually infects the computer with the kind of malware the user was trying to avoid in the first place.
PC Optimizer Pro is free to download, which makes it especially attractive to budget-conscious users looking for ways to repair their current PCs and avoid purchasing new computers. Once downloaded, the software specifically warns users that their computers are infected with up to thousands of different viruses when, in fact, their PCs are completely malware-free. It then informs the users that they need to upgrade to a full version of the software to remove the viruses. This full version costs the users money.
What Do I Do If I Have Already Downloaded PC Optimizer Pro?
The first thing you should do if you have downloaded the free version of PC Optimizer Pro is avoid giving the program your credit card information. Even if your computer is infected with a virus, this software's scan results cannot be trusted. The full version will not remove any harmful malware. It may even insert some.
The next thing you should do is remove the program from your PC. Here are step-by-step instructions on how to do this yourself:
Click the Start button on the bottom, left-hand side of your screen. From the pop-up menu, choose the Control Panel.
In the next pop-up window, locate Programs and click on "Uninstall a program".
Then scroll down until you see Optimizer Pro. Right click on the program and then click "Uninstall".
A pop-up box will ask if you are you sure want to uninstall the program and its components. Click Yes.
When the program has been successfully uninstalled, another pop-up box will appear, letting you know that it has indeed been removed from your computer.
After successful removal, you may find ads for Optimizer Pro that ask you to reinstall the program. These ads may even promise heavy discounts. Ignore the ads.
But My Computer Is Still Slow. Now What?
While we do not recommend PC Optimizer Pro, there are many alternate products that have a positive reputation in the PC community and can improve the speed and operation of your computer. Below we list some different options, outlining their features, pros, and cons.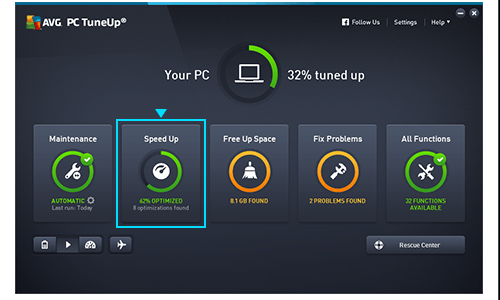 AVG TuneUp is a suite of programs. One of the best features of this system optimizer is that you can install it on as many devices as you would like for just one price. There is no need to pay separate licensing fees for each device you own; it even includes apps for Androids and MACs. Depending on how many devices you use, this feature alone can save you hundreds of dollars.
The AVG suite also has an Automatic Software Update feature. Not only does this element consistently download improvements to the suite itself, but it also downloads updates for popular programs you use every day, like WinZip and Firefox.
There are several more features that make AVG TuneUp a great option. The optimizer's Duplicate Finder locates duplicate files and removes them at your discretion. It has cleaning directions for almost 200 popular programs, meaning it knows when unnecessary junk has been left behind and gets rid of it for you. Beyond cleaning your PC for optimal performance, AVG TuneUp includes Windows customization, backup and file recovery, and battery-life settings.
AVG TuneUp is incredibly easy to use. Upon installation, it gets to work finding system issues and repairing them right away. It also gives you suggestions on how to further improve your system's general performance.
The suggested cost of AVG TuneUp is $49.99. However, we were able to find some online sales with prices as low as $29.99. As for cons, we really couldn't find any worth mentioning. This optimizer will keep your PC running at peak function.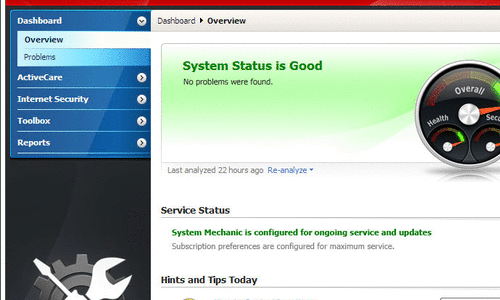 Iolo System Mechanic is another excellent option to get your PC back on track. Like AVG TuneUp, you can install the optimizer on as many devices as you would like for one licensing fee, as long as you are not using them for business purposes.
One cool feature of the Iolo System Mechanic is its Privacy Shield suite. The tools in this suite are designed to stop Microsoft from looking through your personal data. They allow you to disable Windows 10 programs that collect and share sensitive information, including the programs you use, your web browsing habits, and your WiFi network connections.
Of course, the main reason you purchase a system optimizer is to improve your system's performance. The Iolo System Mechanic is no slouch in this regard. When the software detects a problem, a "Repair Now" button appears on its main screen. Simply click on the button and the program starts the appropriate action to remedy the issue.
The PC Accelerator realigns program files to free up disk space. Stability Guard prevents threats to your PC from using algorithms to cause harm. The Commonly Redundant or Unnecessary Decelerators and Destabilizers (CRUDD) feature removes the unwanted, bundled programs that clog up your system when you download a program you do want.
The Iolo System Mechanic also explains problems and solutions to you in plain English, so you can understand what is going on with your computer even if you don't have an advanced computer literacy.
The list price for this software is, like AVG TuneUp, $49.99 per year. We were able to find websites offering the first year for as little as $14.98. The one detractor of the system is its NetBooster tool. While certainly not harmful, it is not as effective at improving internet speeds as we would have liked. That one disappointment is minor, however, and would not keep us from purchasing the product.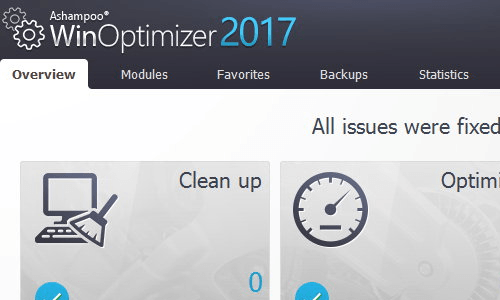 The Ashampoo WinOptimizer is nearly on par with AVG TuneUp and Iolo System Mechanic. When you open the program, simply click on the Analyze button. The software scans your PC for issues and then starts fixing them once you click on Optimize. You can also set the program to automatically scan and clean your computer once every week. A ten-day trial lets you play with all of its features before you decide whether or not you want to purchase the software.
Ashampoo WinOptimizer has all the basic capabilities you expect from a system optimizer. It deletes unnecessary files, fixes the Windows Registry, and lets you choose which programs automatically start when you boot up your computer. All of these actions help facilitate a faster boot-up process and quicker overall operation. If your computer does suffer harm, a backup manager lets you restore your computer to an earlier state.
The software's privacy control puts you in charge of the information you share with Windows. Its Game-Booster feature closes unnecessary background programs so your gaming is faster and uninterrupted. Live-Tuner prioritizes and boosts the applications that matter to you most in real-time.
The licensing options are where Ashampoo WinOptimizer is outdone by AVG TuneUp and Iolo System Mechanic. The lowest price we found online was $39.00, which is also the manufacturer's recommended price. Unfortunately, you can only use the software on up to three different devices. If you have a big family and each member has his or her own PC, this alone may make Ashampoo WinOptimizer the wrong choice for you. You can, however, opt to pay an additional $9.99 for five more licenses. As an extra bonus, you don't need to renew the subscription fee every year; that is, unless you want to upgrade to newer versions. Upgrading also costs $9.99.
What We Think
We recommend that you do not download the free PC Optimizer Pro software, and we highly recommend that you do not throw any money at the program when it tells you that your computer is infected with multiple viruses that can harm your PC. If you have downloaded the program previously, remove it from your computer as soon as possible by following the directions outlined above.
If you are set on improving the operation of your current device, AVG TuneUp, Iolo System Mechanic, and Ashampoo WinOptimizer are three options that can clean up clogged systems and speed up performance. These optimizers are trusted by industry insiders, meaning you can purchase them with confidence. No computer is built to last forever, but you can extend the life of your PC by getting rid of irrelevant junk and freeing up disk space with the aid of one of these programs. Kiss those computer frustrations goodbye.