Although most technologies gradually advance both in terms of performance and lowering their own cost, SSDs still have to catch up on the last part. Getting measly 500GB of storage will often cost upwards of $150 in the world of solid-state drives so many people want to save as much as possible on such a budget-impacting purchase.
In our opinion, the best 2.5-inch SSD option for this right now is the Crucial MX300, which matches many other SSDs in terms of performance, but is available for noticeably lower prices.
MX300 Specs
[amazonjs asin="B01IAGSD68″ locale="US" title="Crucial MX300 525GB SATA 2.5 Inch Internal Solid State Drive – CT525MX300SSD1″]
PROS
Distinctly cheaper than most similar SSDs
Well-received by customers
CONS
Slower than similar SSDs – performance drops proportionally to the price
Breakdown of Features
The MX300 is a 2.5-inch SATA III (6Gbps) SSD, 7mm thick. The 275GB, 525GB, 1TB, and 2TB capacity options will cover basically any customer's needs. All MX300 models come with a regular 3-year warranty. This is one of the cheapest SSDs available on the market, especially for capacities under 1TB. For the most part, you'll find MX300 to cost between 26.5 and 34 cents per GB on most major retailer sites.
This, however, is largely due to the use of TLC NAND cells, as opposed to the more expensive MLC technology. In short, TLC allows SSDs to achieve higher capacities by cramming data into a smaller physical space. But, this also complicates the data writing and reading processes which, in turn, slows down the drive a bit and wears down the NAND cells more quickly. The difference between TLC and MLC isn't too noticeable but TLC still remains a budget SSD feature, hence the price of the MX300.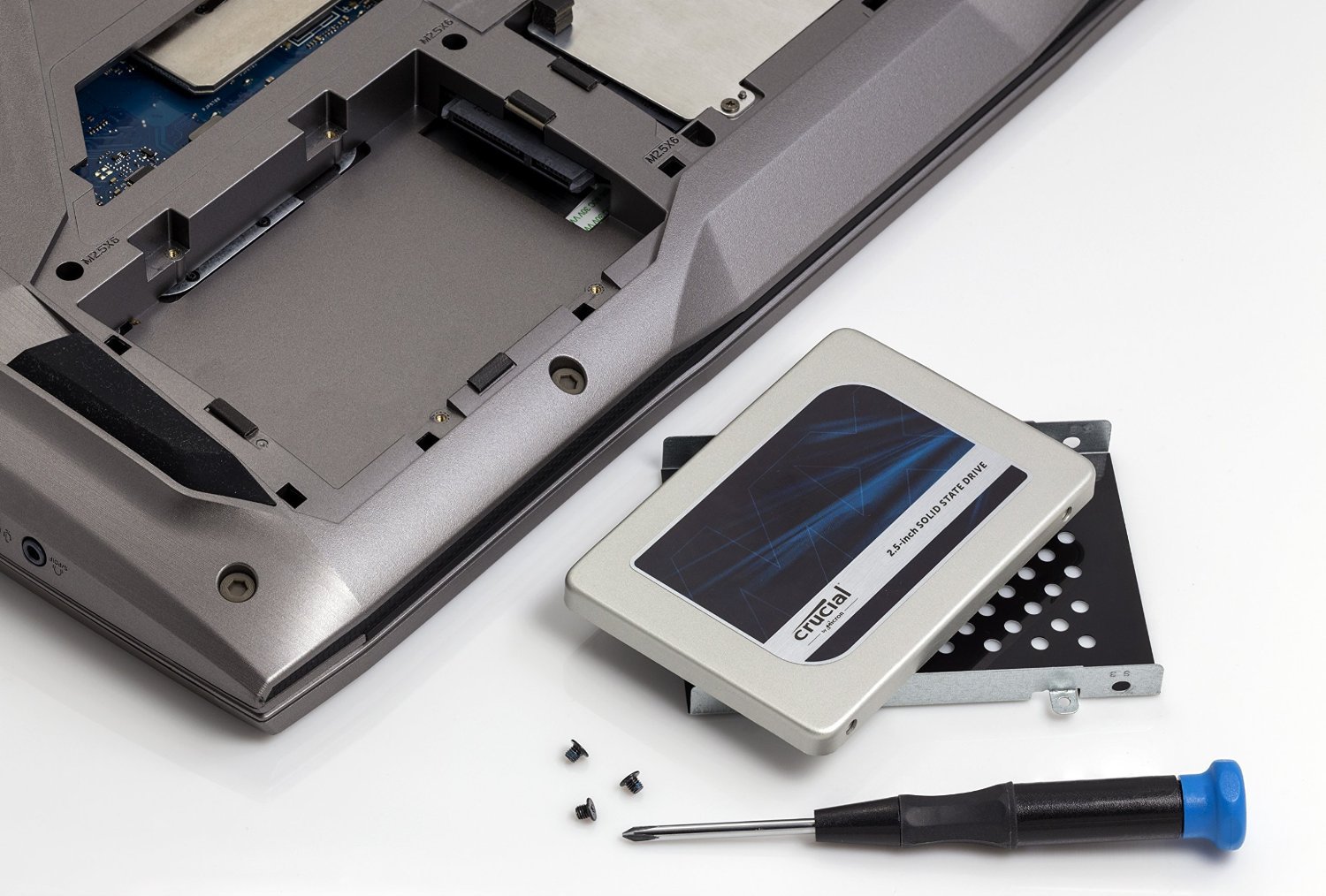 At the same time, the MX300 also uses technologies such as Dynamic Write Acceleration and Momentum Cache, which compensate the drive's inherent performance disadvantages. This results in the quite respectable sequential speeds of up to 464MB/s and 318MB/s read/write, respectively (UserBenchmark). The drive's random performance is also quite impressive for its price – 23MB/s 4k read and 62MB/s 4k write.
It will be slightly slower than some of the most premium SSDs on the market, like the Samsung 850 PRO or 850 EVO, but this difference should largely go unnoticed under non-professional use (no massively demanding editing programs). You can also download the Crucial Storage Executive tool to monitor and manage your MX300 SSD. This software will also give you access to the previously mentioned Momentum Cache which utilizes unused system resources to speed up data loading times. Though be careful with this feature, as it seems to be quite buggy for some people.
Alternatives
[supsystic-table-diagram id='141′]
We decided to compare the MX300 to one other budget SSD – the Mushkin Reactor, as well as the market leader – the Samsung 850 EVO. The former is slightly cheaper but potentially less reliable, while the latter brings a lot more performance to the table while also being noticeably more expensive than the MX300. For more options, see our SSD and 2.5-inch drive top lists.
Samsung 850 EVO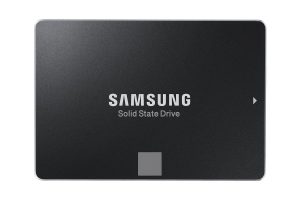 This is one of the fastest SATA SSDs on the market right now, as well as one of the most reliable ones. It comes in 250GB, 500GB, 1TB, 2TB, and 4TB capacities, all with a lengthy 5-year warranty. The extended warranty, the high customer ratings, and the Samsung branding alone ensure that the 850 EVO will last a long time.
Arguably even more impressive is the EVO's performance – 504/397MB/s seq. read/write and 36/76MB/s random 4k read/write, both of which are benchmarks surpassed by very few other SATA SSDs. However, be ready to pay 10-15% more for the EVO than what you'd pay for an MX300 of the same capacity. All in all, the EVO is the market leader for a reason, since it achieves high performance and reliability for quite the affordable price. However, if you're focused more on saving money than you are on absolutely maximizing your performance, the MX300 would be a valid alternative to the EVO.
Mushkin Reactor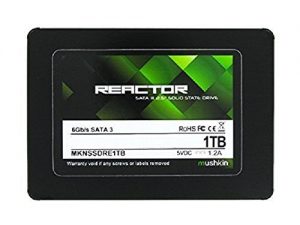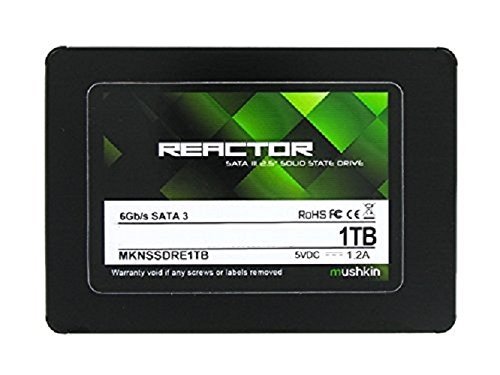 The Mushkin Reactor, on paper, seems just flat-out better than the MX300. It comes in 240GB, 250GB, 480GB, 500GB, 960GB, 1TB, and 2TB capacities, with a 3-year warranty. With 496/402MB/s sequential read/write and 21/78MB/s 4k read/write speeds, the Reactor's performance is way above that of the MX300. Contrary to what that might make you think, the Reactor costs roughly the same as the MX300 on most retailer sites (26~34.5 cents per GB).
This leaves brand recognition as the only downside of the Reactor, as opposed to the MX300, and this can carry some reliability concerns along with it. It's as simple as more people confirming that it will work for more than a year or two. But, as fewer reviews (as opposed to the MX300) as the Reactor might have, they're still very positive, which makes it the cheaper, faster, and flat-out better alternative to Crucial's SSD.
Verdict
Crucial MX300 is a good way to save money when building a high-performance PC system or simply getting speedy storage for your laptop. It might be a bit slower on paper than the 850 EVO and the Mushkin Reactor but it's still on par with most other SSDs. Plus, the speed difference will not be noticeable at all for casual usage, like games or basic software.
Overall, if you're willing to sacrifice a bit of performance and a bit of longevity to save as much money as possible on your new SSD, the MX300 might be a good option. However, the Mushkin Reactor seems to be both faster and cheaper than the MX, making it the better choice of the two.