Need more storage for Xbox 360? Just buy 2TB external hard drive
When Xbox 360 came out, it had just 4GB hard drive and supported external storage up to 32GB. That sounds ridiculous now, newest AAA Xbox games can take up to 50GB, and I'm not counting updates and DLC.
Later there were other Xbox 360 storage options available – 4GB; 20GB; 60GB; 120GB; 250GB; 320GB and now from late 2015 there's also Xbox 360 500GB console available. Well, 500GB is something closer to today's reality, but still, it will fill up quite fast. Notice, that very often Xbox bundle deals are much cheaper than Xbox console alone.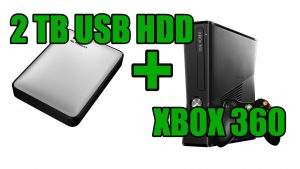 The Good News – Xbox 360 Supports External Hard Drive Up to 2TB. The Xbox 360 received a system update in spring last year, since then it supports external storage devices with capacity up to 2TB. That's fantastic! But the next question would be – which is the best Xbox 360 external hard drive? We have created a list of Top 6 external hard disks that will work great with Xbox 360.
One thing to know before purchasing your external hard drive:
[supsystic-tables id='7′]
The Best Xbox 360 External Hard Drive – Seagate Game Drive for Xbox 2TB
The Seagate Game Drive is our Top pick so that I will discuss it a little bit more detailed. What should you know about this drive? [amazonjs asin="B01065S79E" locale="US" title="Seagate Game Drive for Xbox 2TB Green (STEA2000403)"]
The Seagate Game Drive is an excellent storage device for those who are willing to pay extra and get more premium device and the only external hard drive designed exclusively for Xbox. This external hard drive has a capacity of 2TB, which is four times more than original build in storage! However, if you want to use this hard drive exactly for Xbox 360, don't let your storage greed pick you a 4TB version because it supports only Xbox One, but 2TB works for both – Xbox 360 and Xbox One.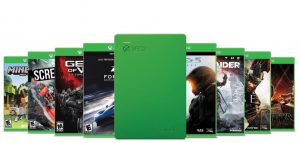 Top Seagate Game Drive features:
It works completely fine with both Xbox One and Xbox 360.

It has capacity for more than 50 games
Great Xbox-themed design and compact size
Easy and fast plug-and-play setup
Competitors
Besides Seagate Game Drive, there are many good external hard drive alternatives worth to be considering with their special features.
Seagate Backup Plus Slim 2TB (full review) is a great classy looking device that offers you an opportunity to get 200GB of free OneDrive cloud storage for 2 years.
Another member of Seagate family – Seagate Expansion 2TB (full review) that claims to be the fastest external hard drive with its SuperSpeed USB 3.0 file transfers.
Then there is a genuine quality and very popular external HDD – WD My Passport Ultra 2TB (full review), a solid, simple hard drive.
For those who love to carry their games with them all around – for example -from one place to another -while riding a bicycle or running, or just want to keep their hard drive safe from an accidental drop in water should choose Silicon Power 2TB Rugged Armor A60. A rugged, waterproof device.
And at last but not the least Xbox 360 HDD 500GB, for those who need just a slight storage update, from an original manufacturer.
For those who own a Sony PlayStation 4 console, make sure you check out our article about our Top 7 PS4 internal hard drives by clicking here.
Comparison table
[supsystic-tables id='6′]
Seagate external hard drive speed comparison
[supsystic-table-diagram id='19']
Frequently Asked Questions
[toggles behavior="toggle"]
[toggle title="What is maximum external hard drive capacity for Xbox 360?"]The Xbox 360 supports external hard drives up to 2TB of capacity. [/toggle]
[toggle title="Why don't I have a full 2 TB of storage space available on my USB drive?"]The Xbox 360 reserves 512 MB of storage space for system use. [/toggle]
[toggle title="My external hard drive works fine on my Xbox, but not on my computer"]When you format an external hard drive to its maximum size for use on Xbox 360, your computer can't read the Xbox 360 custom folder, nor can you see any files saved in that folder. This appears as a private folder named "Xbox 360" on the external hard drive. [/toggle]
[toggle title="How do I add more space on a USB flash drive I've formatted with a customized, small Xbox 360–only folder?"]You'll have to reformat the USB flash drive to make the folder larger, or format the drive to the maximum size of 2 TB. [/toggle]
[/toggles]
Some other considerable choices
[amazonjs asin="B00R4O9HCM" locale="US" title="Toshiba Canvio Connect II 2TB Portable Hard Drive, Black(HDTC820XK3C1)"][amazonjs asin="B00IRV005E" locale="US" tmpl="Small" title="LaCie Rugged Mini USB 3.0 / USB 2.0 2TB External Hard Drive (9000298)"][amazonjs asin="B00K087BM2″ locale="US" title="Transcend 2 TB StoreJet M3 Military Drop Tested USB 3.0 External Hard Drive (TS2TSJ25M3)"]