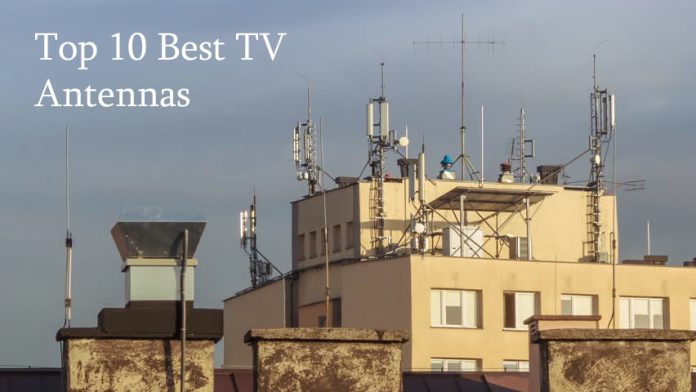 Often the best choice for TV is cable because it's simply reliable and does its job very well. However what if the cable is not available or maybe you just don't want to pay any extra fees? If so, you could use a long range TV antenna as a great alternative to cable or satellite. In the result, your bills will be lower and you won't have any commitments with third-party companies.
Nowadays long-range TV antennas are more capable than ever being able to pick up different signals like UHF, VHF, and FM meaning you will be able to watch all your favorite channels. The greatest thing is that these antennas don't cost too much and everyone is able to afford one.
Our team has done some deep testing on all of the antennas mentioned in this list so we could help you choose your best fit. Let's take a look!
How did we test these antennas?
Overall a TV antenna is nothing new and it's working principle is very straightforward. However, over time as technologies improve, so do antennas does result in more efficient and better-performing product.
Of course, we didn't test these antennas in the city, because all of them would perform decently. Fortunately one of our team members has a countryside in a quite remote place – about 70 miles from the closest city. There our testing began.
What to consider when choosing a long-range antenna?
You can't just choose an antenna by its looks and price. There are serval factors and criteria what you have to go through when choosing a long-range antenna.
Range of antenna
This is one of the most important criteria when looking for TV antenna. It must have a proper range otherwise it might not work as well as it could. We always advise going for an antenna with the largest range unless you live very close to the broadcasting station.
Size
Size does matter when it comes to antennas. If you got ton's of space, it shouldn't worry you much, but if you want to fit a relatively large antenna in a small room, size can mean a lot.
Price
Most of the long-range antennas don't cost more than 100$. In fact, a decent antenna won't cost more than 40-50$. However, you will definitely be able to find even cheaper ones. One thing to keep in mind is that more expensive antennas usually do perform better and in our opinion, a bit more expensive antenna is a better investment. What's the point of getting really cheap one and later conclude that it doesn't work as it should?
Our Top 10 Long Range Antennas
1. Xtreme Signal Long Range Yagi Style VHF/UHF HDTV Antenna
The first on our list is Xtreme Signal Long Range Yagi style antenna. It features traditional high-gain design antenna design thas very effective. The Back reflector helps to reduce interference and improves signal quality. It can pick up UHF signals from the broadcasting station that's 70 miles away or VHF signals from the station that's 25 miles away. That's very decent performance for an antenna. In our tests, this antenna showed excelled results providing a high-quality signal.
In the package, you get mounting hardware. You can attach this antenna to a mast or pole that's 1.6 inches in diameter or smaller.
If you're after as many free HD broadcasting channels as possible, this antenna is worth checking out.
---
2. ViewTV Outdoor Amplified Antenna
If you're looking for superb and easy to use an outdoor antenna, you simply can't go wrong with ViewTV's offer. It features a very sturdy build and can be installed outdoors – on the roof, for example, meaning it's weather resistant. It also features one of the largest ranges – it can receive a signal from a broadcasting station that's as far as 150miles. Now that's truly impressive!
ViewTV outdoor antenna lets you watch HD TV channels that you can watch in 720p, 1080i and 1080p. VHF can operate with a frequency of 40~300MHz and UHF with a frequency of 470~890MHz. 
A superb feature is an inbuilt motor that can be used to rotate antenna 360 degrees. Now you can install your antenna and simply use included a wireless remote control to move your antenna in order to pick up a better signal. Overall this is a very advisable choice.
---
3. Xtreme Signal HDB8X-NI 8-Bay VHF/UHF HDTV Bowtie Antenna
Next on our list is Xtreme Signal HDB8X-NI 8-Bay antenna. This is a fairly large and capable antenna that showed outstanding results in our real-world tests. It has a built-in 75-ohm transformer that's great for direct coax connection features. It's also very durable being able to withstand even extreme weather conditions. The build features omnidirectional plates meaning you can adjust each of them to different directions.
One thing you will have to keep in mind is that this antenna is truly large. When fully assembled, it has a length of 3.5 inches, the height of 32 inches and the width of 47 inches.
It's an excellent choice if you want to receive the signal from multiple broadcasting stations or you live behind hills or mountains.
---
4. Mediasonic Homeworx HW110AN Super Thin Indoor HDTV Antenna

What if you live relatively close to the city or broadcasting station and you want something cheap and small, that's super easy to install yet performs decently? Out of all cheap and small TV antennas, Mediasonic Homeworx is probably the best choice you can buy. It can receive signals from 25mile distance which is decent. It has traditional 75-ohm impedance and frequency ranges for VHF 170 – 230MHz, and for UHF 470-860MHz. It can provide you with a high-quality signal that will be good enough to watch TV in Full HD.
Note that this is an indoor antenna and most likely will have to be placed somewhere nearby your TV.
---
5. Marathon HDTV Long Distance Amplified Indoor / Outdoor Digital TV Antenna
Marathon HDTV long distance amplified antenna is great for both: indoor and outdoor usage. Now you can eliminate all satellite or cable costs with this cool antenna. This definitely isn't a metal looking spider-shaped antenna. It uses more advanced technology that results in powerful 40 dBi of gain and noise lower than 3.5 dB. In the package, you get everything for assembly.
We loved the design of this antenna, it truly fit anywhere and features a very robust and solid build quality. One thing to note, that there is a price to pay for all of this. In comparison with other antennas, this one is fairly expensive.
---
6. ClearStream 2V Indoor/Outdoor HDTV Antenna
Looking for an effective antenna that's super easy to install? Then ClearStream 2V HDTV antennas are exactly for you. It can receive signals from broadcasting stations that are 60 miles away. The signal quality is excellent and can provide full HD resolution. In the package, you get 30-foot coaxial cable and 20-inch mount as well as all the necessary installation hardware.
We were suprised how this very simple looking antenna showed very high performance results in our tests.
---
7. 8 Element Bowtie Indoor/Outdoor HDTV Antenna
Another excellent choice is 8 Element Bowtei HDTV antenna. It's quite similar to Xtreme Signal HDB8X-NI 8-Bay, but features better range of 70 miles. You will be able to watch all your favorite channels in full HD resolution. It's superb choice if broadcasting signals come from several different directions. Overall build quality is good and seems like it could withstand even extreme weather conditions.
---
8. 1byone TV Antenna
1byone TV antenna isn't as powerful as other long range antennas. However, it's more than good enough for range of up to 50 miles. With a price tag of below 30$, it's one of the best ways how to eliminate all satelite and cable costs. In the package you get everything you need for assambly and connections. Design is superb for indoor use.
---
9. ClearStream 4 Indoor/Outdoor HDTV Antenna
This is another superb long range antenna offering 70 mile range, lifetime warranty on parts and all-weather mounting hardware. What else could you ask for? It's capable of recieving singnals from such networks like ABC, CBS, NBC, Fox, CW, PBS and do it in full HD resolution.
---
10. ANTOP AT-414B UFO 360 Degree Smartpass Amplified Outdoor/Attic HD TV Antenna
At last there's this strangley shaped yet durable and high-tech antenna. It comes with a 33ft Coaxial Cable-4K that's UHD Ready as well as Built-in 4G LTE Filter. It has 55 to 65-mile reception long range. Overall it's great if you want antenna that offers all the latest technologies.
Final words
Hopefully after reading this article you were able to find a long range antenna that fits your needs and budget. Overall a long range TV antennas is one of the best choices if you live in a house or a house that's far from city. Because of their simple build, they can last for ages if nothing is damaged.
The most important thing is receiving high-quality signal and that's exactly what antennas above offer. All you have to do is choose your antenna.