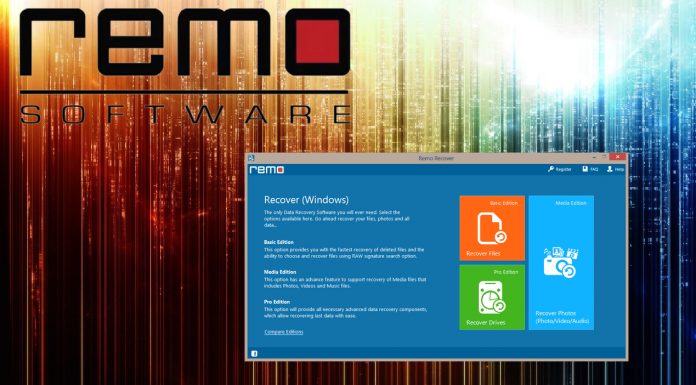 Have you ever found yourself in situations where you have accidentally deleted something important and you have to get it back? Accidentally deleting your family photos, work documents or any other files? One of the first things you can try to solve this is using a recovery software like Remo Recover. With it, you can recover files from hard drives, external hard drives, flash drives, cameras and much more. Even after a clean Windows reinstallation or deletion of partition.
It has a lot to offer and promises to recover just about anything as quickly as possible, but how does it compare against competitors and is it really so good? Let's find out!
How can Remo Recover help you accessing lost files?
Whether you have formatted the drive or accidentally deleted files or maybe there is a storage device error (that do occur very rare) with Remo Recover you can try to save just about anything and the best thing is – it really works. And the best thing it's really easy to use even for someone who is not techy.
The first thing you will see right after installation and opening Remo Recover is following the main window.Here you can access FAQs, register, license and start to recover files. Just click what do you want to recover: files, drives or media files.
2. I selected "Recover Photos", next you get the following screen.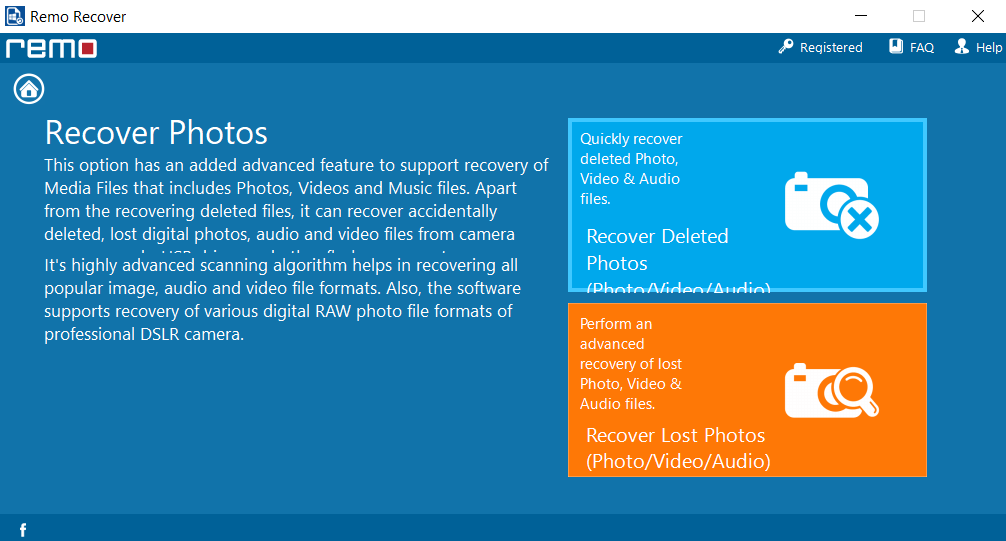 Now you can choose whether you want to perform a quick recovery or advanced recovery. If you are looking for maximum results, we advise choosing the last one. Keep in mind that it will also take a lot more time.
3. Next, you will have to choose your drive.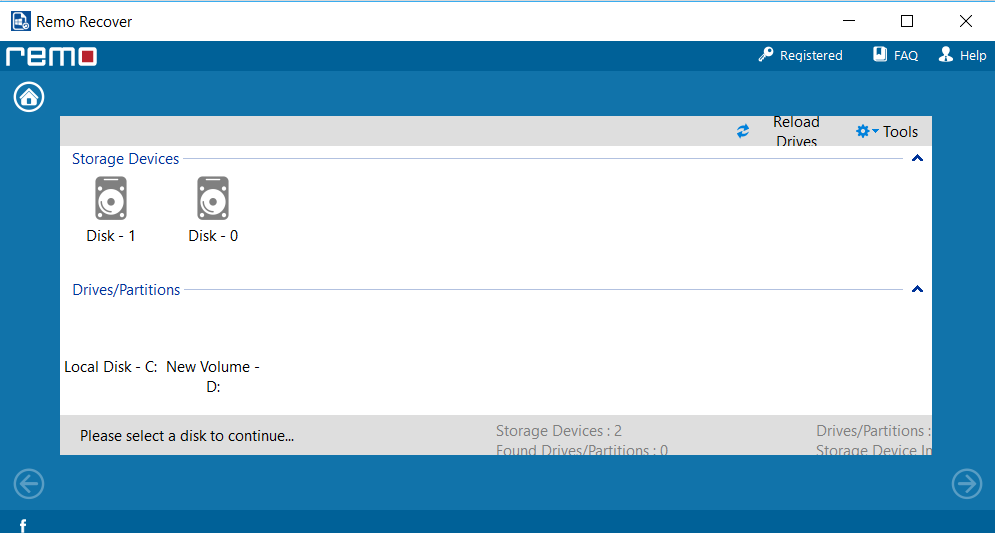 Just choose the drive in which you lost your files. You can also choose your USB flash drive, camera, phone and any other storage device.
4. Now just choose the specific folder and that's it!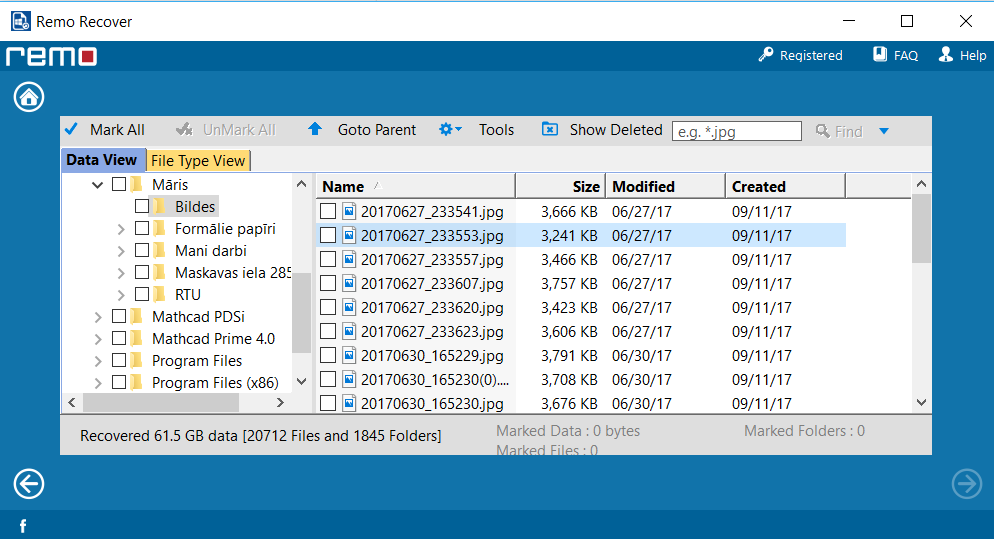 As you can see this process is super easy to do. However, while doing this, we noticed some small annoying things. For example, it takes few seconds after you click on something to see results. Also in the first two images, you can see that some letters are cut off(at the bottom line). Developers of Remo Recoverer could have sorted this out.
Difference between editions
First of all trial or demo edition is for free. However, you can only scan your computer to see if there is something to recover and if there is you will have to buy one of three editions to manage file recovery. There is:
Basic Edition – great for recovering all kind of files that are lost
Media Edition – does everything that Basic edition does plus has enhanced support for recovering lost data.
Pro Edition – combines everything that both previous editions do and adds an ability to recover files from formatted partitions or corrupted partitions.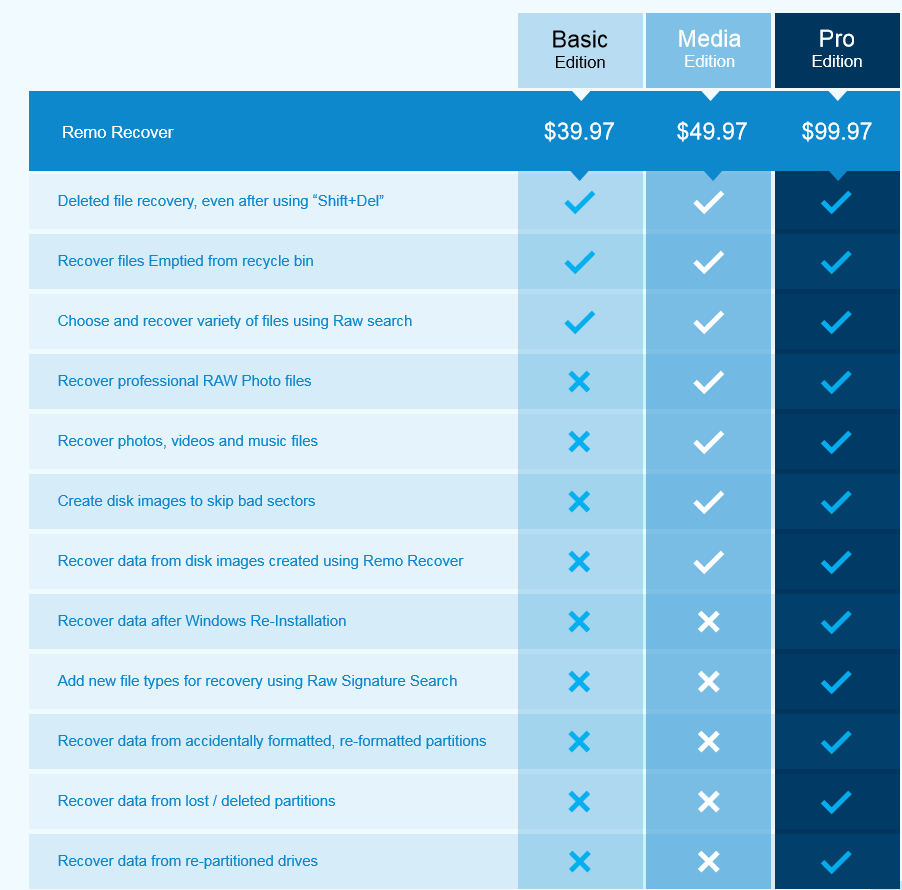 If you want to manage some simple file recovery, you don't need anything more than Basic edition. If you have to deal with media files, Media edition is your choice and for recovering files even from lost/deleted partitions, you have to go with Pro.
Customer support
Remo Recover isn't the cheapest file recovery software on the market. Even more when there is free software available. However, by getting this product you also get a good customer support to help you if you're having some troubles, need advice or some instructions how to manage specific tasks. However, as I already mentioned, you most likely won't need it as even a child could manage with Remo Recover. In case you do need help, here are all possible solutions:
FAQ's – you can usually find many answers here,
Support ticket – you can track progress of your problem,
Holiday Notice,
Phone support (408-548-7366)
Video Tutorials,
Live Chat
Performance and system requirements
In our tests, Remo Recover did great for recovering photos, videos, and other media files. It recovered 98% of photos and 97% of videos and these numbers are very respectable. When we tried to recover documents and other file formats, the percentage was slightly worse. Actually, if you have to recover mainly documents, we advise checking for other recovery software. As usual, file recovery tends to take a lot of time, same goes for Remo Recover.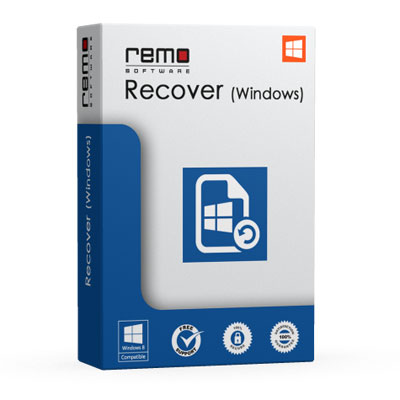 System requirements
Operating System – Microsoft Windows 10, Windows 8, Windows 7, Windows Vista, Windows XP, Windows 2003 and Windows 2008
RAM – 512 MB (Recommended, 1 GB RAM)
Free disk space – 50 MB (for installation)
CPU – Intel or AMD class processor with minimum 1.2 GHz or higher
Video card – at least 64 MB of memory
As you can see, basically, any computer that lives up to today's standards will be able to run Remo Recover just fine. The installation file is around 22MB and setup process is super easy to follow.
Verdict
Remo Recover is great software if you need to recover something that's lost by accident deletion. To make things clear, this is not the best file recovery software we have tested, products like EaseUS show better performance and, in comparison with others, Remo Recover is quite expensive – Pro version is around 100$. Keep in mind that you can get software that recovers files and is for free (Check out our Top Ten Best File Recovery Software for Free article). Despite being pricey and with lack of overall performance, Remo Recover is surprisingly well when it comes to recovering lost media files like photos and videos. In our tests, it recovered 98% of all lost photos and 97% of all lost videos and that's very impressive. Of course, as usual with recovery software, recovery takes up a lot of time and if you want to scan and recover an external hard drive, for example, it may take you more than a day.
PROS
Very straightforward user interface
Can retrieve even less common file formats
Superb for recovering photos, videos, and other media files
CONS
Remo Recover's window is quite small and you can resize it
File recovery is quite slow when compared with competitors
Pro version is quite expensive
Cloud be better designed. Small annoying things like cut off letters and 1-2 sec wait time for something to happen can be annoying.
Overall we loved Remo Recover's versatility and ability to recover files from just about anything. You can not only recover lost or deleted files but also files from deleted partitions, formatted partitions and even after clean Windows reinstall. In our tests, we found that Remo Recover is best suited for media files. It does this job flawlessly. However, when it comes to recovering document files like PDF, DOC, XLSX, it's slightly worse.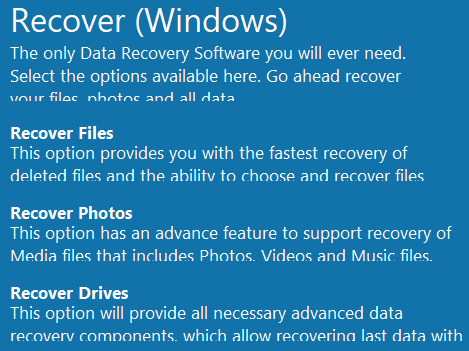 The software itself is super easy to use. You get one window with three options. By clicking one of these you get another two options. Then you just have to choose device, drive or folder that's it. Despite being straightforward, this software isn't well designed. By clicking on any option you have to wait for a second or two until something happens and in the main window, some letter bottom is cut off.