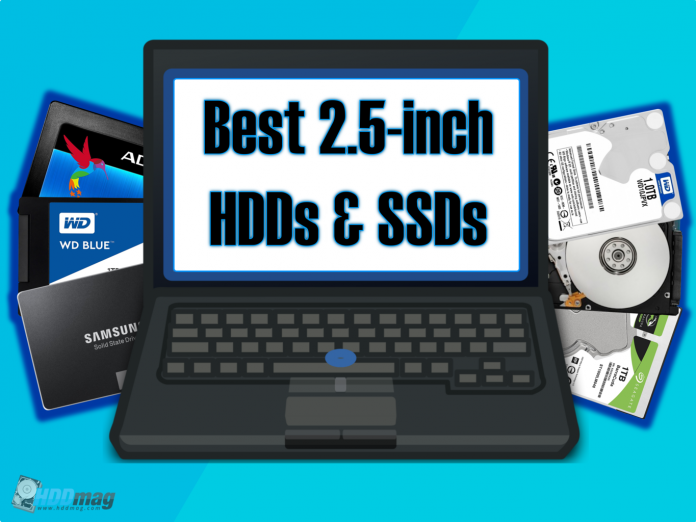 These days we have the luxury to carry all of our digital life along with us on a phone, a tablet, or a laptop. Many prefer laptops as they are the most versatile and can be used for work or leisure in various ways. But regardless of what you use your laptop for, it needs the best and most reliable storage drive that you can fit into its small, 2.5-inch drive bay. The same goes for internal console hard drives, whether it's a drive for your PS4 or Xbox One.
This is why we've compiled a top list of the best internal hard drives and SSDs to help you find a drive model that fits your needs the most. Balancing price and performance, the 2.5-inch hard drives below are the most reliable and most popular in the (rather small) laptop hard drive market. But in this digitally demanding day and age, HDD speeds might not cut it for everyone, which is why we added a few of our favorites from the rapidly expanding Solid State Drive (SSD) market for all of you performance buffs out there.
Best Internal 2.5-inch Hard Drives and SSDs
*not enough benchmarks yet for reliable results
Aside from the HGST Travelstar and Samsung EVO 850 (arguably best drives among HDDs and SSDs, respectively), the drives on our list are in no particular order and are reasonable alternatives to one another, depending on what you need from your drive. The table shows highest transfer speeds among different capacities in respective drive series. All benchmarks are aggregated results from UserBenchmark.
Reviews of the Best 2.5-inch Hard Drives
Fast and affordable - best 7200RPM laptop drive
HGST Travelstar review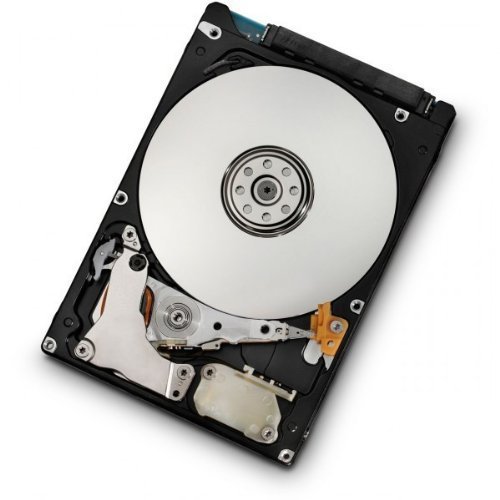 HGST is known as one of the most reliable hard drive manufacturers, providing the lowest failure rates among all other major competitors. This is why their Travelstar hard drives can be found on many laptops out of the box, with many customers choosing them as an upgrade or replacement.
Travelstar drives are currently available in 750GB and 1TB (7k1000) capacities, although the 750GB model seems to be slowly disappearing from store shelves. It features a 32MB hard disk cache and comes with a 3-year limited warranty.
Travelstar drives are of the 7200RPM spindle speed class, although their real-life performance is limited by physical space restrictions (as opposed to the larger 3.5-inch drives). The 7k1000 drive model shows 114MB/s sequential read and 112MB/s sequential write performance on UserBenchmark.
If you're familiar with hard drives, this might not seem like much, however, even with these limited speeds, the Travelstar ends up being one of the fastest HDDs for laptops out there. Add to that the reasonable price (on par with most 5400RPM drives) and you have the best 2.5-inch laptop hard drive on your hands.
---
Biggest and cheapest laptop hard drive
Seagate BarraCuda review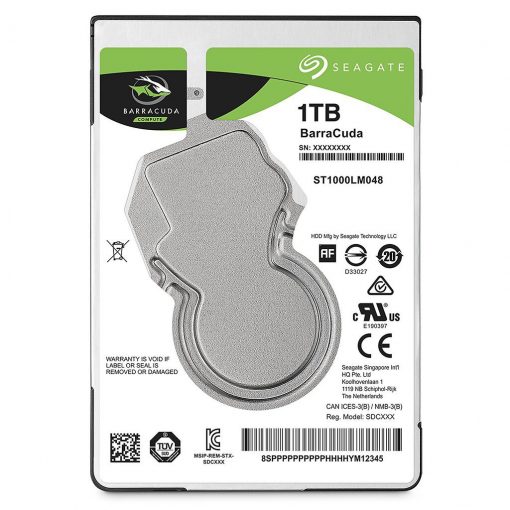 BarraCuda drives have been one of the best-received hard drives for both PCs and laptops. This is because of their decent performance and low price, however, for the laptop BarraCuda models, the high capacity options are a major plus.
2.5-inch BarraCudas are available in 1TB, 2TB, 3TB (discontinued), 4TB, and 5TB capacities. No major hard drive manufacturer provides capacities this high for laptop users. The 128MB cache is quite large in comparison, while the 2-year warranty, although expected with a cheaper drive, leaves much to be desired.
A very notable difference between the 2.5-inch and 3.5-inch BarraCuda models is that the laptop drives feature lower, 5400RPM spindle speed. This, together with the smaller form factor results in lower performance – 107MB/s seq. read and 102MB/s seq. write (UserBenchmark). However, these results are far from being slow for a laptop drive and leave the BarraCuda as a cheaper, more capacity-focused alternative to other drives that may be only slightly faster.
---
Fastest 2.5-inch hard drive
WD Black Mobile review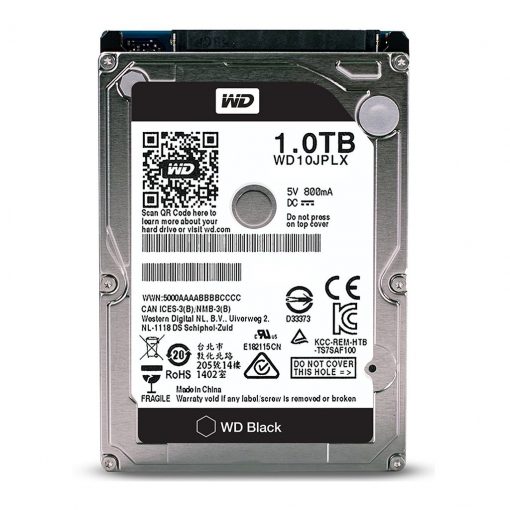 Ask anyone with any insight into the world of hard drives which is the fastest hard drive out there and the answer will most likely be Western Digital Black. Black drives dominate the PC hard drive market in terms of performance and, although slightly less impressive, the WD Black Mobile drives do the same for laptop hard drives.
WD Black drives come in 250GB 320GB, 500GB, 750GB, and 1TB capacities, however, only the last two (750GB and 1TB) come at a reasonable price as the smaller capacities are somewhat outdated and thus cost almost as much as the larger ones. The 750GB model features a 16MB cache while all other capacities come with a 32MB drive buffer. Definitely worth noting is the industry-leading 5-year warranty.
To achieve the highest hard drive speeds, the WD Black has to be a 7200RPM drive. As for the performance itself, 124MB/s seq. read and 118MB/s seq. write speeds give only a slight edge over WD Black's closest competitor (HGST Travelstar) but it's an edge nonetheless. Overall, WD Black Mobile will cost you a bit more, but in turn, will grant you a bit more performance than other laptop drives and comes with a much longer warranty.
---
SSD speed and HDD size combined - best laptop 2.5-inch SSHD
Seagate FireCuda review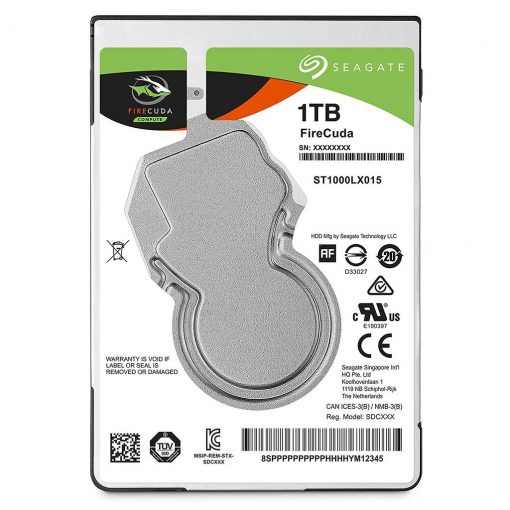 Solid State Hybrid Drives (SSHDs) are a combination of a regular hard disk drive and a specialized, SSD-like hard drive cache that stores frequently used data for quicker loading (no moving parts in the cache). This makes SSHDs very appealing for laptop users as they're a combination of low (compared to SSDs) price per GB and high performance, all put into one device. Seagate FireCuda SSHDs are the fastest and most reliable SSHDs money can buy.
FireCudas come in 500GB, 1TB, and 2TB capacities with a very long 5-year warranty. The SSHD cache size seems to be the standard 8GB, allowing many performance-heavy and frequently used data to be stored in flash memory for quick access and shorter loading times.
Performance-wise, the 5400RPM FireCuda doesn't offer much right out of the box – 105MB/s seq. read and the very low 78 seq. write speeds are hardly impressive. However, what makes SSHDs fast is the buildup of frequently used data overtime and benchmarks can't exactly determine the precise effects of this technology.
The 1TB FireCuda drives are, on average, noticably cheaper than WD Black 1TB drives, with the 2TB SSHD being roughly as cheap per capacity as other 5400RPM drives. Overall, the FireCuda can potentially be a useful middle-of-the-road option between a spacious HDD and a high-performance SSD. Whether the SSHD cache proves itself useful to you depends on your data usage.
---
Renowned Western Digital quality
WD Blue Mobile review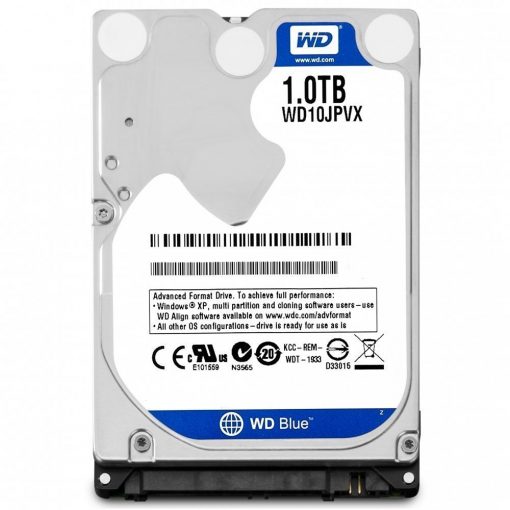 If you're in the market for a small and cheap internal drive for a laptop, WD Blue series might have a model for you. WD Blue drives are known to be cheaper, slower alternatives to their other drive series and same goes for the laptop drives.
WD Blue drives come in 320GB, 500GB, 750GB, and 1TB capacities, with all of the smaller capacities being cheaper than all reliable alternatives. 1TB WD Blue drives come with a 128MB cache while all others feature a 16MB cache. The drives come with a shorter 2-year warranty.
At 93MB/s seq. read and 92MB/s seq. write speeds, the 1TB model manages to outperform even the FireCuda's write performance. Smaller capacities are roughly 5-10MB/s slower but quick nonetheless. For a cheap and compact (7mm) 2.5-inch hard drive, these are by no measure bad benchmark results. Although you'll most likely find cheaper alternatives among higher capacities, WD Blue drives remain as a reliable and respectable substitute.
Reviews of the Best 2.5-inch SSDs
Fast, affordable, and reliable - the best SSD
Samsung EVO 850 review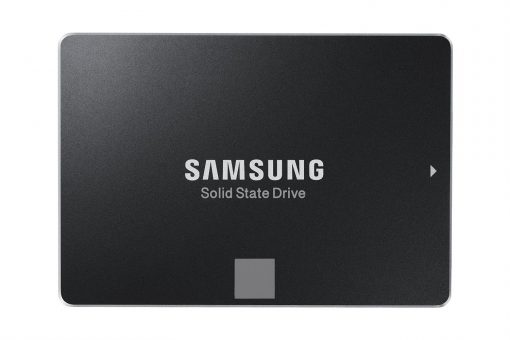 The first entry in our SSD list is also, in our and many other reviewer's opinion, the best SSD you can get right now. The EVO 850 provides one of the highest transfer speeds in the market while not having too high of a price tag for it. But what attracts most customers to it is the Samsung quality, both on paper with the 5-year warranty and in reality with overwhelmingly positive customer reviews.
850 EVO comes in 120GB, 250GB, 500GB, 1TB, 2TB, and 4TB capacities, fitting anyone's needs. At 506MB/s seq. read and 400MB/s seq. write, this SSD is one of the fastest in the 2.5-inch SATA SSD market, aside from a couple much more expensive drives, like the Samsung 850 Pro. The Samsung 850 EVO is very fast and, although it might not be the cheapest SS, it sure is reliable and will last you a long time.
---
Most affordable SSD
Crucial MX300 review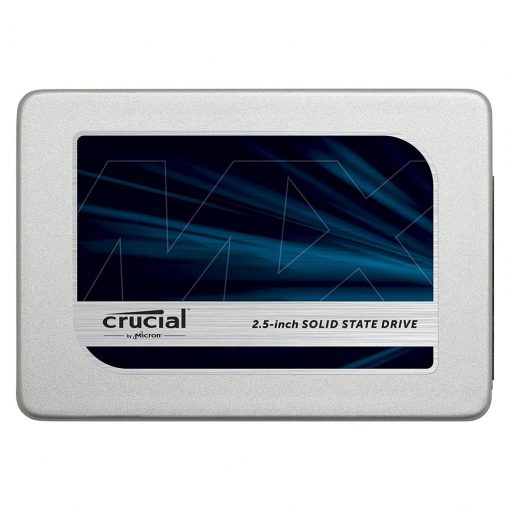 Seeing how expensive SSDs still are, most people looking for one also want to save as much money as possible. Crucial MX300 SSD will help you do exactly that, by being one of the cheapest consumer SSDs (per capacity) in the market. The Crucial MX300 lineup features 275GB, 525GB, 1TB, and 2TB capacities, all of which come with a 3-year warranty.
As you might expect, this cheaper SSD is slightly slower than some of its competitors, however, not by much. 464MB/s seq. read and a slower 318MB/s seq. write performance is by no means slow and is definitely worth the money, although random speeds are more noticably lower than, for example, the 850 EVO's. Fortunately, the MX300's price is also noticably lower – around 27 cents per GB, even for smaller capacities, which is a good 3-5 cents less than most other SSDs.
---
Super-fast and super-affordable
Mushkin Reactor review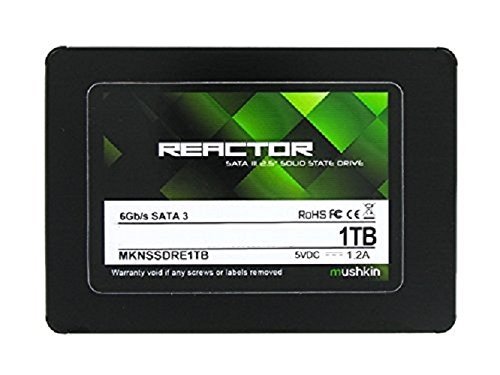 This hidden gem of the SSD market manages to be both extremely fast and relatively very cheap. Mushkin Reactor comes in various capacities – 240GB, 250GB, 480GB, 500GB, 960GB, 1TB, and 2TB, giving you the choice down to the last GB. All drive capacities come with a 3-year replacement warranty.
The Reactor is quite fast for its price with 496MB/s seq. read and 402MB/s seq. write speeds which reach close to even some premium SSDs. As for the price itself, expect to save some $20-60 on this drive (in comparison to the 850 EVO) on Amazon (depending on capacity) with the Reactor's price per capacity being as low as 26 cents/GB.
The only downside of this drive is the slightly shorter warranty and the fact that Samsung and Crucial-branded SSDs can be expected to be more reliable than amuch less known brand. Though reliability is, as always, reliant on chance mmore than anything else. Overall, the Reactor is one of the best SSDs out there because it packs a lot of performance while also being very cheap.
---
Western Digital quality in an SSD
WD Blue 3D NAND review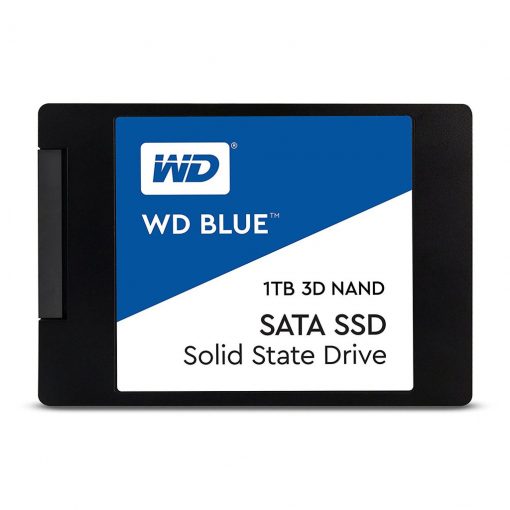 A relatively new contender among SSD manufacturers is WD, having only made a couple SSD models in the past couple years. Quite recently they released the improved version of WD Blue SSDs, now with 3D NAND to improve various environmental and performance characteristics of the drive. WD Blue 3D SSDs are available in 250GB, 500GB, 1TB, and 2TB capacities and come with a standard 3-year warranty.
Seeing how this product is still relatively new, very few benchmarks of it exist. Those benchmarks are quite promising though, reaching 486MB/s read and 443MB/s write speeds, showing, at the very least, improved data writing processes. We will definitely look out for more benchmarks and more reliable data. Being slightly cheaper than the Samsung EVO, WD Blue 3D SSDs have the potential to outperform their main competitor, though only time will show whether these drives are actually as good as they seem.
---
A premium SSD for a premium price
SanDisk Extreme PRO review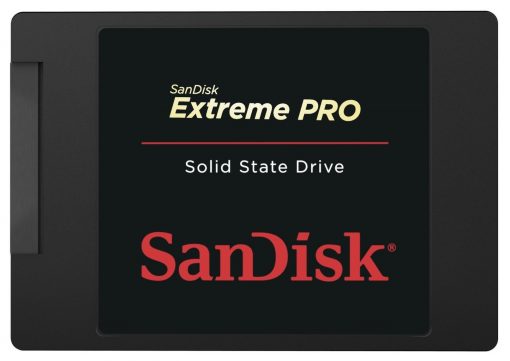 Now onto one of the most experienced SSD manufacturers – SanDisk. SanDisk has released many different SSD models, like the Ultra Plus, Ultra II, and Plus. But the model that stands out the most is the Extreme PRO, which features superb performance and, most importantly, the industry-leading 10-year limited warranty.
The Extreme PRO comes in 240GB, 480GB, and 960GB capacities, all of which can reach up to 483MB/s read and 437MB/s write speeds, slightly outperforming even the 850 EVO, although the Extreme PRO concedes to the EVO slightly in terms of random performance. The most important part here is the 10-year warranty, which is important with the sensitive NAND flash technology that can fail rapidly after intense use. Whether this is worth paying almost a $100 more than what you'd pay for other SSDs is very much up for debate though.
---
A cheap SSD for a basic upgrade
Adata Ultimate SU800 review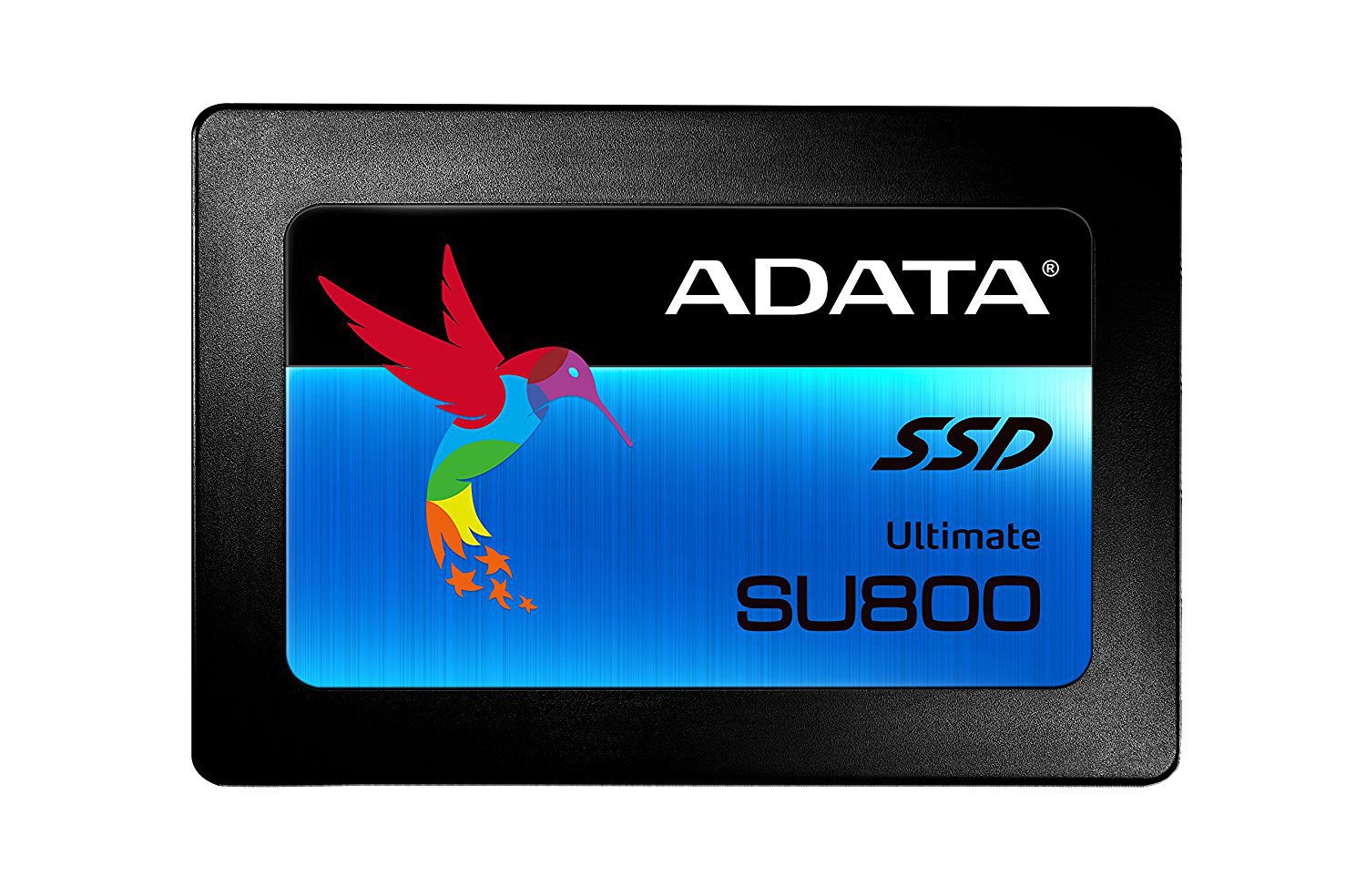 Adata SU800 SSD is the runner-up to being the cheapest reliable SSD, after the Crucial MX300. This drive is openly advertised to feature TLC technology, meaning it will be slightly slower and more susceptible to memory cell degradation but costs less. The SU800 comes in 128GB, 256GB, 512GB, and 1TB capacities witha a 3-year warranty.
This Adata SSD reaches 493MB/s seq. read and 324MB/s seq. write speeds, which are respectable numbers and seem appropriate for the price, although the random performance leaves a bit more to be desired. The SU800 is basically just another cheap SSD alternative to the MX300 and will do a good job as a first SSD upgrade to your machine.
---
Premium choice for smaller capacities
Samsung 850 PRO review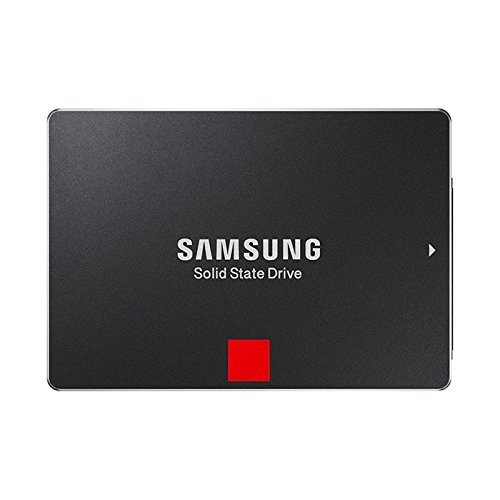 Even if you decide to put a lot more money on the table for the most premium SSD, you still wouldn't want to overpay for the same features. This is why we included the Samsung 850 PRO SSD, because the SanDisk Extreme Pro drive we mentioned before is only cheaper with 1TB capacity while the 850 PRO costs less than the Extreme PRO (per capacity) with all smaller capacities. Both drives are very similar in terms of performance and both come with a 10-year warranty.
The 850 PRO comes in 128GB, 256GB, 512GB, 1TB, and 2TB capacities. 510MB/s seq. read and 458MB/s seq. write speeds, alongside very high random read/write speeds, are unparralelled among SATA SSDs. All of this makes the PRO very appealing if you have the money to spare for the most luxurious 2.5-inch SSD upgrade, seeing how the premium features add roughly 10-15 cents per GB (across all capacities) to the price of a regular SSD.
---
Balanced alternative to other SSDs
OCZ Trion TR150 review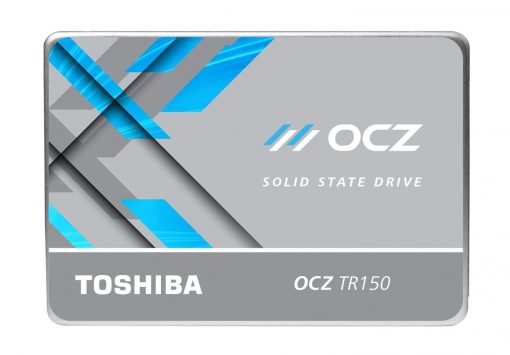 Toshiba Trion series drives are a middle-of-the-road option alongside cheaper SSDs, like the MX300 or the Adata SU800. The Trion comes in 256GB, 512GB, and 960GB capacities, all of which come with a regular 3-year warranty.
Performance-wise, the Trion is pretty decent, reaching 498MB/s seq. read and 334MB/s seq. write. The Trion's random performance is not that good though, however, this drive still remains a valid alternative to the previously mentioned MX300 and SU800 SSDs, epsecially if you can get the Trion for a lower price.
Conclusions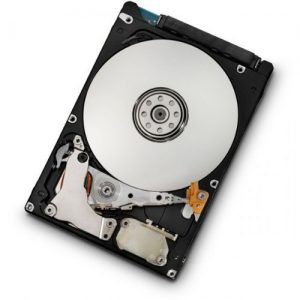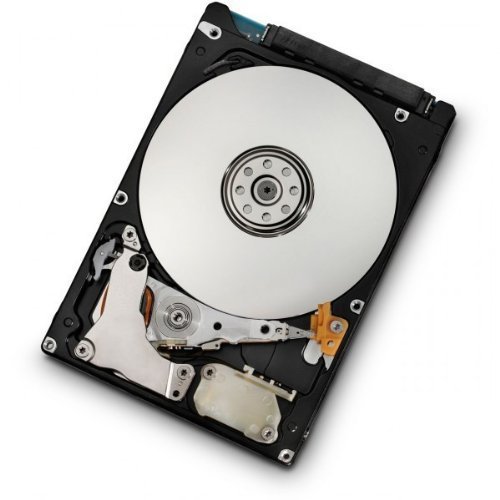 To sum up, if you want to get a hard drive and are not looking for anything specific, go for the HGST Travelstar because it balances high performance with decent 1TB capacity at a very affordable price. The BarraCuda is available in much larger capacities if you need them. Meanwhile, the WD Black and Seagate FireCuda drives are only slightly faster but noticeably more expensive alternatives to the Travelstar for people who can pay more but don't have enough for an SSD.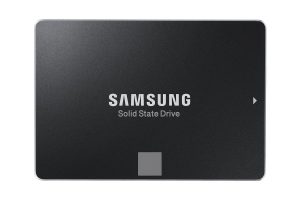 As for solid-state drives, the Samsung 850 EVO is certainly one of the all-around best SSD options, because it grants higher performance than even some premium SSDs while costing much less. WD BLue 3D might arise as a strong competitor to the top spot and become a valid alternative to the 850 EVO. The Crucial MX300, Adata SU800, and the OCZ Trion drives are all great alternatives to one another if you need a cheaper SSD. Meanwhile, the Samsung 850 PRO takes the cake for best premium SSD, while the SanDisk Extreme PRO is only worth considering here with 960GB capacity because it's a bit cheaper than Samsung's 1TB drive.