Solid-state drives, also known as SSDs, have become very popular over the past decade. This is because they provide massively higher performance than regular hard disk drives (HDDs). Internal SSDs have become quite affordable, allowing hundreds of thousands of people to be able to buy one for everyday use.
In this article, we'll look at the best 2.5-inch internal SSD models out there right now, as well as a few reasons why you should get one. You can also check out our top picks of external SSDs for a more mobile build or for speedy backups.
SSDs and their benefits
Solid state drives can be a great upgrade for both laptops and PC. SSDs will speed up the boot time of your computer, program and game loading times, and improve overall computer performance. SSDs tend to be much more expensive than mechanical hard drives because of how expensive NAND technology still is (NAND refers to the specific memory transistors used to store information on SSDs) but they're accordingly many times faster than hard disk drives.
The best storage setup for a personal computer is to have both an SSD and an HDD to combine their main characteristics – high performance and affordable capacity. You can install your OS, games, and programs on the solid state drive and put all of your music, videos, and photos on internal hard drive. That way, the SSD will give you its speed where it's needed while the mechanical drive will provide capacity for files that don't need to be loaded quickly. This kind of setup will be much more affordable and practical than simply one SSD or one HDD.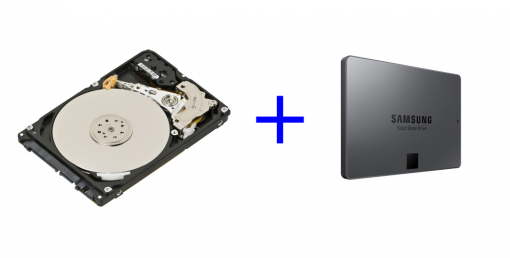 In this article, you can see a list of current best internal 2.5-inch solid state drives that will make the best computer hardware update for both Mac and Windows computers. Most benchmark results here are from UserBenchmark (UB) website because it aggregates many benchmark results to give the most reliable summary of an SSD's speed. It's worth noting that UB results are usually a bit below the results from CrystalDiskMark and other benchmarking software. To find out more about the difference between HDDs and SSDs, check out our SSD vs HDD article.
Our Top pick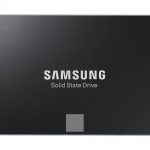 After a lot of research, we ended up with the same conclusion that many other reviewers and customers have come to – Samsung 850 EVO is currently the best 2.5-inch SSD because of its high transfer speeds and very reasonable price.
Best Internal 2.5-inch SSD Reviews
Very fast and quite affordable - the best 2.5-inch SSD
1. Samsung 850 EVO review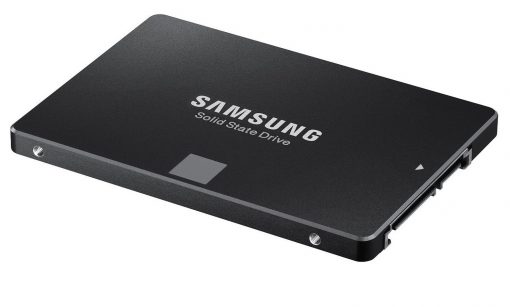 The market leader among 2.5-inch SSDs, the Samsung 850 EVO delivers great performance for a relatively low price. Its sequential performance is one of the highest in the market while its, arguably more important, random speeds are only outperformed by a couple high-shelf premium SSDs.
850 EVO comes in an array of capacities – 120GB, 250GB, 500GB, 1TB, 2TB, and 4TB. 505MB/s seq. read and 398MB/s seq. write (UB) are quite decent numbers for any SSD but the 36/76MB/s 4K random read/write speeds remain unmatched by any SSD in EVO's price range. The 5-year warranty and overwhelmingly positive customer reviews ensure the highest reliability.
Also, Samsung has created its own SSD management software (free download) – Samsung Data Migration and Samsung Magician software, which give you all the tools needed to monitor and maintain your SSD as well as manage massive file transfers to and from it. Overall, the 850 EVO isn't the cheapest SSD out there but paying $20-30 more for the noticeably higher performance and reliability is definitely worth it.
---
Cheap and reliable - best budget SSD
2. Crucial MX300 review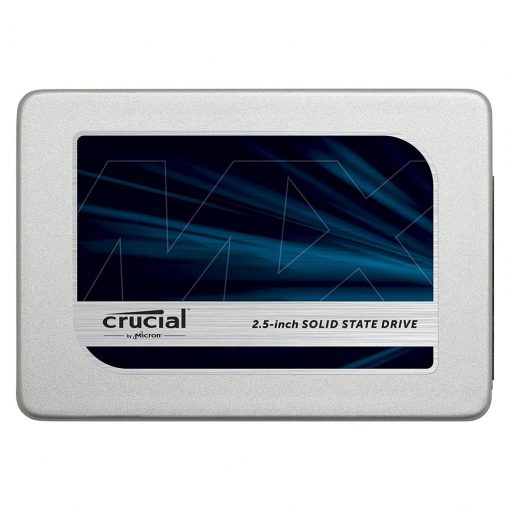 Want to save as much money as possible on your SSD but don't want to compromise performance too much? Then Crucial MX300 might be the drive for you. To some, a $20 price difference might not seem like much, but many people are more than ready to give up some higher specs for any amount of price reduction. MX300 is 3~5 cents per GB (10~15%) cheaper than most other SSDs in its performance bracket (like the 850 EVO, for example), especially for capacities under 1TB.
The MX300 comes in 275GB, 525GB, 750GB, 1TB, and 2TB capacities with a 3-year warranty for all of them. At 464/318MB/s sequential read/write (UB), the MX300 provides quite decent performance, with its 23/62MB/s random read/write speeds being a bit less impressive but fast nonetheless.
As with most SSDs, this drive includes different technologies to save power and distribute data in ways that prolong the drive's lifespan. It's built with Micron 3D NAND and features AES 256-bit encryption, RAIN, as well as other helpful technologies. To sum up, the MX300 might not be the fastest or most reliable SSD on the market, but it's respectable performance and, more importantly, relatively low price make it the best budget SSD.
---
The cheapest 2.5-inch SSD
3. Mushkin Reactor review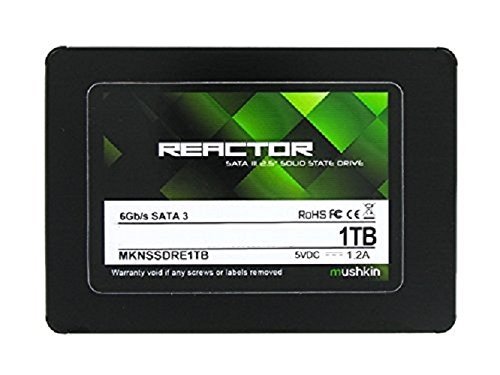 Amidst all of these Samsung, Kingston, and SanDisk drives, a much less-known manufacturer, by the name of Mushkin, has managed to make one of the most appealing solid-state drives. The Mushkin Reactor is both the cheapest SSD (larger capacities) as well as one of the fastest, going toe-to-toe with the 850 EVO. Its 1TB model is 0.5-1 cent per GB cheaper than even the MX300 but a bit faster than most other competitors.
A ton of capacities are available with the Reactor – 240GB, 250GB, 480GB, 500GB, 960GB, 1TB, and 2TB. All drives come with a 3-year limited replacement warranty. 496/402MB/s sequential read/write performance (UB) is on par with many of the fastest SATA SSDs out there but, more importantly, the Reactor's 21/78MB/s random read/write is surpassed by very few premium SSDs. The Reactor also comes with various integrated features, such as Early Bad Block Retirement, DataRefresh, and others.
So, why not simply recommend this as the best budget SSD? As cliche as it might sound, reliable brands are much more appealing than lesser-known ones and Mushkin is the latter. At face value, the Reactor is amazing because it delivers very high performance for some $40-60 less than the EVO. The drive is also probably as reliable as any other and this will hopefully be proven with more exposition and more satisfied customers.
---
The best and fastest high-shelf SSD
4. Samsung 850 PRO review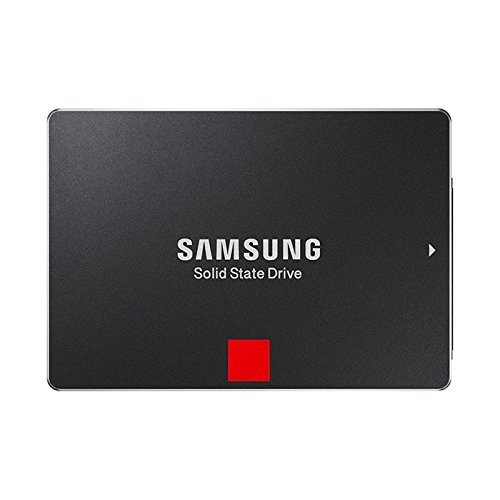 Samsung 850 PRO is a very well-known and popular SSD, same as the EVO. 850 PRO is the fastest 2.5-inch SSD in most tests and comes with an extremely long 10-year warranty. Even after years after being released, this first 3D NAND (Samsung's V-NAND) SSD is still very much viable in terms of both speed and reliability.
128GB, 256GB, 512GB, 1TB, and 2TB capacities of the 850 PRO are available, all of which feature the decade-long warranty. PRO is the fastest 2.5-inch SSD on UserBenchmark and many other review/benchmark sites, reaching 509/458MB/s sequential read/write and 32/87MB/s random read/write speeds.
The drive uses the 3-core MDX controller and features Dynamic Thermal Guard, AES 256-bit encryption, and many other useful technologies that help the drive increase its power efficiency by a lot. Just know that the 850 PRO will cost you 10~15 cents per GB (25~40%) more than the average SSD. The Samsung 850 PRO is the best premium SSD choice for customers who can afford it. Although quite high, the PRO's price is still reasonable, considering all of the performance and reliability benefits that very few other SSDs can match.
---
One of the fastest drives out there
5. SanDisk Extreme Pro review

Thus far it might seem like Samsung is the one true ruler of the SSD market, however, SanDisk has had many years of experience in this field as well and have used that experience to create one of the best 2.5-inch SSDs currently out there. The reviews and overall ratings of SanDisk Extreme PRO are outstanding. This drive is praised by most reviewers – Cnet gives it 10 out of 10 points for Service and Support while TechRadar called it the new king of SSD performance.
The Extreme PRO is available only in 240GB, 480GB, and 960GB capacities, all of which are backed up by the market-leading 10-year warranty. This drive is meant for people who need consistent top-class performance – 484/439MB/s sequential read/write and 28/75MB/s random read/write speeds (UB) are on par with the 850 EVO and only slightly less than those of the 850 PRO.
SanDisk SSD Dashboard provides information about the SSD and contains cloning features for large data transfers to the new SSD. SanDisk promises that the Extreme PRO will increase the lifespan of your laptop by 33% with various energy saving and data management features. All in all, the Extreme PRO delivers superb speeds and high reliability, though the Samsung 850 PRO manages to be slightly faster with roughly the same price tag.
---
Honorable Mentions: Fast but Overpriced
The drives below are quite pricey and don't really compare well with other, more reasonably priced SSDs that have similar value propositions. However, these drives are one of the fastest 2.5-inch SSDs out there which is why we decided to include them in some form. Any device can go on sale without notice, and if any of the following drives are available for a more humane price, they are definitely worth looking at.
OCZ Vector 180 review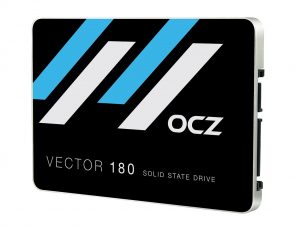 Toshiba OCZ SSDs have been around for a while, though most 2.5-inch ones, including the Vector 180, have quite a high price tag which doesn't mix well with the drive's basic feature set. As with most SSDs, the Vector features various data management and power optimization technologies, though none is worth paying 1.5-2 times more than what you'd pay for similar SSDs (for all – 120GB, 240GB, and 960GB capacities).
The drive's high transfer speeds are worth noting though – 496/462MB/s sequential read/write is quite impressive and so is the drive's random performance. So, if you can get the 960GB drive for less than $400, it's worth considering but anything above that is unreasonable, seeing how even premium SSDs cost less than what the vector costs now on Amazon.
---
Kingston HyperX Savage SSD review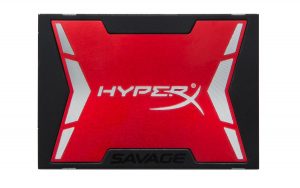 Kingston HyperX Savage continues the same story of high performance and over the top price. Although the Savage has the least obscene price tag on this list ($100-150 more than similar SSDs), it's still way above what it's worth, especially considering the alternatives. This drive is available in 240GB, 480GB, and 960GB capacities, all with a 3-year warranty.
Although pricey, the drive still delivers high benchmarks – 500/460MB/s sequential and 25/73MB/s random read/write matches the top speeds of some of the fastest SSDs. Same as before, this drive would be a viable choice for an upgrade if you can get one with a huge discount.
---
Corsair Neutron XTi review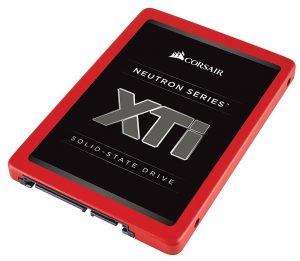 A slightly less popular SSD from Corsair also pops up as one of the fastest SSD. Currently (October 2017), the XTi is available for a price within the realm of reason (on Amazon), though the fact that it seems to be discontinued will probably help the price to skyrocket very soon. 506/456MB/s sequential and 27/81MB/s random read/write speeds closely match the speeds of the EVO and other quick drives.
240GB, 480GB, 960GB, and even 1920GB capacities of the XTi can be found, though prices vary massively between retailers so keep an eye for the cheapest one. Although quite fast, the XTi may soon disappear from market shelves completely, hence the high pricing. Again, if you can find one for a reasonable price, it won't disappoint you.
---
Transcend SSD370S review

Transcend SSD370S delivers top SSD speeds – 490/413MB/s sequential and 26/76MB/s random read/write, which matches the speeds of some of the fastest 2.5-inch SSDs. However, same as with the Vector, it costs almost twice as much as similar (in terms of speed and feature set) drives. 128GB, 256GB, and 512GB capacities are available though finding a 512GB SSD370S that costs less than $200 might be quite the challenge. Nonetheless, the drive itself is fast and well-received by its customer base, so getting one for a reasonable price is definitely not a bad idea.
7 Benefits of a Solid State Drive
You've got data — we all do — and while cloud storage is a good option for some files, most of us rely on internal drives for storage. A traditional hard disk drive (HDD) has a magnetic read and write head and a magnetic platter on which data is written. It was a hardware system that worked for many users for many years but was never without its drawbacks and most of them stemmed from the moving parts – they're more likely to break, they increase latency, and, in turn, loading speeds.

In the last decade, a better solution has arisen in the form of solid-state drives (SSDs). Unlike a standard hard drive, SSDs record data on electronic microchips, often called flash memory, and this is a massive technological difference that yields significant advantages when it comes to storing and accessing your data.
Even though SSDs may cost a little bit more than a standard hard drive, they offer substantial benefits over their spinning counterparts. Here are the seven main benefits that an SSD has over a regular HDD:
1. They're noticeably faster.
The lack of moving parts on SSDs means that they read and write data at a much higher speed than standard hard drives. Even if you're the most patient person in the world, this speed is a huge advantage if you keep multiple applications open at once or if you use large pieces of software that are traditionally slow to load (One that comes to mind immediately is Photoshop, a notoriously slow-loading program).
More speed also means shorter boot and shutdown times. Just how much faster are SSDs? Well, the access speed of an SSD is between 35 and 100 microseconds, while that of a standard hard drive is 5000 to 10,000 microseconds – up to 100 times slower.
2. They require less power to operate.
The moving parts of a standard hard drive need more energy to function than the microchips in an SSD. Not only will this translate into a lower electricity bill and that good feeling that comes with paying less for anything, but it can also help to prolong the battery life of your laptop. Remember, a laptop battery has a limited number of charging cycles, and when your laptop's components use less energy from that battery, you don't have to charge it as often.
3. They're quieter.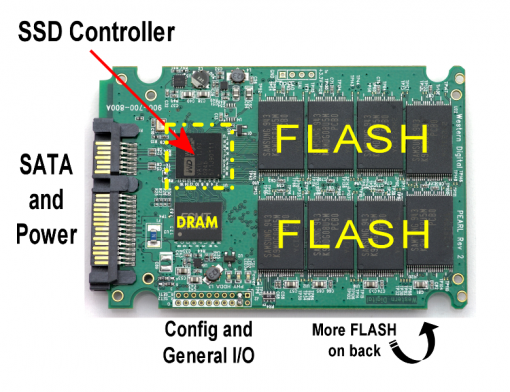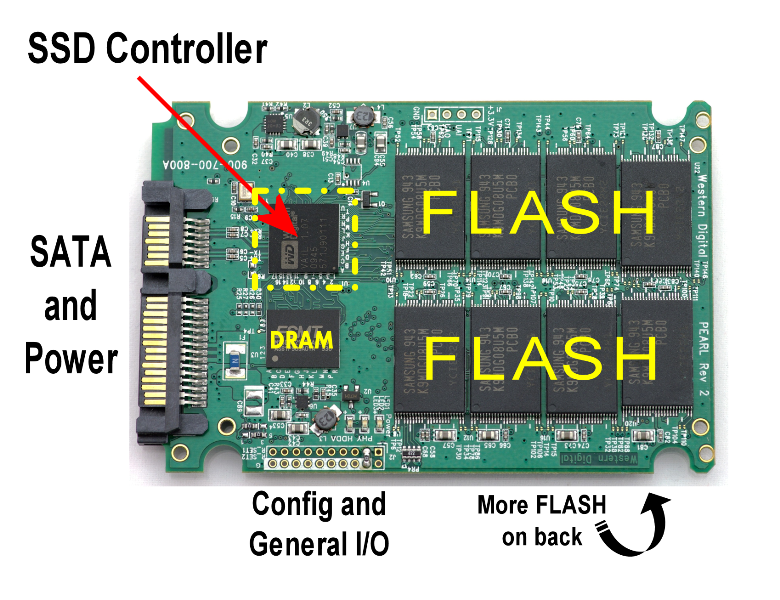 You can probably close your eyes and hear the sound of a standard hard drive spinning up to power on, gently buzzing to write or access data, or spinning down to turn off. You can probably also hear the sound of a hard drive that's on the verge of failing: that grinding sound that strikes fear in the heart of anyone who hasn't backed up in a while. But SSDs are wonderfully silent thanks to its lack of moving parts.
4. They don't get as hot.
Moving parts create friction, and friction creates heat. Since there are no moving parts in an SSD, the amount of heat generated by it is considerably less than the heat generated by a standard hard drive. This is a real benefit in terms of the longevity of your drive and your computer system as a whole since big temperature variations can cause gradual damage to electronic components.
5. They're significantly smaller.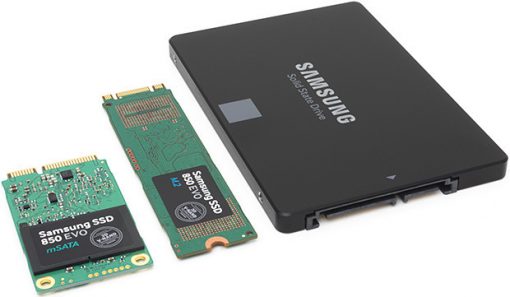 The magnetic platter on standard hard disk drives come in two sizes: 3.5 inches for desktop computers, and 2.5 inches for laptops. However, an SSD can be as small as an inch, freeing up lots of space and allowing for slimmer, sleeker, and more compact product design. Lately, M.2 SSDs have become extremely popular due to their very small size which shows just how small SSDs can get.
6. You can't ruin them with magnets.
Not that anyone in their right mind would intentionally take a powerful magnet to a standard hard drive — that would distort or destroy some or all of the data contained within — but standard hard drives are susceptible to magnetic damage because of their magnetic read and write functionality. Since SSDs have no such magnetic parts, you simply can't ruin them with magnets.
7. They're just more reliable.
Because of most of the reasons listed here — the lack of moving parts, the minimal energy required to power them, and the reduced heat they produce — drive failure for SSDs is much less common than that of regular HDDs. While you should still backup your data on a regular basis, the odds of you needing to perform a data restoration is much, much lower with an SSD than with a hard disk drive.
One thing to note here though is that SSD NAND cells (microscopic parts that store data bits) will wear down after a set amount of read/write cycles. So, although a surprise failure is less likely with SSDs, they do have a limited lifespan. The moral of the story is to always backup your data!
Last updated October 2017