In this day and age, being a techie is definitely handy since everything around depends more and more on computerized technologies and data. However, not all of us have the time to learn about all the features and technologies in the modern tech field, or, understandably, just can't be bothered to do so. For these people, devices with less clutter of information and extra features, that simply do what it says on the can, are more appealing. This where the Seagate Expansion portable hard drive comes in.
Specs
Seagate Expansion Portable 2TB External Hard Drive HDD – USB 3.0 for...
Easily store and access 2TB of content on the go with Seagate Expansion Portable hard drive
This external hard drive for Windows computers makes backup a snap—just drag-and-drop.
To get set up, connect the portable hard drive to your Windows computer for automatic recognition—no software required
Pros
Cheaper than most other portable hard drives
A bit faster than other drives as well
Cons
No security or backup software tools included
Short 1-year warranty
Breakdown of the Features
The latest version of Seagate Expansion is available in four capacities – 1TB, 2TB, 3TB, and 4TB, which has become standard for portable hard drives. The drive also uses the USB 3.0 interface for both power and data transfer. The same as any other USB 3.0 device, the Expansion is backwards compatible with USB 2.0, just note that the 2.0 port will bottleneck your drive and will make you endure painfully slow transfer speeds.
Speaking of speed, the drive's read/write speeds are also noteworthy, as they're, on average, around 10MB/s higher than most other 5400RPM drive's speeds. While the room for error in hard disk drive speeds from respectable brands is pretty small (usually 80-120MB/s) and you might not even notice it in everyday usage, having that edge over its competitors just adds to the value of Seagate Expansion. And that value comes at a pretty low price, one of the lowest in the market, in fact, at around 5 cents/GB at lower capacities, and around 2-3 cents/GB at 4TB.
However, the reason for the low price is the lack of any included software tools. While most other hard drives come with a backup tool, a security and encryption tool, cloud backup software etc., the Expansion has none of these features. This forces you to use OS native or 3rd party backup tools, which might even be the better option for some people, as we discussed in the intro. The solid performance and lack of software clutter make this drive simple, cheap, yet reliable. Although the short 1-year warranty doesn't seem reliable at all, most customers have been satisfied with the product and had no need for the warranty anyway.
Design and Alternatives
Same as the feature list, there's not much to the exterior of the drive. 1-3TB versions of Seagate Expansion are a bit thinner than other drives at 0.6 inches / 1.5 cm, with the 4TB version being as thick as other portable hard drives at 0.82 inches / 2.1 cm. This drive will easily fit in your backpack, purse, or even a large pocket.
As for aesthetics, the drive's design is simple but has been somewhat disliked, ever since it was first introduced on earlier drive models a few years back. Before that, the drive's case was just a plastic surface with nothing but Seagate's logo on it, so to each their own, I suppose. While the pyramid-shaped pattern covering the drive seems very pronounced and pointy, it's actually shallow and is pretty much just a reflective case skin.
WD My Passport and Toshiba Canvio Connect II are two other all-around affordable and reliable drives, which is why we're comparing them to Expansion. Both other drives have a full-fleshed software package with backup and security software, with the Canvio even providing an NTFS driver for Mac right out of the box. This makes both other drives more appealing if you don't want to look for other backup and security software tools, but also makes them a bit more expensive.
So, if you just want a plain drive that you want to set up yourself with your preferred software, Seagate's drive is the way to go, as the Expansion will save you some money on features you might not need. Another, similarly cheap and simple portable hard drive option would be WD Elements. Basically, you can pick between either one, depending on which one is cheaper, or pick some other option from our best portable hard drive list.
User Experience
While I personally am familiar only with the older 500GB version of the drive, I can tell you that it's still holding some of my old data around three years later. Relatively to my basic internal hard drive, file transfers were quite a bit faster since even back then the Seagate drives inside the Expansion case were built to be fast.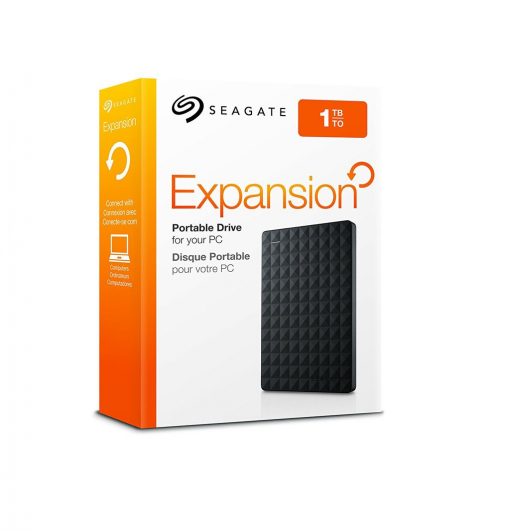 However, a small part of Seagate's customers have reported complete data loss with the newer version of the Expansion – around 10% of users on Amazon, for example, reported various cases of data loss, many of them reporting data loss even when the drive wasn't even being used. While most of these can be written off as duds, that is a notable amount of duds, so keep that short warranty close, just in case. As for positive customer reviews of the recent versions, the vast majority of users are pleased with the drive and acknowledge that it does its job well, whether it be backups, games storage for consoles, or just extra file storage. Overall, as with any complex computer device, it's possible to get a defective unit, but that shouldn't force you to avoid a cheap and all-around well-built hard drive like Seagate Expansion.
What's in the box
The box contains the Seagate Expansion drive of the capacity you ordered, a 1.5-foot long USB 3.0 cable, and a quick setup guide.
Bestseller No. 1
Seagate Portable 2TB External Hard Drive Portable HDD – USB 3.0 for...
Easily store and access 2TB to content on the go with the Seagate Portable Drive, a USB external hard drive
Designed to work with Windows or Mac computers, this external hard drive makes backup a snap just drag and drop
To get set up, connect the portable hard drive to a computer for automatic recognition no software required
Bestseller No. 2
Bestseller No. 3
Verdict
Seagate Expansion is a cheap and simple solution for your portable storage needs. If you're already familiar with backup and hard drive encryption tools and have picked your own favorite software tool, then why overpay for a new one you won't use anyway? If you want included software tools, though, then look elsewhere, as this drive won't have much to offer you. All in all, the Expansion just does what it says on the can and provides a large, cheap, and fast extra storage space for your needs.
[Updated 2017]
Last update on 2020-08-20 at 15:37 / Affiliate links / Images from Amazon Product Advertising API