Seagate launched the world's fastest 2.5-inch hard disk drive with 15 000RPM, called: Seagate Enterprise Performance 15K HDD. This Seagate drive is meant for enterprise users and cloud data centers.
The drive is available in four capacities: 146GB; 300GB; 600GB and biggest 900GB, which is relatively small amount of storage. This Enterprise HDD is optimized for critical workloads and delivers industry's highest sustained data transfer rate up to 315MB/s.
Seagate dominates the enterprise hard drive market.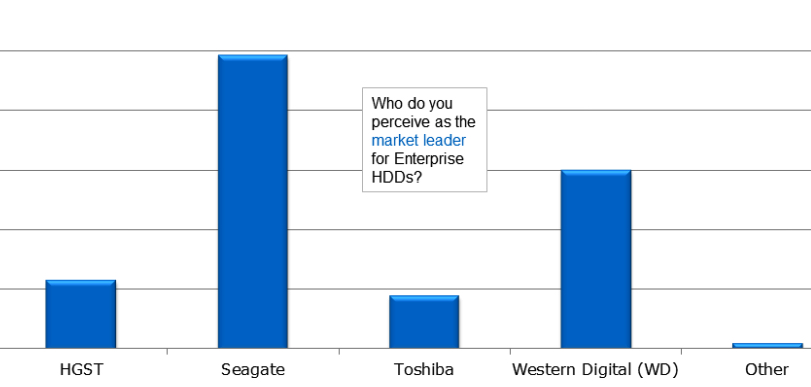 Seagate is the first company who created 15 000 RPM hard drive (with 900GB capacity) in so small 2.5-inch form factor. For a while drive will bring some competition to SSD. The previous Seagate 15K RPM drive launched in February 2014 had only a capacity of 600GB and 6GB SAS (now with 12GB SAS), also had 6 heads and 3 disks. So Seagate have increased the capacity by 50% just in two years. The Sequential data rate have been increased by 27% and random write by 100%.
[section label="Is this the last 15k RPM drive?"]Will this be the last 15 000RPM hard drive we ever see?
Well, it's very possible, because it's extremely hard to further increase areal density on 2.5 inch drive platters. The SSD's are getting better each day and they are slowly and steadily killing the HDD market. Each year SSD capacities are increasing and price dropping. At the moment highest capacity SSD with 2.5-inch form factor has 32TB  of capacity, but of course it's way to expensive to use it in data centers or anywhere else. But we all know how expensive 1GB capacity was a few decades ago, SSD's are going the same path.
All other hard drive manufacturers have only 600GB 2.5-inch 12GB SAS drives with 15,000RPM. In march last year Toshiba announced MKxx01GRRB/R drive with 300GB of storage capacity with 6GB SAS. Also Western Digital WD/HGST launched 15 000RPM drive with 600GB last year – C15K600. All of these hard drives use 6 heads and 3 platters within 15mm high 2.5-inch drives.