Whether you are looking to expand the storage for your home computer, back up the desktop at your office, or both, you can always use more storage space and data security. WD Elements is a handy and cheap way of not only expanding your storage space but also keeping your data safe. Since the drive is very popular, we took a look at what makes it great, and why so many people enjoy using it.
Specs
[supsystic-tables id=267]
[amazonjs asin="B00D0L5BH8″ locale="US" title="WD 2TB Elements Portable External Hard Drive – USB 3.0 – WDBU6Y0020BBK-WESN"]
[amazonjs asin="B017IGERDE" locale="US" title="WD 3TB Elements 3TB Portable External Hard Drive – USB 3.0 – WDBU6Y0030BBK-WESN"]
[su_row][su_column]
[su_box title="PROS" box_color="#179f16″ radius="4″]
[su_list icon="icon: plus-square" icon_color="#179f16″]
Low price
High enough capacity options for anyone's needs
[/su_list]
[/su_box]
[/su_column]
[su_column]
[su_box title="CONS" box_color="#9f1619″ radius="4″]
[su_list icon="icon: minus-square" icon_color="#9f1619″]
No free backup or security software included, only a short trial of WD SmartWare
Short warranty (under 3 years in most cases)
[/su_list]
[/su_box]
[/su_column]
[/su_row]
Breakdown of the Features
If you asked 5-10 years ago for an external hard drive with 4 terabyte capacity, you'd be paying an arm and a leg. Thankfully, the world of technology has advanced pretty quickly and has allowed items as such to become more accessible. The WD Elements portable hard drive is no different with one of the lowest price/GB in the portable hard drive market. Utilizing the plug-and-play feature, it is formatted right out of the box for any Windows 7-10 computer. For Mac and Linux users, though, the drive will have to be reformatted.
Same as with all other portable hard drives, the WD Elements will be a handy solution for storing backups of all your data for safety. The main reason for having backups is the multitude of different viruses and other potential threats to your data, including even simple hardware failure, all of which may cause your data to be lost forever. This is why having a copy of all your data in a separate place is the most reliable way of managing your data.
However, the WD Elements portable hard drive won't automatically back up all your data since it doesn't come with the WD Backup software, but rather provides a free trial period of WD SmartWare Pro, which you'll probably use up rather quickly. But it's certainly better than nothing, which is what you will end up with if you don't backup your data and your computer suffers a catastrophic failure. Another reason everyone can use a portable storage device is the ability to centralize all your information into one easy to access space, for which the spacious Elements hard drive is perfect for.
This WD Elements portable hard drive is small enough to fit in your backpack and has enough space to store a bunch of information, while also allowing you to have it with you at all times. While we mentioned the security of backups, the actual backup should be secure as well, which is where WD Elements fails a little bit. As opposed other WD portable drives, Elements doesn't come with a password protection/encryption software. At this point, you may have already noticed the pattern – Elements is a pretty cheap and reliable drive, but the lower price means less additional features. However, if you know your way around data backups and security, using any drive without special software should be a breeze, making the product more appealing. Same as all other WD drives, Elements has gone through a few iterations over the years. The older versions are much more expensive, so make sure you purchase the latest version of the drive to save money and potentially increase performance (our links above take you to the newer versions).
Design and Alternatives
While the drive seems bulky in pictures, it's actually as large and heavy as any other external hard drive. The minimalistic case is available only in black but is durable enough to endure most day-to-day accidents.
[supsystic-tables id=274]
When compared to other all-around average drives on the market, WD Elements comes up as the cheapest, but not by a lot. Accordingly, it also lacks some software features, but those can be easily downloaded. The Backup Plus Slim is also a bit thinner at lower capacities, in case you have to save every little bit of space around you. Other than that, the Elements drive, while average in terms of specs, is just that little bit cheaper than its competition, making it one of the best portable hard drives.
User Experience
At first sight, I was actually surprised that the WD Elements was actually pretty small since most pictures of it made it look a bit bulky. The drive worked with my Windows PC right away, making setting up the first backup much simpler, not to mention the following ones. After a year or so, a NAS device took the Elements' place as the main backup device, after which I began using the 1TB WD Elements drive solely for music files. The case, while not advertised as super-durable, is still holding up very well, even after a few accidental drops and bumps.
While setting up backups and security options took the help of some other software (I used the native Windows tools for this one), the drive functioned well regardless of these features not being included in the package. Its low price allowed me to save at least a couple dollars on a drive that has yet to fail my expectations.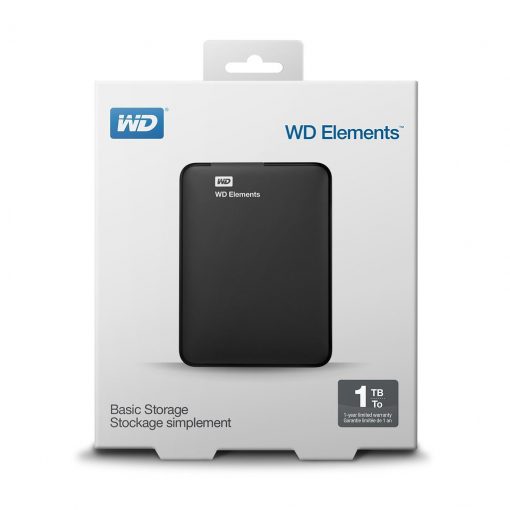 What's in the box?
The box contains the drive itself, a USB cable, a quick install guide, and a 2-year warranty. One thing to note here is that the warranty of the drive technically depends on the region it is sold in. So, in the Americas, the warranty is actually 1 year, in Europe, the Middle East and Africa the warranty is 2 years, and in Asia, the warranty is technically 3 years. So keep in mind what warranty you get.
Verdict
Overall, I think this is a great portable hard drive and even in the amount of time I have had it I have used it for a wide range of functions. Also, you can never have enough storage space, so if you can find a good deal you should always jump on it. If you're looking for a cheap and simple portable drive, we highly suggest adding WD Elements to your technological library.
[Updated 2017]