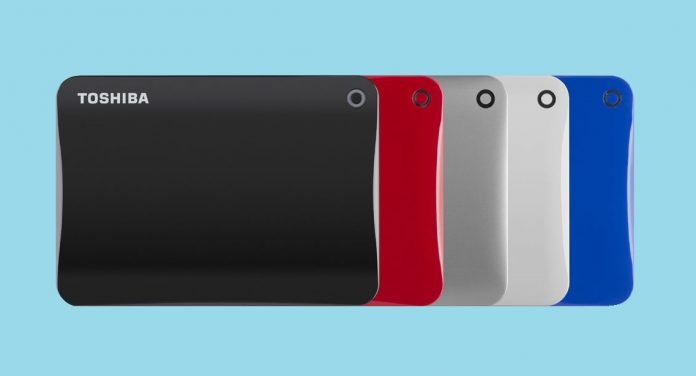 The first brands that come to mind when speaking of portable, or any other hard drives, are Western Digital and Seagate, who have dominated the HDD market for years now. However, a company that is less known in the field of hard disk drive technologies may have created the best portable hard drive for your needs – the Canvio Connect II.
Specs
| | |
| --- | --- |
| Capacity | 500GB / 1TB / 2TB / 3TB |
| Read/Write | ~110MB/s (5400RPM) |
| Interface | USB 3.0 |
| Size | 4.29 x 0.77 x 3.07 / 10.9 x 1.95 x 7.8 cm |
| Weight | 8.11 oz / 0.23 kg |
| Warranty | 2 years |
PROS
A full-fleshed software package
Affordable price
Just a tiny bit smaller than other portable drives
CONS
No 4TB model
The included software tools have been deemed hard to use by some customers
Breakdown of the Features
The Canvio Connect II comes is available in four capacities – 500GB, 1TB, 2TB, and 3TB, however, the 500GB capacity seems to be slowly disappearing, as terabyte drives become more and more prominent in the market. This 5400RPM drive uses the USB 3.0 interface for data transfer and power and is backwards compatible with USB 2.0, however, a 2.0 port will slow down the drive tremendously.
As for transfer speeds, the drive's benchmarks often reach around a respectable 100-105 MB/s, which is a tad bit above the average 5400 RPM drive. It's important to note, that these speeds depend greatly on the way you use the drive, what files you transfer etc.
But the most prominent feature of Toshiba's drive is the included software package, which contains:
NTI Backup Now EZ – a versatile backup tool, that allows you to schedule backups from your PC, social networks, and phone to hard drives and cloud storage. It also features full system backup options, as well as 256-bit AES encryption tools for security. Basically, anything you can come up with in terms of backups, the NTI Backup Now EZ has it covered.
Pogoplug PC – a remote access/cloud storage tool. It basically streams the data on your hard drive to other devices through your internet browser. This, however, requires the PC connected to said drive to be on for this to work, making the real-life usage of the tool questionable. Still, the 10GB of Pogoplug cloud storage doesn't hurt either way.
Tuxera NTFS driver for Mac – allows you to easily access your NTFS (Windows format) drive data on Mac operating systems. This will help you only if you need cross-operating system compatibility, and don't want to reformat the drive.
These software utilities will cover pretty much all of your needs in terms of portable hard drive usage and definitely adds to the value of the drive (read further for the actual user experience with these tools). Speaking of price, Cancio Connect's price per gigabyte ranges from 3.5-6 cents/GB (depending on capacity), which is average for portable hard drives these days.
Design and Alternatives
Canvio Connect's case is rather simplistic, featuring only basic shock sensor technology for safety, but is available in 5 colors – black, red, blue, white, and gold (white models not available on Amazon). The drive is just a tiny bit smaller than most other portable hard drives at 4.29 x 0.77 x 3.07 / 10.9 x 1.95 x 7.8 cm but weighs roughly the same at 8.11 oz / 0.23 kg. The drive also has a tiny indicator light on its front surface.
The two other drives that we've compared the Canvio with before are Seagate Expansion and WD My Passport. The Seagate Expansion stands out as the cheapest and a slightly faster drive among the three but has nothing to offer in terms of extra software features, making the lower price less appealing. But, if you're interested in a basic storage solution that offers up to 4TB of storage, the Expansion might be worth checking out.
My Passport is a much closer competitor to Toshiba's drive since it has backup and security features as well. Seeing how both My Passport and Canvio Connect II are in the same price range, the main difference to take into consideration between the two is your need for a fancy, colorful design with 4TB max capacity or easy cross-OS access. If the latter doesn't matter to you, the choice depends only on the design and your need for 4TB of storage. We have an entire top list of what we consider the best portable hard drives out there right now, so check it out for more alternatives.
User Experience
The overwhelming majority of users have been pleased with the Canvio Connect II since it functions as promised and provides a great backup solution. People who decided to use the included NTI Backup software have been mostly pleased with it, although some point out that it is somewhat counter-intuitive. Many people just prefer to use native Windows or other backup tools of their own preference, leaving the included features unused. Users of Pogoplug have also been pleased with the simple solution to sharing their data for work and/or other needs.
As for negative reviews, very few people have reported duds, either right out of the box or after some time of usage. Some other negative reviews mention the Mac drivers or the backup software not working properly. However, the amount of negative feedback, in this case, is smaller than it is for many other portable hard drives.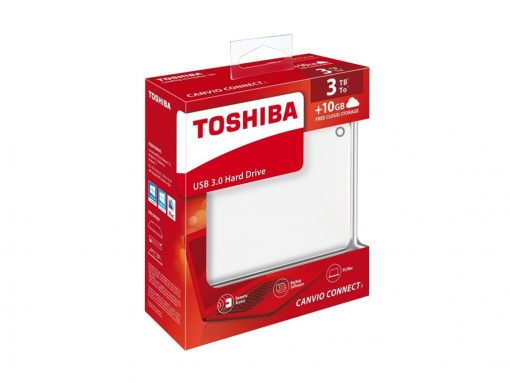 What's in the box?
The box contains the Toshiba Canvio Connect II portable hard drive of your chosen capacity, a USB 3.0 cable, and a short setup guide. The NTI Backup, Pogoplug, and Tuxera NTFS software utility setup files are located on the drive itself.
Verdict
The Canvio Connect II is a great drive if you haven't used portable drives for backup before and want all the needed software already included with the drive. The compact and spacious drive will serve you well, even if you don't intend to use the included software. However, in such case or if you want 4TB of portable storage, some cheaper drives, like the Seagate Expansion or WD Elements might suit your needs better. Overall, the Toshiba Canvio Connect II is a great drive with tons of software features included on top of an already decent device.