Bose Soundlink series portable speakers are one of the most if not the most popular speakers available at the market, and that is not a surprise because just like JBL, Bose focuses on their product quality and sound.
Pros
Has a possibility for protective cover
Great audio quality
Good battery life
Cons
No USB charging
No microphone
Pricey
Bose Soundlink III is already a quite old portable speaker, but it is still very capable to outperform newer speakers and is still a speaker to recommend to others. Bose has always spoken about engineering problems with portable Bluetooth speakers because Bluetooth compression diminishes the sound quality and with Soundlink III it seemed that they found a way on how to fix this problem.
Best Portable Speaker Comparison Table
Bose Soundlink 3 Performance
Bose upgraded their sound on Bose Soundlink III, but if this upgrade is better is more or less a personal taste, as others may like Soundlink II sound better. But the speaker still sounds very clear with powerful and quite deep bass with generous highs that does not seem too over the top.
Bose is more or less a low-mid speaker rather than high-mid making the sound a bit warmer across all genres and does not hurt the treble so much, but that means that at the higher frequency it loses its edge compared to its previous model.
More for the average listener
Making the bass fuller made it more appealing to the average listener and that means that this speaker focuses more on the average listener more than on audiophiles. And by making it able to play louder was another nice touch over the previous model.
For bass heavy tracks it sounded great without any distortion giving the bass quite decent weight to it. For records that have instruments like pianos and horns, it performed well, making the sound crisp and punchy without too many notes on the highs that made it even more pleasing.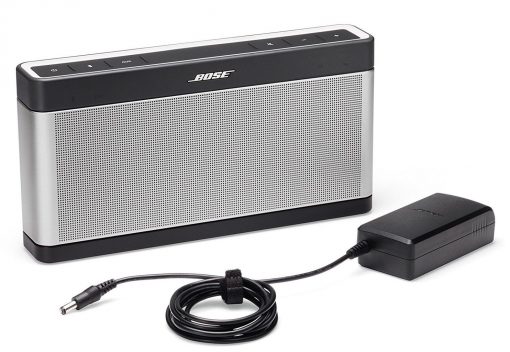 Design and features
Although a lot of people will think that Soundlink III compared to its previous lost some of its personality and made it look more tamed and plain simple. And again that is a personal taste because we figured out that this design idea works better in a broader range of uses because now it does not stand out so much and manages to blend into a lot of room designs with its more elegant design.
Old meets the new
And that can be more appealing to an average listener, but for those that liked Soundlink II, old design has some reminder of its history as it still retains the same six touch buttons on the top and four lights on the front.
Or if you think that this plain design is not for you Bose adds an option for an extra cost to purchase a zip-up cover to make the design to stand out a bit. The covers also work the best for those that would like to bring their speaker outside which adds extra protection to the speaker.
Features
Soundlink III does not have too much-added features, and that is up to you to figure out if it's wrong or right. Bose has not included such extras as aptX, speakerphone or NFC (near field communications) support. And things like NFC is something that we think is not a necessity in these types of speakers because if you pair it once it continues to do it automatically.
AptX is supposed to make music played over Bluetooth to sound better, but again for a speaker at this size, it does not have any difference. One feature that we really think could be in it is the in-built speakerphone which a lot of times can make the life a bit easier. And for battery life, Bose claimed that it is capable up to 14 hours of playback, but we more or less managed to reach approximately 11 to 12 hours. That is not so big of a drop because the battery playback time varies with the content played and its loudness just like any other portable speaker.
Charging
But the biggest feature issue that it has is that it has no USB charging capabilities, and like its predecessor, it needs AC adapter for charging which adds a possibility for losing it, and possible extra cost over time. There is USB port at the back of it, but it is for software upgrades also at the back there is AUX port, which allows to use devices that have no Bluetooth capabilities or just to increase streaming audio quality (But the cable is not included, which is not so big of a deal)

Conclusion
Bose Soundlink III over its predecessor "lost" some of its edges, but by losing this advantage, it made more sense for the average listener, which wants smoother sound over the full genre.
Although it does not have too many features, it does not need for them. And Bose while lacking features made the audio capabilities to overpower it, making this speaker still and comfortable recommendations for those that are looking for a well built, elegant speaker which has a battery life over 10 hours.
And Soundlink III is all of that and more but arguing about which speaker is better and cheaper than Bose is bit useless because at the end of the day Soundlink III is a high-quality speaker which is easy to recommend for people that can afford it.
Just like mentioned before this speaker will not impress or fit for audiophile and is made more or less for the average listener because its sound quality is impressive for such a sized speaker.
Last update on 2020-08-20 at 15:37 / Affiliate links / Images from Amazon Product Advertising API