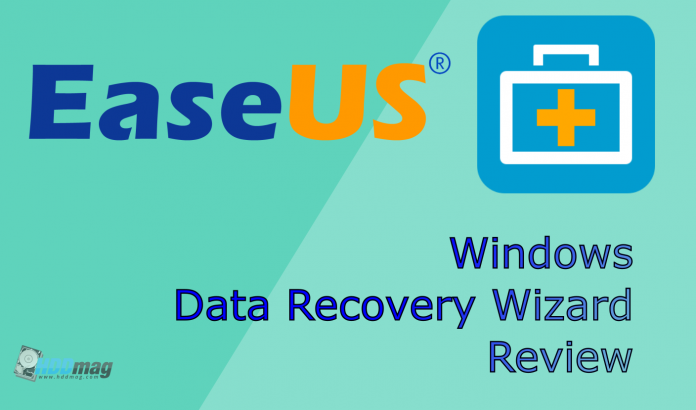 It's reassuring to have a recovery tool at the ready in case you ever delete or otherwise lose important data. But with the easy access to software development nowadays, it might be harder than you'd think to find a truly reliable data recovery software, especially one you can get for free.
EaseUS Data Recovery Wizard is an example of a dependable software for recovering any kind of lost data. At the same time, this software manages to be simplistic enough for even the most inexperienced users to wrap their head around. We took a look at the many features of this recovery program and how well it works in real-life data recovery.
What is EaseUS Data Recovery Wizard?
EaseUS Data Recovery Wizard for Windows is a software tool for recovering accidentally or otherwise deleted data from both healthy and damaged/corrupted storage media. The free version allows only 2GB of data recovery, while the Pro version delivers unlimited recovery for $69.95. It supports a huge list of different file formats and can work with various storage devices. Recovery Wizard also supports almost all modern file systems:
FAT(FAT12,FAT16,FAT32)
exFAT
NTFS
NTFS5
ext2
ext3
HFS+
Recovery Wizard performs scans of storage drives to locate any data not located in accessible folders. The scanning data can be saved in an image file that you can use to recover files. These scan images can also be used to interrupt long scans and continue them later.
Data Recovery Wizard software may not repair corrupted files (like glitched images), you will most likely need a file repair software if recovered or already existing data is glitched or completely corrupt.
Setup and Interface
Recovery Wizard was easy to install and involved the usual, basic steps of picking a directory and confirming the customer agreement. After that, the software was fully accessible but only with administrator privileges, as it is with most in-depth data management programs.
Once opened, Data Recovery Wizard displays a list of all connected storage devices, a subsection for picking a specific directory, and the menu bar.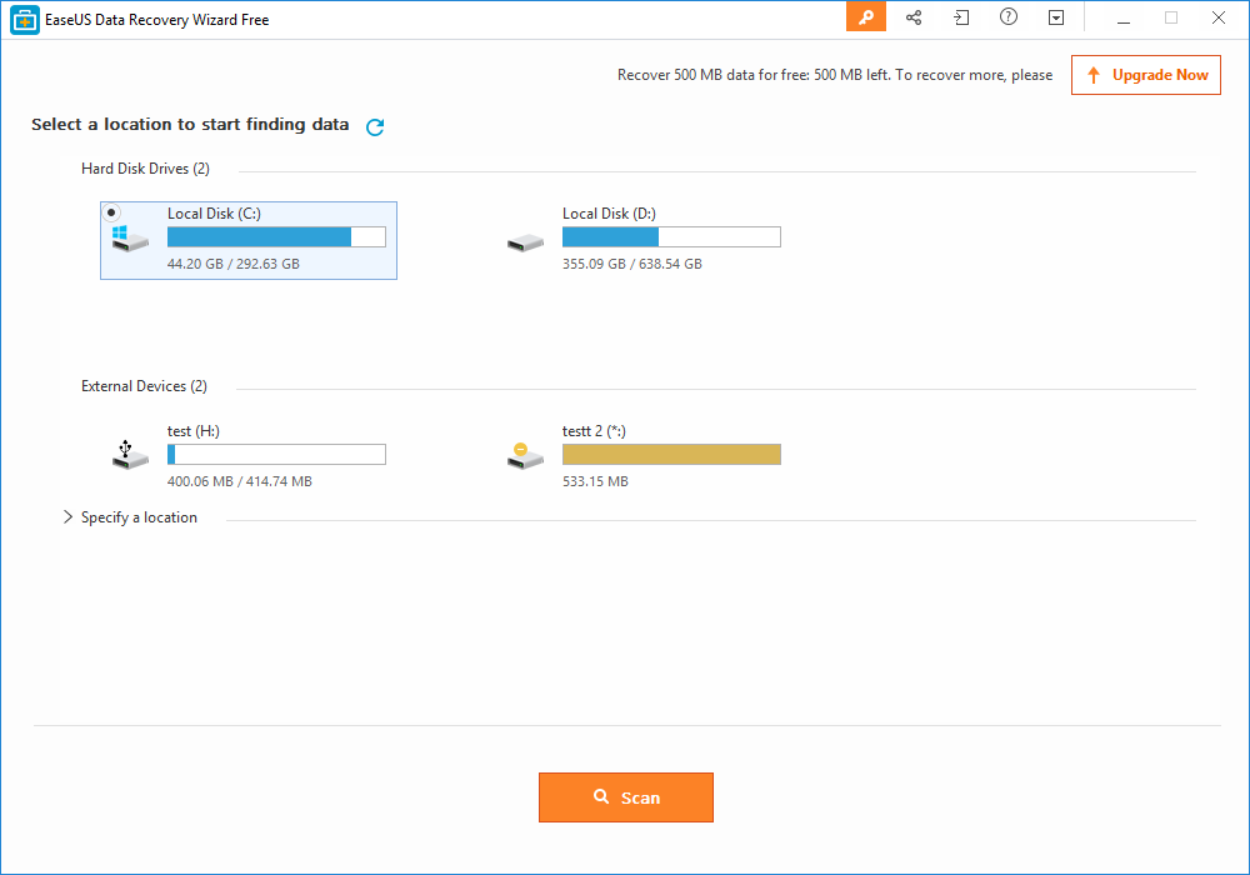 The program instantly showed the deleted "testt 2" partition on our flash drive which is quite handy and helps you instantly see all missing partitions that data can be recovered from.
The free Data Recovery Wizard version allows 500MB of data to be recovered by default and lets you easily "earn" 1.5GB more by spreading the word about this program on social networks via the Share button.
The menu bar features the Upgrade button for purchasing the Pro version, Share button, Load Session button, Video Tutorial button and a list of smaller contact, language, and other miscellaneous options. Overall, the GUI of this software is very minimalistic and easy to understand, and mainly features only a list of storage devices with only one scanning option.
Although you don't get to customize the scanning process much, it does its job well by following a quick scan with deep scan to potentially save time.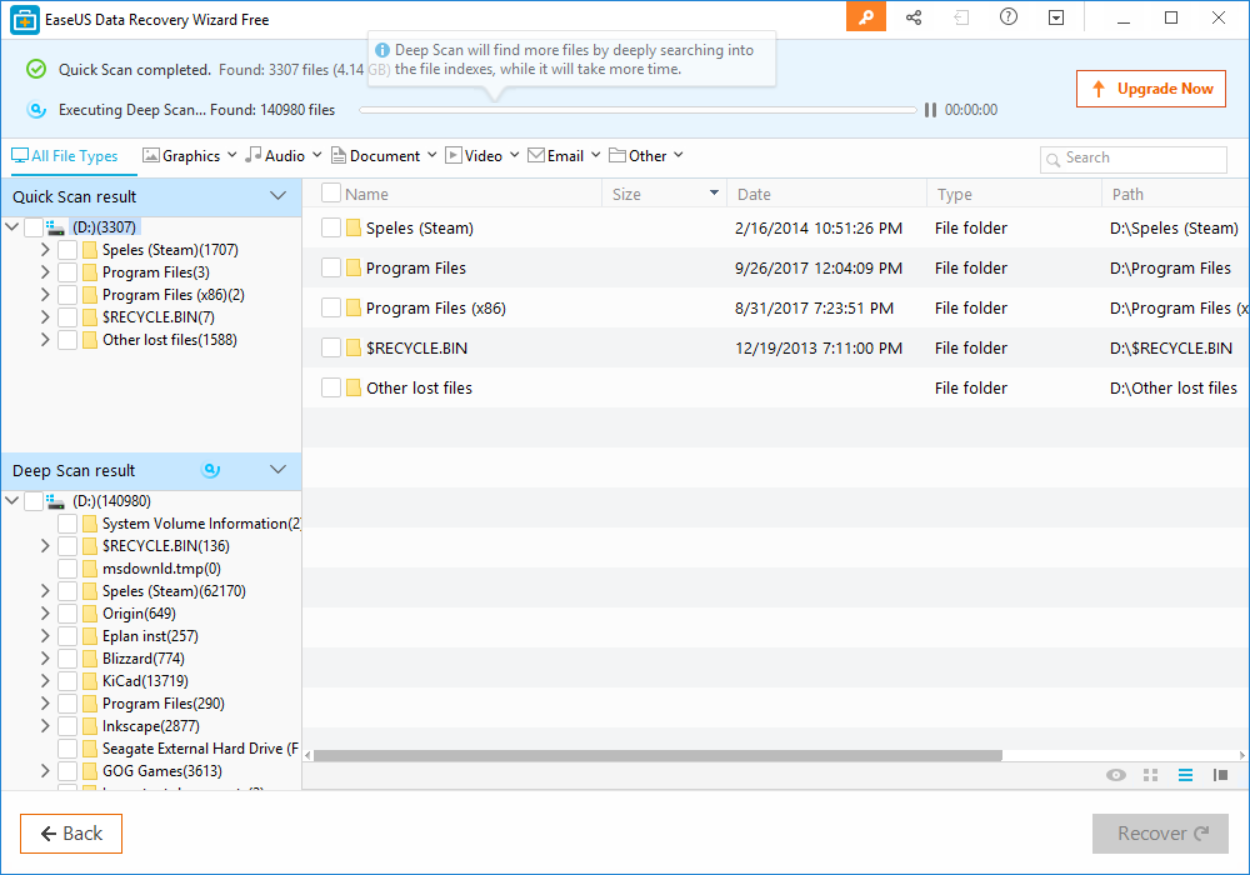 You can pause the deep scan at any time to quit the process and save the already scanned data. This session data can be quickly loaded back with the Load Session button in the menu bar. Unfortunately, loaded session data cannot be used to resume the scanning process and can only be used for later recovery.
Once the scan has finished or the session has been loaded, you can mark separate files or entire folders for recovery and pick the new location of the recovered data. Whatever amount of data has been located can be filtered by file type or file format, and/or searched by name.
Another potentially helpful tool for graphics files is the Image Recognizer (accessible after filtering out Graphics files)- a feature that scans pictures for certain details and can potentially separate pictures of people, buildings, animals and other objects into separate groups.
Functionality
We ran scans on a Windows 8.1 operating system and an HGST Travelstar 7k1000 1TB hard drive as well as a small, 1GB flash drive. We executed scans on a 400GB partition, a 600GB partition (HDD), a 400MB partition (flash drive), and a separate, 400MB folder within the mentioned HDD partition.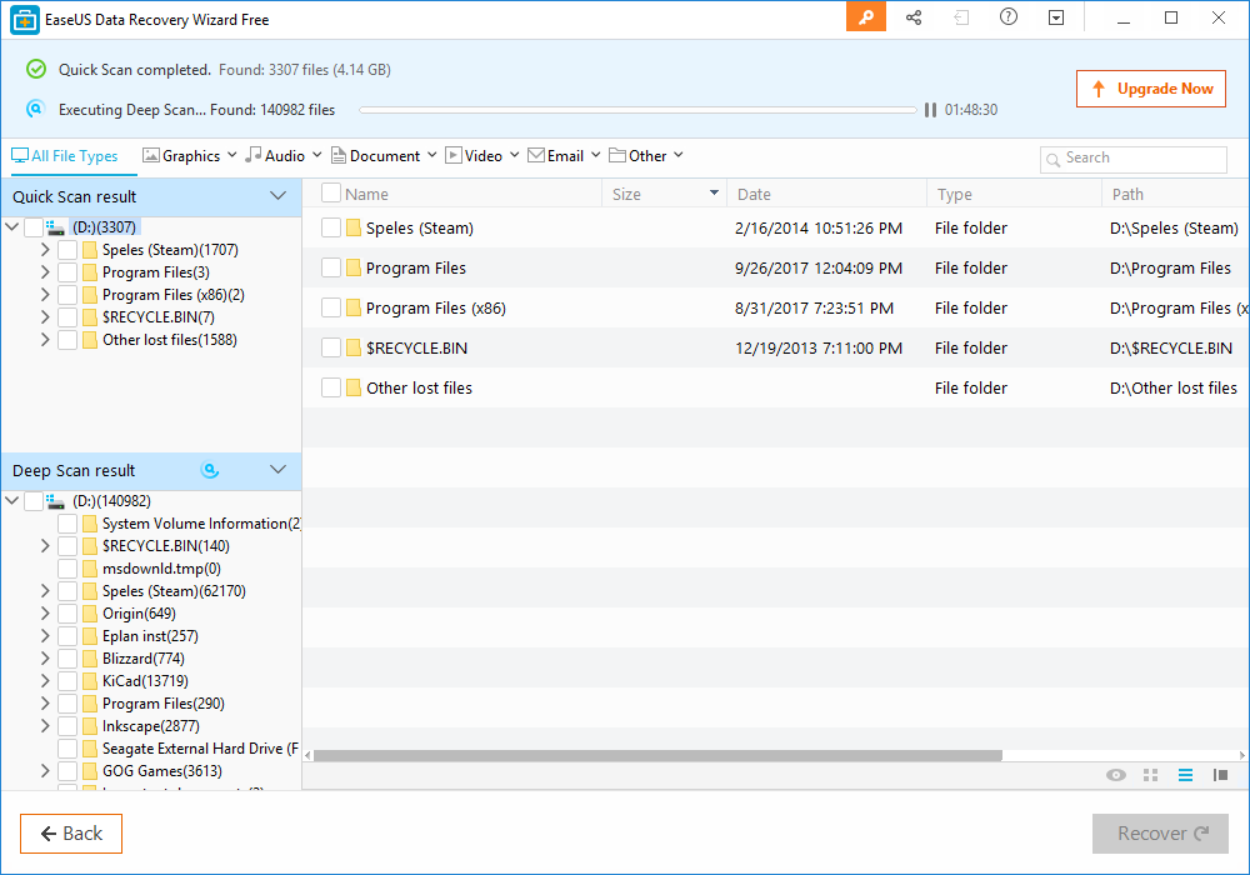 Timewise, the 400MB folder ultimately took roughly 14 minutes (many old files were located after initial 1-minute estimate), and the much larger 600GB scan followed its estimate of one hour and 49 minutes. The 400GB partition scan took roughly 50 minutes. These results are on par with other recovery software, however, the fact that longer scans cannot be interrupted and continued later is worth noting here.
Unfortunately, the small 400MB flash drive partition (NTFS) scan couldn't summarize the results and kept loading forever. This might be due to the limited size of the partition or previous tinkering with said partition but is a failure nonetheless.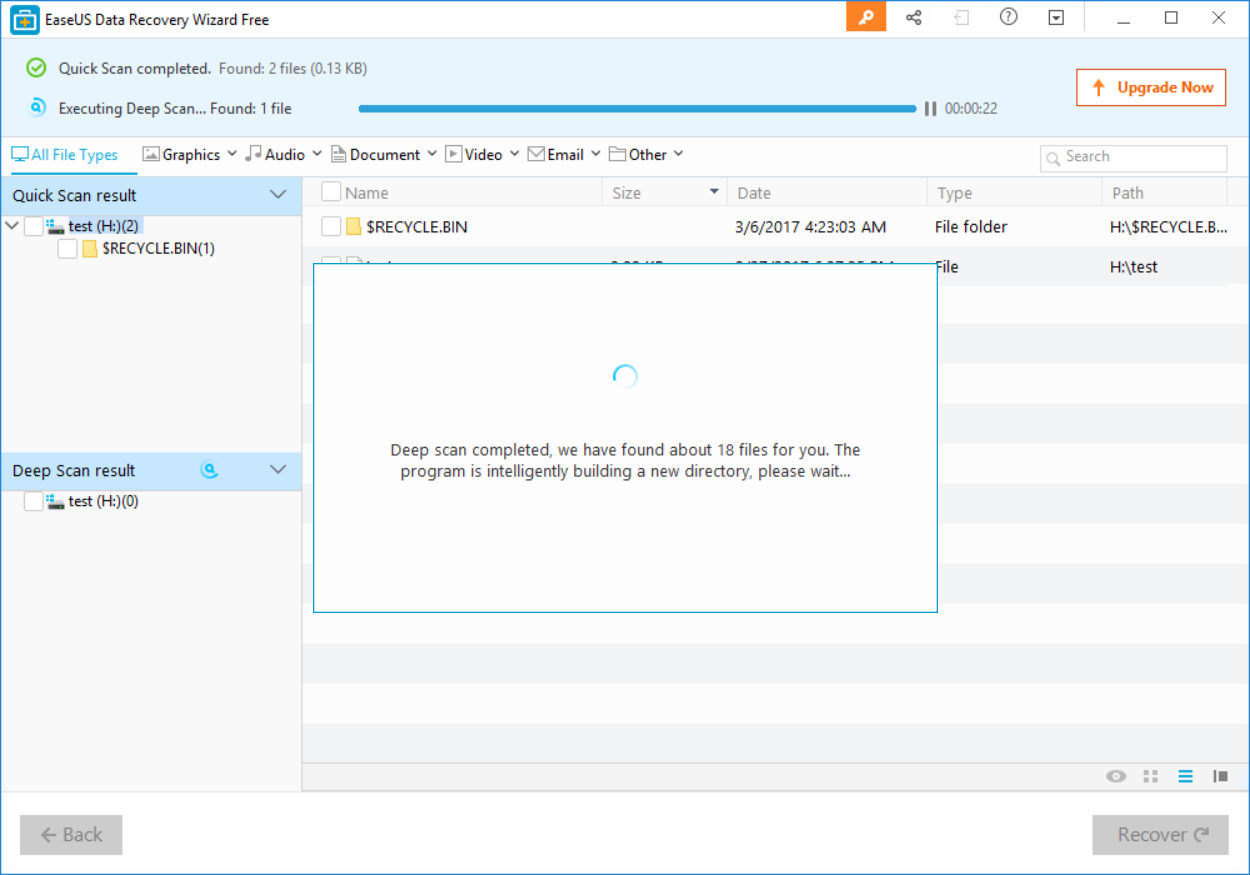 When it comes to browsing and filtering scanned data, EaseUS Data Recovery Wizard does its job well. Filtering different file types (photo, video files, documents, etc.) as well as file formats (such as JPEG, BMP, etc.) was a quick and effortless task. Same with switching between file display modes – all three of tile, detail, and preview modes have their benefits for different needs and, at least on our system, could be switched between instantly, without anything having to load.
The Image Recognizer is, needless to say, an interesting feature that may come in handy in some situations. Most users will likely use it as a toy to see, for example, whether one of their friends shows up under animals etc. But the more important question here is whether it works at all and the answer is: not enough to be useful. Just the fact that out of roughly 37 thousand image files, only 392 could be put in any category is questionable. Many glitched pictures were recognized as people, with the building tab listing basically anything square-shaped.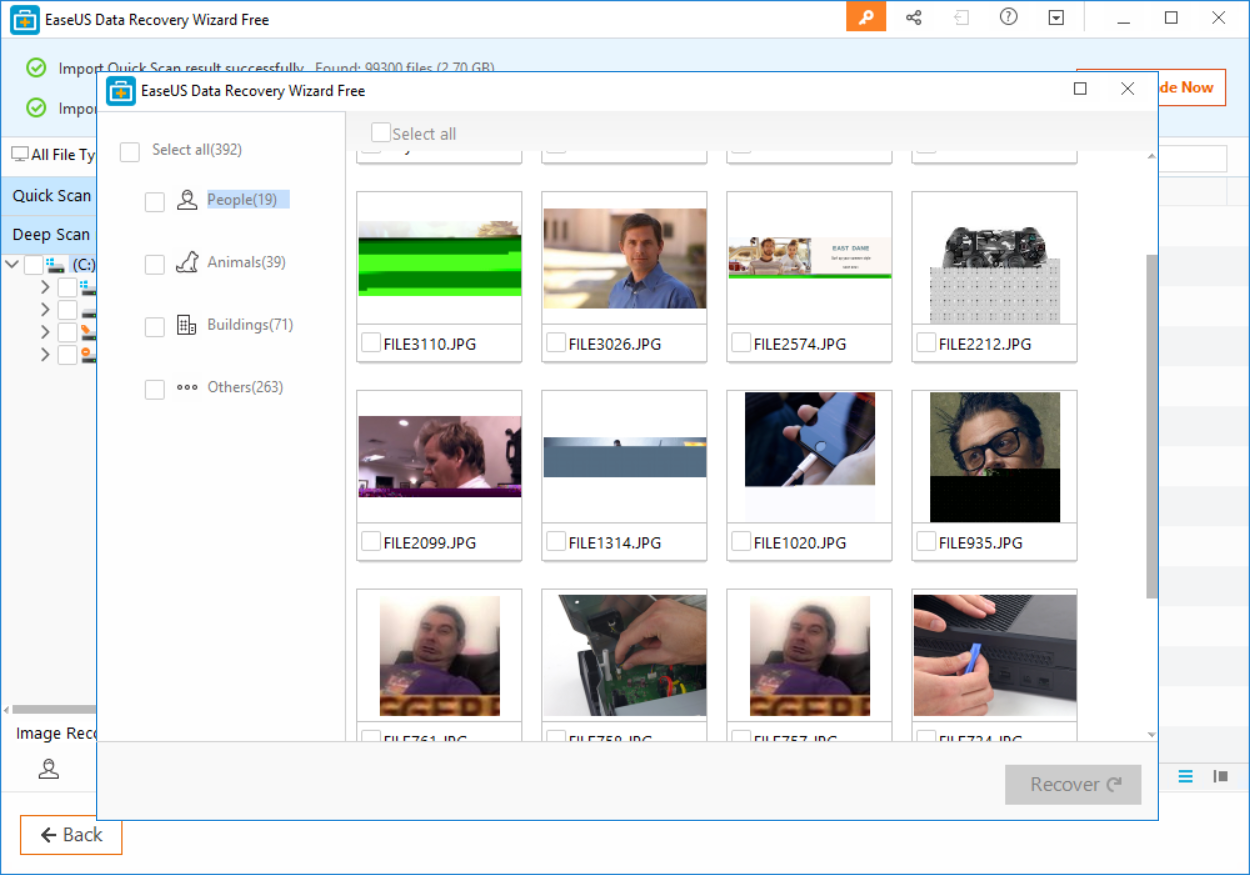 This is, however, a minuscule issue and doesn't reflect much on the quality of the software. Plus, this version (11.8) is the first one to feature this tool, so improvements and bug fixes to the Image Recognizer are bound to happen, potentially making it an actually useful feature.
The recovery process seems to be, for the most part, as quick as copying the file. If you decide to recover tons of files, Data Recovery Wizard will accordingly take a longer time to accomplish the task, same as with the scan itself, as you might expect.
Overall, in our tests, the software fared well and provided pretty much all of the tools we needed to locate, navigate, preview, and recover lost data. However, the reoccurring failure to finish the scan of the small NTFS partition is undoubtedly a downside. Rest of the scans took a reasonable amount of time and seem to be able to thoroughly scan both existing and deleted partitions for lost data.
User Feedback
Customer reviews un EaseUS's own homepage are overwhelmingly positive, although most are simply 5-star questions. Reviews on download.cnet seem to be much less supportive with the main issue being difficulties with the 30-day refund promised on the said download page.
Data Recovery Wizard only recovers data. That data may be corrupted still and will most likely not get repaired by Data Recovery! To repair data you need other software, like SP JPEG Repair.
Most other issues seem to be more customer error than anything else, mainly about how the Data Recovery Wizard only recovers files but doesn't repair them. However, as with any product, less explanatory and more flowery language is used and complete success is promised, so this is partially the fault of EaseUS. Explaining to less experienced customers what exactly the software does is crucial to avoiding a bad reputation. As for other reviewers, the software did its job well when tested and is generally viewed as a good product.
Verdict
Overall, EaseUS Data Recovery Wizard for Windows is a great recovery tool that features a very basic interface and high recovery potential at the same time. Any kind of clutter that most users won't need is removed, leaving only the main scanning options and the recovery process.
Our tests show the software to work well in most cases, although it failed to recover data from a small (400MB) NTFS partition on a flash drive. The recovery scans take only a couple minutes for partitions up to 1GB and 1.5-2.5 hours for 300-600GB partitions, which is on par with other recovery software.
The main downside to the minimalistic design is the lack of customization – you can't add new file formats/headers, you can't shorten scans by filtering file types beforehand, etc. Recovery Wizard performs thorough scans on most storage devices but advanced users will probably want more customization options and a more "under the hood" access to data recovery.
Either way, Data Recovery Wizard does its job well enough to recover your lost data. Just remember to always backup data because it's the best way to avoid data loss altogether and avoid the need for any recovery.