In this day and age, we store tons of media files for safe keeping or daily usage on our devices, ranging from blockbuster movies to videos of your child, pictures of cats, or your favorite songs. But in this huge amount of data, something is bound to go wrong at some point, like accidentally deleting an important photo or some file transfer process going wrong, making the files corrupted.This is why repair and recovery tools exist, like the Stellar Phoenix JPEG and video repair tools, and their media file recovery tool. Seeing how these tools would be responsible for restoring important data, it's necessary to know how well they work.
This is why repair and recovery tools exist, like the Stellar Phoenix JPEG and video repair tools, and their media file recovery tool. Seeing how these tools would be responsible for restoring important data, it's necessary to know how well they work.
What are the Stellar Phoenix Software Tools?
Stellar is a software company, oriented on data repair, recovery, and erasing. Basically, if you have any issues with data files that you can't fix yourself, Stellar can help you get your digital life back in order. Phoenix is their lineup of data recovery and data repair tools, which go into the deep end of your PC and its storage devices to locate issues or missing files.

In this article, we'll be reviewing the Stellar Phoenix Photo Recovery, Stellar Phoenix JPEG Repair, and Stellar Phoenix Video Repair – the Titanium software package. Both repair tools do what it says on the can and repair video and JPEG files that have been corrupted due to faulty compression or transferring process. The Photo Recovery tool, however, has way more to offer than what the name might suggest – this tool will recover not only photos but videos and sound files as well. We go into more detail below.
Stellar Phoenix Photo Recovery
We'll start off with Stellar's most versatile tool, the Photo Recovery. What this tool does is it scans a storage device (hard drive, flash drive, SD card etc.) and shows a list of all existing and restorable media files. After the scan has finished, or you've stopped it when the necessary files have been found, you can pick which files exactly have to be restored and choose a location where those files should be saved.
Setup
The installation process was short and simple, allowing you to choose the program's directory and shortcuts the same way as any other installer would. After that, the program is ready to go. In our case, the program required administrator privileges to be launched, so keep that in mind just in case you don't run the main user account of your PC etc.
Interface
The thing that scared me at first, but turned out to be one of the greatest things about this software, is the simplistic design with just a few options and buttons. The first thing that popped into my mind is not having any control over how the recovery process will work and what files will be restored.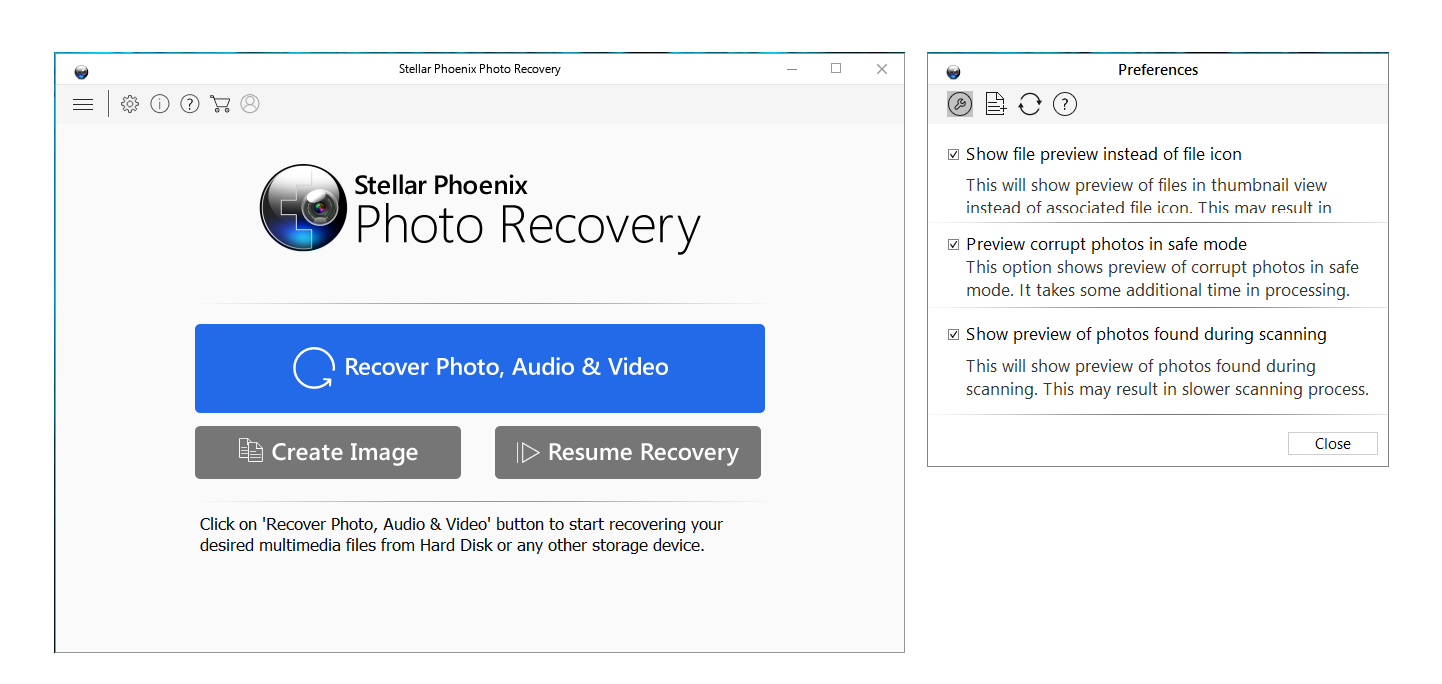 But the minimalistic options list turned out to be a blessing in disguise. It covered basically everything, even pretty technical stuff, like adding new file formats to the already huge list of compatible file formats. In short, the main four options you'll be working with are:
Recover Photo, Audio, and Video – scans an entire storage device and finds all existing and potentially recoverable files. In the storage drive menu, you can also customize what types and formats of files the software should look for, as well as what sectors (parts of the drive) should be scanned.
Create Image – copy the existing recovery and storage information, or a sector of it, in an image that you can scan and work with later on. Basically, if you have a bad sector on your storage device, this will create a backup of the recovery information that you can save from further damage.
Resume Recovery – allows you to continue a scan from where you left off, as long as a file containing the scan information exists. Some scans take a very long time to complete (an entire main hard drive, for example), so it might be a good idea to stop the scan midway, save the already scanned data, and then use this option to continue the long scan later.
Preferences – options that allow you to customize your recovery process. You can change Preview and Header options in this menu. Preview options allow you to choose whether you want to see thumbnails of pictures during a scan, file previews or just the file type after the scan, and whether you want corrupted images to be viewed in safe mode (in case they might have a virus). You can also manually update Photo Recovery and view the Help menu from Preferences.
Functionality
Using Photo Recovery was simple and easy, there were no issues along the way and everything was super-easy to understand (if not at first, then after a quick glance at the all-encompassing Help menu). We tested the software on a Windows 8.1 PC and used a 1GB flash drive that I've had for the past nine years at least, to see what potentially embarrassing stuff Stellar Phoenix could find there.
By default, all the Preview options were turned on, which made the scanning process pretty lengthy, even for the old 1GB flash drive that was our main test dummy (around 20 minutes), not to mention the 290GB hard drive partition we tried first (hours of scanning). After turning all additional preview options off, scanning the small flash drive took only around 5-10 minutes (with long pauses along the way), but larger drives will still take a very long time to scan.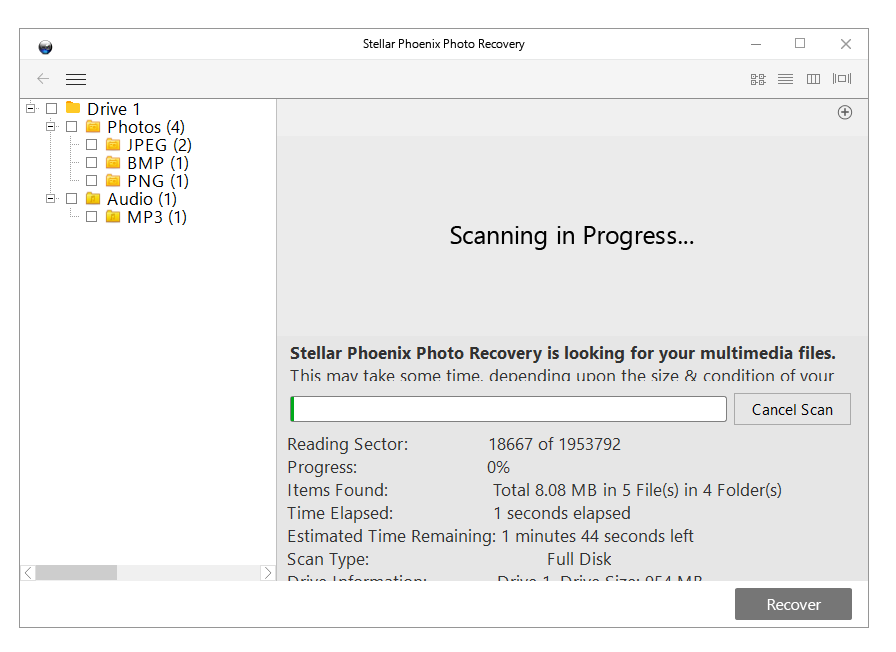 However, in our tests, the scan was able to easily run in the background and not cause any noticeable performance issues with other programs. Still, if you don't intend to look at the recovered pictures during the scan and know that the storage device hasn't been attacked by a virus for sure, turn off the "safe mode" and "photo preview during scan" options for a much quicker scan.
After the scan, all photo, audio, and video files could be reviewed and separately ticked off for recovery. Then you just choose a directory to save the recovered files to and you're done. If you stop the scan midway, you can save the already scanned data in a directory of your choosing to continue the scan later, which also worked like a charm, just note that this option can be accessed via the "Stop Scan" button. All files I could recall ever being on the flash drive were recoverable, with only a couple having some issues with their thumbnail only in the Photo Recovery interface.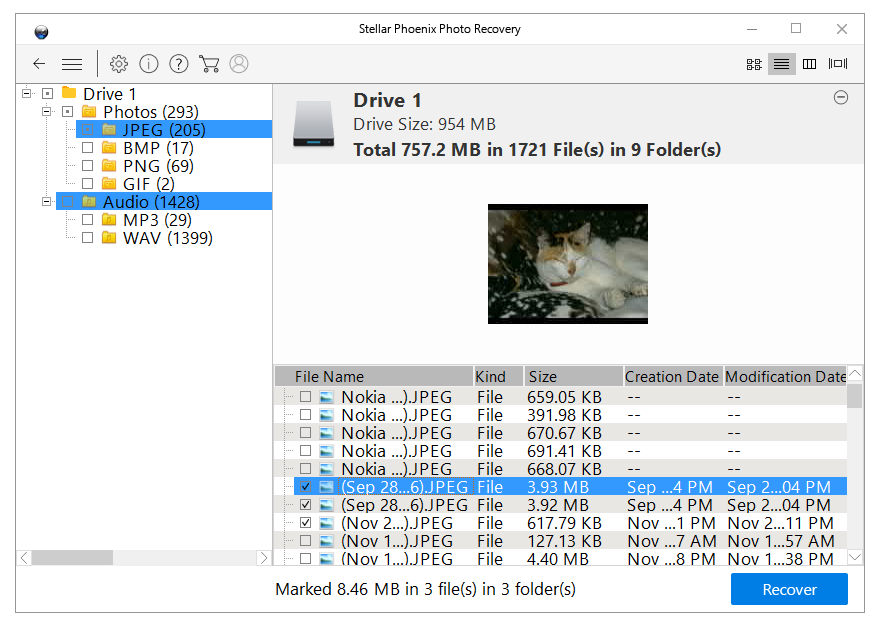 User Experience
As our test is just one data point, it's important to find out other customer's and reviewer's experience with the Stellar Phoenix Photo Recovery software. The vast majority of users were able to recover all of their lost data with no issues, with extremely rare cases of the recovered files being corrupted. These cases are few and far between, and overall, the Stellar Phoenix Photo Recovery does way better than most other recovery tools.
"I was amazed at how easy your product was to navigate. I was able recover over 1500 photos from one SD card alone in just a short amount of time. Instructions were easy and I am still so pleased with it!"
         – Photo Recovery user comment
As for other reviewers, their tests showed similar, promising results, recovering more than 90% of deleted data. Their verdict was that Photo Recovery is a pretty simplistic but very user-friendly software tool, targeted more at novice users and less so at professionals.
While the software's lightweight features are easy to use and understand, they might not cover the needs of some more advanced users. For example, the scans often times don't retrieve as much data as their alternatives, using the software on two machines is a bit clunky, and some other alternatives present much more options in terms of recoverable file formats.
Same as most other recovery programs, Phoenix Photo Recovery has trouble recovering pretty much anything from SSDs because of the different storage method and architecture. Going through the scanned files is also quite tedious, at least on the Windows version, as the software features no search or filtering options. A bit of an issue was the program window being a bit squished together, resulting in some lines of text being covered by other dialog boxes, but everything was still understandable.
Stellar Phoenix JPEG Repair and Video Repair
In the Phoenix Photo Recovery Titanium bundle, you can also find the two repair tools for video files and JPEG pictures. Since both tools are rather simple and work similarly, we'll have a short look at them both together.
Setup and Interface
As with Photo Recovery, installing both repair programs involved the most basic installation process. After that, the programs were ready to go and presented the option to pick one or multiple files for repair. Once you've made a list of JPEGs or video files to repair, make sure that all the files in the list ar ticked and press the "Repair" button.

The repair process can take a while, depending on how many and how large the files you've chosen are. After the repair process is finished, you can preview the results in the small window next to the file list and choose which files you want to save and which repaired files you don't need.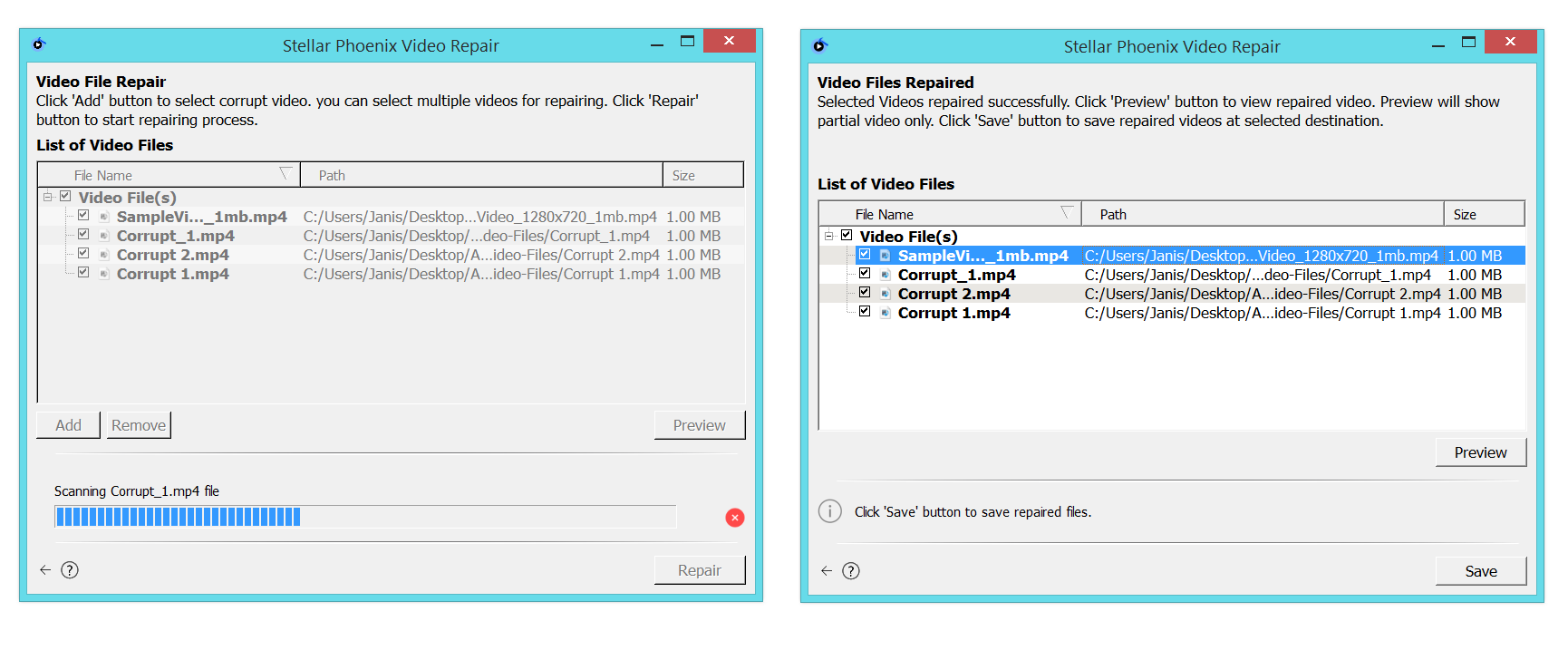 Other than the basic repair, update, and registration options, there's also the help window, which, same as with Photo Recovery, has almost all the information you might need to use and understand the respective software tool. Both tools are very straightforward and user-friendly, which seems to be the theme with Stellar Phoenix products.
Functionality and User Experience
There's not much to the process of repairing your files, so not much to talk about in terms of using the software. The JPEG Repair will, as the name suggests, repair only JPEG pictures, not PNG, BMP, or other file extensions. Meanwhile, the Video Repair tool will work with WMV, ASF, MOV, MP4, M4V, 3G2, 3GP and F4V files on Windows and MP4, MOV, M4V, M4A and F4V on Mac. Depending on the state of the file, the JPEG Repair may recover the file itself or the file plus a separate thumbnail image, however, some files may be beyond repair, depending on the damage done to the file.
After getting our hands on some corrupted and glitched files, we tested out whether the repair tools actually work. After picking the files for repair and going through the repair process, the JPEGs were indeed repaired, so the JPEG Repair tool worked as intended. For single files, the repair process took around a second, with the first JPEG developing additional thumbnail files which seemed to take a tad bit longer. Multiple copies of the same 600×450 file also took around a second each to repair.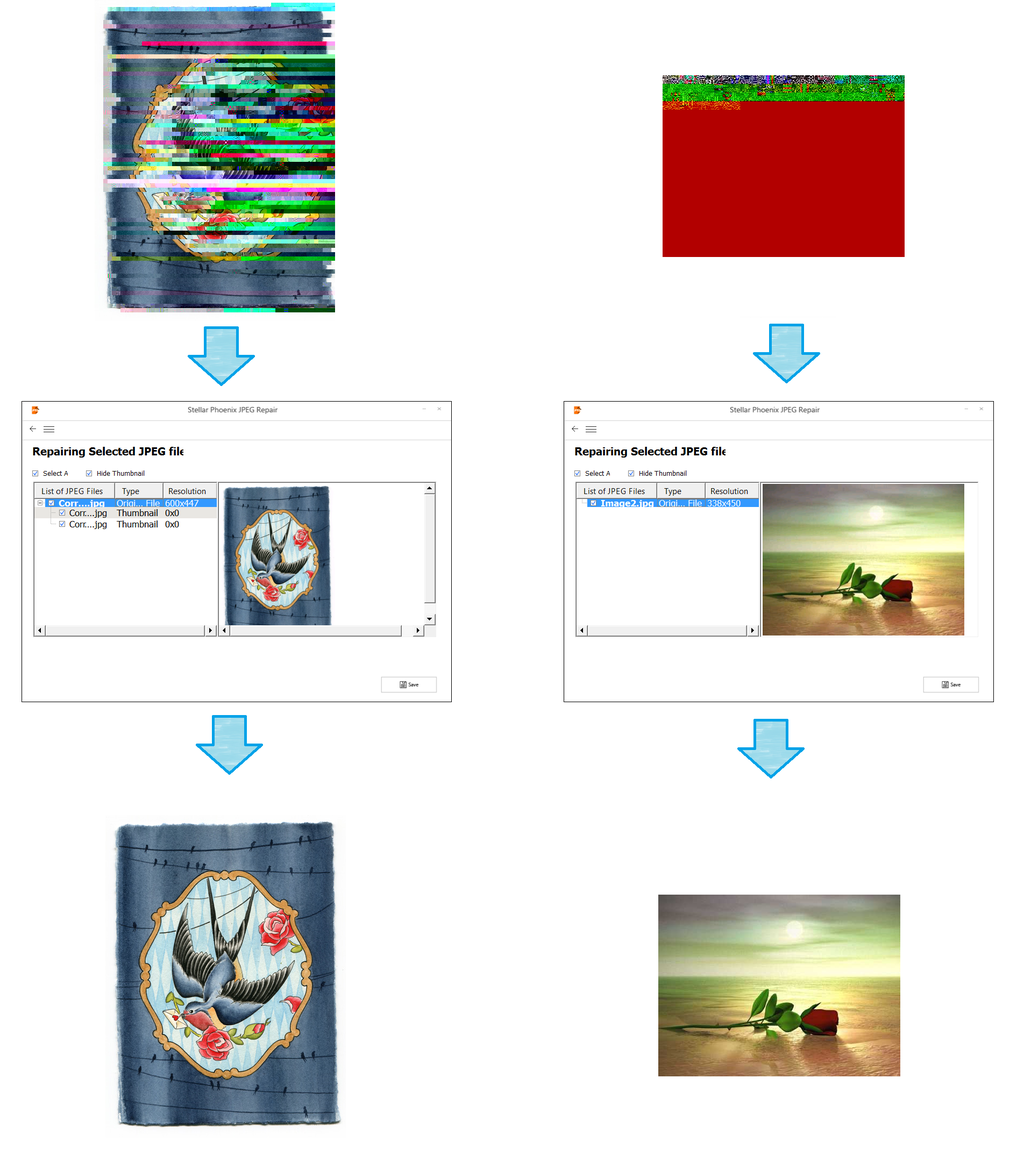 The Video Repair tool also worked as promised, as our 480×270 resolution, 1:17 long .mov file that couldn't be played at all was also repaired. In our first tests, we used manually corrupted files (hex-edited or corrupted via CorruptMyFile), which didn't get repaired because the corrupted or glitched data was stored as a legitimate file rather than something your computer would recognize as corruption or a parity issue. So, if you mean to test the software yourself, make sure that your data is actually corrupted and not simply altered.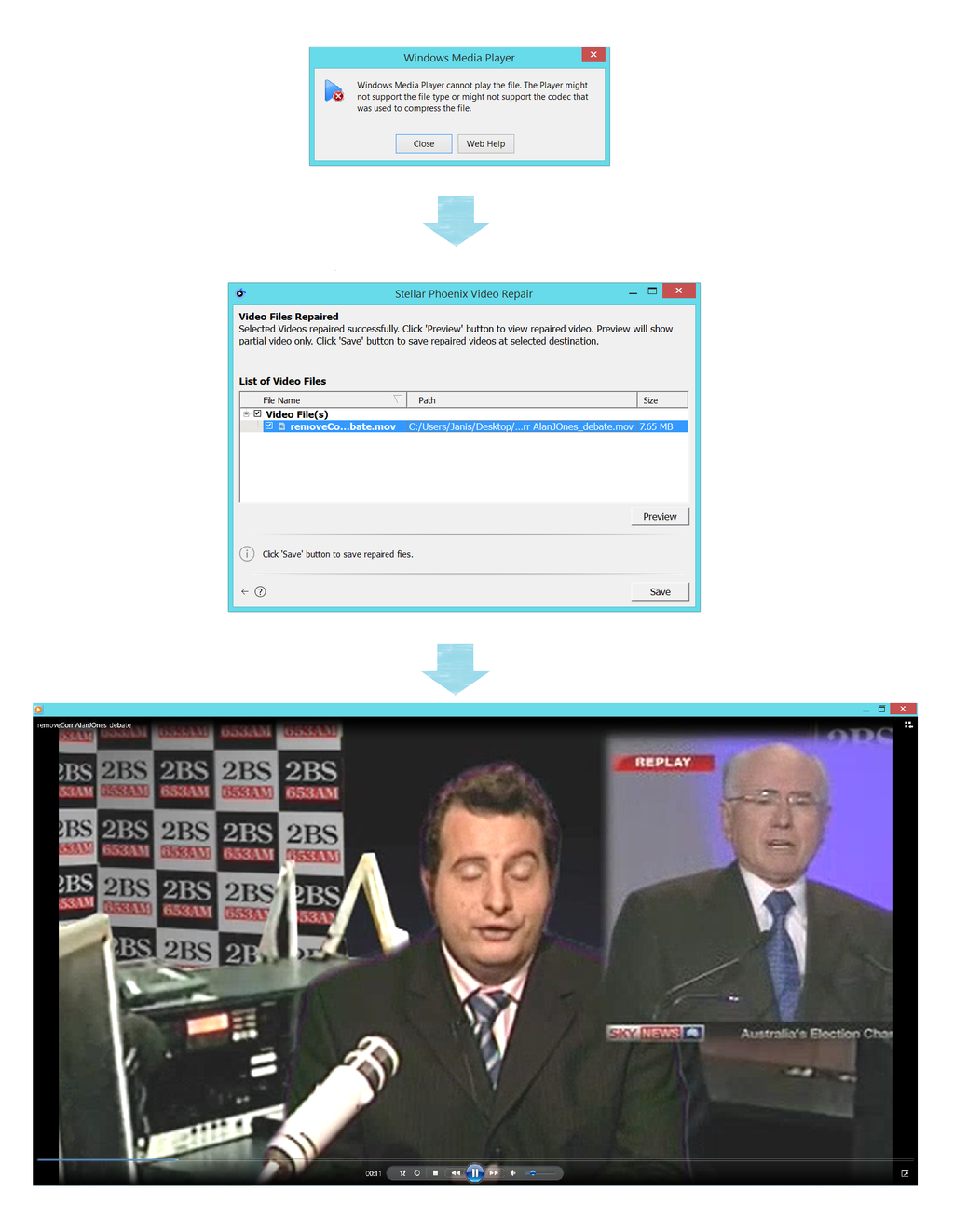 Saving the repaired files was a bit clunky with both JPEG and Video Repair, as the default Windows save window makes you look for the destination folder from the main PC folders every time you save new files. Also, the Preview tool in Video Repair seemed glitchy, as most of the window showing the repaired video was just green, with only about 2/3 of the video actually being visible. These, of course, are minor issues and you'll still be able to save your files and see whether your file is repaired or not, which is the only thing that really matters here.
Verdict
Stellar Phoenix Photo Recovery is a pretty handy and easy to understand software tool that will get the job done and recover your lost files. Although the simplistic design might leave professionals wanting more, it works perfectly for regular users who have simply accidentally deleted or otherwise lost some files. Overall, Photo Recovery does what it's supposed to and does it well, with the only real downside being some quality of life issues.
Stellar Phoenix JPEG and Video Repair are very well received by their respective customers, with almost all of them being able to recover their glitched or otherwise corrupted videos and JPEG photos. Our tests yielded the same results, as our small, corrupted JPEGs and a short corrupted .mov video all got repaired by their respective tool. Most parts of the interface were easy to understand and use here as well, aside from the clunky file saving process.
Overall, the software package includes all the tools you might need in order to safely store your data and to not have to worry about losing any of your favorite pictures or videos. You can get the recovery tool, plus the two other repair programs for $79.99 in what seems to be an indefinite sale, or you can buy Photo Recovery separately for $50, which is a bargain in the recovery tool market. Protecting your files is important, and Stellar Phoenix Photo Recovery Titanium is a good place to start.