In this day and age, there is a myriad of ways to transmit information. From emails to texts to carefully filtered Instagram stories, the options are virtually endless, and new formats are being created constantly. One of the most popular ways to send documents from here to there in 2019 might surprise you, though: sending faxes over the web. We'll learn about that in this FaxZero review.
Now, you're probably thinking one of two things:
"A fax? I'm not an extra on the set of Working Girl. Why would I send a fax over the web, or anywhere else for that matter?"
Or:
"A fax? What the Heck's a Fax?" A Quick Guide to Our FaxZero Review
A fax is a document that's scanned and sent electronically via a telephone line. It's a common myth that faxes are behind in the 20th century, right alongside landline phones, handwritten letters, and acid-washed jeans.
As long as people use paper to conduct their daily business, they'll use fax machines.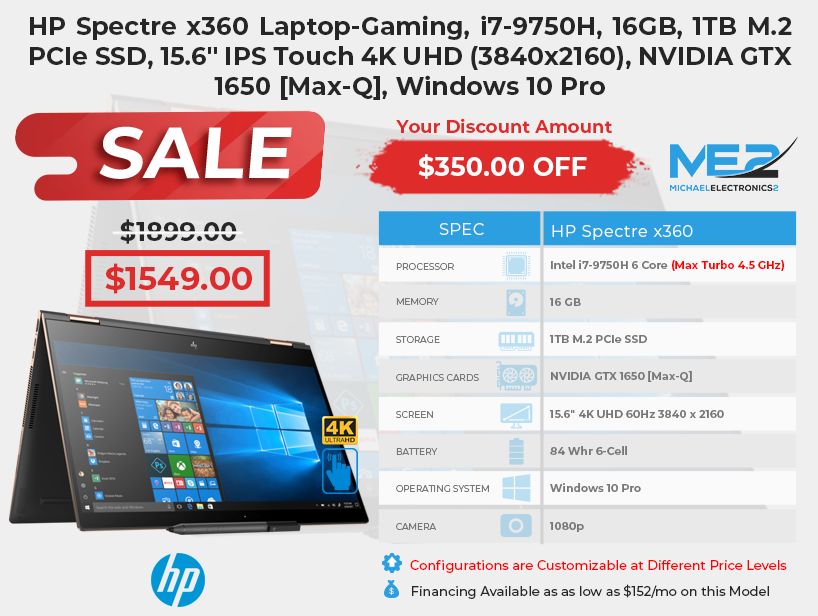 Are Faxes Old School?
This FaxZero Review Proves That Faxes Are Anything but Outdated
Fax machines may a bit "old school," but with age comes reliability and security. The legal field, for example, heavily relies on fax machines for the exchange of documents because of the transaction receipts included. As time marches on and our smartphones get tinier and tinier, operating a fax machine only gets easier and more affordable.
In other words, faxes are popular with businesses, government offices, nonprofit organizations, and other professional industries, and they're not going away anytime soon. In fact, a June 2017 study conducted by Ron Glaz and Holly Muscolino for the International Data Corporation showed that fax use will grow by approximately 25 percent over the next two years.
Much of that growth will take place via the internet, and web-based fax services are plentiful. This FaxZero review explains how its particular service works, what makes it different from its competitors, and how much it costs.
"FaxZero Review: How Does It Work?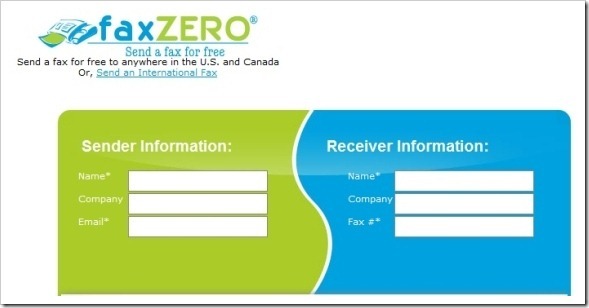 FaxZero is a website that lets you send a fax for free to anywhere in the United States and Canada, as long as you have a valid email address. International faxes are available, too, for a small fee. No need for a fax machine.
PROS
Convenient
Transparent
Easy to Use
No need to sign up for a monthly subscription
Free service is available and premium service is affordable
Boasts an easy, convenient Fax Your Congressman and Fax Your Senator feature
CONS
A customer review stated that there were delays in the delivery even for the paid faxes
No mobile app yet
The file must be under 20MB
Free service is limited to 5 faxes in a day
How to send a fax using FaxZero:
Sending a fax is easy, and not just because you don't have to keep a fax machine in your home office or schlep over to a copy shop every time you want to send documents to your fax-loving clients in Fresno.
1. First, you fill out the fax form, which functions much like a cover sheet on a traditional fax machine and requires you to provide your name, email, and phone number, as well as the recipient's name and fax number. Including your or the recipient's company is available but optional.
2. Next, you attach your documents. One can attach multiple files can at once, and FaxZero accepts a wide variety of file types, including Microsoft Word files (.doc, .docx, and .rtf), Excel spreadsheets (.xls and .xlsx), and PowerPoint files (.ppt), as well as .pdf, .jpg, .gif, .png, .tiff, and .txt files. You know you were able to attach the file correctly when you see its name in the text box next to the "Browse" button.
3. After you have attached your files, there's a text box in which you can type whatever you'd like to appear on the cover sheet that'll accompany your faxed documents.
4. Beneath that is a confirmation code and an input field; enter the code to prove you're not a fax-happy robot. Once you have filled out everything, click the "Send Free Fax Now" button, and you're almost done.
5. After sending your fax, you'll receive a confirmation email at the address you provided. Clicking on the URL in that email will finalize the transaction and send your fax. That means no providing a fake email address — at least not if you actually want to send your fax. You may need to make sure the message isn't diverted by your email's spam filter.
6. You will receive a confirmation email upon delivery. If it was not delivered, you'll get a heads-up about that via email, too.
BTW, that's all FaxZero will use your email for. They won't send you any unwanted email; the address you provide is for the transmission process only. Similarly, the sender info that you input — your name, company, etc. — populates the "Sender Information" section of the fax that you send, and that's it.
FaxZero doesn't share any of your information, including the people and organizations to whom you send faxes, with anyone else. If you want to fax Taco Bell's corporate headquarters every day to tell them how much you adore the new Chalupa Box, then that spicy little fact will stay between you and whoever screens the CEO's faxes.
Here's a Faxzero review video explaining how to use the platform:
FaxZero Review: What Makes It Unique
Two things make FaxZero stand out among its competition. The first is its dead-simple, no-commitment interface. You don't have to register for anything. Also, you don't have to jump through any virtual hoops, watch out for hidden fees, or await an onslaught of junk mail.
In less than a minute, you can send a fax for no more than the cost of a free dumpling sample at Costco and get on with your day.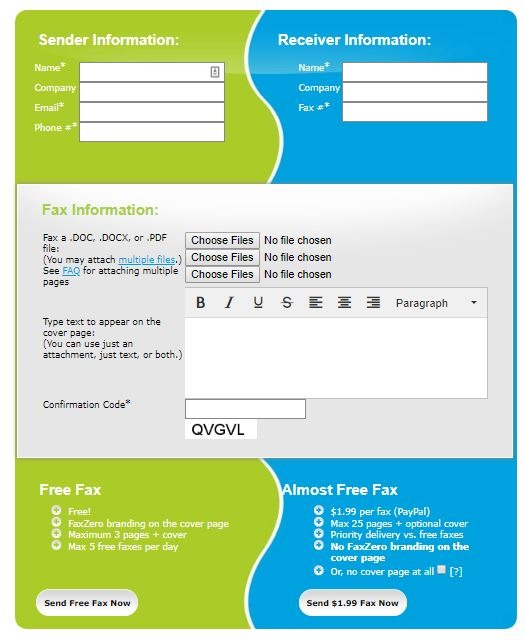 Integrated Platform
The second thing that sets FaxZero apart is how it has integrated faxing politicians into its platform. In 2018, Americans are more politically engaged and more interested in contacting their members of Congress and other elected officials than ever before. Believe it or not, sending a fax is one of the most popular ways for ordinary citizens to get in touch with the men and women who represent them in Washington.
There are several reasons why political faxes are all the rage right now. For starters, faxes are tangible. When you send an email, you can delete it with a simple click of the mouse. When you send a fax, it creates a palpable print-out. It's attention-grabbing. As representatives' voicemail inboxes reach capacity or get turned off altogether, faxes are an increasingly attractive alternative to phone calls, too.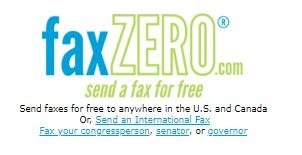 Whether the physicality of a fax and its cover sheet boosts the chance of your message getting through is difficult to say with complete certainty — the staff screens all communications, no matter the form — but in an age when concerned citizens have a lot to say, it turns out that they're unwilling to discount any medium that might transmit their message.
FaxZero features an easy-to-navigate directory of United States Congress members and other elected officials. It includes the fax numbers of every state's senators, every state's governor, the United States Attorney General, and every state's members of the House of Representatives. That's one heck of a directory. California alone has 53 members in the House of Representatives.
This useful, civically minded information is all presented in a completely nonpartisan format as part of the website. Additionally, FaxZero includes a helpful guide for contacting your representatives; it endorses specificity, brevity, and respect, among other relevant tips. It also tracks who the most-faxed representatives are for the past 24 hours, the past day, and the past month.
FaxZero Review: Pricing
Now let's dive into pricing on this FaxZero review. For sending a fax to the United States or Canada, you have two options: Free Fax and Almost-Free Fax. Free fax is exactly what it sounds like.
Sending your fax costs you nothing, but that low, low price of exactly zero dollars does come with a few conditions. First, you can send up to five free faxes per day.
Second, each fax can be three pages at most (not including your cover sheet). Finally, each fax will include FaxZero branding on the cover sheet. This consists of the FaxZero logo and slogan ("Send a fax for free"), which is in the upper right corner of the page.
If any of those conditions are deal-breakers for you and your faxing needs, you can choose the Almost-Free Fax option. For a couple of dollars per fax, paid via PayPal, you're given more wiggle room. These premium faxes do not include any FaxZero branding; in fact, you don't have to send a cover sheet at all with this option, which is useful if the company with which you're corresponding requires you to use a special, coded cover page.
Your maximum page length for each fax is bumped up to 25 pages, and there's no limit to how many faxes you can send per day. Additionally, Almost-Free Faxes are given priority over Free Faxes.
For a fee, you also have the opportunity to send an international fax to any of the 212 countries the FaxZero service supports. The cost varies by country, sometimes greatly. A fax to Argentina costs a couple of dollars, for example, while sending the same document to Burundi will set you back more than that. All international faxes have a limit of 15 pages per fax, are given priority delivery, and are free of any FaxZero branding.
It's worth noting that, no matter where you're sending your fax or what options you choose, the quick and painless process of preparing your fax stays exactly the same.
Send a Fax to the Other Side of the World
Even if you're sending documents to the other side of the world, all you need to do is enter sender information, receiver information, attach your document or documents, punch in the posted confirmation code, hit send, and await your confirmation email so you can finish the transaction.
FaxZero Review: Public Perception
It has been lauded as a reputable, helpful, and simple-to-use site by a host of publications, including U.S. News and World Report, Kiplinger, PC World, and Huffington Post. It's a mainstay on listicles about useful sites, fantastic freebies, and home office must-haves, too.
FaxZero Review: How It Stacks Up
FaxZero is one of several online services that let users fire faxes off for free. Unlike FaxZero, Got Free Fax doesn't brand cover sheets, and it lets you send .odt files. It doesn't, however, offer international fax services. MyFax allows users to send faxes of 10 pages or less every 24 hours. Like FaxZero, it lets users send international faxes, but only to 40 supported countries. HelloFax is yet another free fax sending service, but it requires a Google Drive account for use.
FaxZero Versus its Competitors
The biggest difference between FaxZero and its competitors is that FaxZero doesn't include the option to receive faxes. With both HelloFax and MyFax, you can, and it works like this: You're given a personal fax number, and when someone scoots a fax your way, the service sends it to you as a .pdf file. HelloFax and MyFax each offer very similar pricing plans for receiving faxes, starting at a couple of dollars per month for home office users. Each tier of the pricing plan has its own limits on how many pages can be sent and received per month. Both sites' top-tier plans cost a couple of bucks per month, but HelloFax offers more pages.
If you just want to send a fax, period, FaxZero is the no-muss, no-fuss option. Its user interface is simple and easy to follow, and you can send your documents anywhere in the world. If for some reason, you don't want your recipient to know that you sent your fax using FaxZero, or if you need to complete a larger order, its premium fee is reasonable, and paying with PayPal is a breeze.
FaxZero Review: What We Think
If you fling the occasional fax from home, FaxZero is an outstanding service. Since you don't have to register or create an account, it's quick to use and requires no commitment on your end. (The service is financially supported by advertising on the website.)
Sleek User Interface
In this FaxZero review, we've seen that its sleek, uncluttered user interface adds to its superior usability. As long as you have an email address and know where on your computer the files you want to send are, you can send a fax for free in roughly 90 seconds.
Its directory of political fax numbers is a wonderfully woke addition, too, as public desire to contact representatives remains at a fever pitch. It may be old school, but quickly zipping a free fax off using FaxZero remains a super-easy way to work around full voicemail inboxes and perpetually busy phone lines in Washington, D.C.
FaxZero is able to handle a wide range of file formats, and its roster of countries to which you can send international faxes is impressive, too. There's virtually no place you can't contact.
You yourself can't be contacted by fax using FaxZero, though, and that's the one drawback here. If you need to receive faxes as well as send them, then you'll need to use another service. Ditto for if you need to send a high volume of faxes each month; if that's the case, you'd be wise to seek out a fax service that offers a flat monthly fee and a high ceiling for pages sent and received.
That said, we hope we were able to help you understand the platform thru this Faxzero review. If you simply need to send a few faxes per month, or even per day, FaxZero is a convenient, transparent, easy-to-use service that takes almost all the hassle out of securely and reliably transmitting documents to clients, partners, professors, politicians, or your Great-Aunt Camila in Argentina.