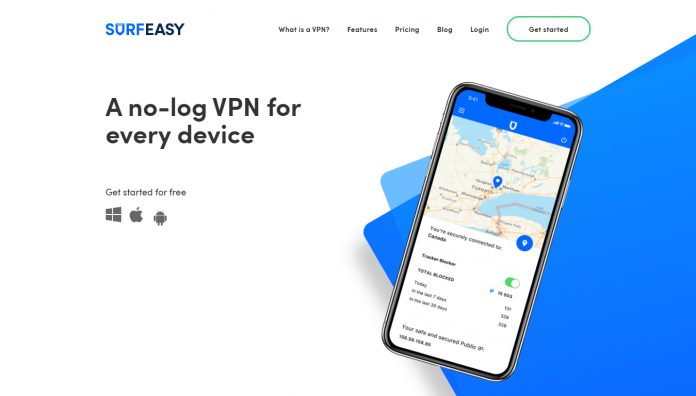 Image Screenshot from SurfEasy
In this Surfeasy VPN review, we'll look at how Virtual Private Networks (VPN) work by allowing users to hide the IP address of their device and connect to the internet while protecting their browsing habits and personal information. VPNs create a tunnel of sorts that encrypts data users send over the network. This encryption works to help users browse privately and access information that may typically be restricted.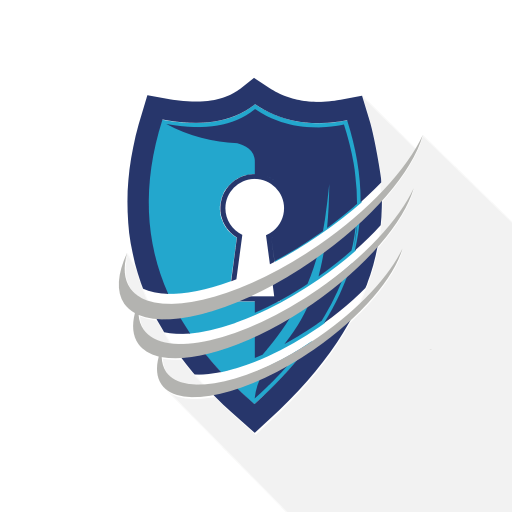 Image from Amazon
When you use VPN software, your device connects to the company's server which assigns your device a unique IP address that is different from its real IP address. The VPN software then encrypts all of the information you send and receive while browsing the internet so it can't be logged by your ISP or otherwise intercepted by a third party.
VPNs can also be useful if you need to access sensitive information from outside of a secure network. Internet connections at places like coffee shops and libraries are typically not secure and using a VPN service provides an additional layer of security. VPN software is also pretty useful at preventing hackers and other unsavory entities from accessing your device.
Those who frequently travel for business may also use a VPN service to access websites that are blocked in the country where they are visiting. These individuals may also use a VPN to access company documents safely. If these individuals chose to access their company network and documents without using a VPN, they could be placing their entire company network at risk.
A VPN can also allow you to torrent files which involves downloading content from the internet and is typically associated with the act of pirating. Not all torrents involve copyright infringement, however, and there is ample material that can be legally shared and downloaded.
Someone may want to use a VPN in order to download content anonymously or access a site that is restricted in their current location. A VPN won't protect these users from viruses or other malware contained within the download, but it can offer them added security and prevent their movements on the internet from being tracked without their consent.
How Surfeasy VPN Works
Surfeasy VPN works like many other VPN services and provides a unique IP address to a user's device while also encrypting any data that is sent over their internet connection. Their website claims that their service can protect its users from "hackers and snoops" which are trying to steal your private information.
The Surfeasy VPN is software that a user downloads and installs on their device. This software runs in the background so that a user can use their device as they usually would but with the added protection of a VPN. This software running in the background helps to ensure that users don't forget to turn on the VPN before accessing the internet.
When a user has turned on the VPN software, their device connects to the closest or the most optimal server and their device IP address is replaced with the IP of the server. This helps users bypass blocks on websites and content in the region that they are in and also helps protect their data from third parties.
This VPN software can help users get around restrictions put in place by both their ISP and local government which can be helpful if you are in a heavily restricted area, or forced to use a restrictive ISP.
To download the software and get started with Surfeasy VPN, all you need to do is go to their website and start with a free trial. You don't need a credit card to start using the software, and the company uses high-grade encryption for its VPN software.
Advantages to Using Surfeasy VPN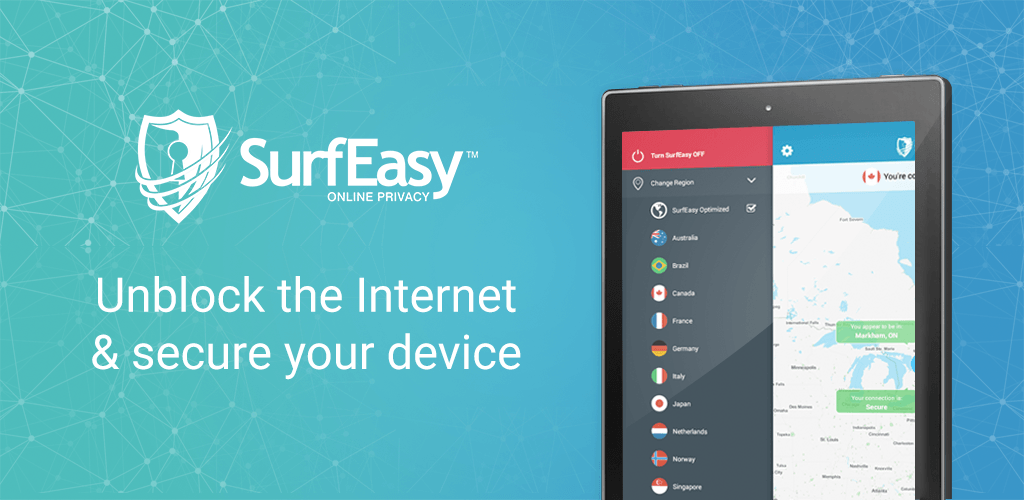 Image from Amazon
Surfeasy VPN is known for providing its customers with a variety of features and a low price for its subscriptions. This high-value VPN may be a good choice for a user with less experience using a VPN, or a regular user looking for an alternative to their current VPN software.
Data Usage and Pricing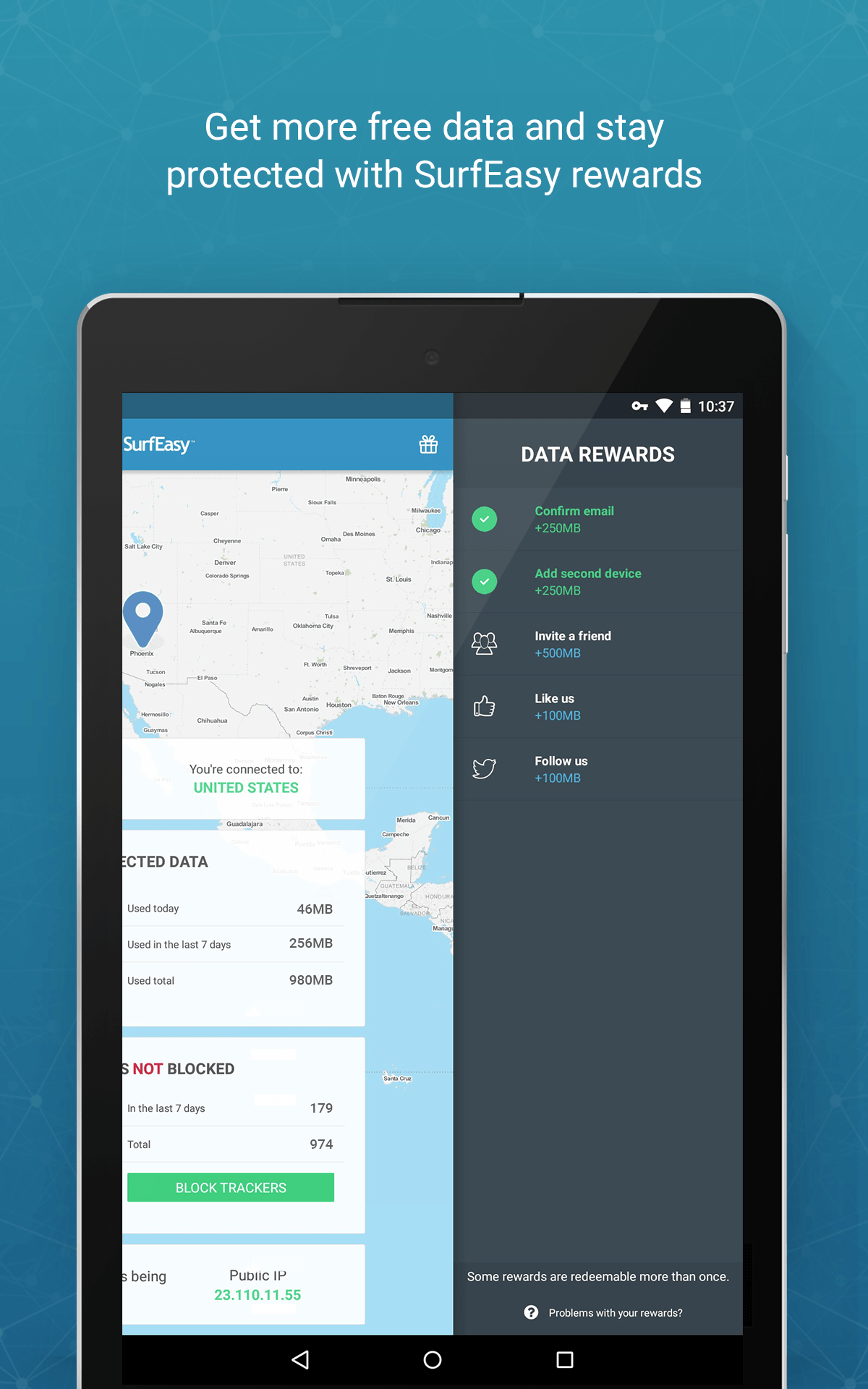 Image from Amazon
Surfeasy VPN comes with unlimited data on their paid plans, and their free starter subscription allows users 500mb of free data that can be used on up to five different devices. There are two other tiers of plans that each come with their own features:
Total
Unlimited data, tracker blocking, no torrenting
Ultra
Unlimited data, tracker blocking, torrent protection
The Total plan starts at $3.99 per month which gives users 20% off when they buy this subscription. The Ultra plan, which is the top tier, is $6.49 per month and adds coverage for 12 additional countries. The total discount for the Ultra plan works out to 46% off. All of the plans come with the same customer support and can connect up to five devices.
To test this VPN software, you won't need to buy it first like other types of VPN software; instead, you just provide your email, and they send you a link to start the remainder of the process including setting a password for your account.
If at a later date you decide to purchase a subscription for this VPN service, you'll be able to make that change by accessing the same account and selecting a subscription plan.
No Logging
A Surfeasy VPN review would be incomplete without mentioning the logging practices of the company who is providing your VPN software. Some VPN companies log and even sell users data and browsing habits, but Surfeasy VPN claims that they have a "strict no logging" policy.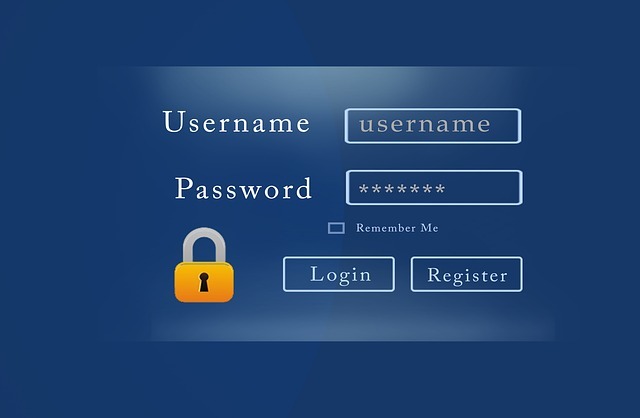 Image from Pixabay
Surfeasy VPN specifies that they don't store any information about your downloading activity, browsing history, or other online behavior during your VPN session. They good-naturedly mention "even we don't know what you're up to."
High-Quality Encryption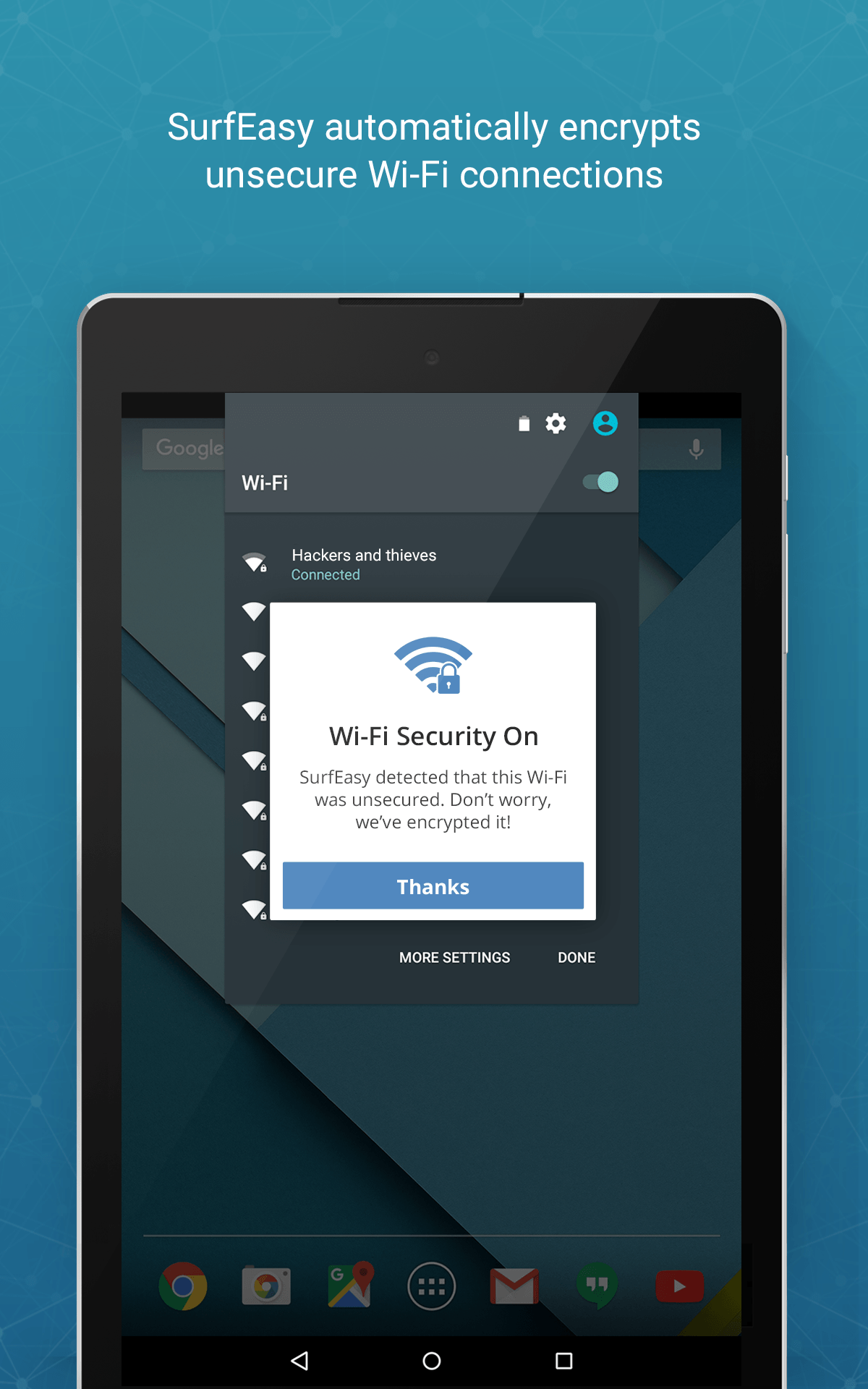 Image from Amazon
The Surfeasy VPN website claims that their software uses "bank-grade encryption," but they don't elaborate on what level of protection that is specifically. Their website doesn't list whether it's 256-bit encryption or something else, and the FAQ focuses mostly on troubleshooting common problems.
Surfeasy VPN also claims that their level of encryption will protect you from hackers and other unsavory characters with their encryption while still allowing you to mask your IP, torrent, use Netflix, and connect to the internet using unsecured networks and hotspots.
Blocks Trackers
The Surfeasy VPN software also has its own algorithm that works to block trackers that might want to store or log your browsing information. This algorithm works by blocking cookies designed to track your movements.
These cookies are a tool frequently used by online advertisers who gather information about potential customers and those that click on their ads or visit their websites. You may have visited a site in the past that notifies you that their site uses cookies and this software is designed to block those cookies from doing their job.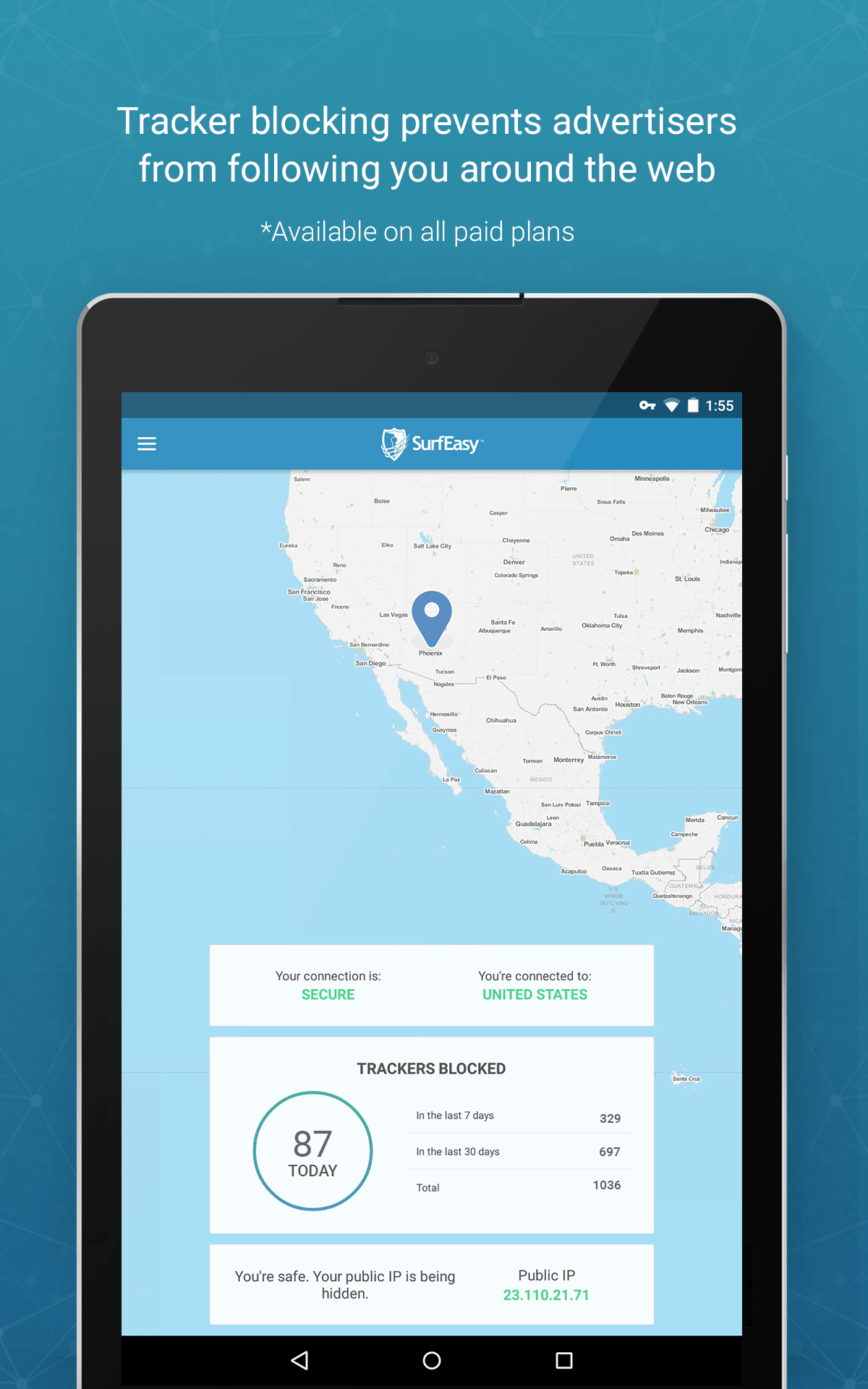 Image from Amazon
Fast Internet
There are many different VPN services available, and Surfeasy VPN claims that they are different because their software doesn't interfere with the speed of your internet connection as you browse. However, there is some user feedback that suggests this isn't the case and that users definitely notice a slowdown in their internet connection.
This slowdown could be from a few different factors, but the most likely culprit is that the VPN software is working to encrypt the data it is sending out over the internet, and this additional processing takes time.
There are different encryption protocols, but all of them require that your computer take the extra step of encrypting your data before data packets are sent out. These slowdowns can also be due to the server you are connected to running slowly or attempting to process the requests of too many users.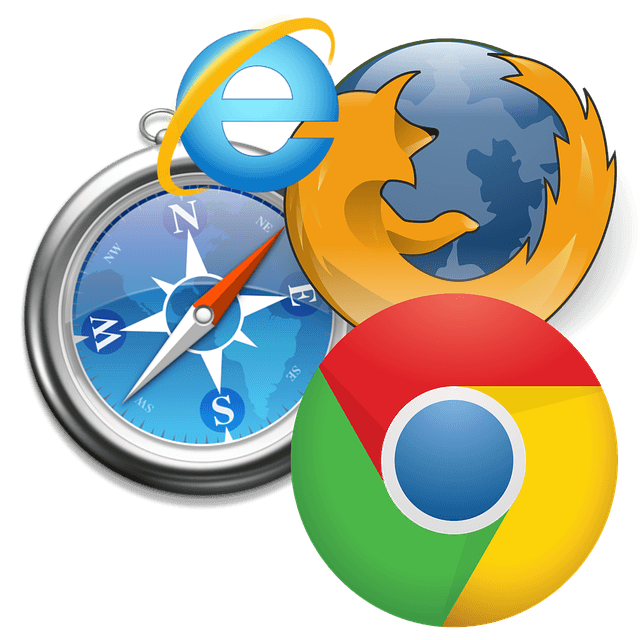 Image from Pixabay
Overloaded servers are common with VPN services that don't have enough servers in the locations that are ideal for their user base. For example, if you have to connect to a server across the globe from where you are located, you may have a slower connection than if you linked to one a few hundred miles away. The distance of your connection does not sacrifice your security.
It's also important to note here that the internet connection being used is also a factor as different connections will provide different internet speeds. Using VPN software doesn't allow you to bypass the speed of your internet connection and many users may want to upgrade their internet connection to a faster speed to mitigate the sluggishness of using a VPN.
This VPN software runs in the background so you can be sure that it is enabled before you browse the web, send email, or perform any other actions that may put your device at risk. While having this software running and ready to go at all times sounds ideal, keep in mind that background processes such as this one can also slow down your device, and may make it take longer to turn on.
With all of this in mind, Surfeasy VPN has a total of 500 super-fast servers in approximately 28 countries, and the company is ever expanding to serve its customers better. More servers in a more significant number of locations help deliver faster speeds to users, and also allows users a choice of servers that they can connect to in their area.
Platforms, Uptime, and Connections
The Surfeasy VPN guarantees that its users will enjoy 99.9% uptime which is excellent in the technology realm. This guarantee means that users can reliably use this service for all of their internet security needs on all of their devices without needing a backup VPN option.
This software is available for multiple devices including Mac, Windows, Android, iOS, and Amazon. There are also browser extensions available that can be added to Chrome and Opera browsers for added security and functionality.
Image from Amazon
Surfeasy VPN also allows unlimited simultaneous use with a limit of five devices. Regardless of what operating system your devices use to run, Surfeasy VPN can be used on all of them even if they are in different locations. This accessibility makes Surfeasy VPN an ideal choice for families or for those that have multiple devices that need VPN software.
Customer Support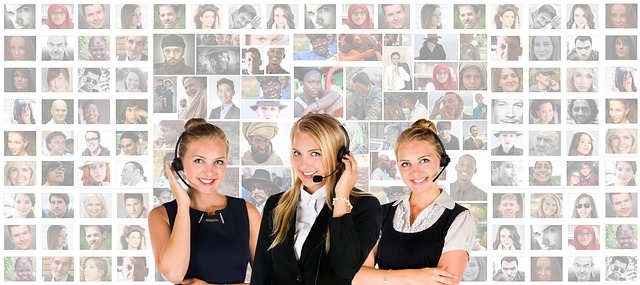 Image from Pixabay
Surfeasy VPN offers customer support for users seven days per week. The company claims that their customer service representatives "live up to the friendly Canadian stereotype" which seems to be true based on customer feedback.
The Surfeasy VPN website also provides a detailed FAQ section where users can search for their particular issue, and find suggestions for things to try that may solve their problem. For those users that like to use the FAQ before calling customer service, Surfeasy VPN has a well fleshed out database in addition to their blog of helpful articles.
Surfeasy customer support is available via phone, chat, and email which makes it highly accessible to all users.
Drawbacks of Surfeasy VPN
Like any VPN software, there are disadvantages to using Surfeasy VPN. Here are some of the items we suggest you consider before opting for this software.
Server Speed
Server speeds can be impacted by a variety of factors including how many users are trying to connect with a single server and how much traffic a server is trying to process at any given time in relation to its performance capabilities.
While some users report normal browsing speeds when using this VPN, others say that the service is sluggish and switching to another server can sometimes take longer than they would like. Slower servers may be due to their distance from a user's, but they may also be less capable servers that need more time to process the information sent to them.
Customer Support
You can connect with Surfeasy customer support via phone, email, or on chat, but their FAQ also provides a bit of information to help users find solutions. While it is typically recommended that users stick with the default setups for some functions of the VPN there are several documented cases where alternative settings are required for the VPN to work.
Therefore, if there are any variations in your router, ISP, network, or device you could find yourself trying to contact customer support. For those that live farther away from a server than average, there may be other issues to address to improve your connection speed.
When submitting a request on the Surfeasy forum, customers may not receive a confirmation after submission which can leave them wondering if their request was submitted correctly. Thankfully the email route is more reliable, and some users receive a response on the same day.
Privacy Policy and Lack of Encryption Details
The Surfeasy privacy policy is fairly standard and easy enough to read if you don't mind reading long documents. However, it won't satisfy the most privacy-conscious users due to the fact that Surfeasy does log some activity for certain business aspects.
There are also some questions when it comes to the level of encryption that this VPN service is using as their website doesn't specify what you're getting. All over their website, it says "bank-grade encryption" but doesn't provide any further details.
Payment is Not Anonymous
Many VPN services will allow their customers to pay for their VPN software anonymously using some kind of cryptocurrency such as Bitcoin. Surfeasy VPN, however, requires users to use an email address and then a standard form of payment that doesn't allow them to remain anonymous at all.
At one point the company allegedly accepted Bitcoin, but due to low usage, that currency was discontinued as a payment option. Instead, users must use a credit card or PayPal to pay for their subscription.
The Kill Switch, and Routers
Surfeasy VPN doesn't work with routers despite the fact that they are able to support devices with a wide variety of different operating systems. Due to this restriction users are most certainly going to be confined to five device connections for the time being.
Another drawback is that this VPN software doesn't have a kill switch which can leave user data exposed for a few seconds in the event that the internet connection drops out for a few seconds. Other VPN software would disconnect the browser when there's an internet drop which prevents data from being exposed.
Trials and Deals
Surfeasy VPN has a 7-day trial period where you can test out their software and get a refund if you aren't satisfied. It doesn't look like they have any regular deals on their VPN, but the discounts seem to be a permanent feature of their subscription plans.
Final Thoughts
If you are a user that is hyper-conscious about privacy, then this VPN software is not the best choice. Although there are many positives to using this software, this Surfeasy VPN review wouldn't be incomplete if we didn't mention the lack of certain features such as a kill switch that could heighten security.
For the price, it is possible to find other VPN services that come with better security features and are just as easy for customers to use. Some of these services also offer more extended trial periods, lower subscription fees, and the ability to pay for your subscription anonymously.