Bose Soundlink Mini II is relatively old just like its bigger brother the Soundlink III, and fans of the original Mini loved the upgraded audio and features. You might think that compared to modern speakers Soundlink Mini II is a big step back, and on some part, you are correct especially when thinking about features.
Pros
Strong as a tank
Great audio quality
Powerful bass
Cons
Compact design
Lack of features
Battery life could be better
But when the comparison comes up to the speaker audio capabilities and quality there is few speaker that can compete with Soundlink Mini II in the same size and price range. And those are the JBL Pulse 3 and Harman Kardon Go+ Play.
Best Portable Speaker Comparison Table
Performance
Bose Soundlink Mini II is light on features compared to modern speakers, but it excels at the sound quality and balance even now it makes the competition sweat by trying to keep up with the speaker this small.
The most significant problem for smaller speakers is the ability to output bass that feels deep and powerful, but Mini II does it with ease while maintaining balanced sound. Even with bass heavier tracks, it retains its position without any distortion even at higher volume thanks to the speaker software which restrains the volume a bit and clips some frequencies. And for few that will be a problem, but it is not when you hear the speaker because it will amaze you.
Great balance at all frequencies
Don`t be scared about the bass capabilities, because Bose does not abandon other frequencies. High frequencies are still energetic, and help instruments like a violin feel spacious, and Mini II is one of the rear Bluetooth speakers capable of producing the sense of space for instruments.
Mids were warm and rich making vocal tracks shine, and the most impressive part was that Mini II is capable of retrieving smaller details on different records. Again, a lot of speakers at such a small size are not capable near this performance making Soundlink Mini II a great companion even for a movie night.
Another impressive performance from Mini II is its capabilities to sound great at even lower volumes, as it manages to produce the same bass depth and impact at low levels, a performance feature which can`t be attached to the most speakers.
Design and features
Design for Mini II is simple and elegant, just like most Bose speakers at that time, which made their speakers speak in their audio capabilities rather than visuals. Cover of the speaker is made of aluminum probably the best material to create a product elegant, plus it makes the speaker tuff as a tank.
Another design change for the Mini II was the simplifying the top buttons by ditching the Aux button. But don`t worry there is still Aux port, it will just automatically switch to the Aux when a device is plugged in.
Battery and charging
Battery life was improved also making it possible to have a playback time of about 10 hours, but remember it depends on the track and volume you are listening. And Mini II ditched the AC adapter by exchanging it with two options USB charging or a charging dock which comes with the product plus this makes it possible to charge the speaker with an external battery (a nice added feature which can extend its lifetime outdoors).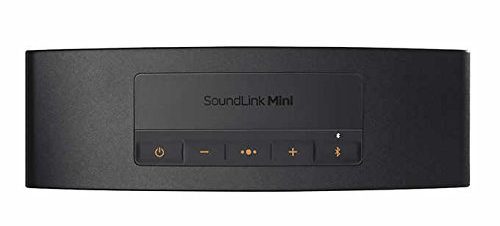 Conclusion
Bose Soundlink Mini II does not have a lot of features which will make a lot of people to turn away from it for newer models. But even for its age, it manages to hold its spot as one of the best sounding speakers for such a size and price range. Even then it is a tricky product to call, as it is all in one with capabilities to outperform every other speaker in the same size and class, by delivering richer, deeper bass and still being able to maintain balanced and natural overall sound.
There are cheaper alternatives with similar capabilities and they might be a better pick for those people that are going to use the speaker very rarely.
Last update on 2020-08-20 at 15:37 / Affiliate links / Images from Amazon Product Advertising API