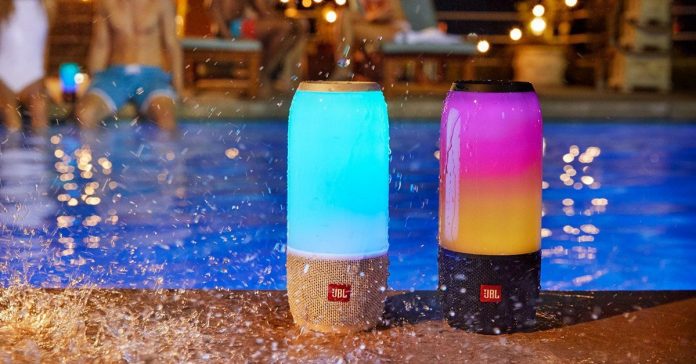 JBL has been a leader in portable speakers for years because of their sheer variety of products, both in price and size and in their dedication to sound quality.  And because they have a wide variety of products to choose from just means that there will be a speaker that will fit your needs.
PROS
IPX7 waterproofing
Can charge your phone
Powerful bass
CONS
Large and heavy
Exposed bass radiators
Cropped highs
Want something that charges your phone and has decent bass, get a JBL Charge 3, want something really small get JBL Clip 2, but if you want to have a great speaker with good balance and that can get really loud and to entertain everyone that you see the best option would be JBL Pulse 3.
| | | | | |
| --- | --- | --- | --- | --- |
| | Speakers | Best features | Size and weight | Check price |
| Under 400$ | High-end | High-end | High-end | High-end |
| UE Megaboom | | IPX7 waterproofing, Smart Bluetooth, up to 20 hours of battery life. | Height 8.9 in; Diameter 3.3 in; Weight 30.93 oz | |
| Under 200$ | Mid-range | Mid-range | Mid-range | Mid-range |
| Bose SoundLink Mini II | | Bluetooth, Up to 10 hours of battery life. | Width 7.1 in; Depth 2.3 in; Height 2 in; Weight 23.63 oz | |
| JBL Pulse 3 | | 360° sound, Built-in microphone, Connect+, IPX7 waterproofing, Up to 12 hours of battery life. | Width 3.6 in; Depth 3.6 in; Height 8.8 in; Weight 33.86 oz | |
| Under 120$ | | | | |
| JBL Charge 3 | | IPX7 waterproofing, Phone charging, Bluetooth, Up to 20 hours of battery life. | Width 8.4 in; Depth 3.4 in; Height 3.5 in; Weight 28.22 oz | |
| JBL Clip 2 | | IPX7 waterproofing, Super-compact, Bluetooth, Auxiliary input. | Width 3.7 in; Depth 1.7 in; Height 5.6 in; Weight 6.49 oz | |
Pulse series has been around for a while but never seemed to impress us because it seemed that something is missing, although they were good speakers Pulse 3 is the first one of these series speakers that really managed to impress us.
And this mainly is because JBL managed to make it sound louder, extended its battery life, introduced new features and made the design smoother more like a fluid that is more pleasant to watch.
Performance
First testing the JBL Pulse 3 we did not expect to get much from audio quality out of it and believed that it would be really unbalanced party speaker. But, once again JBL proves its worthiness in their position because Pulse 3 due to its designed seemed to be really heavy on bass, but don`t be fooled like we were as it sounds great and has great audio balance.
Comparing to Charge 3 where it highlights the bass a bit too much and cuts the highs a little bit, the Pulse 3 managed to keep it together and seemed to be better balanced. The highs are still bit off, but most instruments sound great.
Bass is rich and provides a decent thump but seemed to fade a little bit in mid-range, and on the higher volume, you can hear that deep bass is thinned out to prevent distortion.
Pulse 3 has 360-degree audio, which is perfect for those environments where you will be moving around a lot like by the pool or the beach. This speaker will ensure that everyone gets the same experience and makes you worry less about its placement.
Pulse 3 also has Connect+ capabilities, which allows pairing the speaker with other speakers that have Connect+ feature for more volume. But because to pair them you need a Connect+ feature you will not be able to connect it to older speakers that lack this feature.
Battery life is average providing only 12 hours of playback with the lights on, which is short compared to other speakers like Charge 3 which provides around 24 hours or UE Boom 2 can provide about 16 hours.
The playback time can be extended by turning the LED light show off, but whom we are kidding we got it not because of its balanced sound, but because of the light show.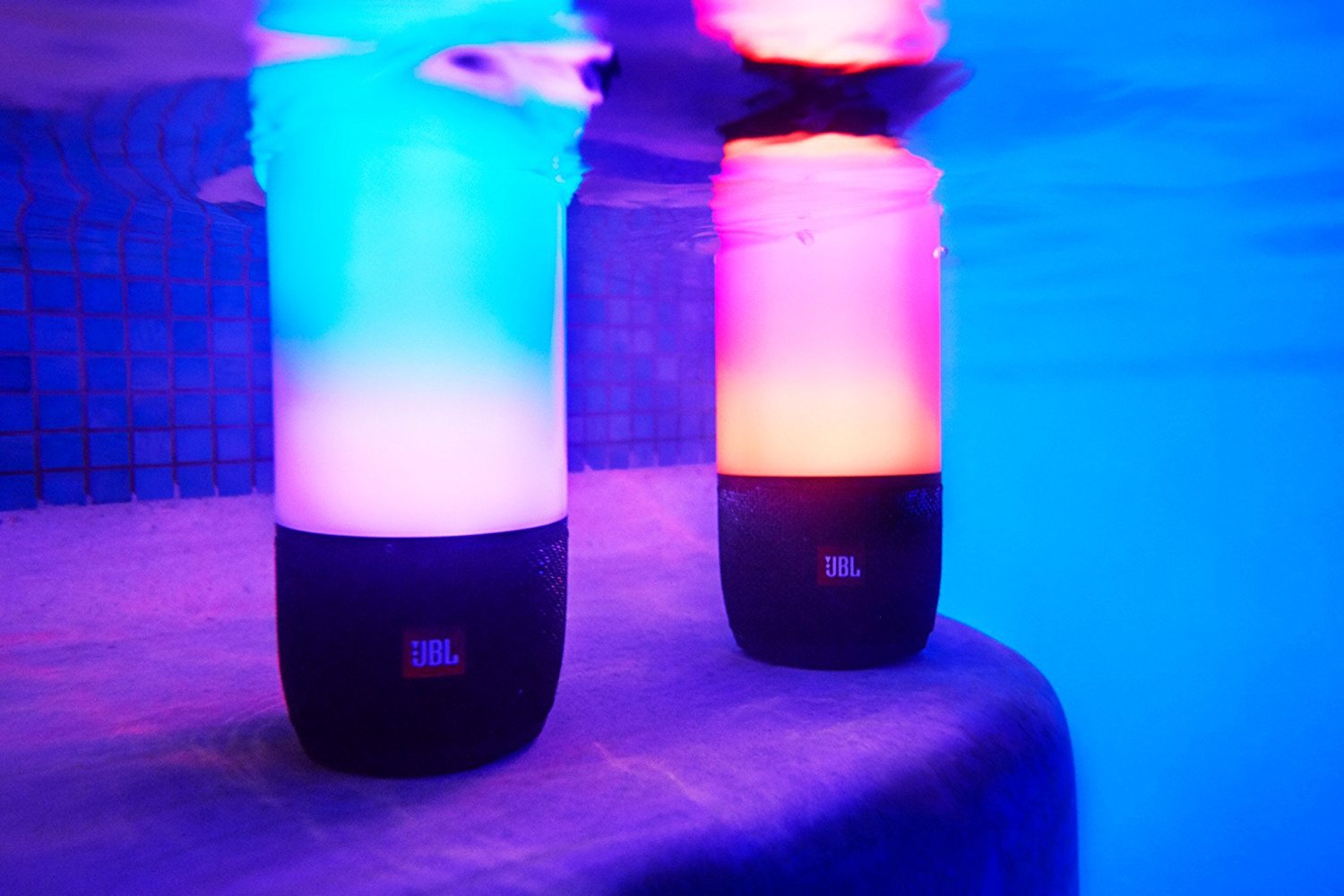 Design
The casing of the speaker is mostly made out of smooth plastic which acts as a great light dispenser for the LEDs, and the company's signature cloth cover is the visual proof that Pulse 3 may be waterproof. And it is, by being IPX7 certified waterproofing it can sustain submersion in water up to 1 meter for some time which ensures that it can be taken to pool or beach.
At the top and bottom, there are bass radiators, which has no real protection and should not be really touched to ensure that they are not damaged. But by being "naked" they offer another cool visual feature that is fun to look at as it vibrates with the music.
And this makes it more difficult to place it because Pulse 3 can only be played upright and it sounds the best when placed on a flat surface (like a table)
Every control button that you should need to operate this speaker is located around the back. There are buttons for volume, power, Bluetooth pairing, JBL Connect+, voice assistant, play/pause. And there is a button to cycle thru light modes, and by holding it will shut down the light show, but we don`t want that, don't we?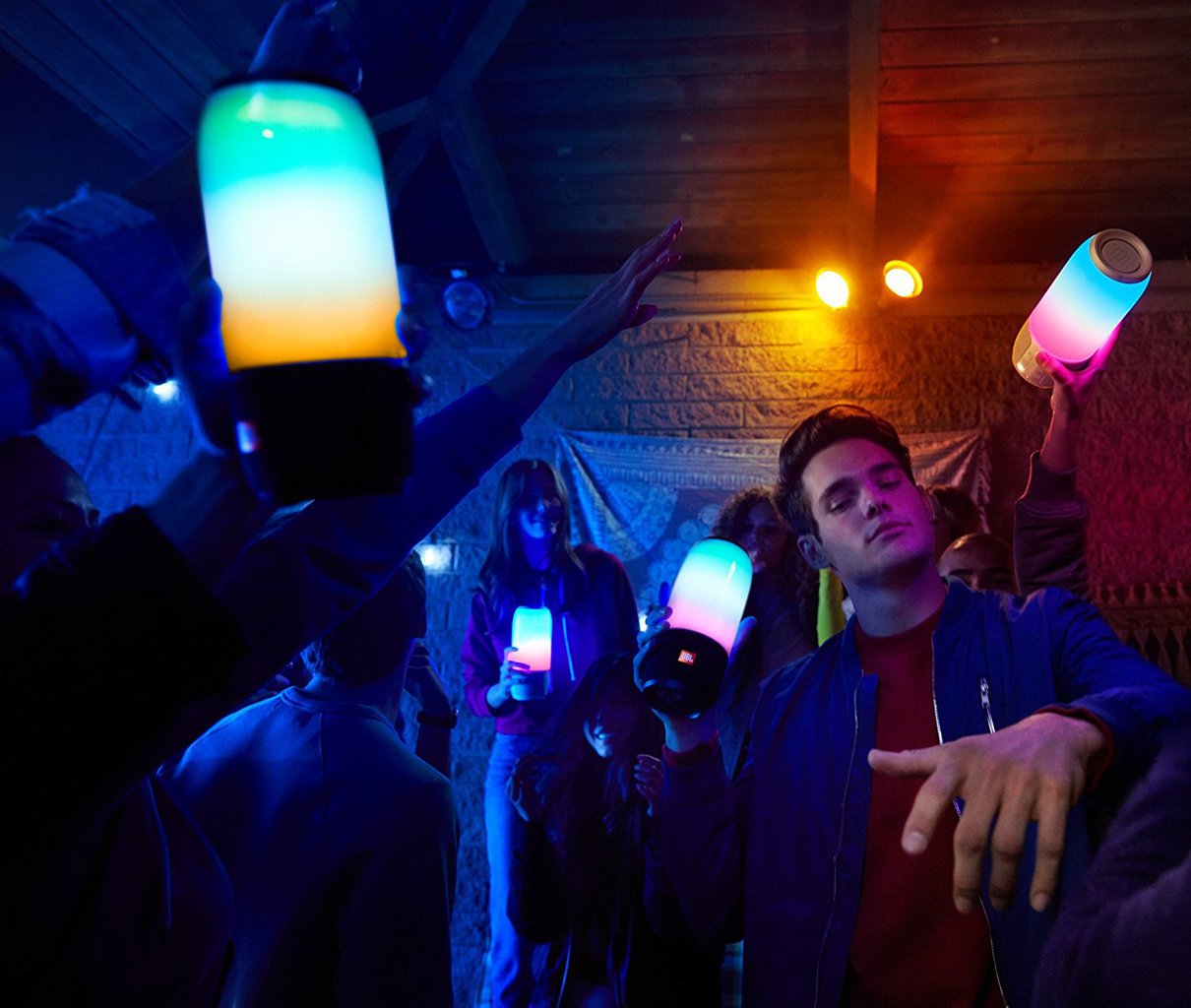 Conclusion
JBL Pulse 3 provided a pleasant surprise for us. While the light show makes you believe that it will be heavy on bass, it actually offers a very well balanced sound. The highs are slightly off and the bass provides a decent thump but faded a little bit in the mid-range. Speaker is capable of really loud volume, but on higher volume bass gets bit thinned to prevent distortion. But if you are not an audiophile none of this not really matter because this speaker sounds really good and can get really loud.
For a speaker that provides a light show, JBL Pulse 3 is definitely the best option available on the market because of its balanced audio and overall capabilities.
So, if you want to have a Bluetooth speaker that sounds great and can be a conversation piece this speaker is one to get.