Our days are governed by time. We have times to go places, times to get things done, and a time for everything. To get to work, to go shopping or on an outing, or to attend an event or game on time, we try to use timers and alarms. It's essential to be on time as being late is considered a social sin. No one likes it when guests are late to an event or when employees arrive late to work.
Many people use their smartphones as alarm clocks because the last thing they use before sleeping is their smartphone. It is convenient, but perhaps it is not wise to store all our eggs in one basket. Technology can fail, and total dependency on only one gadget may likely lead to loss and chaos. If the smartphone battery dies before the alarm could ring, the day will likely only get worse from there.
So, what other options can be used for alarms?
Types of Alarm Clocks
These are clocks that show the time in numbers and sit on tables. They have many different features as well, such as LED displays, Bluetooth, and radio. They run either on Wi-Fi, a power switch or batteries.
Conventional Alarm Clocks
Conventional alarm clocks are the ones most of us have seen on our grandparents' bedside tables. They are small clocks with a watch face, while the more modern ones have digital displays. They run on batteries.
The wall-mounted clocks are a common accessory in rooms and have alarm features. Grandfather clocks are known for their deep, melodious bell sounds when the clock strikes the alarm time. These clocks typically run on batteries.
Watches are worn on the wrist and can be analog or digital. They often have alarm features and emit high-pitched tones to wake up the wearer. Wristwatches use small, circular batteries which can be replaced from the back of the watch.
---
While all these options are in common use, the most modern, convenient and reliable one is the alarm clock radio. They are not only the most functional but also easily available and have a variety of range and extra benefits. We reviewed the top radio alarm clocks to help you make a decision. There are several varieties in alarm clock radios as well.
Types of Alarm Clock Radio
Alarm clock radios have some different types. All these types serve the basic function of ringing a tune at the set time, but they have differences in their working.
These clocks project the time on the wall or any other surface such as the ceiling to show the time and the alarms. Wherever you'll turn, you will see the time!
Smartphone Dock Alarm Clocks
These serve a dual purpose. A small gadget is set as an alarm. A smartphone can also be docked inside it, and the phone charges simultaneously.
These clocks are light and small and can be moved from place to place by travel enthusiasts.
These are robust all-rounders who can do a bit of everything and are interesting and modern. These are also great room accessories because they come in different shapes, colors and sizes.
---
What to Look for in an Alarm Clock Radio?
We evaluated these clocks according to the most important requirements of a good alarm clock radio.
Alarm Settings
Single and dual alarm settings, automatic date and time options, adjustments with Daylight Saving Time, and the option to set alarms with the calendar were important in the criteria. Clocks with weekend alarm cancellation programs score brownie points.
Sound Quality
The main point of having an alarm is, of course, to wake up. Therefore, the sound quality is a major factor which has to be looked into carefully. Adjustable sound levels, gradual alarms, and different sound options are essential features of an alarm clock radio.
Display Quality
No one likes to be blinded by a harsh display during the night. The display of the alarm clock must be clear enough to be read without glasses with half eyes closed yet not so bright that it disturbs one's sleep. The size of the display, number of icons on it, color and projection options count in the decision.
Power Backup
Alarm clocks must have a power backup to ensure that the alarm will ring even if the batteries fail or there is a power outage. Some clocks have a power supply option or use AAA batteries. Lithium batteries are commonly used to preserve enough power for the alarm to ring and to keep the alarm settings saved.
Radio Reception
The radio reception is enhanced by antennas, which is a mark of a high-quality alarm clock radio. Some have built-in hidden receptors, while others have external extendable antennas.
Aesthetics
The room clock should be something pretty to look at, as it'll be right in front of you every day. Clocks add a style element to a room and can complement or contrast the setting and theme of a room. Some clocks still have the conventional, box-type structure, while others have taken a modern twist with curves, sharp angles, and different shapes.
Practicality
An alarm clock must be practical. It shouldn't need one to know rocket science to set an alarm time, change the settings, and hit snooze. The snooze and sleep functions are also practical functions which are very useful. Moreover, the possibility of turning a display off entirely, pre-programming times and radio stations, and a Bluetooth/USB/AUX connection to play media devices via the alarm clock are special features to look for.
---
The Top 17 Best Alarm Clock Radios for the money
These are our reviews – after many sleeping experiments – to find out the best alarm clock radio that suits individual preferences.
Number 17: Jensen JCR-208A AM/FM Alarm Clock Radio Review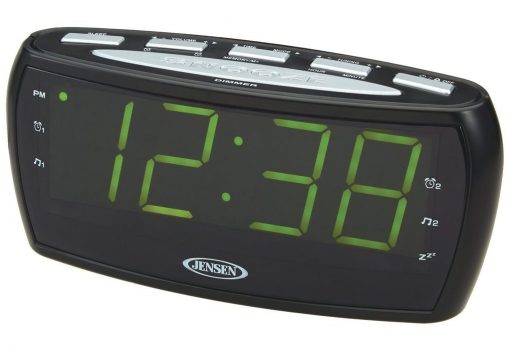 This clock has bright, easy-to-see numbers. The Jensen JCR-208A is the best alarm radio for those who wear glasses to see numbers clearly because the 1.8-inch LED display is large and brightly lit. It lays out details such as the alarm time, the actual time, and the radio station. The only complaint against it is that the bright display may be too bright or disturbing for those who like to sleep in complete darkness.
Jensen JCR-208A Features
Radio or alarm settings
10 AM and 10 FM presets
1.8-inch green LED display
Sleep and snooze functions
Easy hi/low dimmer control
AM/FM receiver
Digital PLL tuning
Auxiliary input to connect digital audio players
Power requirements: AC 120 V ~ 60 Hz
---
Number 16: Emerson CKS1708 Smart Set Radio Alarm Clock Review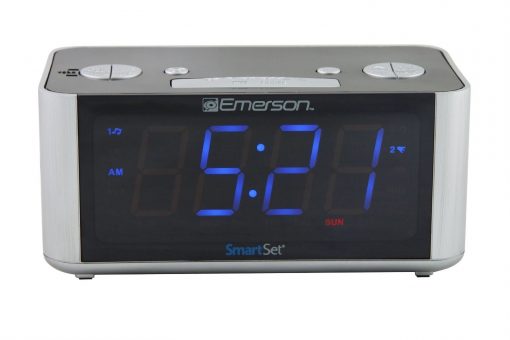 This Emerson clock is a blast from the past with a rather boring rectangular shape and poor user instructions. However, what it lacks in design, it makes up for it in features, with a good volume in buzzer and music settings as well as an easy, no-fuss setup.
Emerson CKS1708 Features
Blue light display
Dual alarm
Built-in FM antennas
Automatic date and time setting
Digital tuning FM radio
20-station memory
3-level brightness dimmer function
Three alarm modes: Daily, Weekdays Only, and Weekends Only
---
Number 15: Electrohome Digital Clock Radio (EAAC201) Review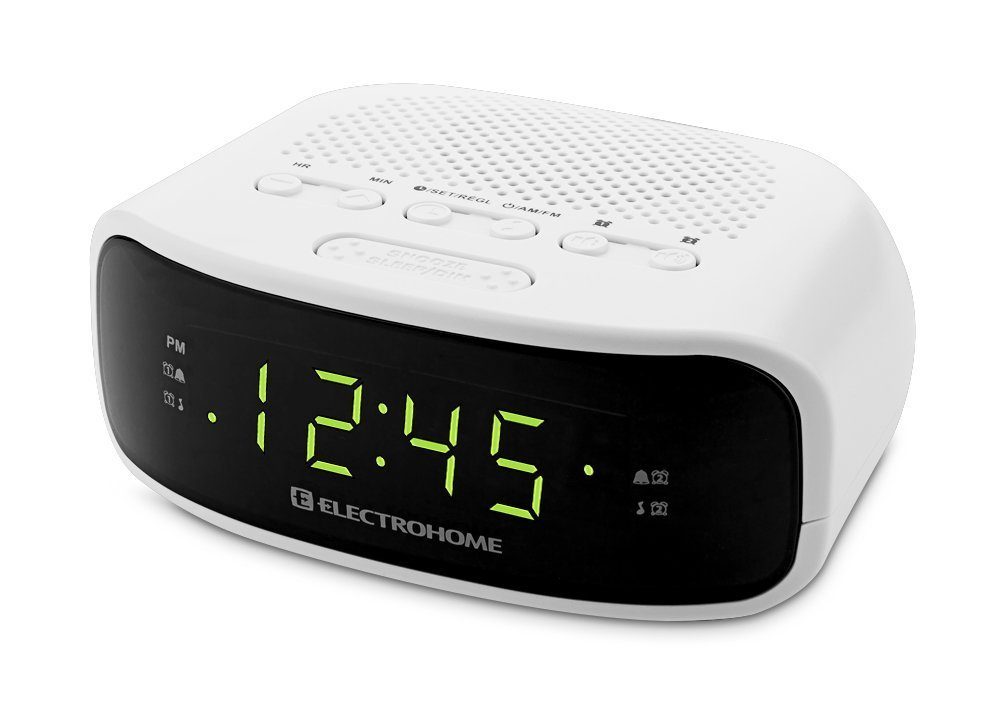 This Electrohome clock is a mix of traditional and modern with an easy-to-read screen but not many fancy options. It does not have a gradual alarm and doesn't set time zones automatically. However, the EAAC201 is easy to operate and can be used as a traveler's clock as it runs on AA batteries for its backup power instead of watch batteries like most old versions of clocks.
Electrohome Digital Clock Radio Features
6-inch green LED display
Digital AM/FM radio
20 programmable stations
Dual alarm function
AA battery
Adjustable brightness
Sleep and snooze functions
---
Number 14: iTOMA Alarm Clock (CKS507) Review
The iTOMA is a beautifully designed, sophisticated alarm clock. It has an easy-to-see large LED display that can be seen even with one eye closed or without sight glasses. It may be a bit tough to set in the beginning, but it is worth it.
iTOMA Features
Large auto-dimming 1.4-inch white LED display
Single day and dual alarm
Individual alarm volume control
Built-in light sensor
Automatic Daylight Saving Time adjustment
Backup battery for date, time and alarm
Snooze functions
USB charging port
One-touch night light
---
Number 13: Timex T235BY Dual Alarm Clock Radio Review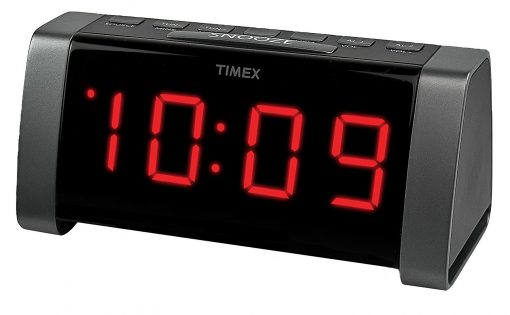 This neat little alarm radio clock is well made and functions smoothly. The main flaw of the Timex T235BY is that it has too many buttons on it, which is a hindrance when trying to turn it off. Otherwise, it is a robust clock with a soft display and a gradually increasing alarm volume.
Timex T235BY Features
Radio or buzzer
1.8-inch red LED
Time and radio frequency display
20-station memory
One-touch control
---
Number 12: RCA Digital Alarm Clock Review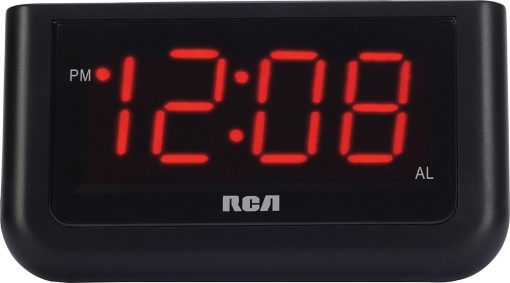 The RCA Digital Alarm Clock is one of the best alarm clock radios available on the market. It passed every quality and experience test and is unmatched in brightness, practicality, and sound. The rather small screen size is compensated with a robust, reliable build and high-quality feel. If the screen size is not a big concern for you, then this is the ideal solution. The brightness is adjustable, and the number display is quite large, so the actual size of the screen does not hinder visibility.
Features
1.4-inch red LED display
Large full-width snooze button
Alarm indicator
Adjustable brightness
Large numbers
Clear sound
Backup battery
---
Number 11: Sony ICFC1T Alarm Clock Radio Review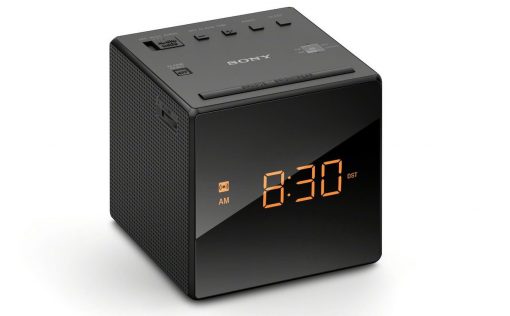 This odd box-shaped clock may look boring but is practical and is a great alarm clock. The Sony ICFC1T wakes you up very gently in a calm manner to make sure you get up on the right side of the bed. It is easy to set up, and it is easy to the eyes and ears as well. It does not have a digital AM/FM radio but holds an old-school analog/dial-in radio. This is the clock for those users who loved using grandpa's old alarm clocks!
Sony ICFC1T Features
Orange LED display
Progressive alarm
Buzzer or radio
Battery backup for clock & alarm
Analog/dial-in radio
---
Number 10: Peakeep Little Digital FM Alarm Clock Radio Review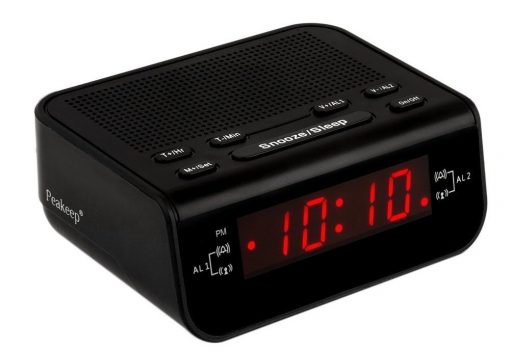 The Peakeep is a small and handy alarm clock radio. It's small, conventional structure and good battery backup are good for people who like simple and straightforward clocks. The Peakeep can easily be moved around to listen to everywhere you go during your day. In fact, it is best if you move it around always to keep it close to you because it is not loud enough to be heard from a distance. The Peakeep is the perfect traveler's alarm clock radio, as it can run on batteries for backup and holds a 30-inch radio antenna to pick up radio transmissions in areas where simple radios cannot catch transmissions.
Features
Red LED display
Radio, alarm and time functions
Dual alarm
Buzzer or radio
Adjustable 16-level volume
10 FM preset radio stations
Memory storage
Simple buttons
AC powered with AAA batteries for backup
30-inch antenna for radio reception
---
Number 9: Electrohome Alarm Clock Radio (EAAC470) Review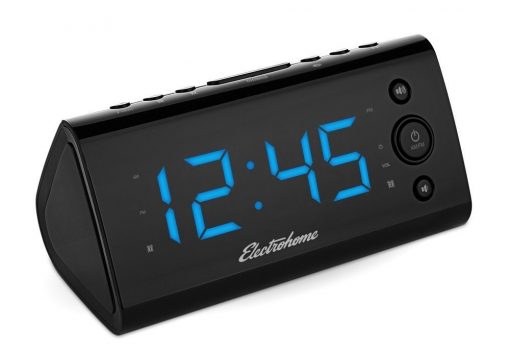 The Electrohome EAAC470 is another futuristic piece by Electrohome. It packs an all-modern system and has all the functions required for an alarm clock radio. Its design is between conventional and modern, with rounded corners, a triangular shape and a power brick with a 2 or 3 prong cables.
Features
1.2-inch LED display
Adjustable brightness
Advanced Self-Set technology
20 pre-programmable radio stations
USB smartphone charging port
Automatically sets date and time
Lithium backup battery
Memory restore
---
Number 8: Capello Alarm Clock Radio Review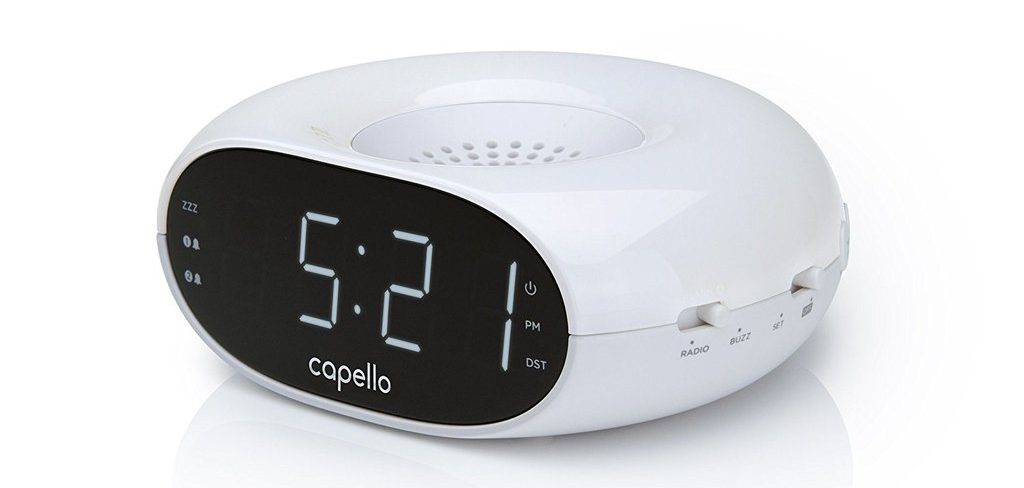 This doughnut-shaped alarm clock is a style statement as well as a robust and well-thought-out alarm clock with many great functions hidden inside. The main attraction of this clock is its big speaker in the middle of the device, which not only produces a gradual alarm but also plays music from any media device that connects to it with a 3.5 mm headphone jack.
Features
0.9″ white backlit LED display
Digital FM radio clock
Battery backup
3.5 mm headphone jack for media players
Dual alarms
Variable dimmer settings
Snooze function
Soft LED night light
Easy-to-read numbers
---
Number 7: Sony ICFC1PJ Alarm Clock Radio Review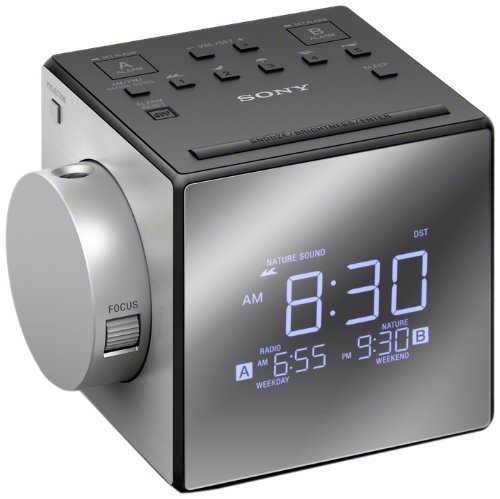 The Sony ICFC1PJ is a treat for the tech-savvy and for travel enthusiasts who want to have something different to look at. It is small and light for easy traveling and projects the time with a function to remove the time on the display if you don't want to see it. There is little to criticize about in this clock, except that it only projects the time for 16 hours, after which it switches to idle automatically.
Features
Modern, clean cuboid look
Rear-mounted speakers
Five different soothing nature sounds
180-degree adjustable tilt and viewing angle
Programmable sleep timer with radio
Automatic adjustment to Daylight Saving Time (DST)
Backup power with battery
---
Number 6: iTOMA Bedside Radio Alarm Clock (CKS3501BT) Review
This well-thought-out alarm clock radio has everything one could wish for. The iTOMA sets the date and time as soon as you plug it in, and its battery backup keeps your settings safe from power outages. It also charges your devices, but it does not indicate on its display which mode is being used, so it may be a bit tricky to master the modes.
Features
1.4″ large blue LED display
Automatic time and date settings
Auxiliary and USB connectivity
Bluetooth function
Digital radio tuning
20 programmable preset stations
Snooze functions
External wire antenna
Dual alarm
Radio or buzzer
CR2032 backup battery
USB charging port
---
Number 5: Electrohome Alarm Clock Radio (EAAC475) Review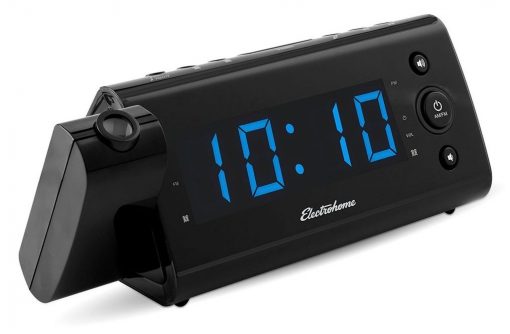 The Electrohome EAAC475 is an upgraded version of the EAAC470. It is packed with many practical features. You can turn off the display entirely, which helps those who like to sleep in complete darkness. It is robust and a projection clock, which means it projects the time at an 180-degree tilt.
Features
1.2-inch LED display
Pre-programmable alarm
High-speed USB charging port
Self-Set technology
Dual alarm
Automatic Daylight Saving Time adjustment
20 radio stations
Weekend alarm cancellation
Lithium backup battery
Memory storage
---
Number 4: Sony ICFC1 Alarm Clock Radio Review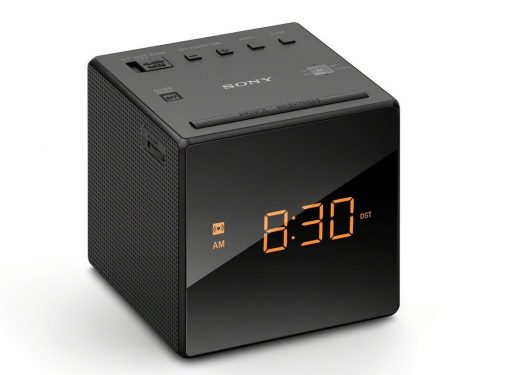 This is an ideal, simple alarm clock radio for a hassle-free experience. It is compact and comes in different colors. This clock is quite suitable for children to use, as it is operated with the touch of a button. The button that stops an alarm also resets it for the next day automatically, which means one less task to do at night! The clock has a plastic overlay which looks good, but on the white model of the clock, it makes the LED much brighter, while it gives the other colors a yellow halo.
Features
Adjustable brightness control
Backup battery
Gradual alarm setting
Snooze function
Automatic time
Easy Daylight Saving Time adjustment
Programmable sleep timer
---
Number 3: Electrohome EAAC601 Projection Alarm Clock Radio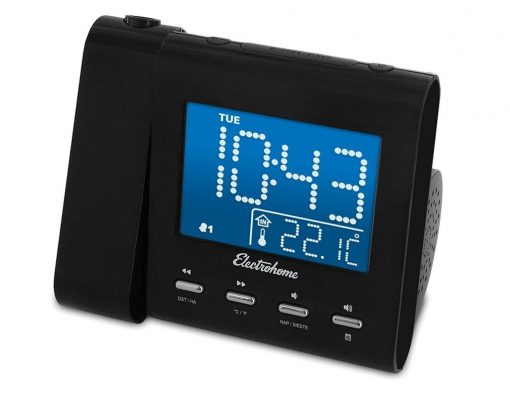 The EAAC601 is a modern clock for tech-savvy people. Its menu is a bit complicated, but it packs a ton of great functions. Blurred projection displays are a thing of the past with this clock. Not only does it score great in the display area, but it also has a music alarm function to make getting up feel so much better.
This Electrohome clock uses an 180-degree swivel to project the time and the room temperature on your ceiling or wall.
Features
Wide 3.6-inch blue LCD
Adjustable brightness
Advanced Self-Set technology
Automatically adjusts to Daylight Saving Time
Pre-programmable alarms
Dual alarm function
Auxiliary input for media players
Built-in Lithium battery
Memory restore
---
Number 2: Electrohome Retro Alarm Clock Radio (CR35W) Review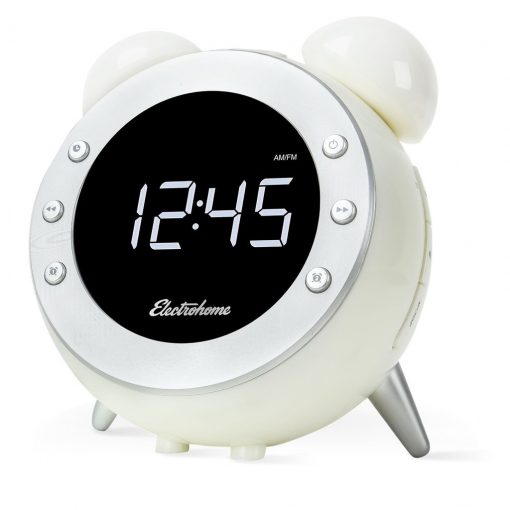 This retro clock design is a throwback to the good old 90s era. However, it is packed with modern technology and great, advanced features. The only complaint against it was that it sometimes shone its night light in the day. That is not much of a problem – it is a slight annoyance and does not occur all the time, but we had to mention it nonetheless. The phase-locked loop tuning radio is the best feature of this alarm clock, and it also has a few advanced settings such as weekend cancellation.
Features
Statement style piece
White LED display
Adjustable brightness
Auto-set function
Night light motion sensor
Indoor temperature gauge
Snooze function
Gradual wakeup lighting
Automatic adjustment for Daylight Saving Time
Battery backup
Digital AM/FM radio
Phase-locked loop tuning radio
Pre-programmable dual alarm
Calendar
Weekend alarm cancellation function
---
Number 1: Sztook Sunrise Simulator Alarm Clock Review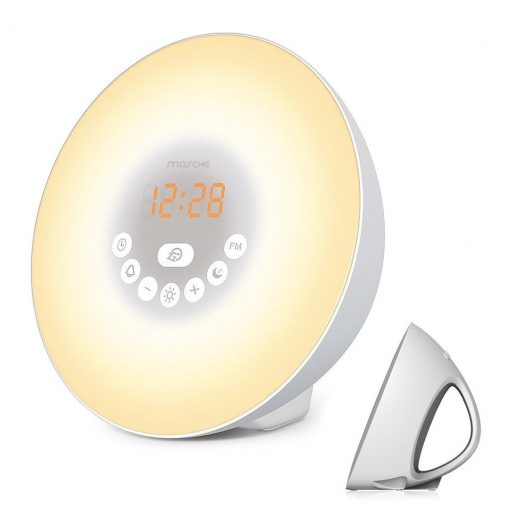 This is a futuristic sunrise simulator alarm clock. It combines modern technology with some pretty impressive features to make a clock that topped our list with an excellent sound, display and sunrise experience. This clock has a sunrise and sunset simulation function which helps develop a healthy sleeping routine. For sunrise, the brightness intensifies over half an hour to wake you up, while for sunset, the brightness starts decreasing and, over half an hour, dims automatically to 10% intensity and turns itself off. It transitions through 10 brightness levels for each simulation and uses sounds of waves, birds, and winds to complement a gentle routine.
Features
Sunrise simulation
Sunset simulation
Seven colors LED mood light
Ten brightness levels
AUX Connectivity
Bluetooth 4.0 speaker
Smart snooze function
Night light
Wake up light
Nature sounds
FM radio
Six nature sounds
3.5 mm auxiliary input for media devices
Touch controls
Anti-slip rubber feet
Multiple light modes: Green, orange, indigo, red, blue, purple, warm white
Three batteries for power
---
Bottom Line
This exhaustive list features the best of every type of alarm clock radio you could get for yourself. We've put them through multiple tests, and they passed with flying colors. This list is, of course, only a guide and the final choice depends on individual preferences, lifestyle, and routines.
Some of these radio alarm clocks are advanced, sophisticated devices with continuous lighting, pre-programmable alarms, and automatic Daylight Saving Time adjustments.
However, some people just want to have a simple, straightforward radio alarm clock on which they can see the time and listen to the radio without the fancy kicks. There is something for everyone on this list, and we hope it helps you find your perfect bedside companion.
---
Related Articles You May Like: