UE Megaboom is the largest entry in Boom series. Although I have never really been a fan of Boom portable speakers even when everyone else loved it. But when I took a look at Megaboom it gave me somewhat of a hope that I might finally like it.


PROS
IPX7 waterproof
Great battery life
Audio quality is enhanced
CONS
Could be a bit cheaper
Sound distorts little bit on high volume, mostly on bass-heavy tracks
Megaboom is similar to its smaller brothers with cylindrical form, waterproof enclosure, 360-degree audio and a lot of other features but in audio volume and quality, it is not even close to them.
Maybe the Megaboom might be able to compete with other portable speakers at the same price range with the audio enhancements it has received like Bose Soundlink Resolve+ which holds a spot as my all-time favorite portable Bluetooth speaker.
Best Portable Speaker Comparison Table
| | | | | |
| --- | --- | --- | --- | --- |
| | Speakers | Best features | Size and weight | Check price |
| Under 400$ | | | | |
| Bose SoundLink III | | Bluetooth, Auxiliary input, Up to 14 hours of battery life. | Width 10.1 in; Depth 1.9 in; Height 5.2 in; Weight 3.02 lbs | |
| UE Megaboom | | IPX7 waterproofing, Smart Bluetooth, up to 20 hours of battery life. | Height 8.9 in; Diameter 3.3 in; Weight 30.93 oz | |
| Bose SoundLink Revolve+ | | 360° sound, Bose Connect app, Up to 16 hours of battery life. | Width 4.1 in; Depth 4.1 in; Height 7.2 in; Weight 31.74 oz | |
| Under 200$ | | | | |
| JBL Pulse 3 | | 360° sound, Built-in microphone, Connect+, IPX7 waterproofing, Up to 12 hours of battery life. | Width 3.6 in; Depth 3.6 in; Height 8.8 in; Weight 33.86 oz | |
| Under 120$ | | | | |
| Creative MUVO 2c | | IPX6 water-resistant, microSD slot, USB and Auxiliary input, Bluetooth. | Width 4.8 in; Depth 2.9 in; Height 4.6 in; 13.8 oz | |
Performance
Both the shape and my previous mention that this speaker main feature is its 360-degree audio capabilities. Audio quality is really improved over Boom speaker which makes the Megaboom a more lovable speaker (at least for me).
Megaboom little brothers main problem was with lows as they weren`t really capable to deliver them as much as I would want, but Megaboom has really upgraded on that problem and made it better by a lot.
Audio
And that means that Megaboom has some seriously pleasing bass and that it is capable to follow even the more bass-heavy tracks where other speakers fail is impressive itself.
Both Mids and highs received major improvements that managed to balance the audio a lot.
Mids finally received some character and much more accurate which made some instruments sound perfect, and highs got some needed presence and clarity which overall enhanced high-end detail at near perfect point.
Overall the speakers sound much better than Boom, but of course, it has its own problems. Those are noticeable at higher volume as the speaker tends to break up and while it can handle almost all music genres it has its struggle with metal or any other loud heavy rock tracks.
Battery life
For the original Boom, the battery life was advertised at max 15 hours and Megaboom, of course, has upgraded lifetime up to 20 hours of battery life. And when the speaker was tested for the review it managed to impress me once by holding those 20 hours most of the time.


And why was I impressed by that?
It's because most portable Bluetooth speakers on test scores fewer hours than manufacturer advertised hours as I tend to play them a bit louder with a larger range of music genre which usually makes the battery lose some of its power quicker.
And with this quite long battery life it chargers quickly too, the average charge time for fully drained Megaboom was about 2.5 to 3 hours of charging time which is fast considering its lifetime.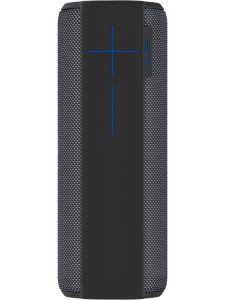 Design and features
Ultimate Ears Boom came in a lot of variety in colors, but Megaboom sticks to four colors (Charcoal, Electric Blue, Plum and Lava Red) and the general design is the same just bigger. That means that you will not be able to stick in places where Boom could fit easily and carrying it around backpack will add bit more weight, but as we spoke already the added size gives too many enhancements so it makes it worth it. The speaker itself is very durable just like it was advertised by Ultimate Ears which we tested ourselves and it survived several drops from different heights and it seemed that it did not suffer in its performance (But we still do not recommend to drop it on purpose, it is just nice to see that the speaker will survive any accidental drops)
Features
Major feature improvements over Boom is that Megaboom is now IPX7 waterproofing certified (which means that it can withstand 1 meter submerging up to half an hour). Aux and USB port is covered with rubber cover to ensure that the water will not damage it and it even has a mount for a tripod which allows you to place the speaker anywhere you want not just on a table or a shelf (the tripod is not included, but it fits any universal tripod and works the best with Gorillapod).
Bluetooth
The speaker has a long Bluetooth range in it which allows to establish and maintain a connection up to 100 feet away and at about 105 feet there were few dropouts but it was still listenable.
Speaking about Bluetooth it has Smart Bluetooth which allows controlling the speaker thru an app which allows setting two speakers (even the old Boom) as a stereo speakers, to turn it on/off, adjust equalizer and even sync up with multiple speakers to augment the sound.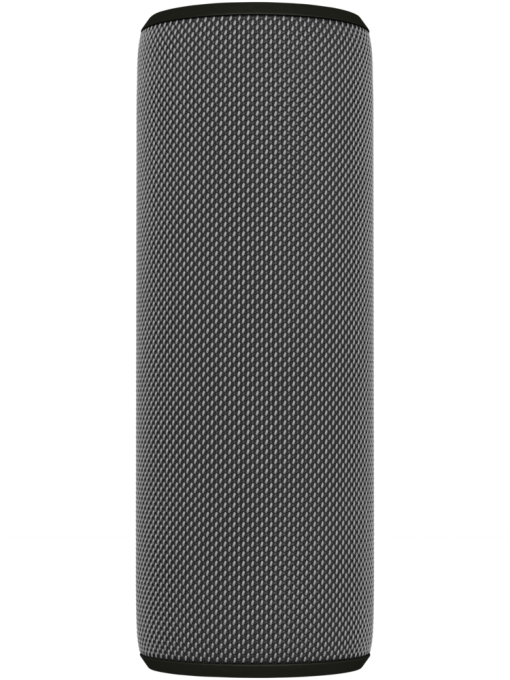 Conclusion
Ultimate Ears Megaboom isn`t as compact as Boom 2, but with that comes a bigger punch in the bass department, enhanced lows and Mids and add waterproofing, Smart Bluetooth, and better battery life added to its improvements makes the size irrelevant.
A lot of people will enjoy its audio quality both indoors and outdoors as it has great quality and like its little brother, Megaboom will make its way in a lot of people hearts as an incredible portable Bluetooth speaker and this time I will join them with that conclusion.
Although it still does not force Resolve+ out of my favorite portable speaker spot it is damn near close at the top and even at its high price, it is an easy recommendation.