Go on Google and type in "iPhone charging stations". You will get hundreds of articles which says "These are the best-charging stations for iPhone". But the reality is – there is no best charging station. It depends not only on the price range but also on the capacity, material and many other components. So in this article, we will not try to pay your attention and say that we indeed have found the best charging stations what you can find. Not at all.
Here we will list some nice, qualitative and affordable iPhone charging stations. These docks fill perfectly fit in your bedroom or office desk, with their slight and stylish design. Just choose which option fits better for you and stop wasting your time by reading random reviews on the internet.
[icons icon="star" color="#dd0000″] Native Union Dock – Best iPhone and iPad Charging Dock
This is a little bit more expensive and advanced iPhone charging station. Classic look and simple design is available in black slate, beige stone and dark blue colors. Also, it has weighted silicone base, like many other charging docks, which is a good feature for preventing your iPhone from slipping on the ground. Unfortunately, you have to insert your own charging cable, which is a little bit disappointing, if you pay $50 and still have to add something extra. From bad news to good ones – there are adapters in the base, which means that you don't have to take off your iPhone case while charging. Also, this one is made for iPhone 5 and newer models. Ipad 4 and other iPads will fit perfectly in this charging dock.
---
[icons icon="star" color="#dd0000″] Belkin PowerHouse Charge Dock Review
If you got an iPhone with Apple watch, this may be a good option for you. This dock has built-in magnetic charging module, which means that your Apple watch will charge without falling off the station. Great feature is that you can change the lighting connector and make your own adjustments. So no matter what type of case you got for your iPhone, it will stand perfectly. The charging station itself is weighted, so you don't have to worry that it is going to fall over or slide around while charging both devices – iPhone and Apple watch. Minimalistic and affordable charging  dock.
---
[icons icon="star" color="#dd0000″] Kenu Stance Tripod Review
At first, you may smile seeing this junior. Well, not all of iPhone charging stations must be from wood, with built-in features and so on. Another great alternative for students and youngsters, who don't have such a big budget, but still are looking for charging station for their iPhones. There are two ways how you can prop your iPhone – in portrait or landscape view. And now think about this – Kenu Stance Tripod is perfect for hands-free reading, watching movies and taking photos while charging your phone at the same time.
And if you are wondering – yes, it will fit perfectly in your jean's pocket or in your backpack. And its three legs allows you to make adjustments and place your iPhone in many different angles. 
---
[icons icon="star" color="#dd0000″] Spigen S310 Stand Review
It has a stylish aluminum stand and well organized charging port for your iPhone. And yes, it's not necessary to spend hundreds of dollars to get a qualitative aluminum stand. Spigen S310 stand got black TPU cradle with two built-in arms, which allows you to place your iPhone in two different positions – landscape position and portrait position. If you got a big case for your iPhone, it will not be a problem, because this charging dock can adjust almost to all cases out there. Great thing is that it has a gel corners, which will avoid your iPhone and charging dock from falling on the ground. What a pity would that be, right?! Indeed a decent iPhone stand for an appropriate money.
---
[icons icon="star" color="#dd0000″] Anker Multi-Angle Stand Review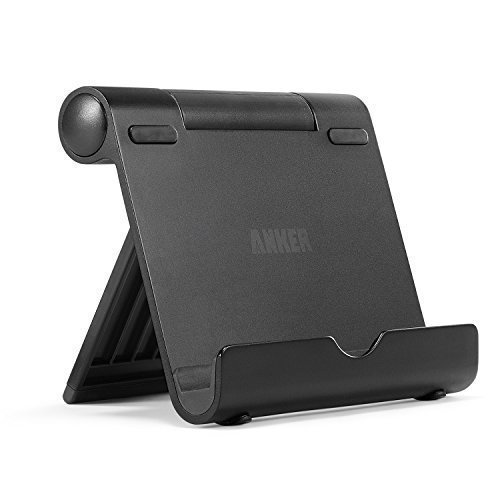 Here you can see smart and flexible charging dock. What even better about this product? You can place and charge not only your iPhone but any other phone as well. It is made of aluminium and will look just perfect on your desk, in your living room or even in your kitchen. It has rubber pads which will protect your iPhone while it will be sitting in the cradle. Also, these rubber pads prevent this charging dock from slipping. To change and make adjustments, you just need to press one single button on its side. It has 9 different angles to choose from. Maybe it doesn't look that small, but it actually is. You can take it with you and even put it in your pocket. 
---
[icons icon="star" color="#dd0000″] Spinido Charging Dock Review
In case you are looking for a simple charging station at a decent price, this might be an option for you. Like with other charging docks in this article, also this one is made of aluminum. Minimalistic in its design, but works perfectly. Actually, you can choose from 6 different colors – metallic silver, green, pink, blue, purple and red. Also, with purchasing this charging dock, you get built-in charging cable for your iPhone. It is 4-foot long and will match whatever color you choose for your dock. One thing that you must be aware – Spinido charging dock is designed for iPhone 5 model and newer models. So if you got iPhone 4 or if there is still a man alive with iPhone 3gs – unfortunately, you will not be able to charge your iPhone on this dock.
---
 [icons icon="star" color="#dd0000″] Sinijimoru Dock Review
Its letter "C" design stands out immediately from many other charging docks. It will charge iPhone 5 and newer models, but before charging, you will have to take off your phone case, if it's not slim one. As we can see from many videos, it is a bit complicated to fit the cable into the plastic connector. If we mention cable – with ordering Sinijimoru Dock, you will get a cable, but reviews and customers says that it's not the best one. So if you are buying one, consider buying an extra cable for this charging dock, if you don't want to take your own iPhone charging cable with you all the time.
---
Related stories you may also like:
Conclusion
There are many iPhone charging docks to choose from. And again – only you will know for what purposes you are buying this product. Depending on your budget and preferences, as you can see, there are pretty good offers out there. If you like this article, let us know and we will investigate and search for more reliable, qualitative and most importantly – affordable iPhone charging stations.