When it comes to the best gaming experience, some devices can affect it quite a lot. These include your TV/monitor and speakers or headset, this time, let's take a closer look at today's best available Xbox One headsets. If you only consider wireless headsets, see our article about the Best Xbox One Wireless Headsets.
In many games, sound plays a huge role. Imagine if you play a first-person shooter game. It does matter a lot if you hear enemy's footsteps that are approaching you or maybe hearing gunshots and deciding how far they were from you. A proper headset should provide you with crystal clear sound, and it should sit on your head comfortably. And if you want to listen to these sounds with a high precision you need a quality headset. A gaming headset is also a must-have if you don't live alone and don't want to bother others with in-game sounds that can be annoying.  Therefore, we have created this article with the best Xbox One headsets we have tested and a brief buying guide to help you decide and find your best fit.
Here is a list of our top headset picks for Xbox One!
1. Turtle Beach – Ear Force Elite 800X Review – The Best Xbox One Headset
Turtle Beach - Ear Force Elite 800X Premium Fully Wireless Gaming...
Enhanced DTS Surround Sound Modes and Presets: Custom DTS HeadphoneX 7.1 surround sound modes combine with enhanced...
Dynamic Chat Boost: Communicate game winning plays to your squad clearly thanks to automatically boosted team chat audio
Active Noise Cancellation: Completely immerse yourself in your gaming experience and eliminate unwanted distractions...
The Ear Force Elite 800X is a wireless Xbox One headset that's made to be compatible with the Xbox One and many other Bluetooth devices.
This headsets audio is fantastic! Eight-channel surround audio system (7.1 surround sound) does its job lovely. An active noise cancellation doesn't let you hear anything that cloud distract you from listening to in game sin-gamey blocking outside noises. This headset has one of the best audio quality we have tried. Bass is deep and clear, and volume levels are proportional. There is a real difference between Turtle Beach – Ear Force Elite 800X and lower quality/budget headsets.
There is an inbuilt microphone. It's fair however we have tested way better ones. Battery life doesn't exceed 10 hours, which could be better.
By choosing this Xbox One headset, you also get transmitter box that connects your headset to Xbox One. It's fast to set up your Elite 800X Once you have paired your headset with transmitter box, you're ready to enjoy some high-quality sound.
The Turtle Beach Ear Force Elite 800X gaming headset has a great host of features that any gamer would want in their ideal headset. Because of the high sound quality and the overall package, I'd recommend these headphones to gamers everywhere.
Features
Active Noise Cancellation
With active noise cancellation, you never have to worry about outsiders (i.e. family or roommates) intruding on your gaming immersion.
Dynamic Chat Boost
The Ear Force Elite 800X Dynamic Chat Boost feature boosts team chat automatically, so you're always in the loop when it comes to team play.
Mic monitoring
The mic monitoring feature on the Ear Force Elite 800X allows you to speak at normal volumes and still be heard clearly by both yourself and your squad, so you don't have to shout over the game, your team, and other background noise.
Surround sound with genre-specific presets
One of the cooler features of the Ear Force Elite 800X is that it has presets which are genre-specific, meaning that it adjusts sound features (like treble, bass, etc.) according to the genre of music you're listening to, or the game you're playing so that you, the listener, can hear the sound the way it was meant to be heard.
Magnetic charging stand
With a magnetic charging stand, you never have to worry about losing your wireless headphones; storage is pretty much effortless, as is charging.
PROS
The mic is a step up from much of what's out there
With Dynamic Chat Boost you can literally hear team chat better; team chat audio intelligently and discreetly comes to the forefront without sacrificing other sounds
Looks great
Magnetic charging stand rocks
Comfortable
Genre-specific sound settings are neat and surprisingly enjoyable
CONS
10 hour batterly life – not bad, but could be more for a premium headset
---
2. ASTRO Gaming A40 Headset Review
ASTRO Gaming A40 TR Wired Headset + MixAmp M80 with Astro Audio V2 for...
Tuned with ASTRO Audio V2 - Tuned for Gaming, ASTRO Audio V2 delivers pro quality audio for gamers when they need it...
Customizable Speaker Tags - The patented ASTRO Speaker Tag system allows a user to change the appearance of their...
Superior fit and finish - The A40 TR Headset features lightweight yet rugged construction with premium materials for a...
The ASTRO Gaming A40 Headset + MixAmp M80 is well a built and very futuristic looking headset. It's comfortable, it doesn't weigh too much and just feels great on your head. If we are speaking about audio quality, there's nothing much to say, it is excellent – clear and clean. However, we would want to hear some deeper bass.
Design, well here it depends on your taste, but we find the futuristic look appealing. This headset is also wired, and that makes it perfect for competitive gamers. A solid wire makes the headset much more reliable. There is no interference from other nearby players, and you won't run out of batteries in the middle of the gaming session.
The microphone in this headset is integrated, you can flip it up or down whenever you need it. In the package, you get mini M80 MixAmp – small device You have to insert into the controller's only port, and you're all set. It's easy to use MixAmp with its good size knob, mute, and sound balance buttons.
The ASTRO A40 gaming headset is very easy to recommend to anyone who wants a solid gaming headset with a powerful mic and detailed audio.
Features
Halo 5 Special Edition
One of the most standout features of the ASTRO A40 gaming headset is the fact that it's a Halo 5 Special Edition headset, which are only available for a limited time. So, if you like Halo and exclusivity, this might be the headset for you. Also, the box for the Halo 5 version has a code on it that you can submit to get in-game content.
Comfort
The ASTRO A40's are highly regarded for being super comfortable. The earphones themselves feel like your ears are being gently cradled; they cover you without being bulky, too, which is a huge plus.
Mixamp M80
One of the most valued features for gamers on this model is going to be the Mixamp M80, which offers things like the amplified stereo outfit, EQ mode, balance control and more. Because a lot of Xbox players aren't fond of the chat system that comes with Xbox One, many find the features of Mixamp M80 mitigate this issue.
Noise cancelling
One of the most important but oft-overlooked features of a great gaming headset is its noise cancellation ability. Background noise in your house or gaming venue can really ruin the depth of your gaming immersion, which is why the Astro A40's noise cancellation feature really makes it a true gamer's gaming headphone.
PROS
You can use these headphones with a PC
Very comfortable
Great bass, for those that like a heavy bass in their audio
Small sound details are clearly audible
The Mixamp M80 doesn't need an adaptor; it directly connects to your controller
Halo 5 Special Edition headphones look amazing
CONS
Bass could be deeper
Quite expensive for a wired headset
---
3. SteelSeries Siberia X800 Review  – compatible with all consoles
The SteelSeries Siberia X800 Wireless Gaming Headset is a highly versatile and adaptable wireless gaming headset that has unique features you won't find on your average gaming headset. SteelSeries Siberia 800 is perfectly compatible with all available gaming systems on the market, however, X800 is specially made for Xbox One. Siberia X800 isn't a cheap headset, but we are sure it can meet all your expectations from a gaming headset for Xbox One.
If comfort is what you're after, then this headset is for You. Siberia 800 is very well padded with leather all around and sits on head brilliantly. The left ear cup has a hidden and flexible retractable microphone. The right ear cup has a volume controller, a power button that can also mute the microphone, and two jacks where you can plug in Xbox controller.
Features
Hot-swappable Li-ion batteries
This feature is worth mentioning first simply because not every wireless gaming headset has this. The Siberia X800 comes with two Li-ion batteries that you can swap during gameplay so that you don't have to miss a beat; just let your dead battery charge while you continue playing with a fresh one. This is great for marathon gamers.
Dolby virtual 7.1 surround sound
Dolby has long been a leader in producing amazing sound quality and the 7.1 surround sound is a great sound choice to showcase modern games in all their audio glory. With 7.1, you truly feel like you're in the game; that level of immersion isn't achievable with just any sound system.
Versatile
The Siberia X800 is perhaps one of the most versatile gaming headsets on the market. Not only does it work with Xbox One and Xbox 360, it's great for Macs and PCs, as well as your home entertainment system, Apple TV, Roku and all of your mobile devices. For those who prize and/or require versatility, these headphones will suit your needs.
Great mic
A great mic is essential to immersive and social gaming, and the mic on the Siberia X800 facilitates that and more. It's retractable, directional and has a really cool mute light so you know whether or not you're being heard.
Xbox One Adaptor
Xbox fans have been somewhat vocal about their disappointment in the chat capabilities of Xbox One in general; however, the Siberia X800 headphones mitigate that by allowing you to adjust volume and chat levels with ease.
PROS
Easily adjust sound
Adaptive microphone
Comfortable
Comprehensive and versatile: works with most common devices of today
Rich sound
Hot-swappable batteries equal constant gaming
CONS
Not the cheapest headset on the market
Some users feel that these headphones run small, but that isn't a problem for most. People come in all shapes, so this is likely a problem for really tall folks who naturally have larger heads to accommodate their larger frame.
---
4. Turtle Beach Ear Force XO Seven Pro Review
Turtle Beach - Ear Force XO Seven Pro Premium Gaming Headset -...
Headset Audio Controller Plus – Connects to any Xbox One controller and puts all audio controls at your fingertips,...
Superhuman Hearing – Gain competitive advantage by hearing every sound around you, like enemies sneaking up on you,...
EQ Audio Presets – Enhance your gameplay experience with EQ audio presets, including Bass Boost
The Turtle Beach Ear Force XO Seven Pro Premium Gaming Headset is a tournament-grade headset with advanced audio features to provide you with overall better gaming experiences. The Turtle Beach brand is one of the most know brands regarding gaming. This brand has been a popular choice for many gamers and has proven its quality and reliability among other headsets in the market.Turtle Beach XO Seven Pro is made for competitive gaming on Xbox One and has all the features you would expect like game chat audio control, microphone monitoring, dynamic range control.This headset is nicely designed and sits on the head very comfortably. Although there are quite a lot of plastic all around, that doesn't make this headset feel less solid or well built.
Another interesting feature I would like to mention is Super Human Hearing, it basically pinpoints quiet audio cues like enemy footsteps and weapon reloads. It may sound quite bad at first, but it can give you a good advantage over your enemies in first person shooter games.
This headset is also noticeably cheaper than previously mentioned ones, which makes it a great buy. For many, this may be the best Xbox One headset.
Features
Superhuman Hearing Mode
Superhuman Hearing Mode does exactly what it sounds like: It allows you to hear quiet sounds like a weapon reload from behind and other audio nuances that give you an edge against your foes, and allow you to become more immersed in the gaming experience.
EQ audio presets
Turtle Beach's EQ audio presets are designed to optimize sound quality for specific gaming, music and movie genres, so you get the best out of what you're listening to.
Variable mic monitoring
Variable mic monitoring ensures that you don't have to shout to be heard by yourself or by your squad. Also, the mic allows you to set it to different modes that adjust to room noise levels.
Headset audio controller
The audio controller connects to your Xbox One controller; this means that all of the audio controls are at your fingertips, so toggling between different modes is effortless.
Tournament grade
The Ear Force XO Seven Pro headphones are designed with the eSports gamesman in mind with comfort features like memory foam, so you can game for hours without a headache.
PROS
55mm neodymium speakers are primed and ready for Xbox One, offering great sound quality
The sound presets showcase different sound experiences at their best
Superhuman Hearing Mode is really neat
Great noise cancellation
CONS
Doesn't have 7.1 surround sound
Some find that the volume isn't loud enough to suit their needs; though, this might just be a personal preference thing, since it's not a problem for most.
---
5. Turtle Beach – Ear Force XO One Review
Turtle Beach - Ear Force XO One Amplified Gaming Headset and Headset...
High Quality 50 millimeters Speakers: Hear every crisp high and thundering low with these large 50 millimeters speakers
Headset Audio Controller: Connects to any Xbox One controller and puts all audio controls conveniently at your...
Crystal Clear Chat: An adjustable, high sensitivity mic picks up your voice loud and clear, and can be removed when...
The Turtle Beach Ear Force XO One Amplified Gaming Headset offers the quality and features you've come to expect from Turtle Beach, all while being comfortable enough to game in for hours. Oh, and did we mention we just love Turtle Beach? If you do too and want to get a good headset for a bargain budget, this headset is worth considering.
At first glance, this headset looks very basic. There aren't any buttons and unnecessary things. I can't say I like this plain design, but everything else with this headset is more than fine. In package comes stereo headset adapter, from which you can easily adjust game/chat volume and master volume.
As for sound quality, Turtle Beach never really disappoints, it's just great. I can't have any complaints about audio with a headphone in this budget. It does it all. The Turtle Beach Ear Force XO One Amplified Gaming Headset is a headset very worthy of recommendation. Between the versatility, great sound quality and awesome microphone, it has all you need and more in a gaming headset—all with the added benefit of being insanely comfortable, which doesn't always go hand-in-hand with a powerful headset.
Features
High-sensitivity mic
The Ear Force XO One featured a high-sensitivity microphone that allows your team to hear you with perfect clarity. The mic is also adjustable and removable for added headset utility.
Headset audio controller
The headset audio controller attaches directly to your Xbox One controller so that you can fine-tune your audio settings with the mere push of a button.
Versatility
While it's obviously designed with Xbox in mind, the Turtle Beach Ear Force XO One is compatible with any mobile device that has a 3.5mm connection, so you can get the maximum utility out of these headphones.
Comfortable
The over-ear headphones feature fabric-wrapped foam cushioning to protect your ears; also, they're lightweight, so if gaming for hours on end is how you roll, you'll be doing it in comfort with the Ear Force XO One headset.
First impression of the Turtle Beach Ear Force XO One Amplified Gaming Headset
The XO One headset fits comfortably with cushions at the ears and on the underside of the headband. I played with it for about five hours straight without any fatigue or a headache. As for audio quality, the sound is dynamic and rich with a great bass.
PROS
The mic monitoring feature makes game chat easier and more pleasant for all involved
Sound quality is rich
The versatility with these means you can easily go from gaming to plugging them into your laptop
Lightweight and comfortable
CONS
Doesn't have 7.1 surround sound
Some find that the volume isn't loud enough to suit their needs; though, this might just be a personal preference thing, since it's not a problem for most.
---
6. HyperX Cloud Gaming Headset Review
The HyperX Cloud Gaming Headset is an Xbox headset that features an extreme level of versatility not commonly found in gaming headsets while still offering all of the features you'd expect from a quality gaming headset. This Xbox One headset is another great budget and quality product. The HyperX Cloud is an affordable and great headset for Xbox One although you have to buy an adapter for Xbox One that Microsoft sells separately. Check out our Xbox One stereo headset review.
The sound on this thing is rich with nice volume levels and deep bass, and it delivers clear mids and highs. This is one of the most comfortable headsets we have worn, You can easily spend hours and hours of gameplay without feeling any strangling or squeezing, in fact, You will probably even forget you're wearing a headset!
Features
Versatile compatibility
The HyperX Cloud Gaming Headset is one of the most versatile Xbox-centric headsets on the market. It's compatible with mobile devices (smartphone, iPad, notebook etc.), PCs, airplane adaptors and, awesomely, PS4 consoles. A lot of gaming households have both Xbox and PS4 so this is a great option for those who want one headset that works for both of their consoles.
Comfortable
The HyperX headset has really cool memory foam earpads, which adapt to your ear shape while offering a soothing buffer between you and the headset. Also, the ear cups are interchangeable so you can choose what feels best to you.
Great sound quality
The earphones isolate noise for enhanced immersion, while the powerful speakers allow you to hear low, mid and high tones with clarity, so that you can hear every little detail, upping the immersion factor tenfold.
Extras included
Leather and velour ear cushions are both included so you can switch out based on your preference. Also included are the airplane adaptor and mesh travel bag, so your headset and accessories can go with you in safety, making it ideal for those who travel a lot.
PROS
The aesthetic design of the headphones is awesome
The microphone easily detaches so you can use the headset as regular headphones when not gaming
Preferred by some pro eSports teams
Comfortable with interchangeable ear cups for optimal customized experience
Designed with pro gamers in mind
Extremely versatile; compatible across a variety of devices, including PS4
Two-year warranty
CONS
Doesn't feature 7.1 surround sound
---
7. Microsoft Xbox One Stereo Review
Xbox One Stereo Headset
Includes detachable Stereo Headset Adapter that puts the audio controls at your fingertips including volume up/down,...
Sign in to Xbox Live to receive the latest console updates. Initial setup may require significant update. Internet...
Unidirectional microphone for clear voice capture
The Xbox One Stereo Headset comes from the company behind Xbox, Microsoft. With Microsoft's longstanding reputation of quality, it's no wonder this is a popular headset.
We just had to include original Xbox One Stereo Headset made by Microsoft, because it does all the necessary things you would expect from a gaming headset. Also, the audio lives up to the hype, which I was a bit doubtful of; it's a pleasant surprise, to say the least. The headset adaptor is very easy to get the hang of, and setup is easy to. One of the things I really like is how long the cord that connects from the headset to the controller is. I didn't feel restricted, which definitely helps gaming immersion as well as comfort.
But Xbox One Stereo Headset still is a great buy for its budget, and if You just want a nice, clear sound, this headset is totally for you. In fact, for many people, this headset is a wiser choice. Why buy an expensive headset if it's just a tiny bit better than the way cheaper one? One more thing – with an original headset like this, you don't have to worry about compatibility.
The Xbox One Stereo Headset's rich audio quality allows for an immersive experience and the unidirectional mic keeps group chat a pleasant experience. Furthermore, the stereo adaptor is easy to use and doesn't intrude on the gaming experience. I definitely recommend this headset for those reasons.
Features
Rich stereo sound
The Xbox One Stereo Headset has a full-bodied stereo sound that's rich and bold. It features full range audio spectrum (20Hz-20kHz), providing crystal clear high-pitched tones, deep heavy bass sounds, and mid tones that are true; because of the full range audio, the gaming experience becomes super-immersive and you lose yourself in the game in the best possible way.
Stereo headset adaptor
The stereo headset adaptor connects to your controller so volume controls, muting, and customizing both game and chat audio levels is literally right at your fingertips. This accessibility means your gameplay isn't interrupted.
Unidirectional microphone
Since the microphone is unidirectional, it's only going to pick up your voice, minimizing the risk of family or roommates breaking into your squad chats.
Easy setup
The Xbox One Stereo Headset plugs into your wireless controller, so setup is extremely simple. At most, you might have to update your console, which isn't a big deal.
PROS
Includes detachable Stereo Headset Adapter
The cable that connects the headset to the controller is 4 feet long, allowing for movement
Minimalistic aesthetics will suit most people's tastes
Rich sound
Comfortable
Lightweight
Easy setup
CONS
More demanding gamers may want to have a headset with more features
A console update might be required to use this headset, but that is going likely be the case with any new headset you buy
---
8. Turtle Beach – Ear Force Recon 50X Stereo Review
No products found.
You can't get a decent brand headset cheaper than this. Ear Force Recon 50X Stereo is still a product of Turtle Beach, and it's super affordable. Out of the box, it doesn't feel too solid. It's made from plastic. However, this headset is surprisingly comfortable even if your wearing glasses. Some high-end headsets are way more uncomfortable than Ear Force Recon 50X Stereo. As for audio quality – it's superb for this budget. Of course, you can't expect the same sound as from Turtle Beach – Ear Force Elite 800X or Ear Force XO Seven Pro, but still no complaints here.
If you want a cheap headset that will work great and you don't mind cheap feel/look plastic, get Ear Force Recon 50X Stereo!
The Turtle Beach Ear Force Recon 50X Stereo Gaming Headset provides great sound while being comfortable enough to wear during long gaming sessions. The best thing about it is its versatile connectivity, which enables you to connect to any 3.5mm connection device, so you can get a lot of use out of these beyond Xbox One, making it great for those who need a multifunctional headset.
Features
High-sensitivity adjustable boom mic
The high-sensitivity adjustable boom mic offers great sound quality during chat, and it's removable, so if you're using the headset to listen to music, you don't have to have the mic in your face.
Comfortable
Recon 50X headset is great for long gaming sessions. It's lightweight, reducing tension on your head; also, it has faux leather ear cushions, because even the manliest of manly ears need pampering when it comes marathon gaming.
Impressive versatility
One of the coolest things about the Recon 50X headset is how versatile it is. It works with pretty much any device that has a 3.5mm connection, which means you can use it with Mac, PCs, tablets and more. If you're the frugal sort, a versatile headset will save your wallet some pain; also, there's the added bonus of not having to keep track of multiple headphones for multiple devices.
40mm speakers
The over-ear 40mm speakers on the Turtle Beach Ear Force Recon 50X Stereo Gaming Headset yield great sound quality. High and low tones are clear and defined.
PROS
40mm over-ear speakers that yield great sound quality
Faux leather ear cushions for comfort
Lightweight
Durable
Versatile connectivity—connects to any device with a 3.5mm connection
Inline volume and muting controls
Adjustable, removable boom mic
CONS
Has some cheap, hard plastic
Doesn't feel premium, but what do you expect for such a budget
---
9. 2016 SADES SA-807 Review
Sades SA807 Stereo Gaming Headsets Over Ear Heaphones with Microphone...
【MULTI-PLATFORM COMPATIBLE】Support New Xbox One, PC, Mac, PS4, Laptop and any other device that features a...
【COMFORTABLE FIT AND CONVENIENCE】Unique 3-pieces of padded headband and comfortable ear cushions guarantees hours of...
【HIGH QUALITY MICROPHONE】The omnidirectional condenser microphone can catch every detail speaking accurately when...
SADES SA-807 offers a very affordable – the cheapest headset on this list that is worth considering if your budget isn't too high. SADES is a lesser known brand. It has its place in the budget gaming market. Speakers offer acceptable sound quality, and well-padded ear cups and hand band makes this headset comfortable. And again, I'm surprised how comfortable is SADES SA-807.
Between the sensitive omnidirectional mic and the full frequency audio, the SADES SA-807 is already a solid gaming headset. Add to it the comfort factor and versatile connectivity, and you realize it's truly top quality.
Features
Versatility
The SADES SA-807 is a super-versatile gaming headset. It's great for both Xbox One and PS4 Pro. Better still, it connects to any device that has a 3.5mm port, which means you can use it with your mobile devices, PC and Mac. Having one headset for multiple devices is really handy if you're into saving money or just like the convenience.
Comfort
The headband of the headset is not only padded, it's ergonomic and adaptive, conforming to you as you move. In fact, it is so adaptive that it is actually able to be flattened or twisted, which means if you will use it for hours, it's less likely to break than other brands. Also, the headband self-adjusts. So, it moves with you and changes as you do, making it a very good choice for growing kids. On top of the great headband, the earphones are cushioned with leather for extra relief during a long game.
Great mic
The mic is omnidirectional and easily adjustable, which makes it great for gamers, because we are a people who crave versatility and don't want anything to stand in our way of achieving the ultimate win…or just simple immersion for that matter. Also, the mic has a voice distortion feature, which is great for those well-known voices who want to chat incognito.
40mm speakers
The 40mm speakers provide great sound quality and have that sound shock feeling some other headsets lack.
PROS
40mm speakers that provide vividly clear audio
Looks awesome
Omnidirectional Mic
Easy volume and muting controls
Super adjustable and ergonomic headband that conforms to you
Leather-cushioned earphones add extra comfort
Versatile connectivity—works on any device with a 3.5mm connection, so you can go straight from gaming on your Xbox One to Skyping on your tablet with ease
CONS
Doesn't feature 7.1 surround sound
You will have to buy an Xbox One Stereo headset Adapter
---
10. Razer Kraken Pro V2
Razer Kraken Pro V2 - Oval Ear Cushions - Analog Gaming Headset for...
To provide you with greater audio immersion, the 50 mm Razer custom tuned drivers have been designed and tuned to...
The unique sound signature of these impressive drivers produces crystal clear highs and rumbling lows that will put you...
Optimum form has been an integral focus in the design of the Razer Kraken Pro V2. No matter how long your gaming...
Razer Kraken Pro V2 is a very elegant and minimalistic looking headset that has everything you would ever want and the best thing is – it won't run you a fortune. Overall it's a very well performing headset that offers supreme sound quality as well as comfort. If you want to stay with classics and don't want anything fancy, Kraken Pro V2 is the way to go. This headset is wired meaning it's great not only for Xbox One and other consoles but listening to music.
Features
Comfort
Razer Kraken Pro V2 is definitely one of the most comfortable gaming headsets on the market. You can spend hours and hours on competitive plays without feeling any strains. This is mainly because of Kraken's 12-ounce frame and faux-leather ear cups. Earcups are also adjustable, you will have no problems finding the sweet spot. Also, we loved that you can get this headset with round or alternative – oval-shaped cups. Another thing to mention – unlike with many headsets, Kraken Pro V2 headset is great if you're wearing glasses.
Superb audio quality
Kraken Pro V2 is aimed towards competitive gamers, therefore, it's superb if you love to play multiplayer games. Sadly it doesn't feature 7.1 surround sound which is the only thing we can complain about. Other wise it's extremely accurate headset with very clear sound. It just seems very well balanced – bass, mid tones, high pitches – they are all in the sweet spot.
Microphone
Ryzen Kraken Pro V2 has a retractable and flexible boom microphone. It has 4.3-foot, 3.5-mm audio jack so it will work great with Xbox One or PS4. Overall microphone performance is decent and there's nothing much to complain about. However, we have tested headsets with way better mics. It seems like Kraken Pro's mic volume is relatively low.
Design
Let's be honest, when we are looking for a product, design is one of the main keyfactors. Those who love classic sleek styling with leather will love Razer Kraken Pro V2. It's super minimalistic yet good looking design will fit in with all gaming systems.
PROS
Simple yet very robust and sturdy design and build
Very comfortable and lightweight
Impressive sound quality, punchy bass
CONS
Doesn't feature 7.1 surround sound
Xbox One Stereo Headset Adapter is required
Micrp[hone volume is relatively low
Choosing Your Xbox One Headset
In the end, it all depends on what are you after – whether you seek top end headset or you're all good with more basic and cheaper options.
One of the most important things is a comfort; headset must sit properly on your head, there must be no squeezing or strangling. And then there is audio quality, it's as important as comfort. And what is a good audio? There can't be any cracking or buzz noise that's for sure! But in most cases only You can tell if it's good or bad, by giving a try – people are different, they have different tastes.
Also, you should decide between wired and wireless headset. And both of those types has their positive and negative sides. Sick of wires? A wireless headset is your choice. Maybe you're reliability fan and don't want to mess with battery charging – wired Xbox One headset is a top pick for You, and if it's so, you will need a Xbox One stereo headset adapter.
Last advice – design matters, and it matters a lot. Get a Xbox headset you like. This is critical if you're using it on a daily basis, what's the joy of using something you don't like?
Detailed guide on how to choose the best Xbox One headset
COMFORT
Comfort is essential when it comes to the best headset for Xbox One. If you play your console for many hours, you have to have a headset that's comfortable and doesn't pinch and squeeze. Comfort is very important for a gaming headset, but you have to remember that everyone has their own taste, some might feel comfortable, some may not. Sometimes glasses can affect your comfort. If you're planning to spend hours and hours on your headset, we suggest you try it on before purchasing one.
We have tested these Xbox One headsets on many people, so we can grant you with decent information about which headset is comfortable and which is not.
MICROPHONE
If you are serious about your gaming, you probably need to communicate with other players about in-game strategies, and plans. To do so you need a built-in microphone. Must have feature on your microphone would be active noise cancellation, that allows you to chat with other players very clearly. Also, mic monitoring comes handy and improves not only your gaming experience but also your teammate. Some people may prefer retractable or detachable microphone for times when you don't need it.
SOUND QUALITY
One of the most important things when choosing the best Xbox One headset is sound quality. Being able to hear environmental when gaming competitively is essential. This can absolutely change your gaming experience!
One of the features to look for is 7.1 surround sound. Trust us, this feature is worth the increase in budget. Another thing to consider is whether you will be using your headset also for listening music.
DURABILITY
Of course, if you buy a decent Xbox One headset, you want it to last. Top-end materials like soft plastic and leather padded earcups will last longer and won't scratch so easily as has hard plastic. All headsets mentioned in this article are made by well-known brands and are quality products.
Also, check out Gameruniversity's guide on How to choose the best gaming headset.
Frequency Range
Frequency range is the speed of fluctuations of some kind of material (For example – speaker).
Frequency is measured in Hertz (Hz) and is defined as one cycle per second. For example, if your speaker plays music at 50Hz, that means this speaker will fluctuate/vibrate 50 times per 1 second.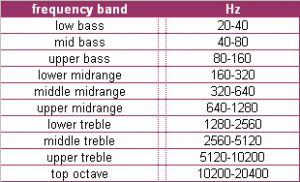 The frequency range for a headset simply means in what range this headset can play sounds. The wider this range is, the more bass or high pitches you can hear. As you probably have already noticed, most of the headsets have a frequency range of 20Hz to 20KHz. This is because an average human usually hears in this range. Anything higher than 20Khz or lower than 20Hz and you just won't hear it. Of course, you can find headsets with a wider frequency range. However, you should remember that having a wider frequency range don't you will get a better sound quality.
You should also keep in mind that people are different and some may hear in a wider frequency range than others. This differs from person to person. If you want to get a premium headset that isn't cheap, we strongly recommend you to try it before you buy it.
7.1 Surround Sound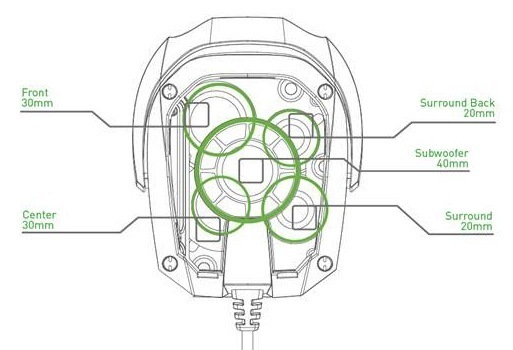 Most of the premium headsets have a virtual surround sound support – usually 5.1 or 7.1. As you can tell, Surround sound lets you hear sound around you. This can be game changing when playing first-person-shooters or role-play adventure games. This feature allows you to immerse in the game, making you feel like a part of it. With surround sound, you can have quite an advantage over other players that are using a basic stereo headset. 7.1 surround sound lets you hear what is happening around you, hear enemy footsteps, gunshots and other environmental sounds with a great precision.
Wired vs Wireless Xbox One Headsets
What's the difference between wired and wireless headsets?
The number one and most obvious difference between wired and wireless headsets (also known as headphones or earphones) is the fact that wired headsets have a mandatory cable that's connected directly to a device (like for your iPhone) or a cable that connects to another third party object that connects to your device, as is the case with headphones for gaming consoles where the headphone wire connects to the wireless controller, and the wireless controller is connected wirelessly to the gaming console; wireless headsets, on the other hand, are, as the name suggests, wire-free, regardless of the type of device they're wirelessly connected to.
Another obvious difference between wired and wireless is that wired headsets are powered by the device they're plugged into whereas wireless headsets are generally battery-powered and have to be recharged when the battery gets low.
Aside from the obvious, there are some more subtle differences as well. Audiophiles will swear up and down that wired headphones have a better sound period, even when wireless headphones are high quality and are working at their peak level of performance. To an extent, this is actually quantifiably true for the simple reason that many wireless headphones work via Bluetooth.
Bluetooth is the most common wireless headphone type. It's a very convenient and easy way to make a wireless headset work because many devices like phones and gaming consoles are Bluetooth compatible. The downside of Bluetooth is that Bluetooth technology was never designed to transmit high-quality audio, and it compresses audio files, which reduces overall sound quality. Newer versions of Bluetooth like Bluetooth 3.0 and Bluetooth 4.0 have made improvements geared specifically towards improving sound quality; aptX, which are audio codec compression algorithms, was invented in the '80s and more recently it has been added to Bluetooth technology and the devices that use it to create a higher quality sound, because it addresses some of the compression issues which older Bluetooth versions couldn't handle.
The bottom line is that Bluetooth wireless headsets are far better than they used to be, though it can be reasonably argued they still don't have the same level of fidelity as wired headsets.
Wireless headsets can also have problems with interference caused by everyday objects you have in your home, ranging from your iPhone to your Wi-Fi to your microwave, and everything in between. This also affects the listening experience negatively; wired headphones just don't have this problem, because they don't use any frequencies that can be interfered with in the first place.
What's the same with wired and wireless Xbox headsets?
The main sameness with wired and wireless headsets is their ability to connect with most modern devices, whether it's computers, consoles, TVs, etc. Generally speaking, newer headsets, whether wired or wireless, will connect with newer devices. So, if your needs aren't too specific and you don't care about sound nuance, then you won't have issues with either headphone type when it comes to connectivity.
The speaker performance is pretty much the same with wired and wireless headsets; it's the compression and transmission issues with wireless headsets that compromise sound.
Another thing that's the same is overall looks, weight, and comfort. Most over-ear headsets for gaming look and feel roughly the same whether they're wireless or wired. More discreet headsets might vary more in appearance, however.
What is the best use for wired and wireless Xbox headsets?
In general, both wired and wireless headsets can be used on most devices, but there are some cases where one is better than the other for a specific application:
Wireless headphones: Wireless headphones are best for gaming because they allow for movement. Gamers don't need anything that hinders their gaming performance, which an unruly cord can do. Another group of people that benefit most from wired headphones is athletes and fitness buffs, primarily walkers, joggers and runners. Headphones break up the monotony that sometimes comes with exercise, but cords can be a dangerous liability—especially while running. For fitness fanatics, wireless headphones are just safer, period. Wireless headphones are also great in general where mobility is key; for instance, if you want to listen to music while vacuuming the house, wireless headphones are ideal for that.
Wired headphones: Wired headphones are always going to be preferable when high-quality sound is crucial. Whether it's listening to a new album, watching a great movie, or playing a video game that requires you to hear every nuance to get the edge you need, that is when you opt for wired headphones above wireless.
What should you look for when buying wireless Xbox headphones?
When shopping for wireless headphones, check to see what type they are. There are three main types: Bluetooth, infrared and radio frequency. Infrared and radio frequency headphones both require transmitters, which make them higher maintenance than Bluetooth. Infrared is also hindered by the fact that it requires line of sight with the device it's connected to. Because of its ease of use and high level of compatibility, Bluetooth is the most common and therefore the most preferred for general users who aren't extremely picky about sound quality.
Another thing to keep in mind with wireless headphones is that they may require the installation or update of audio drivers with your devices. If you're not prepared to install or update audio drivers, wireless headphones may not be your thing. However, this generally isn't difficult to do, so it's not a big hindrance for most people.
If you want more details about this, check out Lifehacker's How to Choose the Perfect Pair of Headphones article.
What should you look for in wired headphones?
Wired headphones tend to be easier to shop for if for no other reason than a decent pair will have better sound quality over a comparable wireless headset, which is why audiophiles will opt for wired whenever possible.
The main thing to consider when it comes to wired headphones is connectivity. What devices do they connect to? Connectivity may be more limited or specific than for Bluetooth wireless headphones, which can connect to many devices with ease. For instance, if you're shopping for wired headphones for a gaming console, some may only be for one specific console, like an Xbox 360. This is a big downside.
However, more and more wired headphones are featuring versatile connectivity, because we live in a world where most people have more than one device they want to listen to with headphones, and companies realize consumers don't want to have a different wired headset for each other device. Nowadays, you'll find more and more wired headphones that can connect to a variety of devices. Some require adaptors; others may not. Always do your research and make sure the wired headset fits your needs before making a purchase.
Verdict
Hopefully after reading this article helped you choosing your perfect Xbox One headset and if it doesn't, at least you got an idea of what you like and what you don't. One thing you should remember is to stop focusing so much on features instead look for comfort and decent sound quality. What's the point of getting a super fancy headset that's not comfortable and causes strain, pain when you use it for more than few hours? Therefore, we always advise trying on a headset before buying it, if that's possible.
Last update on 2020-08-20 at 15:37 / Affiliate links / Images from Amazon Product Advertising API