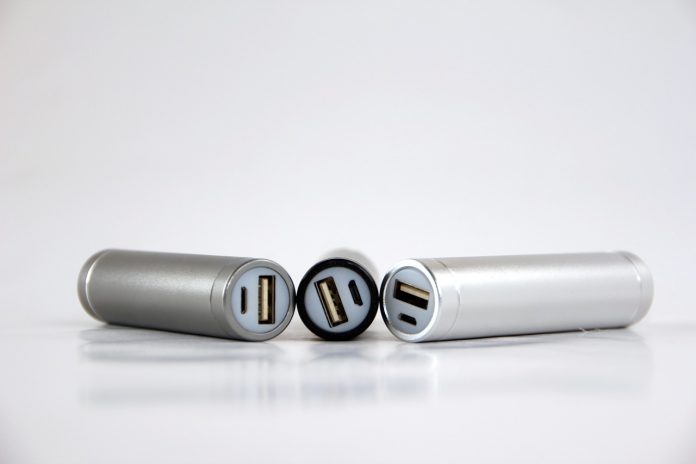 Literally, with each day you can do and manage more and more with your smartphone – take pictures, browse the internet, navigate and so on. Using your smartphone frequently increases their power consumption. A conventional smartphone has a battery large enough to hold you through one day. They can't match good old Nokia phone which could last one week on a single charge. While battery technologies are improving, there is a simple solution how to increase the time you can spend on your smartphone.
If you run out of battery life in the middle of the day and don't have a charger or no valid power outlet, a portable charger or power bank could give you that extra power boost, to get things done. It's also a great way how to make your phones last during long hikes or on camping trips. And the best thing is that you can charge just about anything with a power charger not only your smartphone. We have created a list of top 13 best portable chargers on the market, to help you choose your best fit.
Related: Best Travel Chargers, Best USB Wall Chargers
1. Anker PowerCore 26800 the best portable charger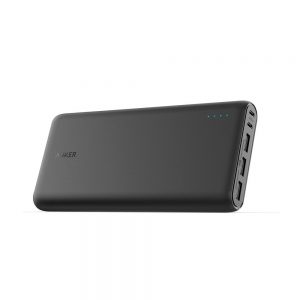 The Anker PowerCore 26800 is our first pick when it comes to choosing a portable charger. This charger has a whopping power capacity of 26,800mAh. Let's do some simple math. If this portable charger has 26,800mAh and Samsung Galaxy S7 has a battery with a power capacity of 3000mAh, this means you can charge your S7 nine times before your charger runs dead. An interesting feature on Anker PowerCore is two Input ports for recharging your device. If you charge your portable charger with both 5V/2.0A micro USB ports at the same time, it will be full after about 6 hours. As for output charging ports – it has 3 of them, meaning that you can charge three USB devices at the same time.
If we are talking about its dimensions one thing is for sure – this is not one of those super slim chargers. However, you can't call it extremely big. Anker PowerCore has a length of 7 inches and width of 3.2 inches. Overall this charger seems to be built very well and is one of the best companions for long road trips or hikes.
2. Anker Astro E1 small and compact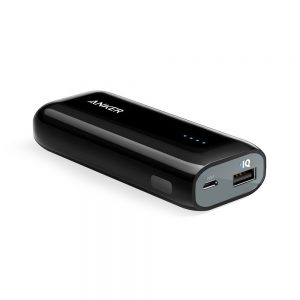 When people are looking for a power bank, they mostly prefer a slim device that doesn't weigh too much nor take too much space. They are a great backup if you suddenly run out of battery life and compact size makes sure you can always keep one in your backpack or purse.
Unlike its bigger brother Anker PowerCore 26800, Astro E1 has a power capacity of 5200mAh so you can expect about two phone charges. USB output on Astro E1 has a voltage/current rating 5V/2.0A. This is very pleasing as most compact chargers feature 5V/1.0A ports. It also has four blue LED indicator lights that show the level of charging. Each LED light stands for 25% of power. Astro E1 is one of the best choices when it comes to compact power banks.
3. Jackery Bolt a sleek looking charger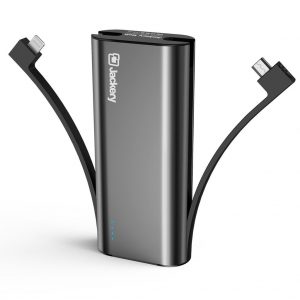 The Jackery Bolt uses Panasonic battery cells, and the maximum power output is 2.4 Amps. This portable charger has a power capacity of 6,000mAh or about two smartphone charges. Jackery Bolt is a very versatile charger as there are three ways how you can charge your device. The first is through Micro-USB so you can charge any Android device with it.
Then there is a Lightning cable for charging iPad or iPhone and a freelancer USB charging port from which you recharge just about anything. Sadly there isn't a USB Type-C cable, so those who have smartphones like Samsung Galaxy S8 will have to use an adapter. The Jackery Bolt has a unique design featuring in-built Lightning and micro-USB cables. This means you don't have to carry around your own cable and you can't forget it.
4. Vinsic Portable Charger visual indicator to see how much power you're left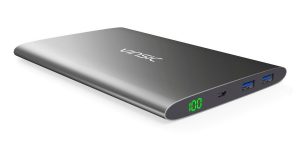 Vinsic 20,000mAh Power Bank is a high capacity portable charger that has enough power to fully charge your smartphone for up to 10 times depending on the model and phones battery.
For outputs, there are two standard USB ports that feature output voltage/current of 5V/2.4A. As for input, it has a micro USB port with voltage and current of 5V/2.0A. Recharging your device might take some time, and we advise you to do it overnight to save time.
Vinsic is so high in this top list because of its practicality, especially because of its LED Percentage capacity display, which makes managing your power way more convenient. Unlike most Powerbanks that use a few LED indicator lights to show the percentage, Vinsic can display numbers ranging from 1 to 100. For many of us, this is important.
5. AUKEY 30000mAh Portable Charger not for only full one charge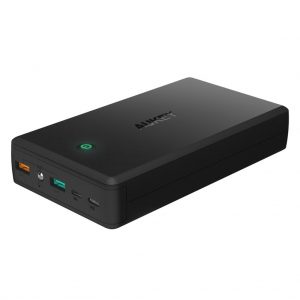 AUKEY 30000mAh is a high capacity portable charger that's made by a well-known brand and is a great solution for long trips with out power.
Despite its large capacity, you can't call this device big. However, it weighs quite a lot – 552g. That's a good amount of mass to carry with you especially if you are hiking where every extra pound is important. You can charge your devices with micro USB or Lightning. There are two USB Type-A ports: one is green, and one is orange. The first one is Quick Charge 3.0 port that can charge your devices in large voltage/current range for example with 3.6V-6.5V/3A. This is a lot more than standard 5V/2.0A resulting in a faster charging and much less time to wait.
6. MAXOAK 50000mAh - can charge forever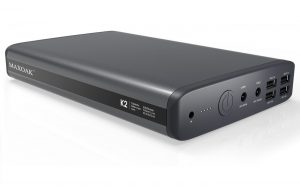 This is by far the biggest capacity power bank we have tested so far. It has four USB ports and two direct current ports: 12V and 20V, so you can charge even your laptop. Weighting in at 2.8 pounds, it's surely not for everyday use.
7. RAVPower Universal Power Bank Travel Charger - power bank in a travel adapter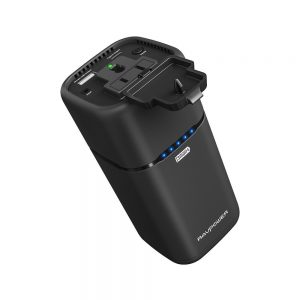 RAVPower Universal Power Bank Travel Charger combines two things: a power bank and Travel Charger. This is perfect for those who love to travel a lot and charge not only their smartphones but also laptops and tablets.
8.Brightech SCORPION every handyman's dream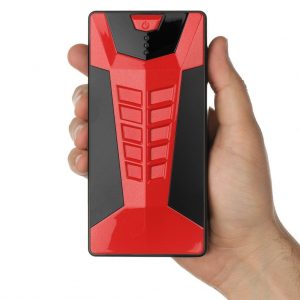 If you're after a real deal, take a look at Brightech SCORPION. With this thing, you can charge your phone, laptop and jump start a car! It comes with a variety of adapters and is a very versatile device.
9. ZeroLemon SolarJuice harvest solar energy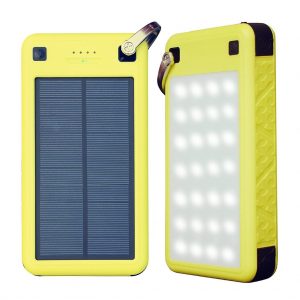 If you're a fan of renewable energy and want to self-sustain your devices, you might want to get a portable charger that draws power from the sun. ZeroLemon SolarJuice is perfect for adventurers who walk around or hike every day. It has a nice hook that you can attach to the back of your backpack. An inbuilt LED flashlight also comes handy when camping. It has 4 Light Modes including SOS signal if things get bad. Just be prepared that you will have to wait a very long time for your power bank to be fully recharged if you only want to relay on solar energy.
10. Anker PowerCore+ mini Lipstick-Sized Portable Charger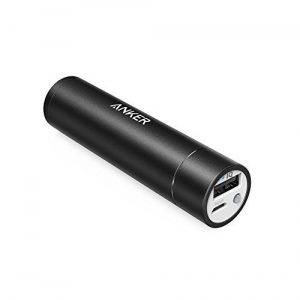 Anker PowerCore+ mini is a super slim portable charger that is super easy to carry around, and it doesn't weigh much. 3350mAh power capacity means that you will be able to fully charge your smartphone just once or maximum twice. But do you really need more? If you need a compact portable charger that you can bring anywhere without noticing it's even there, an Anker PowerCore+ mini is one of the best choices.
11. GETIHU Portable Charger - slim and cheap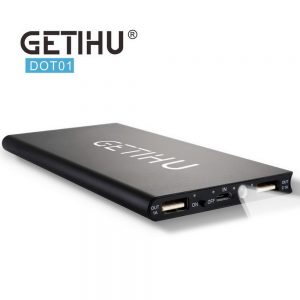 GETIHU Portable Charger is a slim and very simple portable charger. It has two USB ports with different power ratings: one with 1A and another one with 2.1A. For recharging a micro USB port is used. A feature we loved is an integrated LED flashlight. If there is no power, there also might be no light. This is perfect if you plan to use it outdoors.
12. EMIE xMonster Portable Charger for those who want to stand out from a crowd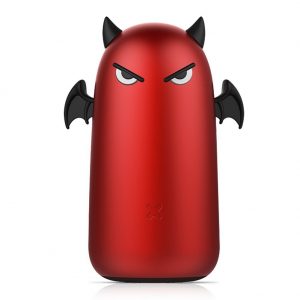 Looking for a clever looking gift? Or maybe just want to stand out from the crowd or use your charger in a specific environment? EMIE xMonster is a great portable charger to do so. It will fit great if your a student and want to use your charger in class leaving everyone else wondering what have you got there. It has one micro USB port and one conventional USB type-A port, also a healthy power capacity of 10000mAh.
13.Oripow Spark E3 super slim and easy to use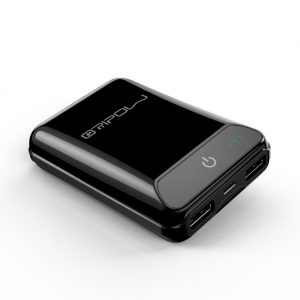 Oripow Spark E3 is a very compact and easy to use portable charger. It has a square like design with a large on-off button. While being so compact, it still has two USB type-A ports for charging your devices and one micro USB port. A power capacity of 10050mAh is impressive for a device that's no bigger than a credit card.