Tired of cranking your phone's volume all the way up just to hear your music? Want to binge your favorite show but can't get past the terrible sound quality? Well, a wireless surround sound system won't just work with your TV. It'll work with all of your smart devices — big or small.
When we think of surround sound, we normally picture lavish home theater setups. But that's just one way to use this must-have technology for a better media experience.
Here's how wireless surround sound can transform your listening experience, and how to choose the best system for your needs:
Everything You Need To Know About Wireless Surround Sound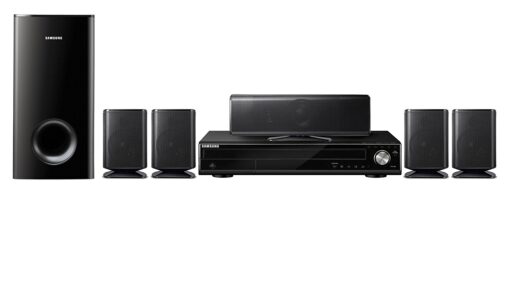 You don't need to be a tech expert to purchase and set up your own wireless surround sound system. With that said, it certainly doesn't hurt to know a thing or two about how these systems work!
Bluetooth vs. Wi-Fi
One of the benefits of Bluetooth is its compatibility with nearly all smart devices. The technology is also affordable and easy to use, thanks to its enduring popularity.
Despite the prevalence of Bluetooth wireless sound systems, the technology actually isn't the best at transferring audio. The average person might not notice the audio compression when using a set of Bluetooth speakers but serious audiophiles might want to consider another option.
For the best wireless audio quality, more and more consumers are turning to Wi-Fi speakers. This technology is newer, and therefore more expensive, but doesn't compress audio the same way Bluetooth does.
Another drawback to Wi-Fi audio is that not all devices offer an easy way to connect to these systems. Pairing is possible with most devices but many require a special app.
However, the increased stability and range of Wi-Fi when compared to Bluetooth helps offset this inconvenience.
Speaker configuration
Wireless surround sound systems come in all different configurations. Some include just one or two speakers. Others include eight or more.
Obviously, the more speakers you have, the more dimension you can achieve with your audio setup. But you'll also need to find space to mount these extra speakers throughout your room.
Also, keep in mind that wireless sound systems aren't 100-percent cordless. You'll still need to deal with power cables, and the more speakers your system includes the more wires you're likely to have on your hands.
Many modern soundbars use Dolby technology to mimic the three-dimensional nature of true surround sound. So you can get a pseudo-surround sound effect with a singular soundbar.
If you're short on space or dislike the thought of hanging speakers all around your home, this is a great alternative.
Maximum range
You can't pair your wireless headphones and expect the connection to remain clear from a block away. So you shouldn't expect your new wireless surround sound system to work at just any range.
Bluetooth typically has a range of 30 feet. Keep in mind that the audio quality often drops at the far end of this range.
Wi-Fi, as we mentioned, has a considerably larger range. In ideal conditions, a Wi-Fi wireless surround sound system can reach up to 100 feet. Generally, this drops to around 50 feet when you account for furniture and other obstacles.
If you live in an apartment or know you'll only be using your surround sound system in a small room, then range might not be a huge factor. Still, it's best to double-check the capabilities of your chosen speaker system.
Recommended Read: Ultimate Technology Addiction Guide: Should I Be Paying Attention?
7 Best Wireless Surround Sound Systems for Your Smart Devices
Home tech has come so far in recent years that it's hard to believe how many people are still living with subpar audio from their phone, tablet, TV, or gaming system.
You might not think high-quality audio can make or break your viewing or listening experience. But these wireless surround sound systems will prove just how big a difference it can really make:
1. JBL Bar 5.1
If you're looking for wireless surround sound that doesn't cut corners, the JBL Bar 5.1 system is the way to go. This system includes a soundbar and wireless subwoofer for excellent bass.
The soundbar utilizes Dolby audio technology for great sound quality no matter where you are in the room. Each end features a removable, battery-powered speaker that can be placed anywhere in the room for a truly immersive experience.
The JBL Bar 5.1 system works with your TV, phone, and other Bluetooth-enabled devices. You can even switch back and forth between different audio sources with the SoundShift feature.
While this system is loved by most users, calibration is a must for a good listening experience.
2. Sony HT-S350 2.1ch Soundbar with powerful subwoofer and Bluetooth
With the newest audio technology, we can now enjoy surround sound from just one speaker. One great example of this type of streamlined system is the Sony HT-S350.
The Sony HT-S350 uses S-Force PRO Front Surround technology to direct sound waves around the room for multi-dimensional audio. This mimics having multiple loudspeakers spaced throughout the room without any of the hassle.
Along with the main soundbar, this kit includes a wireless subwoofer for powerful bass. Everything connects effortlessly with Bluetooth, or you can use an HDMI ARC cable for your TV.
Sony HT-S350 Soundbar with Wireless Subwoofer: S350 2.1ch Sound Bar...
Ultimate Home Theater Upgrade: Sony 2.1 Channel Sound Bar System With Wireless Subwoofer for Optimized Audio
Audio Comes Alive:320W total power output brings content to life with incredible volume and clarity
Powerful Subwoofer: Large 6.30 Inches Speaker Unit and 6.16 Gallon Volume for a Deeper, Richer Bass Sound
This is a great budget-friendly option for small spaces. But don't expect to get the same sound quality from this wireless surround sound system as you would more premium models.
3. Samsung HW-Q70T 3.1.2ch Soundbar w/ Dolby Atmos / DTS:X
For those who like the convenience of a Bluetooth soundbar but want something higher-quality, the Samsung HW-Q70T offers great immersive audio. It even works with Amazon Alexa.
The Samsung HW-Q70T soundbar doesn't just send sound waves forward. It also sends them up and over the listener for a truly three-dimensional experience. Plus, you can upgrade to true surround sound with Samsung's Wireless Surround Kit at any time.
Using the optional Q-Symphony feature will increase the surround sound quality even further. (This feature only works with some Samsung TVs.)
SAMSUNG HW-Q70T 3.1.2ch  Soundbar with Dolby Atmos / DTS:X (2020)
DOLBY ATMOS AND DTS: X: Capture every sound above and around you with Dolby Atmos and DTS: X
Q-SYMPHONY: Syncs your Q-Series Soundbar speakers with your Samsung QLED TV speakers for the most immersive sound
TRUE 3.1.2 SOUND: With 3 channels, 1 subwoofer channel, and 2 up-firing channels, you gain sound that commands your...
Unfortunately, the sheer number of cool features packed into this soundbar leaves its user interface a bit clunky.
4. VMAI 2.1 Soundbar with Subwoofer
The VMAI 2.1 Soundbar with Subwoofer might not be the most powerful wireless surround sound system out there. But it is one of the best-looking.
This system includes a slim soundbar with four full-range speakers plus a subwoofer for improved bass quality. Along with Bluetooth 5.0 connectivity, you can also opt for a wide range of wired connections, including HDMI ARC, optical, AUX, and USB.
If volume is at the top of your priority list, this system delivers up to 110dB.
Sound Bar, TV Sound Bar with Subwoofer, 120W 2.1 Soundbar, Wired &...
2.1 CHANNEL IMMERSIVE SOUND EXPERIENCE - 120W Sound bar delivers noticeably better sound than your TV alone. With...
BLUETOOTH 5.0, THE SUPERB SOUND QUALITY - Our newest sound bar adopts Bluetooth 5.0 & DSP technology to ensure faster...
FOUR DIFFERENT SOUND MODE - Music, Movie, News & 3D mode adjusting by using the included remote control! The remote also...
The biggest drawback to this soundbar system is the audio quality, especially when it comes to the treble level.
5. Nakamichi Soundwafe Elite 7.2 SSE
In the world of audio, bigger is often better. But the Nakamichi Soundwafe Elite 7.2 SSE proves that you can replicate cinematic sound quality without the bulk of traditional surround sound speakers.
This hefty wireless surround sound system includes a seven-channel soundbar paired with two subwoofers and rear speakers. With the SSE technology, you'll enjoy spatial and elevation audio along with regular surround sound.
While this system really shines as a home cinema, it can also connect to any Bluetooth-enabled advice for music and more.
Nakamichi Shockwafe Elite 7.2.4 Channel 800W Dolby Atmos Soundbar with...
Transform your living room into a premium cinema within minutes. Experience deep, room-filling bass with the...
Our DUAL 8" WIRELESS SUBWOOFERS (industry's first!) produce ground-shaking rumbles that you will hear and feel from...
TWO 2-WAY REAR SPEAKERS (industry's first!) produce spacious and dynamic surround sound. Each of them (connected to...
Many users find it necessary to manually adjust the audio settings for good sound. This is disappointing to see from such a premium sound system.
6. Sonos One Speaker Set
What if building a home theater isn't your top priority? If you're looking for an immersive audio experience throughout your home, the Sonos One Speaker Set is a great starting point.
With these speakers, you can listen to your favorite music, podcasts, sports broadcasts, and more while going about your day. These Sonos speakers use Wi-Fi (not Bluetooth) for unmatched connectivity, range, and audio quality.
You can choose the exact number of speakers that work best for your home. You can also pair these speakers with a stereo or home theater to double as surround sound speakers.
Two Room Set with all-new Sonos One - Smart Speaker with Alexa voice...
Start and control your music with your voice. Amazon Alexa built right in
Play songs, check news and traffic, control your smart home and enjoy all those other helpful Amazon Alexa skills using...
Ask Alexa to play music from Amazon Music, Spotify, Pandora, iHeartRadio, TuneIn and SiriusXM. Listen to hundreds of...
The sound quality of these speakers is decent for the size and budget. If you're into the built-in "smart" features, though, keep in mind that they can be a bit buggy.
7. Platin Monaco 5.1 Wireless Sound System
With so many stripped-down wireless sound systems out there, it can sometimes feel like tech companies are trying to reinvent the wheel. For a wireless surround sound system that looks and feels like traditional audio equipment, check out the Platin Monaco 5.1 Wireless Sound System.
This full speaker set utilizes an audio transmitter to construct a closed wireless network just for your sound system. It's WiSA-certified, but can also work with non-WiSA TVs and game consoles.
Each speaker and subwoofer is designed to be as low-profile as possible. So you can enjoy true surround sound without the need for huge speakers.
Platin Monaco 5.1+ Axiim Link Wireless Home Theater System for WiSA...
STUNNING SURROUND SOUND | Monaco speakers are individually and collectively Tuned by THX, the uncontested leader in...
WiSA CERTIFIED | Monaco components are WiSA Certified—they meet the highest globally-recognized standards for wireless...
SUPERIOR QUALITY | Featuring 5.1 channels of uncompressed 24-bit 48 kHz sound, Monaco delivers rich, robust audio with...
This sound system can't play sound from a phone or other smart device without a separate receiver, which is a huge drawback for those looking for an all-in-one home audio solution.
Recommended Read: Unexpectedly Good Uses for Your HDTV
Wireless Surround Sound System FAQs
Are you still confused about what makes wireless surround sound so much different than traditional speakers? Or are you unsure which system will best meet your media needs?
Here are some of the most common questions readers have about these wireless sound systems (with answers you can understand without a science degree!):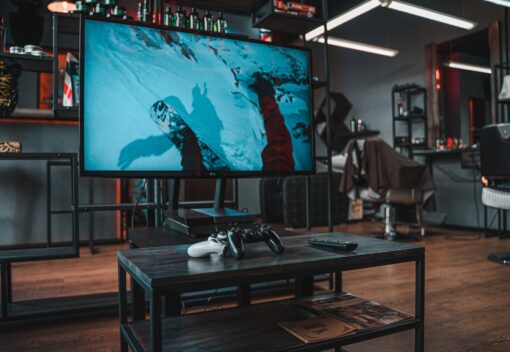 Wireless surround sound system how does it work?
A lot goes into making your wireless speakers come to life. But it's not magic that connects and syncs up all of your surround sound system's speakers.
Regular speakers use wires to translate an electric signal (sent through said wires) into sound waves. A wireless surround sound system doesn't have that luxury.
Instead, wireless systems rely on radio waves to communicate.
Your device — whether that's a TV or smartphone — communicates with the main speaker through a cord, Bluetooth, or Wi-Fi. That unit then transmits the sound to all of the other speakers simultaneously using radio waves.
Basically, your wireless surround sound system works just like your car's AM/FM radio. But instead of picking up broadcasts from miles away, your speakers pick up signals coming from the same room.
How are 5.1 and 7.1 wireless sound systems different?
Despite what many people believe, these numbers don't have anything to do with the speakers themselves. Instead, 5.1 and 7.1 refer to different speaker configurations.
A 5.1 wireless surround sound system will include six loudspeakers. Meanwhile, a 7.1 system will include eight.
These extra speakers typically go directly behind the listener. But not everyone feels these rear speakers make a difference in the audio immersion.
Many surround sound systems are compatible with additional loudspeakers. If you think a 7.1 configuration is something you'd want to try in the future, choose a system that can be easily upgraded.
What brands make the best wireless sound systems?
Right now, no singular company dominates the wireless sound system market. Instead, it's split between a wide range of brands — some household names and some not.
When shopping for a wireless surround sound system of your own, keep an eye out for leading audio and consumer tech brands like JBL, Samsung, Sony, and more.
What does WiSA mean?
You might notice this acronym when shopping for a wireless surround sound system. It stands for the Wireless Speaker and Audio Association, an organization working to standardize wireless audio technology across all devices.
Any product certified by WiSA will be compatible with all other WiSA-certified devices. It's a great tool that helps you choose universal technology for your home.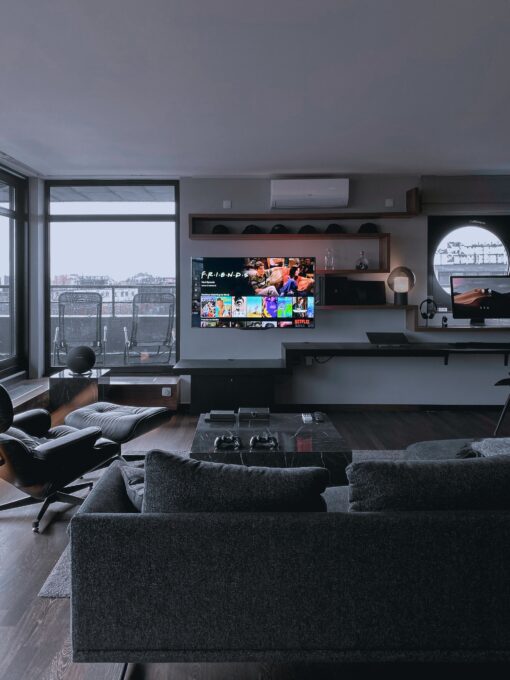 Discover the Power of Untethered Audio
Nothing can truly replace going to the theater or experiencing a concert in real life. But with the right wireless surround sound system, you can pretend you're there without even leaving the house.
Most consumers invest in surround sound for their TV or gaming setup. Don't forget that you can also use these systems to enjoy music, podcasts, and other immersive audio!
So if you've been putting off upgrading your home audio system because of unsightly wires or limited usability, there are no more excuses!
Do you need surround sound to enjoy movies and other media at home? Or is it just a bonus to your everyday viewing and listening experience? Share your thoughts in the comments below!
Last update on 2020-08-20 at 15:37 / Affiliate links / Images from Amazon Product Advertising API