With video quality rapidly going up, game physics exploring never before seen detail and virtual reality devices getting more and more affordable, one part of the media we consume is often getting overlooked – sound. Most of us use the sound interfaces integrated into motherboards, which often times is not enough to fully indulge yourself in a movie, get the highest quality sound when listening to or producing music and when you need just that little bit of edge over your opponents in a video-game. This is why we have compiled a short list of what we believe to be the best PC sound cards out there as of right now, each covering different needs for different users.
Table of contents:
Our picks for the best PC sound card
What to consider when choosing a sound card?
Basically, there are four key aspects to what you should be looking for when choosing the best sound card for your budget. If we are not going very very deep into PC sound cards then the four criteria mentioned below is everything you need to know to compare and choose a PC sound card.
Overall Audio Performance
This is definitely the most important thing to look for in any sound card – overall performance. To understand the overall performance of a sound card, typically three main performance measurements are used – frequency response, SNR (signal to noise ratio), and THD (total harmonic distortion), which are the main characteristics of audio quality. Of course, they are not super-accurate and will give you just an idea of the potential an audio device has.
Frequency response describes the range of sound frequencies a sound device can cover and SNR pretty much does what it says on the can – describes how much unnecessary background noise may be getting through your sound system. THD is used to describe how much surrounding electronics inside your PC can affect internal signals within your sound card, i.e. how well shielded it is from outside signals. Today most sound cards have THD close to zero and frequency response covering pretty much all sound frequencies you can throw at your system, so people pay the most attention to SNR since it conveniently turns overall sound quality into an easily comparable number.
Sample Rate and Resolution of Sound Data
What is sample rate? It is the speed at which the sound card can reduce a continuous signal to a discrete signal. The latest trend in sound cards is 192kHz, which allows the digital signals to generate a very precise image of analog sound waves. This results in the crispest and most realistic sound that resembles the original, real-life sound as closely as possible (if the sound file itself is of high enough quality).
Why is resolution important? As we all know higher resolution means lower background noises. It's because larger bit depths decrease the total harmonic distortion and also increase dynamic range which all results in a better signal to noise ratio. High-Resolution Audio is just a industries marketing term.
All sound cards on our list support up to 24bit / 192kHz audio format.
What is high-resolution audio?
Sound Card Software Features
Most cards will have a whole array of attributes that help you enhance and simplify audio adjusting. These software adjustments are very important because they help you achieve the best audio performance from your sound card. It will also allow you to connect your sound card to A/V receivers and audio playing software on your computer.
Also important is compliance with APIs (Application Programming Interface), which allow the sound card to connect with other software better and gain additional features via this connection. Examples of this would be the classical EAX for gaming or SBX Studio Pro for Sound Blaster products – these APIs allow sound cards to produce the most precise 3D sound environment. This is more the icing on the cake, with specs like SNR still being most important, but when you look for perfection, every little thing helps.
Connectivity to PC and Other Sound Devices
First of all, you need to know how the card connects to your PC – it can use a PCI or PCIe port, while external cards will most likely use a USB port. Also, look at the processor which will power the sound card. Important to note is the S/PDIF standard, that, in Layman's terms, increases audio quality by reducing the times the audio is compressed between the source material and your ears.
A sound card is worth nothing without a sound system to support, however, depending on how sophisticated an audio system is, it can use different connections. Here we will not go much into detail on how each connector works and will focus on letting you know the basic differences, so you can find the sound system that fits your sound card perfectly or vice versa. As seen below, optical TOSLINK and coaxial RCA cables support the S/PDIF standard.
3.5 mm / 1/8" – the most common type of connector, that most casual audio devices use since this connector can support different stereo and audio signals, although it is not capable of providing sound quality as high as optical or coaxial connections. Main visual differences – connector tip shape and "belts" on the connector.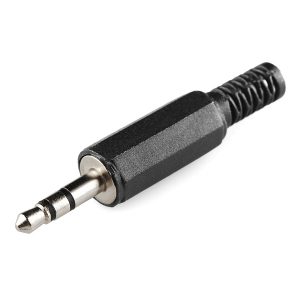 6.35mm / 1/4" – also known as the phone connector, since its history started in the old call centers where operators connected calls using these cables. Today this connector is mostly used by sound professionals, although you can sometimes stumble upon it in some high-end consumer devices as well. While similar to the popular 3.5mm jack, this connector is much bigger and requires an adapter to connect to its more popular cousin.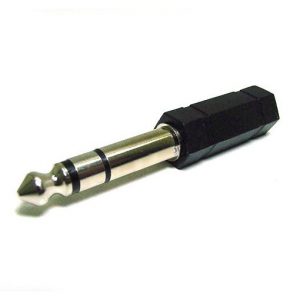 TOSLINK (optical) – supports the S/PDIF standard. TOSLINK are also known as optical cables since they transfer signals via laser light through the cable, which is why this signal is less susceptible to electromagnetic noise but causes most cables to be short (5m max). The main visual difference – square connector housing.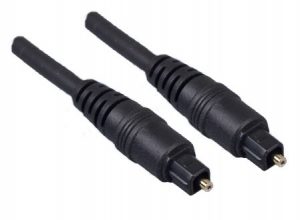 RCA (coaxial) – supports the S/PDIF standard. In consumer-grade sound systems, two RCA cables are used to carry sound data to the right and left channels and are often used in surround-sound systems. Main visual differences – two connectors on one cable and a simple, straight plug.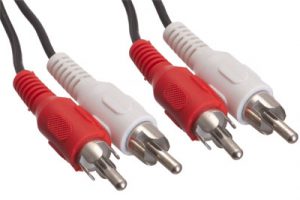 Related articles:
Best PC sound card reviews
1. Creative Sound Blaster Z
Best gaming sound card
Seen by many as the best sound card for gaming, Sound Blaster Z provides a respectable 116dB sound-to-noise ratio, support for 5.1 surround sound systems as well as SBX Pro support. Creative is the company behind EAX technology and only their sound cards support the EAX HD, including Sound Blaster Z, it also supports SBX Studio Pro software technology, to ensure precise 3D sound experience. This sound card also comes with a Beamforming microphone, which uses Creatives CrystalVoice technology to provide the highest voice audio quality for in-game calls etc.
Most notable downsides of this sound card would be regular software issues – many people seem to have reported the drivers not working, especially on Windows 10 OS, however that can often be fixed by downloading the drivers from Creatives homepage here. These alongside a rare few other software issues, alongside a handful of people getting crackling noises before changing PCIe slots, are the only real issues with this card.
You can also purchase the Zx version, which, in addition to the Beamforming microphone, comes with an audio control module, which makes volume control easier and allows you to connect more 3.5mm jacks to the sound card. However this module ultimately may turn out to be just an expensive toy, since many keyboards these days have volume control buttons, that would make this additional trinket on your table useless.
Connectivity:
Headphone Out – 1 x Amplified 3.5mm jack
Speaker Out – 3 x 3.5mm jacks (Front,Rear,C/Sub)
Line / Mic In – 1 x 3.5mm jack
Optical Out – 1 x TOSLINK
Optical In – 1 x TOSLINK
Platform – PCIe x1
(Full specs here)
2. ASUS Essence STX II
Best high-end sound card for headphone users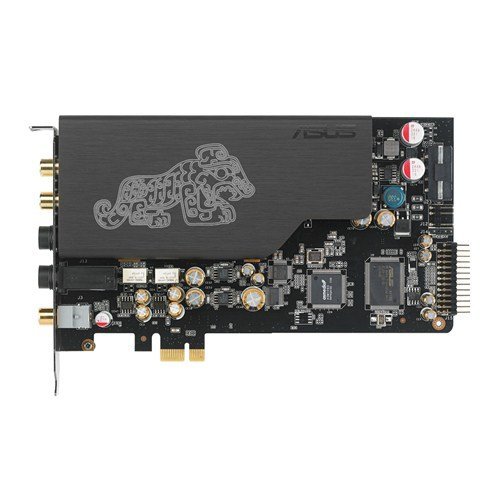 This sound card is designed to take on a whole array of challenges from gaming to movie audio. Essence STX II provides a staggering 124dB SNR, which is way more than what most of ASUS competitors can promise.
This card has a headphone amplifier that supports up to 600ohm headphones, swappable OPAMP sockets, that allows any audiophile to find and create just the right sound for him, and also comes with an appropriate OPAMP changing tool set. Although this card is primarily made to deliver the best sound possible to headphones, it also supports 5.1 channel surround sound, with an optional 7.1 channel daughterboard as well (check out ASUS Xonar Essence STX II 7.1 Extension board here).
The main complaints about the card are about some drivers not working, which in most cases could be fixed by downloading them from ASUS homepage. In the light of this issue, many have found ASUS support being utterly horrid and incapable of helping, because of issues like slow response and language barrier. To maximize sound quality, the card also requires a direct connection to the power supply via a SATA cable, which is not specifically disclosed to people less familiar to PC upgrades. Also worth noting are the 1/4" 6.3mm jacks, which may require you to purchase an adapter like this 3.5mm to 1/4" adapter for your average 3.5mm gear to work with this card.
Other than these couple of issues and relatively high price, the card delivers incredible sound quality, especially for headphone users and also comes with an incredibly long 3-year warranty. If the price doesn't scare you off, this might fit your needs for a high-end consumer sound card.
Connectivity:
Headphone Out – 1 x 6.3 mm jack (1/4″)
Analog Out – 2 x RCA
Analog In – 1 x 6.3 mm jack (1/4″) (Line-in/ Mic-in combo)
Digital – 1 x S/PDIF out (1 x Coaxial), 1 x Front-Panel Header
Platform – PCIe x1
(Full specs here)
3. HT Omega Claro Halo
Best all-around PCI sound card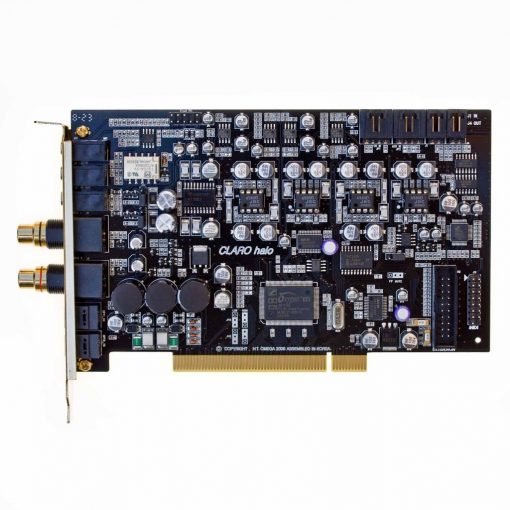 The HT Omega Claro Halo is an amazing sound card all across the board as it provides sound of the highest quality to any system you connect to this beast, be it a full surround-sound system or just headphones. Second highest on our list in terms of SNR, the 120dB sound is super crisp and when it comes to headphones, the selectable impedance levels on the headphone amplifier will make sure you get the best sound delivered in the best possible way when using up to 600-ohm headphones. Claro Halo also supports 5.1 surround-sound, MIDI devices and has swappable OPAMP sockets.
Similarly to ASUS STX II, the Claro Halo can also support 7.1 surround-sound systems via its HT Omega XT Extension board. A notable characteristic is this sound cards PCI connection, which may require an adapter in most modern PCs, but other than that, you will not encounter any problems with the Claro Halo. This, in our opinion, is the best sound card on our list.
Connectivity:
Headphone Out – 1 x 3.5mm jack
Speaker Out – 1 x 3.5mm jack
Line / Mic In – 1 x 3.5mm jack
Analog Out – 2 x RCA
Optical Out – 1 x TOSLINK
Optical In – 1 x TOSLINK
Platform – PCI
(Full specs here)
4. Creative Sound Blaster Audigy FX
Cheapest quality sound card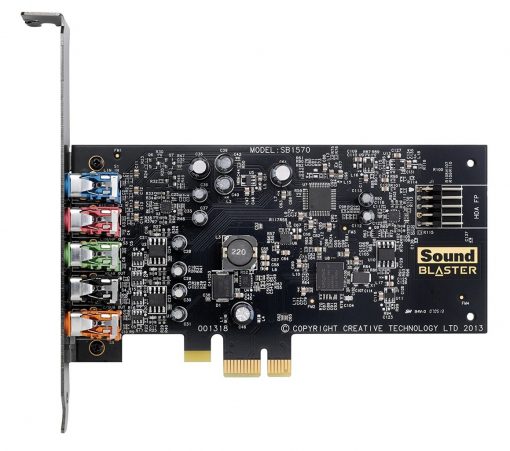 This sound card may be considerably cheaper than the rest on our list, but the Sound Blaster Audigy is not just a replacement for when your on-board sound interface breaks. With a 600-ohm headphone amp and Creative's software support (EAX, SBX Pro Studio, Audigy Control Panel) the Audigy doesn't fall far behind most high-end, high-price sound cards out there. While the 106dB SNR might not be enough for hardcore audiophiles, it will most certainly cover the needs of most consumers who simply want to have quality sound.
As with most Creative Sound Blaster gear, people have reported some issues with software, especially working on Windows 10 systems. You can find the newest drivers for this card here.
You can purchase two models from Amazon – the 5.1 channel Audigy FX and the 7.1 channel Audigy RX sound cards, with the only difference being the different surround-sound support.
Connectivity:
Audigy FX:
Headphone / Front Out – 1 x 3.5mm jack
Rear Out – 1 x 3.5mm jack
Centre/Subwoofer – 1 x 3.5mm jack
Line In – 1 x 3.5mm jack
Microphone In – 1 x 3.5mm jack
Platform – PCIe x1
Audigy RX:
Headphone Out – 1 x 3.5mm jack shared with Front Out
Line Out – 1 x 3.5mm jack (Front Out) 1 x 3.5mm jack (Rear / Side R) 1 x 3.5mm jack (C / Sub / Side L)
Line In – 1 x 3.5mm jack
Microphone In – 2 x 3.5mm jack
Optical Out – 1 x TOSLINK
Platform – PCIe x1
5. Creative Sound Blaster X-Fi Surround 5.1 Pro
Best external sound card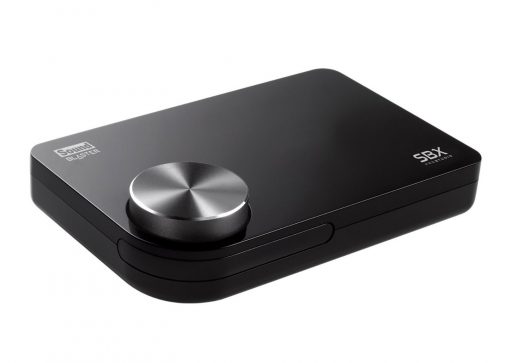 Many people want quality sound in their systems, but don't feel tech-savvy enough to open up their PC and start fiddling with it, plus why should they when you could simply plug in an external sound card. This is why we figured that we should put at least one external sound card on our list, so if you are one of these people, the X-Fi Surround 5.1 Pro might be the best external sound card for you. This sound card provides (as the name suggests) 5.1 surround-sound, software support for SBX Studio and Dolby Digital Live! and 100dB SNR, which will be enough for most surround-sound systems, which is this card's focus. The card is easy to install – just plug in the USB cable and after a short driver installation you will have access to high-quality sound. X-Fi also comes with a handy remote.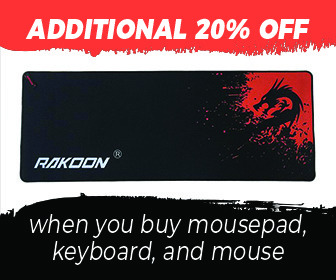 As with previous Sound Blaster products, there have been issues concerning drivers and software, especially on Windows 10, however, these issues are often fixed by downloading drivers from Creative homepage here.
Connectivity:
Headphone Out – 1 x 3.5mm jack
Line Out – 2 x RCA jacks (L/R) 1 x 3.5mm jack (Rear) 1 x 3.5mm jack (C/Sub)
Line In – 1 x 3.5mm jack
Microphone In – 1 x 3.5mm jack
Optical Out – 1 x TOSLINK
Platform – USB
(Full specs here)
Why does a high-end sound card matter?
Years have passed and sound cards are coming back. Sound cards are not an essential part of building a PC, but new generation sound cards are designed to have more advanced features to appeal to audiophiles.
If you are not a hardcore PC user you can easily live without a sound card, but it could be a great purchase for gamers and enthusiasts. Sound cards will help you create a realistic 3D sound environment, they greatly increase sound output, with a much richer frequency range, and increase overall sound quality. If you are considering to buy a sound card you also should have a quite good sound system to feel it. Cards like ASUS Essence STX II and Creative Labs Sound Blaster Z will definitely improve overall sound quality. More than ten years ago when I built my first PC on my own, high-end sounds cards were very expensive, but now you can buy a high-end sound card for around $100-250.
Of course, we could buy relatively cheap sound cards, but is there any point to buying one? Well, there is but only if your hardware codec on motherboard dies. At the same time, the reason to buy the best sound card today is to boost overall sound quality. The new generation of sound cards can really impress audiophiles with awesome features like replaceable op-amps, high signal to noise ratios and high-end digital to analog converters (DACs).
A very brief history of sound cards
Sound cards started to fade away when Windows Vista was released. Microsoft decided to only support software audio, one of the biggest reasons was that over 40% of support calls for Windows XP were related to sound cards.
Largest sound card manufacturer Creative Labs continued to produce X-Fi cards, but concentrated on OEM deals, headsets and speakers. Only a few are using sound cards in their systems now, but most current motherboards integrated codecs are far from perfect. Almost everyone knows what I mean, we all have struggled with strange audio issues, mostly with Realtek's Audio Codecs.
Now sound cards are slowly coming back and it all started with the Taiwan-based ASUSTeK (ASUS), a company known for its wide range of motherboards. ASUS created Xonar under their brand and began shipping a line of sound cards, and while some of their sound cards were low-budget, most of them are quite pricey. Currently Creative may be considered the leading company in sound card manufacturing and development, with a whole array of different options, not differing only in quality or iteration but countless different software and hardware features.
Summary of the best sound cards
From our list, the best sound card would be Halo Claro, with its super-high audio quality coupled with the lower price (when compared to ASUS Essence). The only real downside of this sound card would be having to purchase a PCI adapter and that's it. Anyone looking for an exceptional sound for consumer-grade price should consider this card.
If you are looking for a cheap and reliable option, the Sound Blaster Audigy would be the best sound card for you as it provides all of the basic benefits of sound cards for an incredibly low price – even the 7.1 channel model will cost you less than a $100.
ASUS Essence STX II seems more like the link between sound devices for a regular consumer and an audiophile, hence the high sound quality and an accordingly high price, so if high-end gear is your thing, this might fit your needs better. For gamers, the Sound Blaster Z might be the best choice on the basis of different software support to improve in-game sound, a decent headphone amp, as well as the advanced microphone technology to raise the quality of any voice chat.
There is a huge amount of different sound cards out there, with an ever-increasing amount of software and trinkets to improve the audio experience even more. Creative Sound Blaster series alone has a ton of different models to go through (such as ZxR or X-Fi HD), but in our list, we focused on the most practical models for everyday consumers while trying to find the best cost/practicality options. We hope that our list helped you choose the best sound card for your needs.