The type of electricity that is delivered to your home that you plug your devices into at the wall socket is alternating current (AC) electricity. And it's just like the name suggests: the current alternates its polarity. Computers, meanwhile, need Edison's direct current (DC) electricity to operate. That's where PC power supplies come in.
They work by changing the alternating current that comes out of your wall into the direct current your computer can safely use. PC power supplies come in several different wattages and the best PC power supply is one that is able to detect that correct voltage for your PC's needs.
[icons icon="info-circled" color="#dd0000″] What to look for when buying a PC power supply
It's important that power supplies stay cool, so look for a model that has good fans and a proper heat sink. All computer components should ideally be kept cool (since they naturally get so hot); by keeping your power supply cool, it keeps your whole system healthier.
[alert variation="alert-info"]Your power supply unit should have compatible pins (usually 20 or 24); some are convertible so you can customize it to your needs, so that's important to bear in mind as well.[/alert]
PC power supplies are measured in watts and they can vary greatly. The best of the best PC power supply may have as many as 1800 watts, but that generally isn't necessary or practical for most heavy-duty computer users or gamers. Generally speaking, your power supply wattage needs to suit your needs while still working well with your computer. You have some wiggle room, but it's important to find a sweet spot in case you want to upgrade or future proof your system.
PC Power Supply Buying Guide Contents:
[icons icon="alert" color="#00b8dd"] Best PC Gaming 400 to 500 Watt Power Supplies
[icons icon="star" color="#dd0000″] Corsair CX Series CX500 500 Watt Power Supply
Model number: CP-9020047-US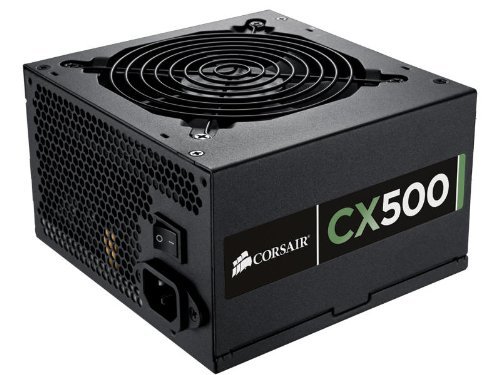 Features – The Best 500w PC Power Supply for Gamers
500 watts of continuous power
Yes, the name does kind of say it all, but consider this: not every 500-watt power supply unit can actually run continuously at 500 watts. This one is not only capable of 500 watts of continuous power, but it can also do it at 40 degrees Celsius which is no small feat when you consider the heat-generating capabilities of a PSU.
120mm quiet fan
The CX500 has a very intelligent fan that is able to modify its revolutions per minute depending on the tasks you're performing: In other words, it's not going to run loud when you're doing stuff that isn't super intensive.
Universal AC input 90~264 volts
The Corsair CX500 keeps your components safe by automatically detecting the proper voltage so you don't have to worry about anything getting inadvertently fried.
Intelligent design
The body of the CX500 is designed to optimize energy efficiency while the cables are able to accommodate full chassis, making setup pretty painless.
---
[icons icon="star" color="#dd0000″] EVGA 500 W1, 80+ 500W Power Supply
Molder number: 100-W1-0500-KR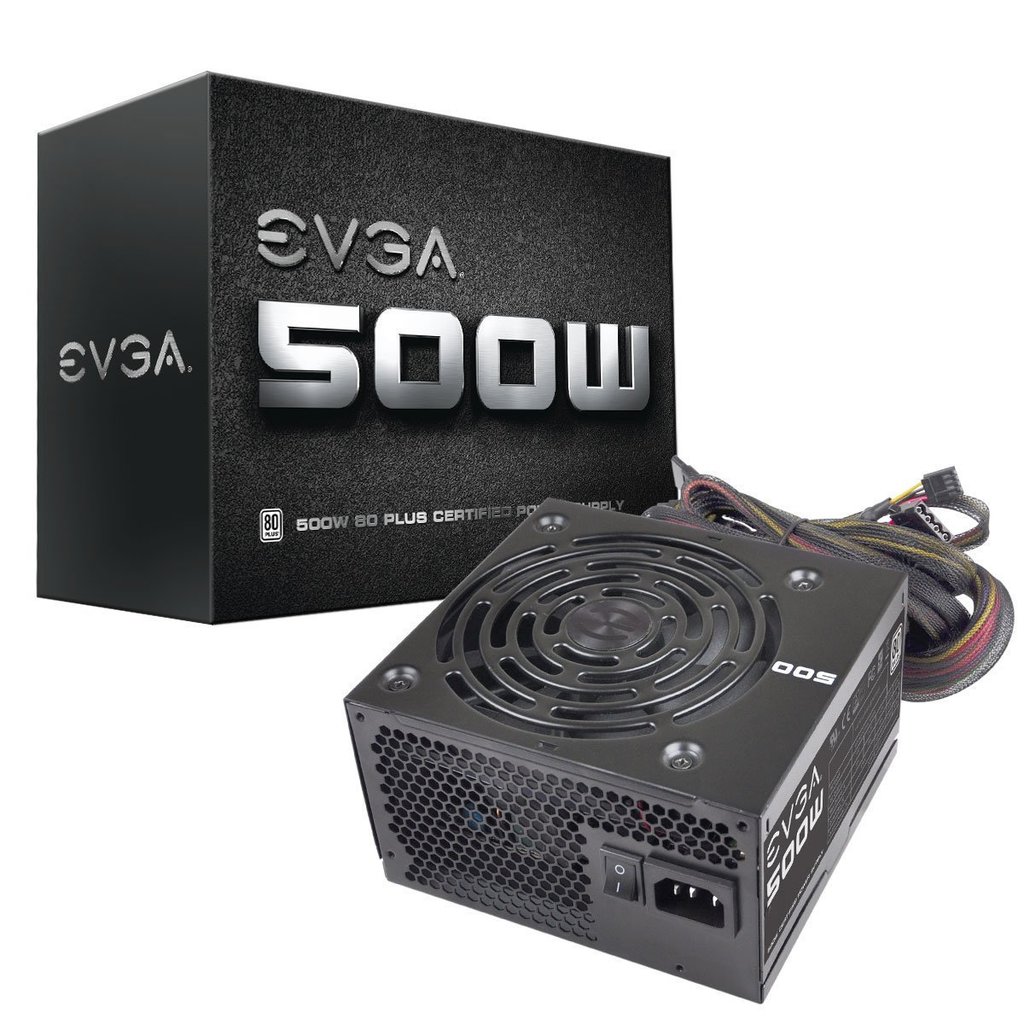 Features – Best PC Power Supply for The Money: Bestseller
80 plus certified
This feature is pretty cool, because it means that the power supply runs efficiently at 80% capacity, which is quite good when you consider some can only manage 40%.
Good fan
The 120mm sleeve bearing fan has an Auto-Fan feature to keep everything nice and quiet.
Compact design
The compact design ensures that the EVGA PSU fits in just about any tower, so it's great for even smaller builds.
Three-year warranty
The three-year warranty plus EVGA's extensive customer service should make those new to building PCs feel a little better about delving into the world of PC power supplies.
---
[icons icon="star" color="#dd0000″] Seasonic SSR-450RM 450-Watt Power Supply
Model number: SSR-450RM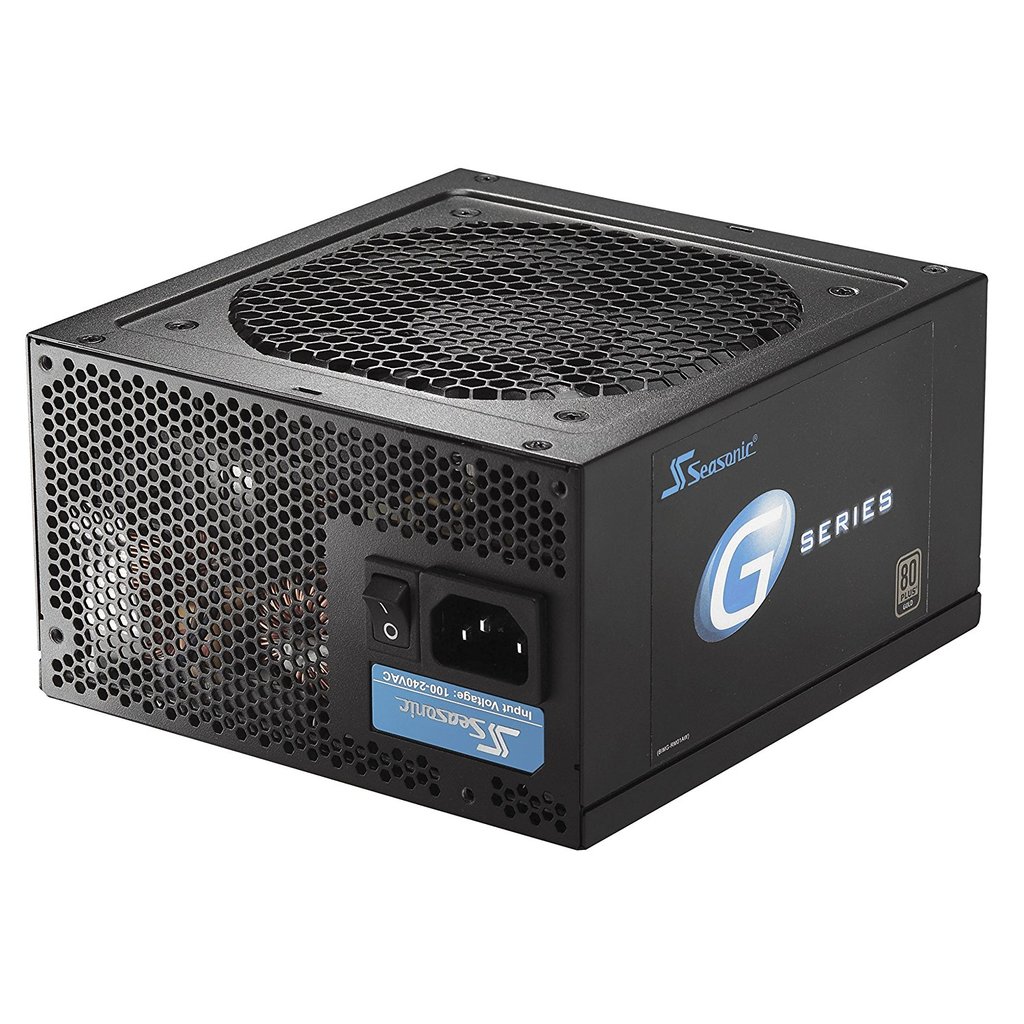 Features
20+4-pin main connector
The 20+4-pin main connector is a nice versatile feature that essentially means the main connector is compatible with a 20-pin or a 24-pin connection.
Modular
In general, experts consider a modular PSU to be one of the ingredients of the best PC power supply; because it's modular, you don't have to worry about cables jumbling up everywhere and it just makes the installation experience a lot tidier.
80 Plus Gold certified
It's 80 plus certified; considering that its max output is 450 watts, the 80% efficiency capabilities make it a contender when stacked up against 500-watt models.
Good for upgrades
You can connect up to six SATA hard drives with the Seasonic which ups its futureproofing capabilities tenfold.
---
Model number: SSR-550RM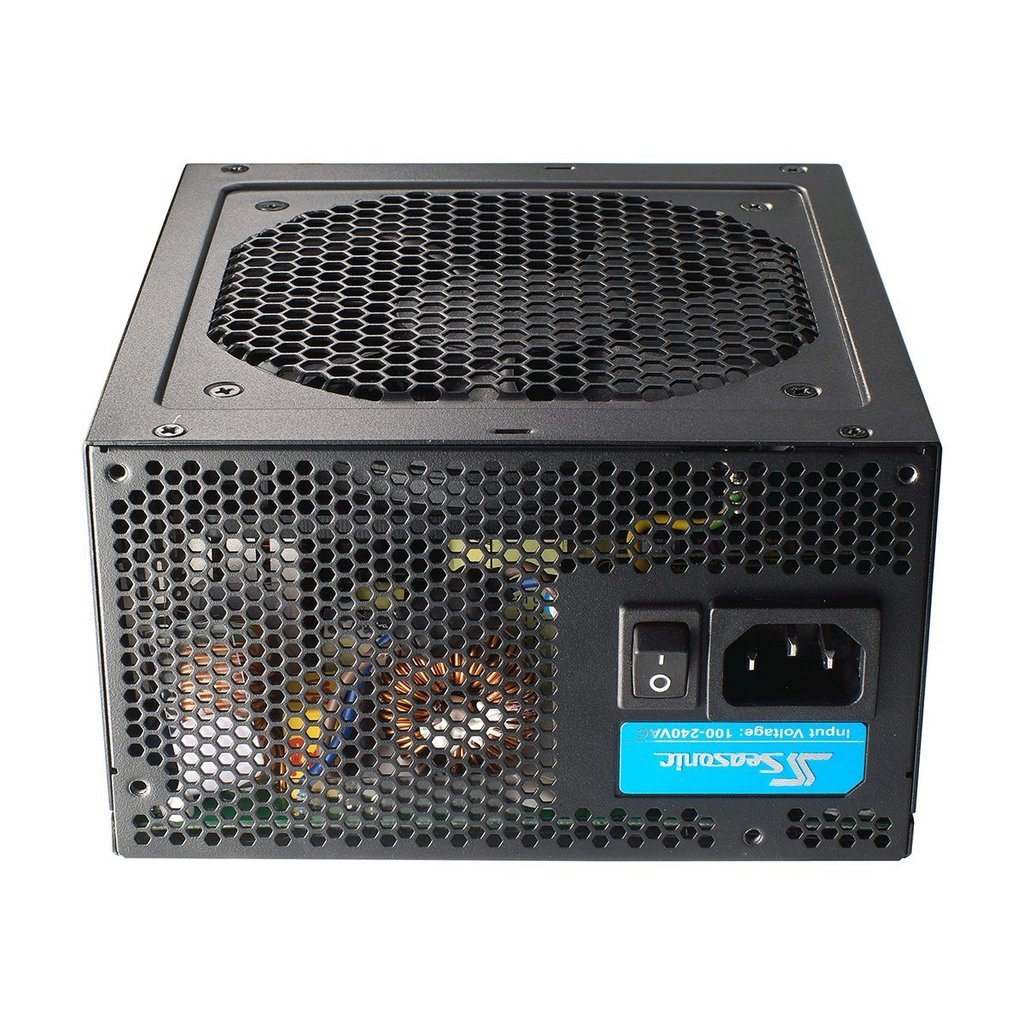 Features
80 Plus Gold certified
The 80 Plus Gold certification ensures your power supply unit is as efficient as it claims to be—and 80% efficiency is quite efficient.
Quality cables
Power supply cords whether modular or not naturally require cables to function. Some companies try to skimp on this and cord integrity suffers, but Seasonic's cords are well-made and should accommodate most towers.
Quiet
The Seasonic G Series 550-watt power supply is one of the quieter power supplies, so if silence is what you crave, this is a good 550-watt to consider.
Efficiency
Backed by its 80 Plus Gold certification, the 550 watts supplied by the Seasonic G series are actually more efficient for many system builds compared to higher wattage power supplies. A lot of people think the higher the watts, the better. But that's only true if that higher wattage optimizes the efficiency of your system. By using a lower watt 550 PSU, you can actually end up saving money over the course of a year, because the system uses the power that much more efficiency than if it were overloaded with a ridiculously unnecessary 1000-watt unit. And while higher watt units do serve their purpose, they're only worth it when they're necessary, which is why 550 watts is ideal for so many builds today.
---
[icons icon="star" color="#dd0000″] EVGA Supernova G3 550W Fully Modular Power Supply
Model number: 220-G3-0550-Y1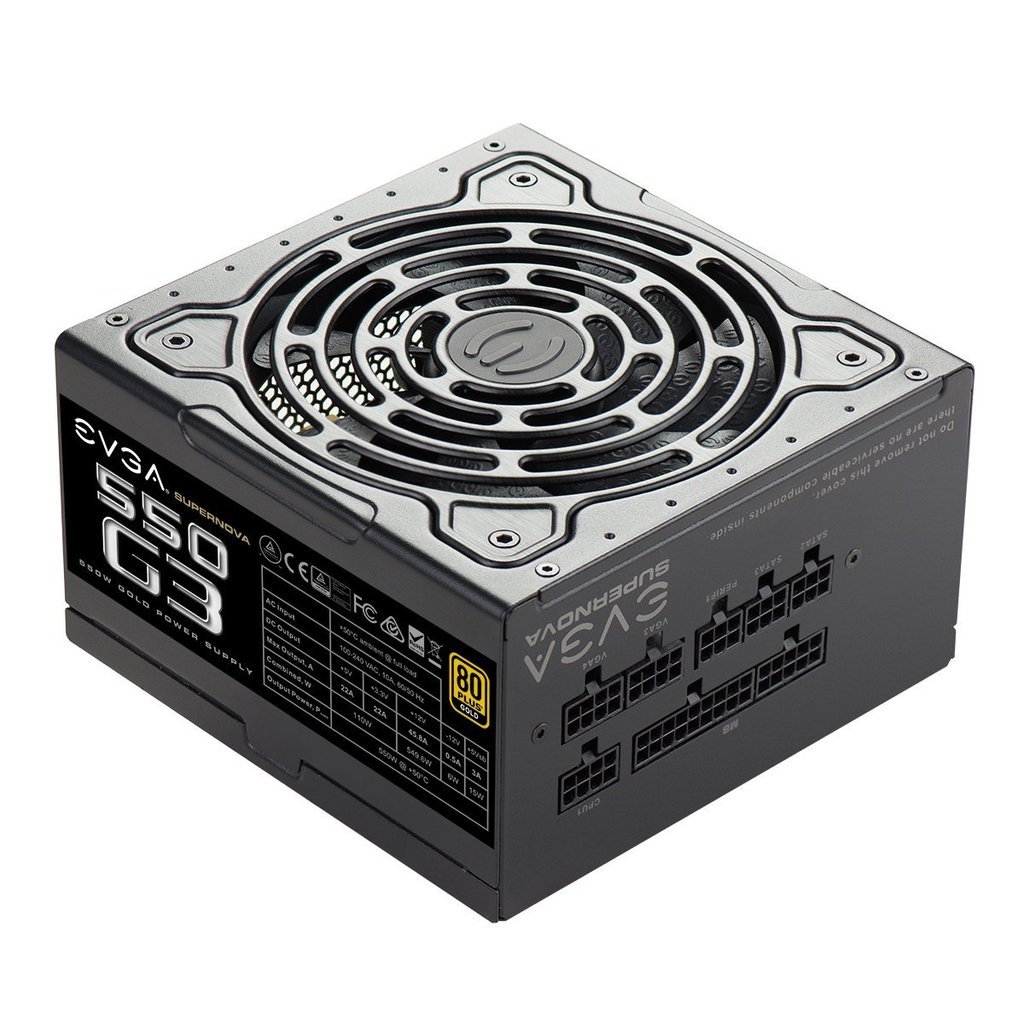 Features
Fully modular
Here's the thing that gets on a lot of people's nerves: Some PC power supplies are called "modular" when they're only really partially modular, which means some cables are hardwired. For those who want a true modular PSU, this is beyond an annoyance. Luckily, the EVGA Supernova G3 550W is a fully modular power supply, so no worries on that front.
80 Plus Gold certified
While the 80 Plus Gold certification alone is pretty good, the Supernova 550W can go up to 92% efficiency with typical loads. This is a really cool feature just for the mere fact that a lot of brands are weary about stating anything beyond their actual certification, so this shows EVGA is pretty confident about this one.
A super compact power supply
The general wisdom is that the best power supply is a large power supply, but EVGA may be proving general wisdom wrong. Despite their power supply's robust capabilities, it is only 150mm long, which is truly tiny in terms of power supplies. For those who need something small, this may be your answer.
Hydraulic dynamic bearing fan
The hydraulic dynamic bearing fan allows the fan to run quieter even while it's working hard to cool off your unit.
---
[icons icon="alert" color="#00b8dd"] Best PC Gaming 600 to 750 Watt Power Supplies
[icons icon="star" color="#dd0000″] EVGA Supernova G2L 750W Fully Modular Power Supply
Model number: 220-GL-0750-X1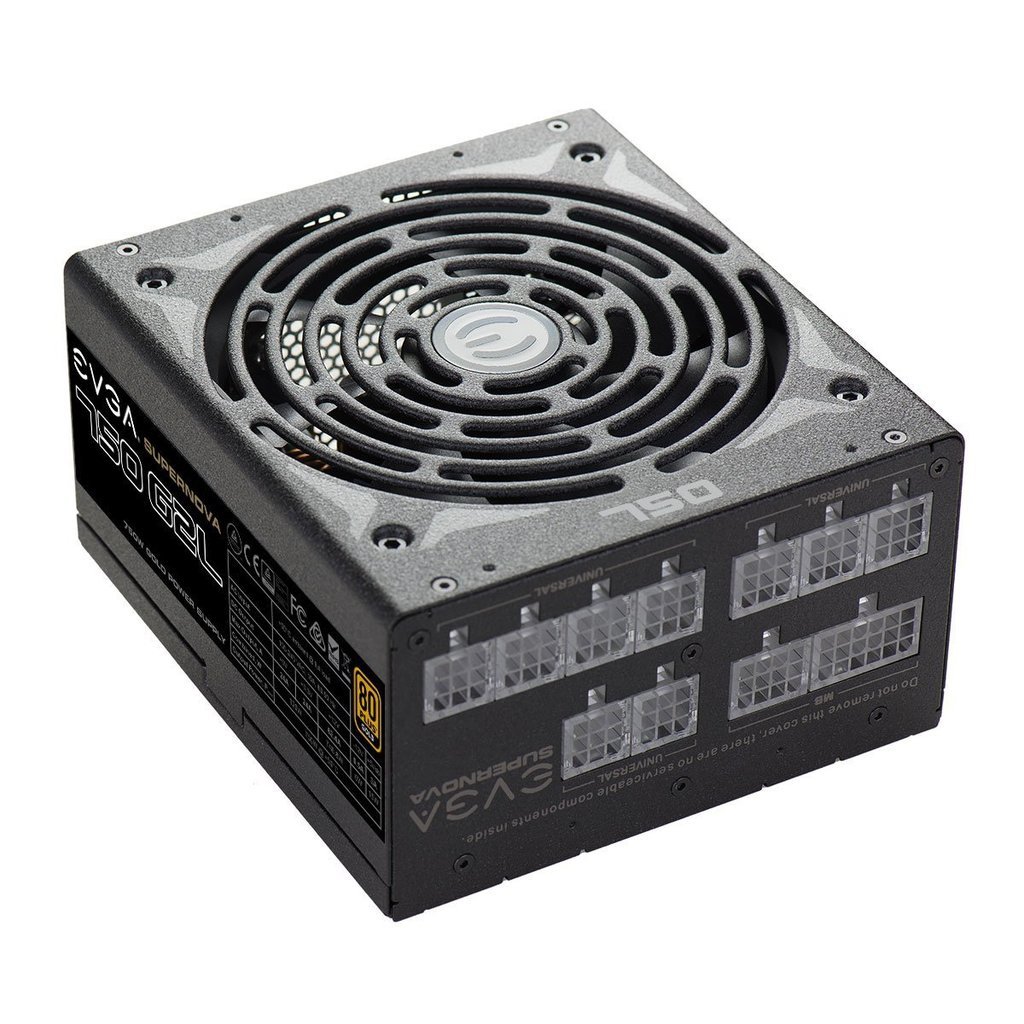 Features
Built-in LEDs
While it's not exactly vital to how the power supply functions, the built-in LED lights illuminate your case. Aesthetics aren't important to everyone, but for those who do need a cool-looking case, this feature will definitely be appreciated.
80 Plus Gold rating
The 80 Plus Gold power rating is pretty cool, because on a 750-watt power supply unit, that means that at typical loading you're getting 80% efficiency all the time. In other words, the high-level efficiency not only marks quality, but it means your system runs smoother, and you save money on your power bill over time.
Eco Thermal Control Fan System
The Eco Thermal Control Fan System optimizes silence, cooling and power usage by adjusting to your current demand. For low power loads, the fan can even turn off. The synergistic effect amps up the effectiveness of your PSU as a whole, making it a very nifty feature.
Ten-year warranty
A 10-year warranty is a pretty big statement to make. I mean, they have to stand behind everything that warranty applies to as long as you didn't accidentally void it, so they're taking a lot on, which means they don't expect a lot to go wrong. And if it did, the warranty would cover you, so if you like the rest of the specs, this is a really nice deal.
---
[icons icon="star" color="#dd0000″] Thermaltake Toughpower Grand RGB 750W Fully Modular Power Supply
Model number: PS-TPG-0750FPCGUS-R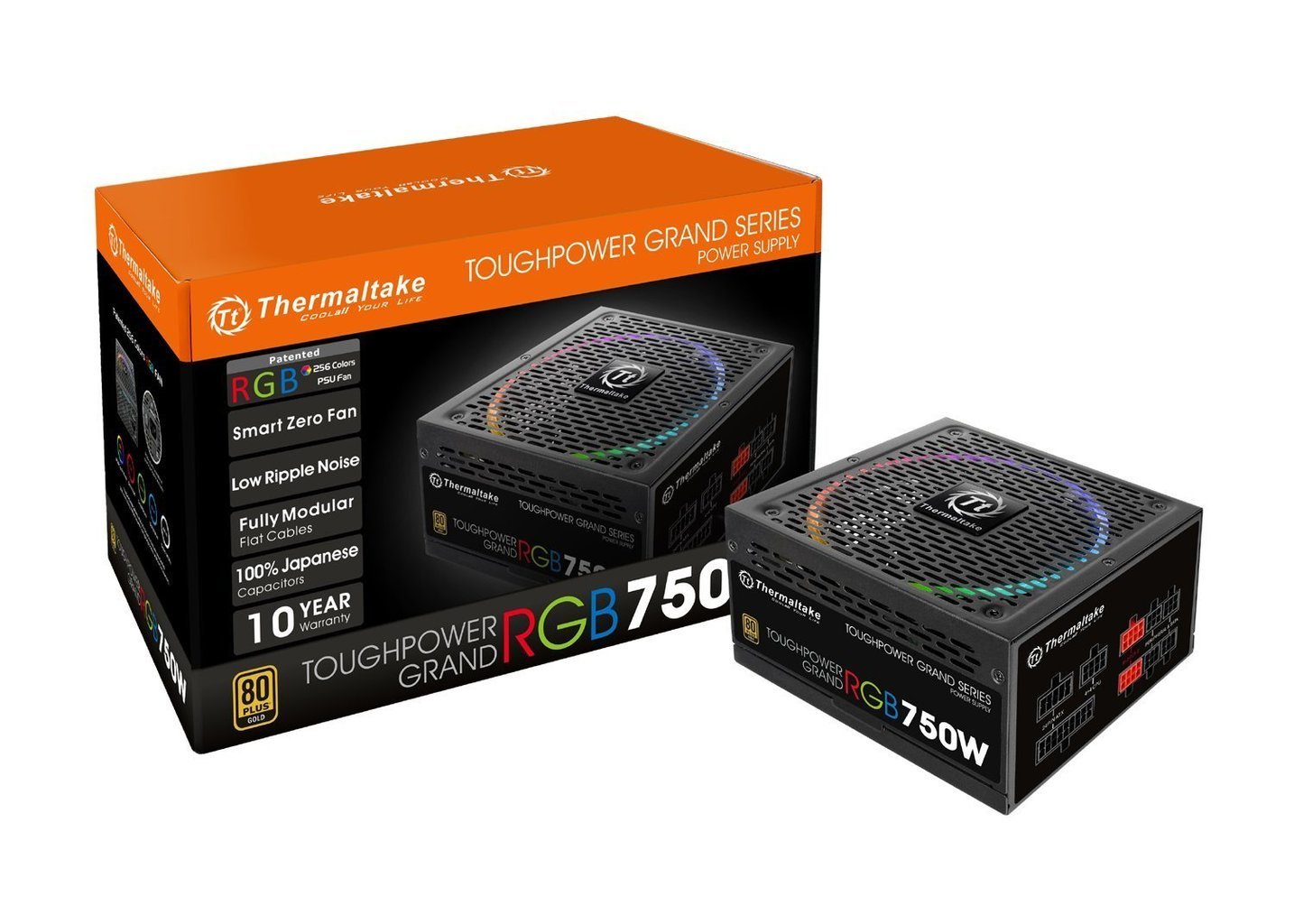 Features – The Best Overall 750W PC Power Supply for Gaming
Japanese capacitor
The Japanese capacitor allows for better energy efficiency, contributing to the Toughpower's 80 Plus Gold rating, which enables the power supply as a whole to function better.
Aesthetics
The Thermaltake Toughpower Grand RBG 750W power supply comes with RGB LED lights so you can customize your aesthetics to your liking while the case and cables are black, which serve as a nonchalant backdrop for the LED lights and any other customizations you have in mind.
Smart Zero Fan
The Smart Zero Fan keeps things nice and silent all while improving airflow for better efficiency and cooling.
Fully modular
The fully modular design of the Thermaltake Toughpower 750W will be music to a builder's ears, reducing installation frustration.
---
[icons icon="star" color="#dd0000″] Cooler Master V750 – 750W Fully Modular Power Supply
Model number: RS750-AFBAG1-US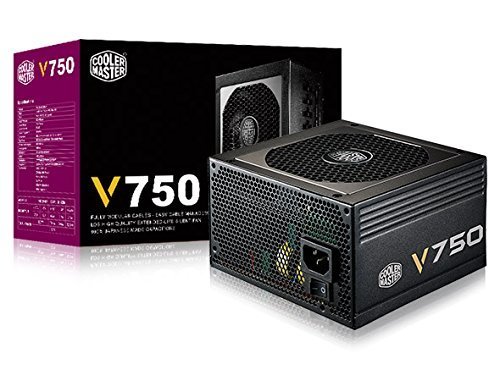 Features
Silencio FP Fan
Cooler Master's Silencio FP fan is exclusive to their brand and works to keep your PC power supply nice and frosty. For those who already know and love the Silencio fan, this will be a pretty big draw.
Compact
The Cooler Master 750W power supply is only 5.5 inches long, which is a good deal smaller than most power supplies, meaning that if you have a smaller case, this is a really good 750 watt option, because it doesn't sacrifice power to get the size smaller.
3D circuits
A big part of why Cooler Master's 750W power supply is so compact is actually due to their unique 3D circuitry which allows all of the proper PSU parts to be in a much smaller package.
Fully modular
All of the cables are fully modular, including the 20 + 4 pin motherboard cable, which will accommodate pretty much all motherboards.
---
[icons icon="star" color="#dd0000″] Corsair RM750x – 750W Fully Modular Power Supply
Model number: CP-9020092-NA
Features – Bestseller 750W PC Power Supply
Quiet
The Corsair RMx 750W power supply features Zero RPM fan mode which means when your computer doesn't need much power, the fans shut off, making them silent and your rig silent along with it.
Compatible with 6th Generation Intel Core
When choosing any component of your PC build, it's important to consider how they play together as well as how well they will play with components that might be upgraded soon. And then, of course, there is future proofing. The Corsair RMx 750W is compatible with Intel Skylake and Z170 motherboards, which is pretty cool, because knowing your motherboard is compatible takes a lot of the guesswork out if you're new to building.
Fully modular
Every builder loves to hear (or read) the words "fully modular", because it means installation and upgrading are so much easier. No one wants hardwired cords when they know they're going to be upgrading in the foreseeable future.
80 Plus Gold certified
It's always a good idea to make sure your power supply is 80 Plus Gold certified, because it means that it's optimized and about as good as it gets when it comes to efficiency which makes it better for your system and saves you money in the long run.
---
Model number: SSR-650RM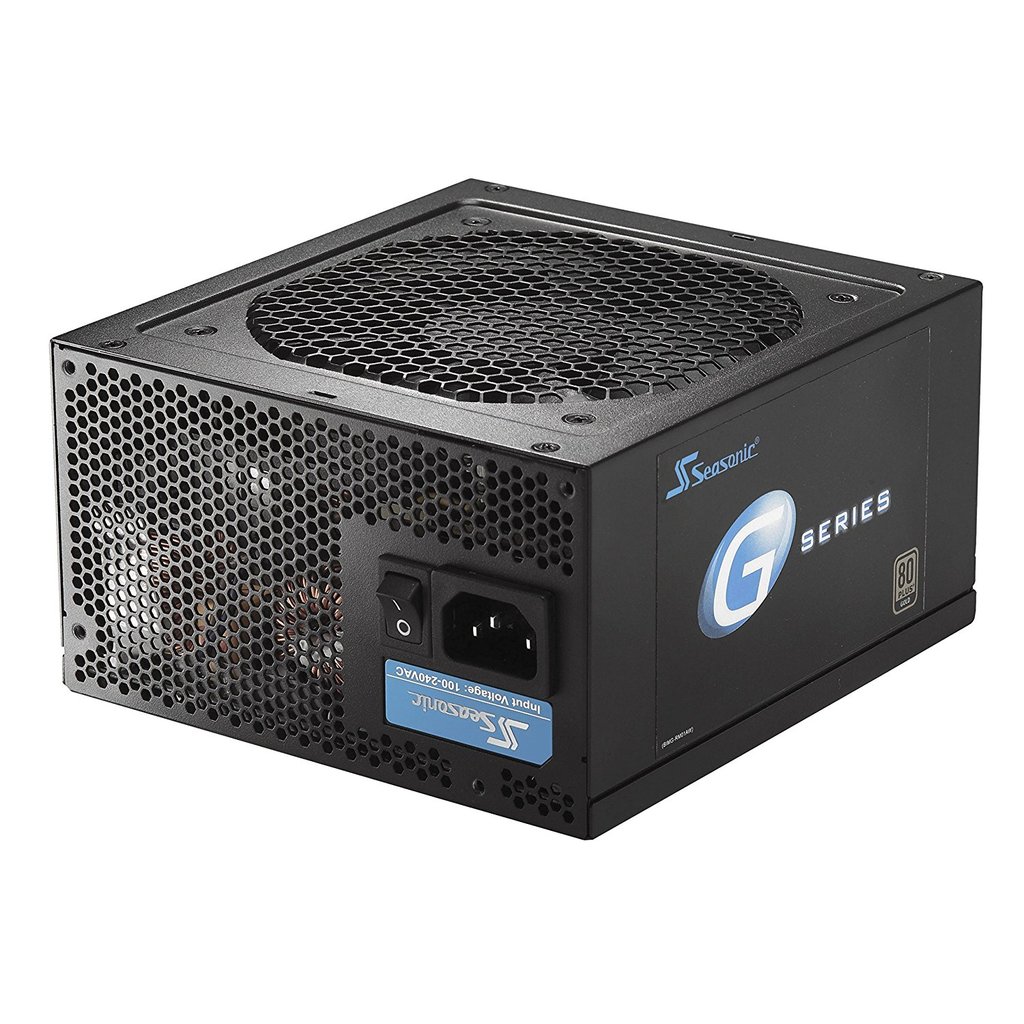 20 + 4 pin main connector
The main connector's pins are pretty standard so you shouldn't have trouble installing it with most motherboards.
6 + 2 pin SATA connector
The SATA connector makes upgrading your hard drive easier. Builders often find they have to upgrade or add on an additional hard drive, so this is a pretty nice feature.
80 Plus Gold certified
The gold standard in certification (pun intended), the 80 Plus Gold rating ensures you get the most power and cost efficiency out of your unit.
Voltage
The input voltage is 100-240V, which is an essentially a universal voltage, because it's good to go in Japan, the US and Europe. (Obviously providing you have the right outlets/plugs, which is different from voltage. A lot of people traveling think you can plug your American plugs into European outlets but you can't.)
---
[icons icon="alert" color="#00b8dd"] Best Computer 800 to 1,000 Watt Power Supplies
Model number: SSR-850TD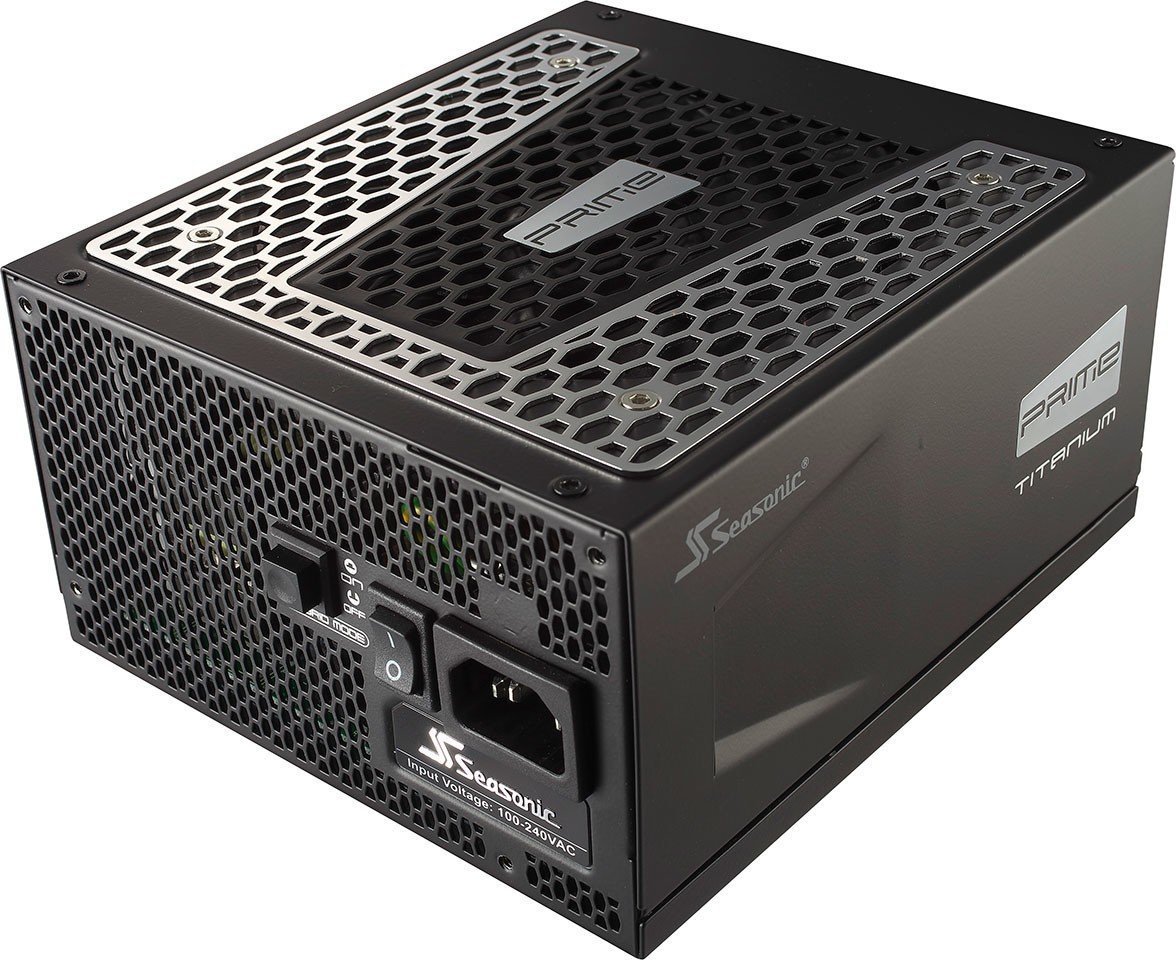 Features – 
Fluid Dynamic Bearing Fan Super Quiet Power Supply
80 Plus Titanium certification
80 Plus Titanium certification is the highest level of power supply unit energy efficiency certification. In order to be rated 80 Plus Titanium, a PSU has to have 94% efficiency at 50% system load on the 115V internal non-redundant 80 Plus test type. Essentially, an 80 Plus Titanium certification means that the Seasonic Flagship Prime Titanium 850W is an easy contender for best PC power supply of its wattage.
135mm Fluid Dynamic Bearing Fan
The hybrid fan on the Seasonic Flagship Prime Titanium 850W power supply keeps it running nice and quiet even during when running a high system load.
Improvement over previous models
Seasonic has improved upon their previous designs increasing power efficiency by redesigning the circuits and some other tweaks, so that under 100% load, the hold-up time registers over 30 MS.
Improved voltage
The output voltage now falls 0.5% under load regulation, further increasing this model's reputation as arguably the best PC power supply.
---
[icons icon="star" color="#dd0000″] Cooler Master V850 Power Suppy Review
Model number: RS850-AFBAG1-US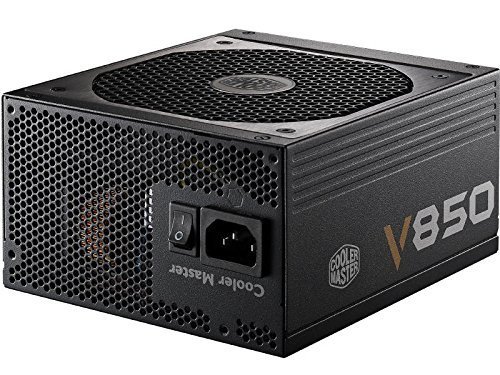 Features – Fully Modular 850W 80 PLUS Gold PSU with Silencio Silent 135mm fan
Gaming rig ready
The Cooler Master V850 comes with six PCI-E 6+2 pin connectors to accommodate the top-end graphics cards you'd typically put in a gaming rig. This makes it a good choice for a gamer looking to create a new build.
135mm fluid dynamic bearing fan
The well-made fan on the Cooler Master V850 keeps your power supply cool and helps protect your other PC components. It's also pretty quiet.
80 Plus Gold certified
The 80 Plus Gold certification makes this a pretty efficient 850-watt power supply, because it gets 93% efficiency on 50% system load, making it more efficient than the benchmark for the 80 Plus Gold test.
Fully modular
The flat-ribbon cables are fully modular so you can easily accommodate your rig's layout.
---
[icons icon="star" color="#dd0000″] EVGA Supernova G3 850W Fully Modular Power Supply
Model number: 220-G3-0850-X1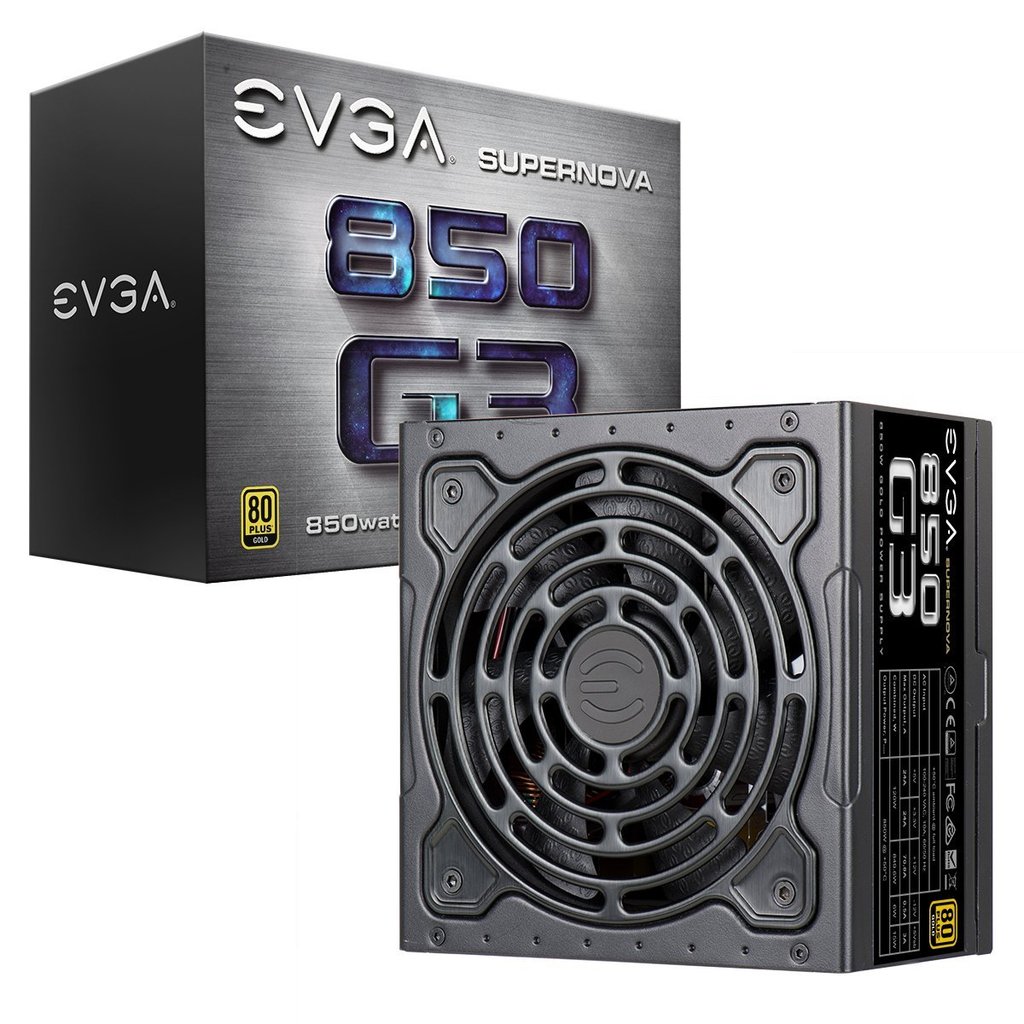 Features
80 Plus Gold certified
The EVGA Supernova G3 850W power supply is 80 Plus Gold certified, but it goes a bit beyond that, boasting over 90% efficiency, which will save you that much more in power usage over time.
Small but powerful
The Supernova G3 850W is only 150mm long. That's tiny when it comes to robustly competent power supplies, but that's exactly what it is. It does all that the bigger power supplies do, but it's just smaller, so if space is at a premium in your case, this is definitely something to consider.
Fully modular
Because it's fully modular, you can build your PC the way you want to, allowing for better customization.
Quiet fan
The 135mm hydraulic dynamic bearing fan is silent and keeps your system healthier, longer. Technically, this is a pretty standard size for a PSU fan, but when you consider the overall size of the Supernova G3 850W is 150mm long, the 135mm fan is obviously proportionally bigger when you consider most power supply units are about 20% larger; because there's a typical-sized fan in a small PSU, you logically get better cooling—it's pretty clever, actually. 
---
Model number: Glacier 850M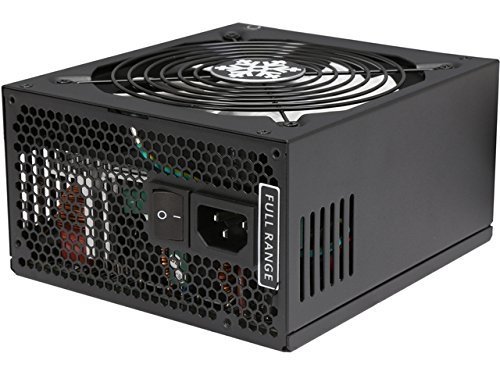 Features – The most affordable 850w PC power supply
80 Plus Bronze certified
The 80 Plus certification is lower than many of the PC power supplies we've discussed, but here's what Bronze means: it's 85% efficiency on the 80 Plus test at 50% load. So, while it sounds less flashy than Gold and Titanium—and it technically is—for many builds, the Bronze rating is all you need and more.
Single 12V rail
The single rail means that available power goes to every plugged-in component which is a feature that has its ups and downs, but the big benefit to single rail is you don't have to worry about the various plugged in components because they're all getting power.
Automatic AC-input voltage adjustment
Remember the big thing that power supplies do is convert alternating currents to direct currents. By automatically adjusting the AC input voltage, it means that the direct currents your internal components are exposed to are better tailored your system, which reduces the chance of overloading and short circuiting your system.
Automatic fan speed control
The 135mm fan has automatic speed control which better protects the integrity of your unit and surrounding PC components.
---
[icons icon="star" color="#dd0000″] FSP Group Hydro G HG850 850W Fully Modular Power Supply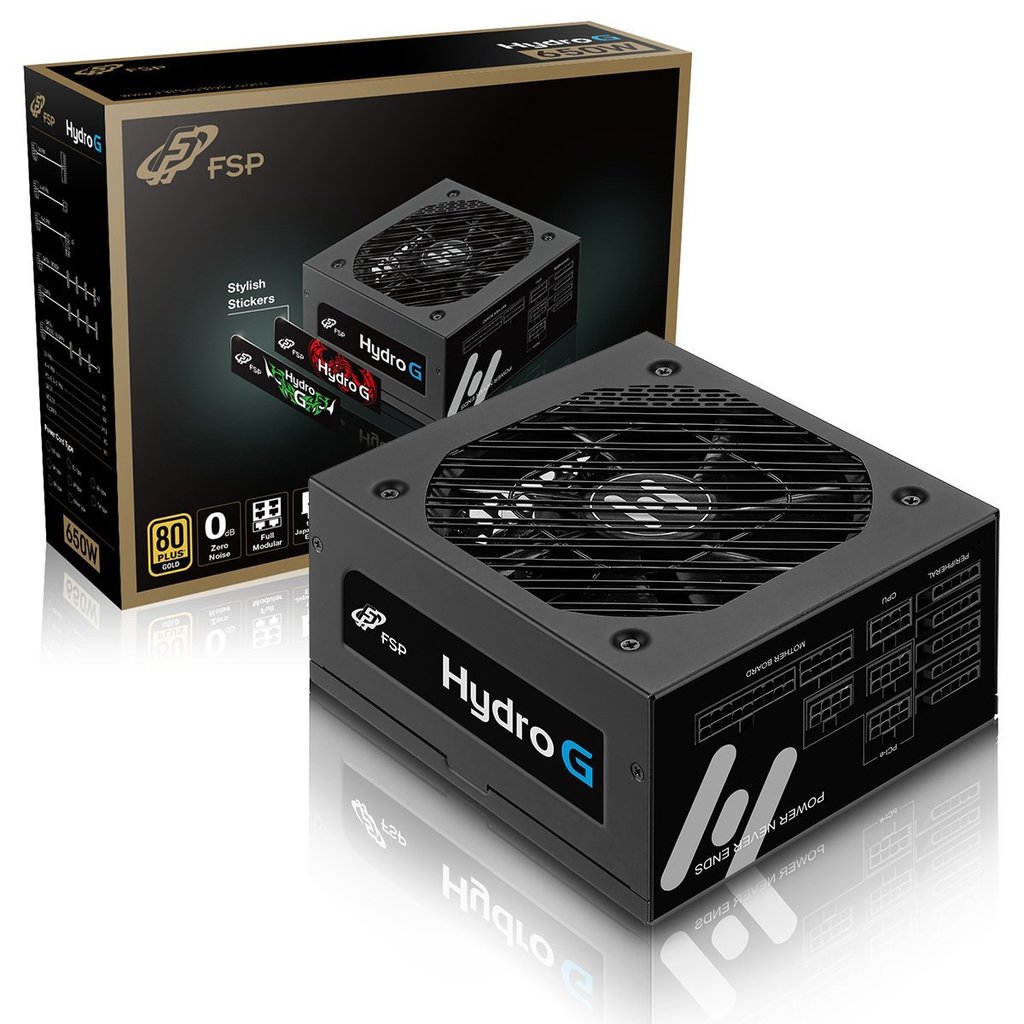 Features
Fully modular ribbon-style cables
The Hydro G HG850 850W is a fully modular power supply unit that uses ribbon-style cables to allow for an easier fit inside a tightly-packed case.
80 Plus Gold certification
As always, an 80 Plus certification is a good sign when it comes to power supplies and Gold is one of the higher-tiered certifications, which means better efficiency.
Japanese-made capacitor
Japanese-made capacitors are a highly-prized feature in PSUs because they're known for their quality and longevity, which naturally contributes to the overall quality of the power supply unit itself as a whole.
Improved heatsink
The Hydro G's heatsink has been overhauled for better heat dissipation. The new design actually annexes the power supply's chassis, turning it into one giant heatsink, allowing for better overall cooling.
---
Best 1000+ Watt PC Power Supplies for Gaming
[icons icon="star" color="#dd0000″] EVGA Supernova GS 1050W Fully Modular Power Supply
Model number: 220-GS-1050-V1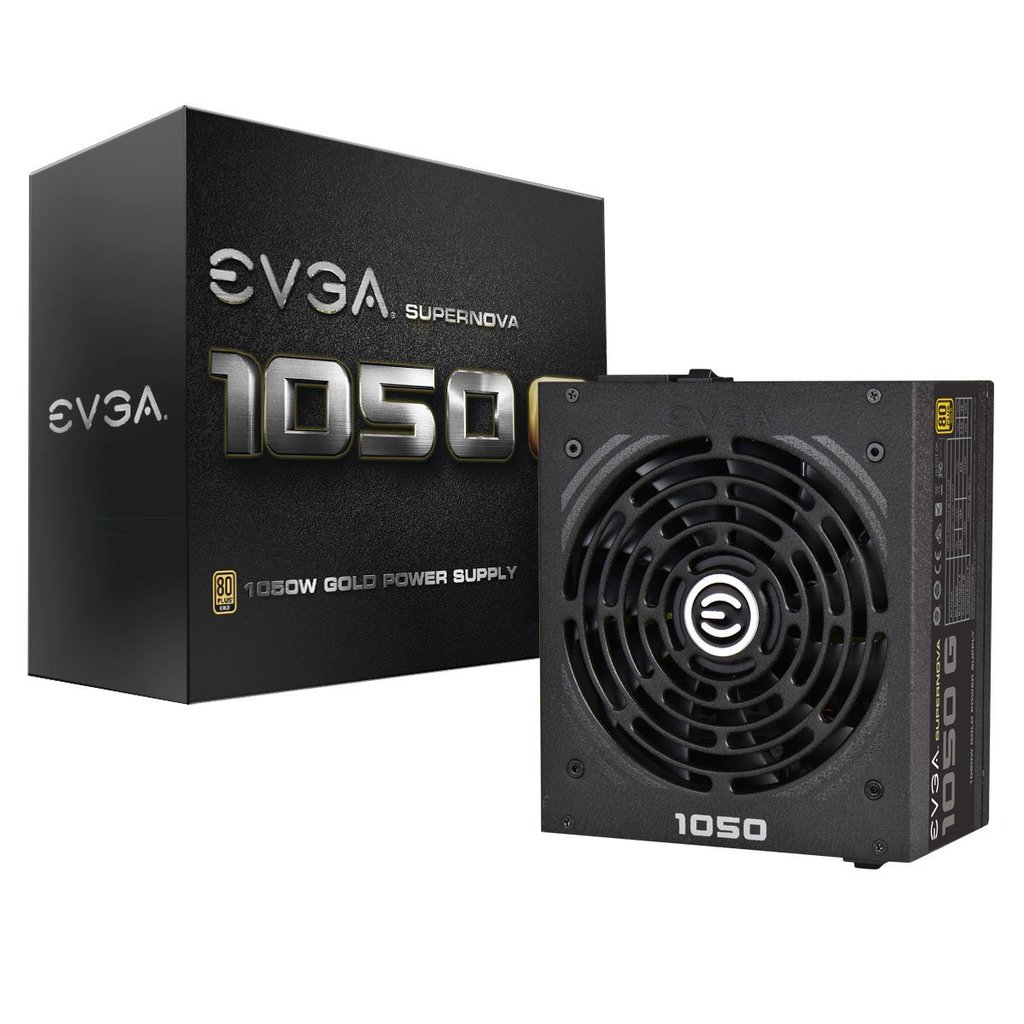 Superior fan
The 135mm fan has a Teflon Nano-Steel Bearing; this is far superior for both silence and performance compared to sleeve bearing fans. Meanwhile, the fan also has the Eco feature so that it only runs when it needs to, meaning less power consumption and better overall performance.
Great for gaming rigs
The Supernova GS 1050W is primed for both AMD Crossfire and NVIDIA SLI. For the uninitiated, this basically means that this PSU is able to handle multi-GPU technology so that more than one card can be linked, providing for a more powerful visual experience. This makes it a great choice for those looking for a power supply for their new gaming build—or conversely for non-gamer builders that want choice graphics, or who think they may want to upgrade later.
80 Plus Gold certified
The GS 1050W power supply unit can reach up to 92% efficiency for typical loads. As always, the higher the efficiency, the better for the health of your system as a whole.
Warranty and customer support
EVGA provides their customers with 24/7 customer support for all of your power supply questions. Also, this unit comes with a seven-year warranty, so it's a good option for those who are all about futureproofing, since you've got seven years of coverage.
---
Model number: SS-1050XM2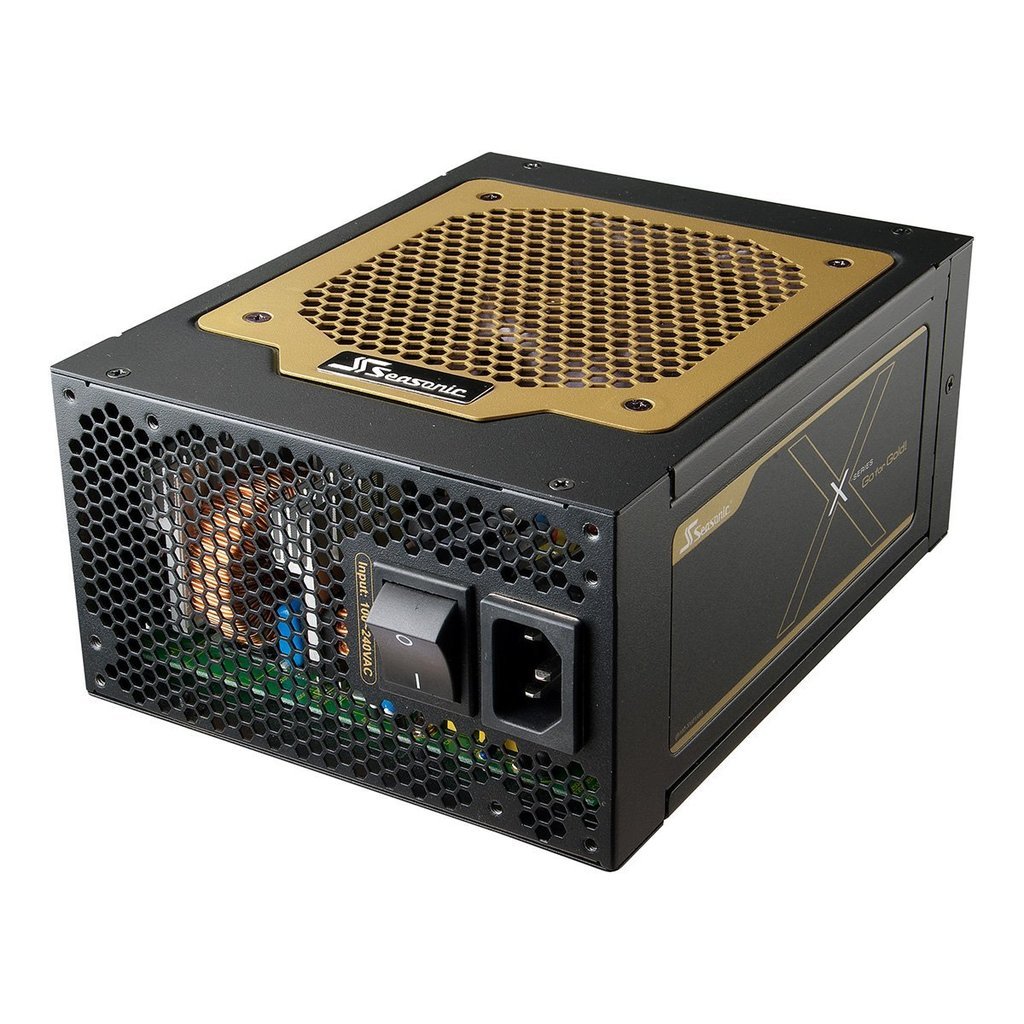 Features
Awesomeness straight from the source
Here's a non-insider non-secret that a lot of people are still surprised to learn about: Seasonic is actually the manufacturer of many of the other PC power supply brands you know and love. Now, how that affects your decision making is mainly down to personal preference, available warranty, customer support, etc. However, it's still something to be clued in on so you can make the best decision for you and your PC.
Sanyo-Denki San Ace Silent Fan
The fan isn't just silent—it's smart. What that means for you is that you get better efficiency all while having a quieter system, because it's only going to use the energy it needs when it needs it. With this fan, you're not going to hear it unless you're running extensive processes. The high quality of the fan is one of the main contributors to the Seasonic's 80 Plus Gold certification as well. Another cool thing about the fan is you can use it upside down if you wish—a feature which some PC builders highly value, because they need that flexibility.
Fully modular
The best PC power supply is a modular power supply, if we're honest, because chances are, if you're buying a PSU at all, it means you're building your own rig. Those who are experienced at building have their own way of doing things and that's not to mention their own unique combination of components. All of this lends itself to a need for cable optimization and customization, making fully modular power supplies the gold standard.
80 Plus Gold certified
Like many power supplies, this one is also 80 Plus Gold certified. A lot of people think, "Why should I have Gold if they also have Platinum and Titanium certifications?" Much like wattage, it's all about optimizing efficiency for your computer. And in the case of the certification, you'd have to use your PC over a very long period of time to notice much of a difference between two tiers of efficiency. Essentially, any 80 Plus rating (even the basic one) is synonymous with efficiency and will likely always be more efficient than a non-80 Plus certified unit.
---
[icons icon="star" color="#dd0000″] FirePower Silencer MK III 1200W PC Power Supply
Model number: PPCMK3S1200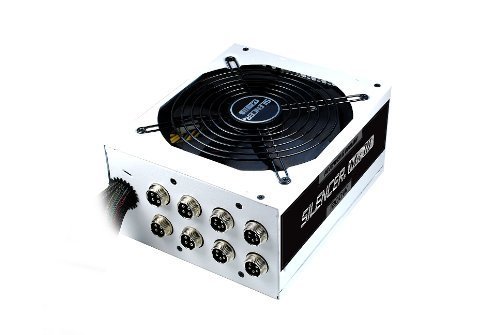 Features – Watt 80+ Platinum Semi-Modular Active PFC Industrial Grade ATX PC Power Supply
Dual Thermal Control System
The Dual Thermal Control system is a cool feature which basically lets you toggle between normal and silent fan modes at will. For instance, when you need extra performance and silence isn't an issue, you can opt for normal mode and power through whatever highly demanding task you're currently undertaking.
Great fan
The 140mm fan features a double ball bearing; the ball bearing is superior to sleeve bearing models in both silence and function, while the slightly larger fan size naturally produces better cooling which adds to efficiency optimization.
80 Plus Platinum certification
While a Gold certification means that the PSU is 90% efficient at 50% load during the 115V internal non-redundant test, a Platinum certification means that the power supply unit is 92% efficient during the same test. It's obviously a small difference, but it's worth it if you intend to use this power supply over a long period of time, because time is a huge factor when it comes to power and cost efficiency. Long story short: You'll save in the long run, though if you only plan to use this unit for a short time, it probably won't matter much.
Accommodates NVIDIA SLI and AMD CrossFire
Since it's primed for SLI and CrossFire, gamers will want to take notice—if the 80 Plus Platinum certification and continuous 1200 watts at 50% load hadn't already caught their eye.
---
[icons icon="star" color="#dd0000″] Rosewill 1200W ATX12V EPS12V Power Supply Capstone G1200
Model number: Capstone G1200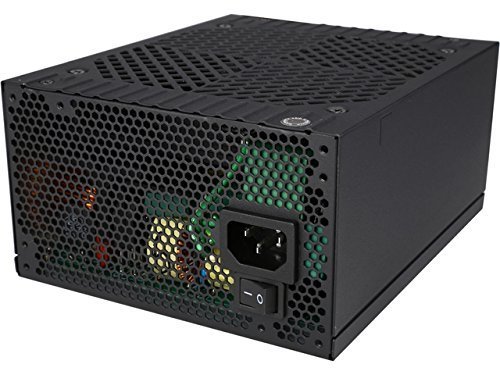 Features
Single 12V rail
While some prefer a multi-rail setup, the main benefit to a single rail system can't be ignored: power. All of your components get all of the power, which is why gamers tend to prefer a single rail PSU.
Automatic speed control
The 135mm fan has an automatic speed control system so you don't have to worry about it blasting the fan when you're not doing any intensive processes.
Automatic AC output adjustment
Some parts of the world, like Japan, have AC output that runs around 100V while America and Europe tend to run in the 200V range. For this reason, standard voltage output is considered 100V-240V. The Rosewill 1200W's automatic AC output adjustment hones in on what your AC output voltage is and adjusts accordingly to ensure it optimizes conversion to direct current, keeping your components nice, safe and efficient.
80 Plus Gold certified
The 80 Plus Gold certification is quite likely boosted by the auto speed and auto AC controls, which is pretty cool, when you think about it. Ideally, the best power supply unit is one that adapts to your needs, and the Rosewill seems pretty adept at adapting.
---
[icons icon="star" color="#dd0000″] Thermaltake TOUGHPOWER 1200W Semi Modular Power Supply Review
Model number: PS-TPD-1200MPCGUS-1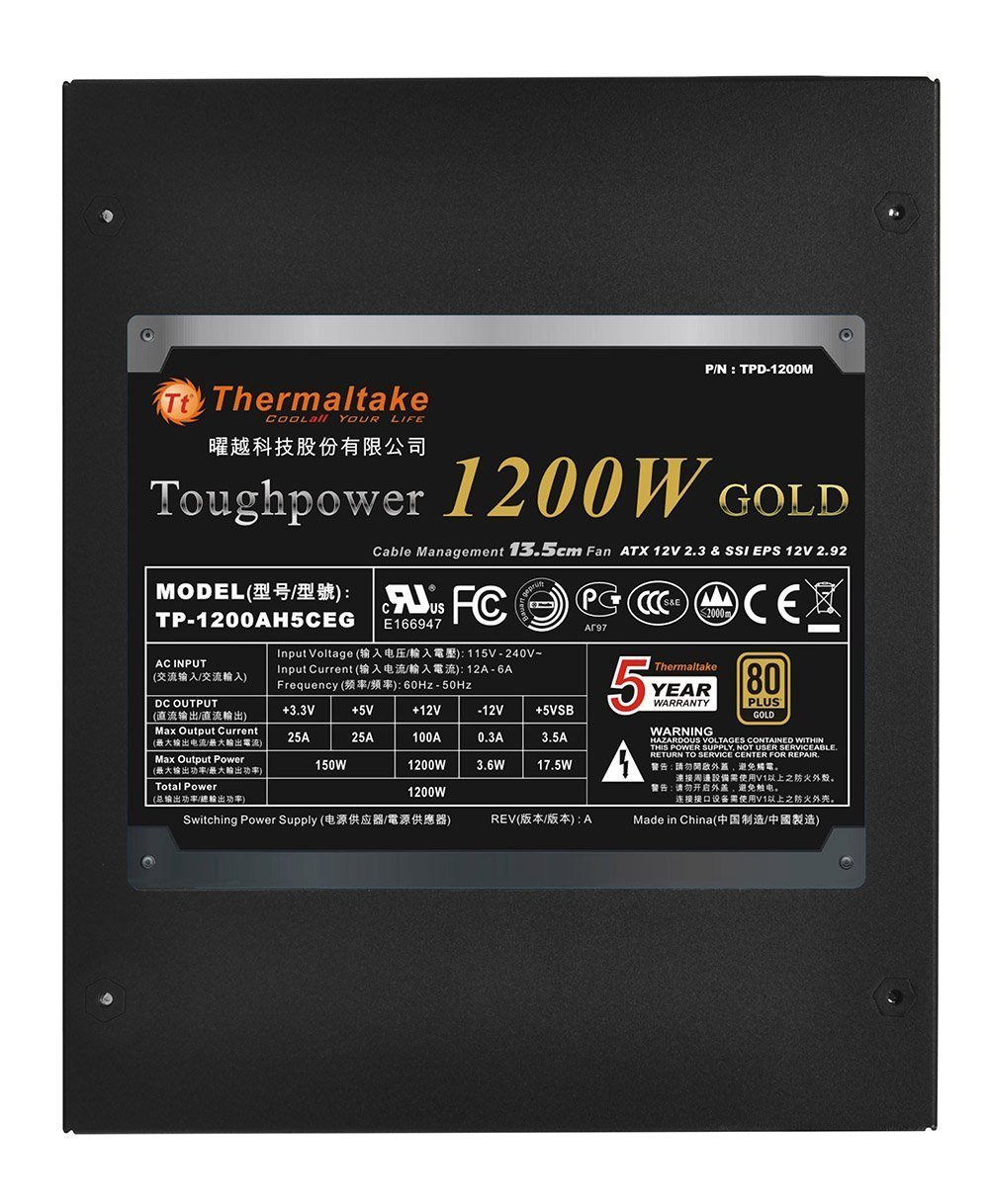 Features
Semi-modular
While most would prefer a fully modular cable setup, the upside is the Thermaltake's cables are flat unlike some fully modular yet bulky cables. So, really, it's a tradeoff or personal preference kind of thing where you need to decide which compromise to make. Either way, there's an upside.
135mm fan
The pretty standardly-sized 135mm fan has some beyond standard features like smart fan control, which allows it to run efficiently and silently, improving overall performance.
Japanese capacitors
Japanese capacitors are more or less the gold standard capacitor when it comes to PC power supply units; the capacitors on this particular Thermaltake unit are good for up to 105 degrees Celsius, making them both durable and robust enough to handle what your system throws at them.
80 Plus Gold certified
You can never go wrong with an 80 Plus Gold certification. Remember, these are voluntary certifications that companies submit to to prove the quality and efficiency of their product. Since Gold means your PSU is 90% efficient at a 50% load, you know that it is literally almost as efficient as it can get. While there are Platinum and Titanium 80 Plus certifications, the difference is so minuscule that you'd only notice over a large period of time, which is why so many power supply units are 80 Plus Gold rated. All in all, it makes for a highly efficient unit.
To optimize your system it can very useful to calculate PSU power consumption before buying PC power supply.