A while back when I had the opportunity to hear the Creative iRoar I figured out I will try to give Creative a chance for a test and review. So, to do so I figured out that I will look at the entry level speakers and to see if their quality is as good for cheaper speakers as they are for iRoar.
By the first look at the speaker its main competition looks like JBL Clip2 which was one of our previously tested compact speaker at similar price range, although Clip 2 is more compact speaker and it does not have a bass radiator so it seemed like Charge 3 should fit more like its competitor, but the Charge 3 costs almost twice as much.
PROS
Decent sound for its price
IP66 water-resistant
Priced correctly
CONS
Confusing controls
Battery life is bit lower than average
Best Portable Speaker Comparison Table
Performance
To really figure out if 2c can compete with JBL we had to keep its size in our mind, as it is a really small speaker and expecting something massive out of it would be just wrong.
And that means that Muvo 2c isn't a powerhouse in any way when talking about the low end. It will not be capable of output some massive bass, but the passive radiator on the back does add a decent thump.
Although it is hard to consider it as a real bass it does a decent job for its size. Distortions at the low end were very few and mostly by some exceptional song which had some really deep bass.
At Mids, the vocals do have a priority over other instruments but only slightly. Some songs do come out a bit messy when there are more vocals come into the track which can overpower some instruments like pianos. But at the highs Muvo 2c handled nicely and performed without any sharp moments, it did a solid performance.

Battery
For the battery Creative claimed that Muvo 2c has battery life up to 6 hours of constant playback. While testing we managed to get those 6 hours, but that was at a medium to low volume and going on max or higher volume you can expect more like 4 to 5 hours of playback.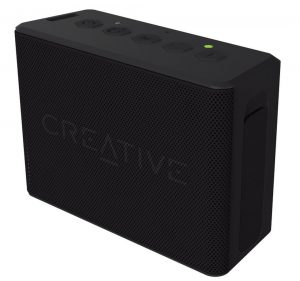 Design and features
Muvo 2c design isn't anything new, just a square-ish box and keeps a simple approach to probably lower the costs as much as possible. The driver is protected by grill mesh that covers the whole front and at the top, you will find five buttons that allow you to control your playback. And on the back, you will find a passive radiator which isn't uncommon for speakers at the similar price range.
Features
Unlike iRoar which is packed with features, Muvo 2c kept it simple. A useful feature for the Muvo 2c is its IP66 water-resistant rating which allows for it to survive any contact with water while not being submerged. For features, only one more thing worth mentioning is that Muvo 2c can be connected to another 2c speaker to get stereo sound.
Although that's mostly it about Muvo 2c features we were a bit surprised by it when we looked at its connectivity which allows for a decent Bluetooth connection, USB, Aux and microSD (That's unusual for such a priced speaker).
But the controls on 2c which seemed straightforward at first were a real nightmare and it made us for the first time ever to use the manual included to just understand how to operate it.
That's not a bit shock that the speaker had few features, but what can you really expect from such a priced speaker.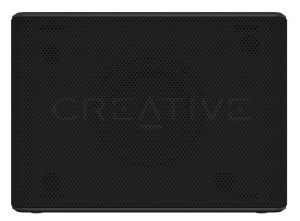 Conclusion
Creative Muvo 2c is a solid speaker for this price range with sound quality similar to other speakers. It has some tricks up its sleeves over its competitors like being able to connect 2 speakers and microSD capabilities, but at the same time, it had a somewhat weak battery and headache of controls which made using the speaker a bit of a nightmare.
And comparing it to JBL Clip 2 it did better at audio quality, but it isn`t as compact as Clip 2 and it only has IP66 water-resistant rating, but JBL has IPX7 waterproofing.
And for JBL Charge 3 was just like I thought, Charge 3 costs more it has a lot more features and better sound quality.
Last update on 2020-08-20 at 15:37 / Affiliate links / Images from Amazon Product Advertising API