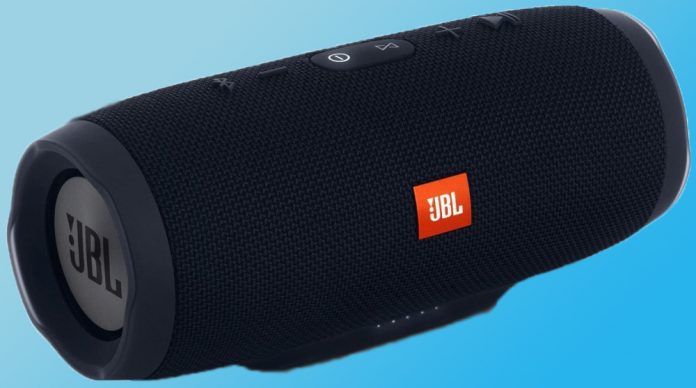 With tons of portable speakers on the market, it is hard to maintain a position as one of the best Bluetooth speaker manufacturer, but JBL has maintained such a position for years and it looks like they are not going to stop.
PROS
IPX7 waterproofing
Can charge your phone
Powerful bass
CONS
Large and heavy
Exposed bass radiators
Cropped highs
Charge 3 is one of the best portable speakers with capabilities to charge your phone or tablet making the name not just something catchy and easy to remember, but a statement of its capabilities.
If you are a fan of Charge 2 than you most likely will love Charge 3 too, as it better at almost every angle and comes with more features.
But if you want a portable speaker which is even more pleasing to the eye than Charge 3 the best solution would be probably another JBL product, the Pulse 3.
| | | | | |
| --- | --- | --- | --- | --- |
| | Speakers | Best features | Size and weight | Check price |
| Under 400$ | High-end | High-end | High-end | High-end |
| UE Megaboom | | IPX7 waterproofing, Smart Bluetooth, up to 20 hours of battery life. | Height 8.9 in; Diameter 3.3 in; Weight 30.93 oz | |
| Under 200$ | Mid-range | Mid-range | Mid-range | Mid-range |
| Bose SoundLink Mini II | | Bluetooth, Up to 10 hours of battery life. | Width 7.1 in; Depth 2.3 in; Height 2 in; Weight 23.63 oz | |
| JBL Pulse 3 | | 360° sound, Built-in microphone, Connect+, IPX7 waterproofing, Up to 12 hours of battery life. | Width 3.6 in; Depth 3.6 in; Height 8.8 in; Weight 33.86 oz | |
| Under 120$ | | | | |
| JBL Charge 3 | | IPX7 waterproofing, Phone charging, Bluetooth, Up to 20 hours of battery life. | Width 8.4 in; Depth 3.4 in; Height 3.5 in; Weight 28.22 oz | |
| JBL Clip 2 | | IPX7 waterproofing, Super-compact, Bluetooth, Auxiliary input. | Width 3.7 in; Depth 1.7 in; Height 5.6 in; Weight 6.49 oz | |
Performance and features
JBL Charge 3 is a big speaker considering that it is portable, and that size converts into loud sound. This speaker can easily fill a large room and outside Charge 3 can be heard quite far but is best experienced within 10 meters.
Charge 3 has some serious bass capabilities, probably one of the most powerful and deepest bass I have heard from a portable speaker. But, to get the best bass out of this speaker it is advised to keep it horizontal on a flat surface like a table, so it can help to resonate some sound.
Although it is possible to keep it vertically it seemed that placing it so negatively impacted the speaker's performance. JBL Charge 3 managed to handle every music genre that was thrown at it, even the heavier bass filled songs it played loudly without distortion and the bass was just impressive.
Although it managed to handle every genre, there was one little problem at high frequencies as it did not sound so detailed and clear, and that is probably because of the waterproof construction, that is cropping the high frequencies. And that is because other waterproof speakers were having the same issue.
As mentioned before JBL Charge 3 has IPX7 waterproofing as its main feature, there is an inbuilt mic that has decent quality as while we tested it there were no real signs that a person is not using their phone.
And of course, there are capabilities to charge your phone, don't be fooled if you think that it will drain Charge 3 battery out really quickly by just playing music we managed to use it for approximately 20 hours before it stopped.
There are other users that have reported up to 24 hours of playtime, but battery life always changes if the volume or music genre is changed. So charging your phone is not so big of a deal for Charge 3, as we figured out it removed 1 or 2 hours from its capabilities while charging a phone.
Design
There is no doubt JBL Charge 3 is quite big, and probably there is no way to change it if we still want to have that great bass and performance. But with big size comes big weight, and at 1.75 pounds it will make sure that you will notice it in your backpack.
For buttons, JBL Charge 3 has volume, play/pause, and Bluetooth and JBL unique button for the Connect+ capabilities that allow connecting other JBL speaker with the same capabilities to augment the sound or to use them in stereo mode.
For another design element, JBL has two external passive radiators at its ends that will vibrate when you play music. And there is no mesh wire or any real visual protection to them, although the speaker itself has really good build quality any external radiator is a weak spot in the design.
The radiator is able to withstand some pokes and has rubber guard around it we advise to be careful when you are placing it in your bag as any sharp object may impale them.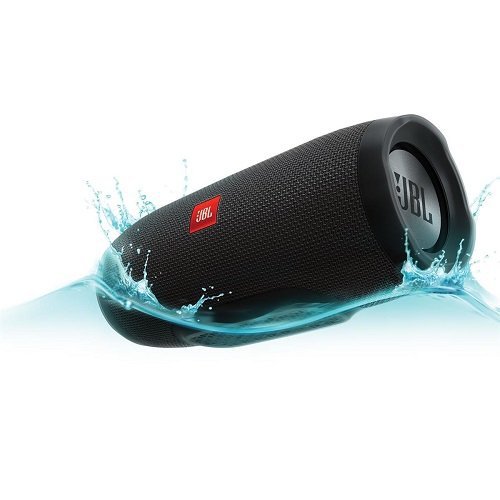 Conclusion
JBL Charge 3 has proved itself to be in JBL line, with some powerful bass and overall balance, although the highs felt cropped we figure out that it was due to waterproof construction and having better highs or waterproofing we went for waterproofing because for such a feature Charge 3 sacrificed minor sound quality.
Overall Charge 3 is a great portable speaker as it has 20 hours battery life (although we saw some reports saying that they reached almost 24 hours).
Feature wise it is well equipped with some necessary items, but having the capability to charge your phone thru it is one of the best ones and because it is reasonably priced it offers a great package.