There are so numerous electronic devices available today and almost all of them use batteries. Anything from Smartphones, Go Pro cameras up to electric cigarettes use batteries, meaning when they run out, you can't use your device anymore until you recharge it. Of course, you can always carry a charger with you, but then again you're limited in some way as you need a power outlet. Fortunately, there is another solution – a portable backup battery or a solar power bank. These relatively small portable batteries are available in many different capacities meaning you can get a full charge or even two full charges out of decent power bank.
But what if you can't recharge your power bank? Maybe you're off on a hiking trip or just want to live off the grid. There is a solution – a solar power bank. Not only you get a portable battery, but also a small solar panel that's connected to your battery and when it's exposed to the sun, it will recharge. In the result, you get 100% free energy source. All you need is some sunlight and that's it.
A solar power bank is an ideal choice for those who love going on adventures. Camping, fishing, rafting, hiking – you name it. Just attach it to your backpack while your hiking and at the end of the day, you will be able to recharge your electronic device.
How to Choose the Best Solar Power Bank?
If you have decided to get a solar power bank, then before making a purchase, there are few things to consider and keep in mind. Getting a solar power bank that doesn't fit your needs is a waste, therefore spend some time figuring out what do you exactly need.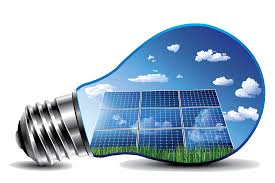 Capacity
Probably the most important factor is power bank's capacity. To choose the right one, you must know what devices you're planning to charge. Despite your device, we always advise getting at least 2000mAh battery as it can do one full smartphone charge. And again, of course, it depends on your device. So if possible, always go for the highest capacity solar power bank, but remember that higher capacity means larger batter and also more weight that can play a huge role while hiking for many days.
Brand
It's no lie that more recognizable manufacturers usually make better products, but they are also noticeably more expensive. You definitely want to go for the best and highest quality product. The thing is that solar cells aren't the most effective to harness energy. A regular solar panel transforms only about 22% of solar energy into electrical energy. However, a high-quality panel can transform twice as much (around 40%). In the result, one solar power bank can be twice effective as another one.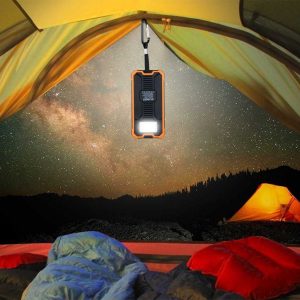 Rugged build
If you do plan to use your solar power bank for hiking and other outdoor activities, you probably want to get it as rugged as possible so no rain, water splashes, snow or mud could harm it. Fortunately, there are such devices.
Features
While the main purpose of solar power bank undoubtedly is recharging your electronic devices, you can also have some other features like a flashlight, multiple USB ports and attached carabiners which are extremely useful while being outdoors.
Our Top Picks for Solar Power Banks
Buy on Amazon
Our first pick is Solar Charger Teryei. This is a high capacity charger, with 15000mAh you should be able to charge your smartphone at least 4 times. The manufacturer claims that this solar charging bank can be charged in 6-8 hours when charged with cable. This means that solar charging will take much longer. However, you should get enough of power for your daily smartphone needs, of course, if you're using it only for few texts and calls.
For those who want to bring their solar power bank outdoors, this is a great pick as it features a robust and durable build. It's made from silicone rubber meaning it's waterproof and dustproof. You also get such features as a compass, a metal hook to hang it on your backpack as well as LED Flashlight with four light modes.
Cobra Electronics CPP 300 SP Dual Panel Solar USB Charger
Buy on Amazon
The power that solar cell outputs is proportional to the area of this solar panel, meaning if you want more effective solar charging, you need more panels. The main feature of this solar power bank is its dual-panel design. Theoretically, it should charge your devices twice as fast as other solar power banks. However, you should remember that the quality of the solar cell also plays a huge role.
Inside you have a 6,000mAh lithium-polymer battery pack which should be enough for 2-3 phone charges. It also has a cool LCD Display that shows battery level.
Anker 21W Dual USB Solar Charger
Buy on Amazon
First of all, in theory, you can't call Anker Dual USB solar charger a solar power bank, because it has only solar panels. Meaning you can charge your devices directly with this product or buy a separate power bank. We just had to include it on our list because it's probably the most effective way how to harness solar energy for your electronic devices. Unlike other cheap solar power banks, Anker uses 21.5-23.5% efficient solar panels and there are three of them. And more panels means more power.
Another great thing is design, it's foldable and doesn't take more space than a small, thin book. It's also surprisingly lightweight. Thanks to hooks, you can attach it to your backpack. Overall we think this is an ideal choice for those who really need their electronic devices while on a hiking trip. It's just a very portable and efficient way how to truly use our sun. Basically, in terms of efficiency, it's incomparable with other single-cell solar power banks.
Soluser 25000mAh Portale Solar Power Bank
Buy on Amazon
Soluser is another high-quality robust solar power bank. Unlike many other products, this one is truly qualitative and well thought out. But it's also a bit more expensive. First of all, it has a capacity of a massive 10000mAh that should be more than enough for at least 5-6 smartphone charges. Then there are two USB ports each rated at a maximum of 2.1A. For battery level indication you get four LED lights. Then there is a flashlight and also a plug to protect all the connectors.
Voltaic Systems – Amp USB Portable Solar Charger
Buy on Amazon
Voltaic Systems offers a portable and efficient way to charge electronic devices. The manufacturer claims that you can fully charge its 4000mAh battery pack within 6 hours of full sun exposure which is very impressive. It has two solar panels that are connected to a zipper. You can simply attach this solar power bank to your backpack and let it charge while your hiking. Also, Voltaic Systems is a very durable gadget as it's water-resistant.
Final Words on Choosing a Solar Power Bank
Although solar power bank is ideal for camping and hiking, you shouldn't think that it's made to be a primary recharge source. Of course, you can charge your phone or any other electronic device with it. However, usually, solar power banks recharge very slowly. They can work great just to keep your smartphone alive so you could make few calls and send some text messages, but don't think that you will be able to surf on the web, play games, and take tons of photographs. It simply won't be able to recharge your smartphone at that rate.
Before going anywhere, you should always fully charge your solar power bank with a regular DC power cable. Note that solar power banks also differ, some are more effective and some are less effective. Hopefully, after reading this article you got an idea whether to get such a device or not or maybe you already found your perfect fit.
Have you been using such a solar power bank? Maybe there's an excellent power bank we have missed? If so, feel free to share your thoughts about it in the comment section below.
Last update on 2020-08-20 at 15:37 / Affiliate links / Images from Amazon Product Advertising API