The game of darts is very well known worldwide and it's only becoming more and more popular. Nowadays you can find it not only at the local bar but also in many homes. I bet at least one of your friends have some kind of dart board at their home. As technologies evolve, basically everything has become electronic. Same goes for dart boards. More and more pubs and bars, as well as average consumers, tend to choose an electronic dart board over standard one as they can enhance the experience of the game and open way more new options. Generally, they are also much safer to use as electronic dartboards use darts that has a soft tip rather than standard sharp steel darts. That makes this gamer more suitable for children.
Another great thing about electronic dart board is tracking score. It's easier than ever. It counts everything for you and stops players from cheating. Nowadays you can find tons of different electronic dart boards on the market, but how to choose the right one? Well, that's exactly what this article is made for. After spending hours and hours on testing different electronic dart boards, we have come up with our list of the best products on the market.
Our 7 Top Electronic dartboard picks
If you want a conventional design dartboard, yet electronic Gran Board 2 is an excellent choice. This indeed is one good looking dashboard that uses Bluetooth to connect to your smartphone. To get full control, you will have to download a special app that runs on both iOS and Android devices. Through this app, you can enable Cyber play. A cool thing about this app is your own profile that contains your statistics. As for the Cyber play itself – it works flawlessly. There are always people ready to play with you. This is probably the best dart board for Cyber play.
To power this dartboard you will need two AA batteries. There are two LED lights on the front that indicates whether Gran Board is connected to a Bluetooth device.
We also loved the build quality – it's simple and stylish. Everything seems to be put together very good.
---
If you love to play game of darts competitevly, then Arachnid Cricket Pro 800 is best choice you can make. It has tons of many different features like NylonTough segments, 40 games with 179 variations as well as three-level heckler feature.
This dartboard is a regulation size 15.5-inch target area, meaning it's standard for competitive plays and tournaments. The NylonTough segments improve the durability of the board so it's in perfect shape for many years to come. Also, this material ensures that gameplay itself is much quieter. Heckler feature is another cool thing to have. Basically what it does is harassing players for bad throws and congratulating those with good ones.
Up to 8 players can play darts on this board and it comes with six soft tip darts meaning it's safe. Even children can try out this game. Overall, we think this surely is one of the best boards on the market.
---
If you have a budget that you don't want to exceed and you're looking for a relatively cheap dart board, Viper Specter Bilingual dartboard is a great choice. For no more than 100$ you get a dartboard that's electronic, has large LCD display and very easy to use interface. There are 50 games with 698 options. Unfortunately, only four players can play darts at the time.
A cool thing is a mode where you can play against a computer in case no one wants to join you. Also if you're playing with a more experienced player you can add handicaps to make the game a bit more even.
Overall this is a great dartboard that's durable and has tons of functions. It's ideal for beginners and those who don't feel strong in this game but love it.
---
This unique looking dartboard offers very cool cyber-play features and is excellent for online play. In inbuild LED lights and special effect, you can really immerse yourself deeper into the game. However, it's definitely not cheap.
A cool feature is a segment highlighting. If you're playing 01 series games, the dartboard will automatically calculate which segments you need to hit and will highlight them. In the package you get six soft tip darts, a member card as well as throw line sticker and power cable. Unfortunately, you can only play online for the first six months, after them, you will have to buy a membership. Fortunately, it isn't so expensive.
If you're looking for a high-tech dartboard that has online play, can be connected to a smartphone via an app and is super enjoyable to play, we strongly recommend considering VDarts H2L.
---
If you're after electronic dartboard with soft tips so that you can't harm other people and your walls, Viper 800 is an almost ideal choice. This dartboard is made by keeping high quality and durability in mind. Everything seems to be put together real good. You also get an LCD display that shows the score. We really like it as it's big, bright and can easily be seen from the throw line. This dartboard has 57 games with 307 customizable options. The user interface is super easy to use. Also, it's superb because it supports up to 16 players and is relatively cheap to buy.
---
Really liked our first pick Gran Board 2, but it's too expensive? Well, a solution is Gran Board Dash. This is a more affordable option that looks very similar and is almost the same board just with some missed high-end features. This board is still driven by an app that can be installed on both iOS and Android meaning you can still play against other players from all around the world.
Overall Gran Board Dash offers excellent game experience. Online play works flawlessly and the build quality is up to level. In fact, we believe that most of you don't even have to buy more expensive Grab Board 2, you can do just fine with this product.
---
Want a very affordable dartboard with vintage looks? If so, Hathaway Magnum Electronic Soft Tip Dartboard might be exactly for you. The board itself is very lightweight, it supports up to 8 players and darts are soft tipped. You also get a LED display that displays the score and few buttons to adjust some settings. To power this board you will need two AA batteries which are super easy to get and replace. You can definitely tell that this isn't a high-end board as it's rather loud, doesn't feature high-end build quality. However, it's cheap and it works flawlessly and that's what matters.
A brief look at game of darts history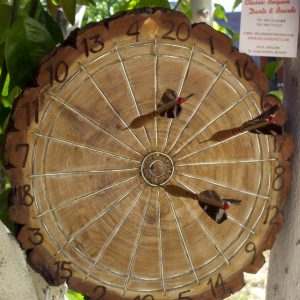 This game and sport were invented in medieval England and has been very popular since then. It is thought that this game was invented as the result of warrior boredom. At the first, a slice of a felled tree was used as a dartboard. The age rings in the wood was a perfect measure of precise players were. Eventually, this game became very popular and was played by many people regardless of their status in society.
Overtime rules have slightly changed. Nowadays you play darts with a throwing line of 7 feet 9.25 inches. The board must be hung so that center or bullseye is exactly 5 feet and 8 inches from the ground.
What to look for when choosing a dartboard?
The first thing you must do is choose the features. For example, you can get an electronic dartboard that enables cyber-play, meaning you can compete with players that aren't nearby. Everyone can be in their own home and compete. This works because these boards can be linked together offering an option to play darts against people all over the world.
Other important criteria is a number of players. If you want to play darts with a small group of people you must look for the right dart board. Most electronic dart boards support for up to 8 to 16 players so before purchasing make sure you check this out.
Then you should look for the number of games you can play with the particular electronic dartboard. More different games mean more fun.
Types of boards
In this article, we look at electronic dart boards, however, there are tons of different types of dartboards on the market. Check out dartboard types below, to decide what are you really after.

Electronic dartboards
Electronic dart boards are probably the most popular and best choice in most cases. With this kind of dartboard, you no longer have to keep track of your score manually. Inbuilt sensors and the embedded electronic system will do everything for you. Almost all of them come with the screen that displays the score and allows you to put your personal handicap. Another cool feature is cyber play option which can link players that are in different locations meaning you can play darts with a person that's far away. Also, it can automatically go into sleep mode if the board isn't used for a certain amount of time.
Magnetic dartboards
Another very popular type of dartboards is magnetic. Generally, they are much safer as there are no sharp tips. In most cases such dartboard includes magnetic flat tipped darts, however, you can always later buy separate darts. Most of them don't require electricity supply and are super easy to use. However, as they use magnets, sometimes darts may fall off because of throwing impact, if you're serious about this game and want to be as precise as you can, this probably isn't your perfect dartboard. A good choice for children.
Bristle Dartboards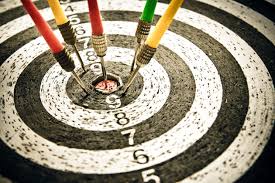 This is probably the most common and conventional dartboard you can buy. It's simple and traditional. Most of these dartboards are very durable and are regulation sized. Darts used with this dartboard are sharp and can do some damage to the walls if they are missed.
Customized board
Many stores sell customized dartboard, meaning you can have a dartboard of your own design, for example, you can have your photo screened onto the boards surface or engraved initials. These kind of dartboards aren't so professional, however, they are a perfect gift for anyone who loves to shoot few darts once in a while.
Final words
Electronic dart boards are very favored by consumers as they combine the gold old game of darts with modern features. Having a dartboard in your home or office is a great way how to relax for a while and just have some fun. All of the dartboards above are one of the best in business. They work flawlessly, are durable and offer as much as you could possibly want.
Got any cool electronic dartboard in mind that should be included in this list? Feel free to share your ideas and thoughts in comment section below.