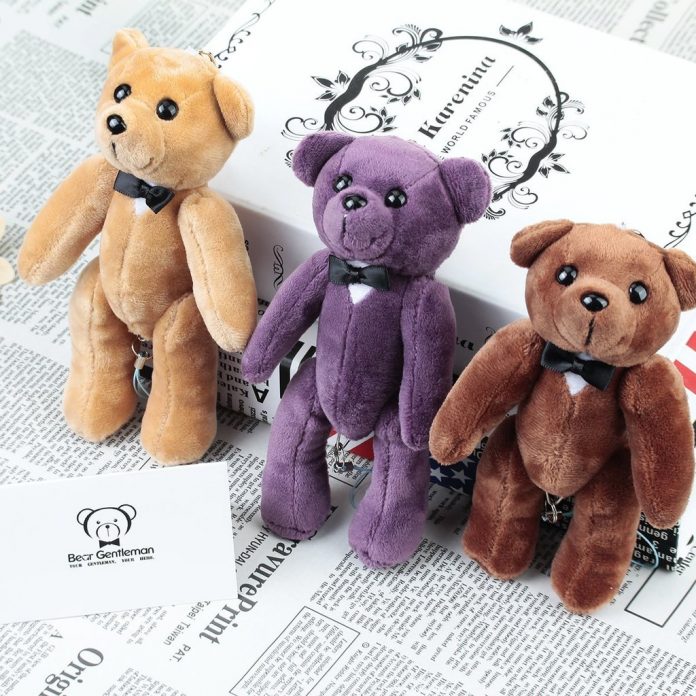 The issue of personal security has become one of the biggest concerns for people living in large, metropolitan cities. The daily news is brimming with stories about attacks on women, men, and children. Women, in particular, have started fearing for their safety in the wake of the recent rise in rapes and sexual assaults.
Necessity is the mother of invention; hence, there has been a rise in the availability of personal alarms. These alarms, usually compact and easy to carry, are perfect for lonely walks home from work at night or just as a safety go-to when walking through a deserted parking lot. Our picks for the top eight best personal keychain alarms are:
1. Vigilant 130dB Personal Keychain Alarm Review: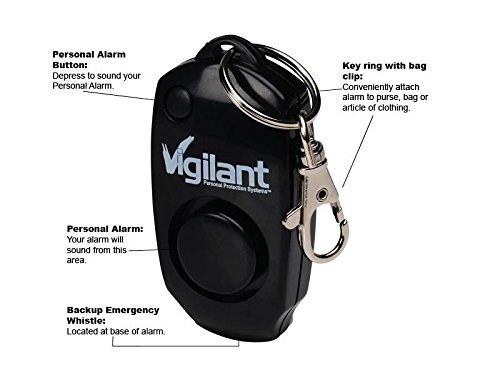 Perfect for self-defense, the Vigilant Personal alarm is compact and easy to carry on not only bags and purses but the key ring clips also double as key chains for car and house keys. Comparatively, this alarm is more effective as a self-defense tool than alarms with lower volumes; the Vigilant alarm makes a deafening 130dB sound when activated. The easily replaceable LR44 alkaline batteries last up to year/365 days and the alarm comes with a backup whistle in case there is battery or alarm malfunction. These features provide a certain feeling of reassurance and safety.
2. Vigilant PPS8B Personal Keychain Alarm Review: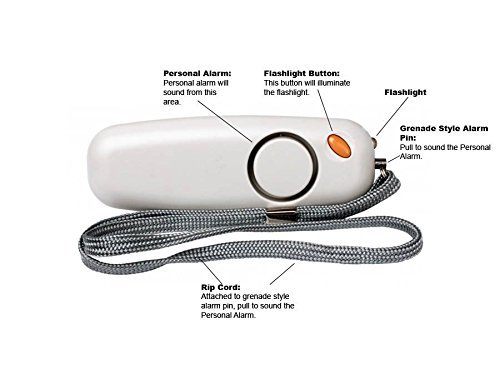 Compact and durable, the PPS8B is easy to carry and comes equipped with added security features such as a bright LED mini flashlight and a 130dB alarm sound. Though the LED flashlight can be used to look at things in the dark, we noticed that the use of the flashlight drains the battery a lot faster. In times of grave emergencies, the heavy duty batteries can ensure a loud 130dB alarm with a run time of 60 minutes. The PPS8 is easy to activate, and relies on simple rip cord activation, meaning that just pulling the string out will activate the alarm; therefore, no time is wasted looking for the activation button. If by human error, there is an accidental activation, the string can be put back in place.
3. EPOSGEAR Safety security alarm (MINDER) Review: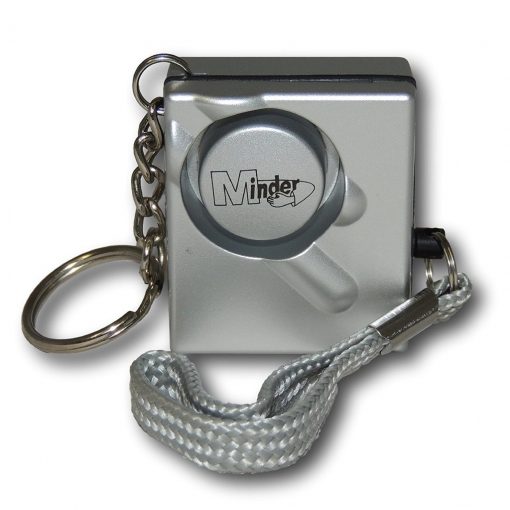 Available in trendy colors and designs, the MINDER is easy on the eyes, easy to store and easy to carry with a compact key ring design approved by the UK police. Eposgear has some notable positives in terms of safety and security features. The siren sound of 140dB, louder than most available personal alarms, is one of the highest available in the market currently. The MINDER derives its power from long lasting, alkaline batteries that are easy to replace. The separate pull pin activation makes it difficult for the attacker to turn off the alarm, and keep the users safe by ensuring their keys stay with them.
4. Vigilant PPS8G Personal Keychain Alarm Review: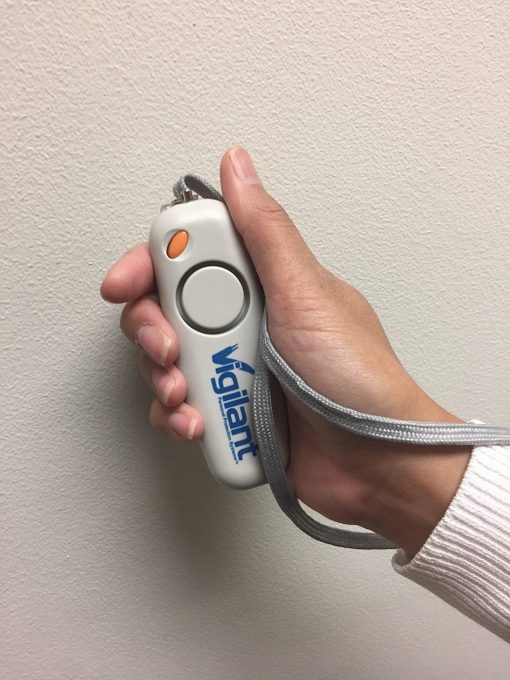 Available in two colors, blue and gray, the Vigilant PPS8B is a heavy-duty personal alarm that has a guaranteed run time of 60 minutes in case of emergencies. The 130Db loud alarm can easily be activated by pulling the cord on the mini personal alarm. Similar to the PPS8B, the PPS8G is also comes fitted with a LED flashlight. This makes it suitable for lonely walks and solo trips.
5. ANRUI Personal Alarm Keychain Review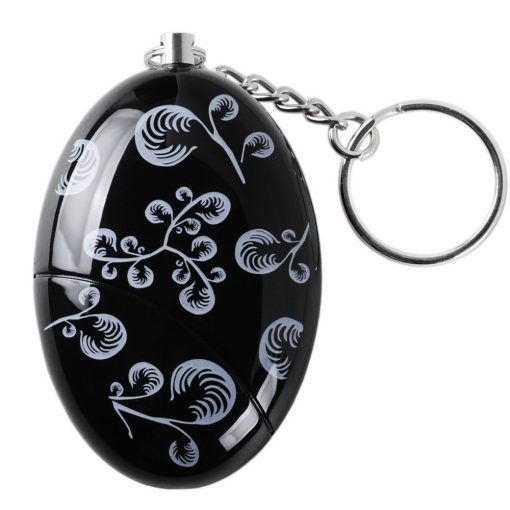 The ANRUI is extremely affordable and easy to use. Portable and personal, this alarm come with a replaceable battery that can give up to 40 minutes of the continuous alarm sound. The built-in alarm is easy to trigger by pulling the key ring. This alarm makes a 120db loud noise which is, though comparatively lesser than that of its competitors, loud enough to ward off petty thieves, attackers, and small animals. Trendy and uniquely designed, the ANRUI personal alarm is made up of superior A- quality material, and therefore does not break easily. The Keychain design makes it easy to conceal and use on bag packs, purses and suitcases and belt loops.
6. Beegood Emergency Personal Keychain Alarm Review: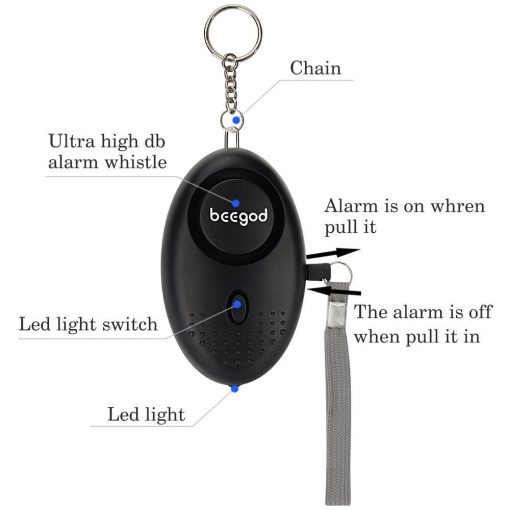 The Beegood personal Alarm is trendy and effective. It is easy to conceal and the keychain design makes is easy to use and attach to keys, purses, belts and children's bag packs. The alarm can be easily activated using the cord on the side of the device and emits a 125-130dB deafening sound that is sure to garner the attention of people nearby in case of an attack. The batteries in this Personal Alarm are easy to replace and have a standard battery life.
7. Bear Gentleman Personal Keychain Alarm for Kids Review: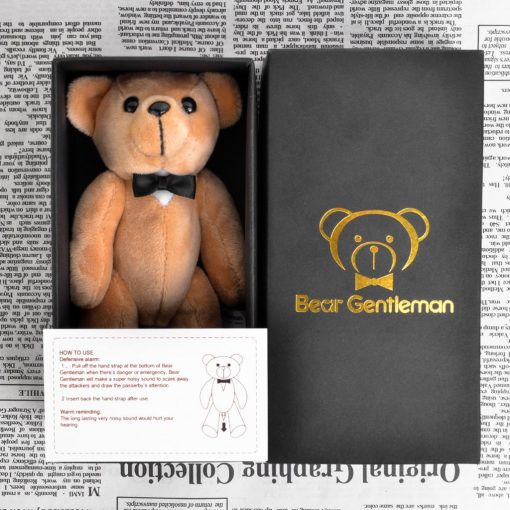 Cute and unique, the Bear Gentleman is an alarm that comes with a tiny adorable bear used as a symbol of rescue. Buyers can choose between two colors: brown and black. The belt clip and key ring design make it easy to carry and have multiple uses. The Bear Gentleman Personal alarm emits a loud, 130dB alarming sound that is sure to gather a crowd when activated by pulling out the alarm bolt. In line with the airport and general security and scanning requirements, the Bear Gentleman Personal Alarm can be carried on flights, airplanes and other high-security areas. Easily disguised as a toy or decoration, this alarm is effective in warding off kidnappers, petty thieves, and attackers.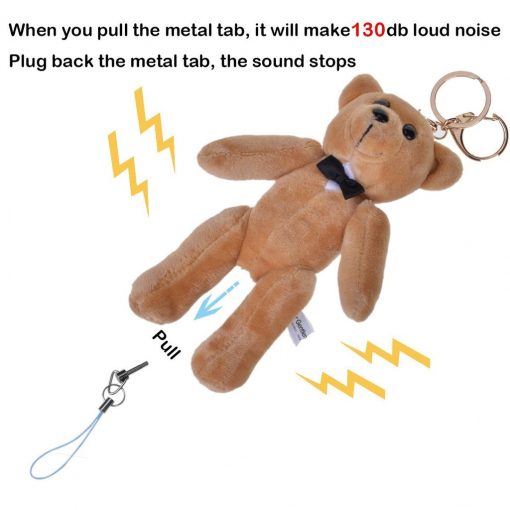 8. iDaye Emergency Personal Keychain Alarm for Kids Review: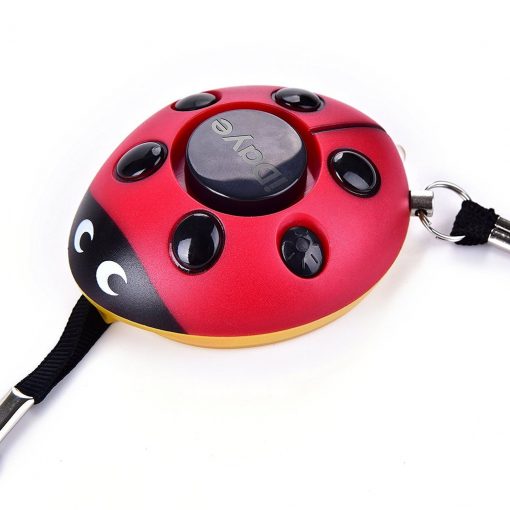 Child-friendly and creatively designed, the iDaye Personal alarm doubles as a keychain for backpacks, purses, car and house keys. The ladybug design makes this personal alarm easy to conceal and doubles as a charm on ladies' purses and children's bag packs. The batteries in this alarm are easy to replace, and have a longer standby and run time. The iDaye Emergency Personal Alarm relies on low power consumption to last longer in times of grave emergencies. Other plus features include a built-in mini flashlight and 130db super sound that is sure to gather a crowd in case of an attack.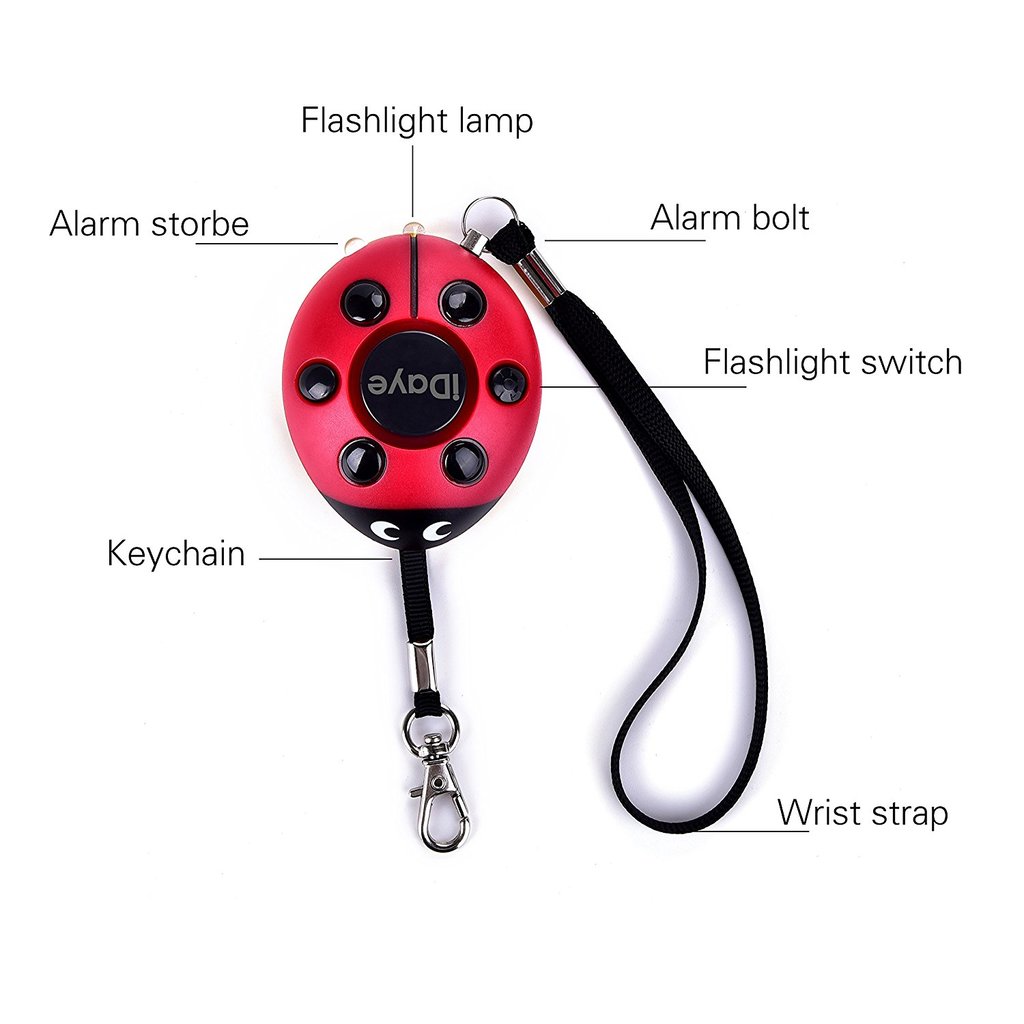 Final Thoughts in search for the best personal keychain alarm
Though placed on the higher side of the price spectrum, the MINDER emits the loudest 140dB guaranteed alarm sound when triggered. Its design has been approved by the UK police departments, and it has been accredited by bodies such as the Sold Secure.
However, one of the major drawbacks of the EPOSGEAR personal alarm is the lack of other additional features such as built-in LED flashlight. For some people, the positives such as the 140Db siren, alkaline batteries, and separate key ring outweigh such negatives. Thus, the final choice depends on the personal choice and requirements of the user.