The modern world even in first world countries can be dangerous as criminals tend to be anywhere, and what can an average person do to protect themselves? Well, the best possible solution is a taser or stun gun to stop the attacker in its tracks allowing you to escape.
They are non-lethal weapons that can stop an attacker, and that is why most security forces use them as an alternative to a firearm. Plus that they are non-lethal and most cities/states do not need any real certification they are an excellent method for home security or personal defense and probably is even more efficient than pepper spray.
There are tons of information about these weapons around the internet, so for you to not get lost in this pile of information, we are going to compress all of the information in a smaller, simple article. After this article, you will know the essential facts about tasers and stun guns, and you will be able just to go and buy yourself one.
Stun gun or taser, what is the difference?
Often they are grouped as one item, but the characteristics are very different.
To be more specific a taser has two probes that it can shoot up to 20 feet and which are connected to the weapon. These probes can easily puncture clothing and skin delivering the charge more efficiently. A stun gun is more a close encounter weapon which has two probes attached to its head of the gun and then presses the button you can easily see an electrical arc between them.
Stun guns offer their protection because it is easy to obtain, and most of the states or cities do not have a restriction on it, so make sure that you check your state laws or call a police department to be entirely sure.
Close quarter combat vs. distance firing
While a taser is not available right away and you might need the training to ensure that you know how to handle one efficiently. And there is a risk that you can miss while shooting it at a distance which is tasers biggest weakness that can leave you defenseless in a dangerous situation. While stun guns offer almost 100% guaranteed hit and with intimidating electrical crack that comes from them can defuse the situation without it even escalating, because who wants to get hit by one.
Are Stun guns or tasers legal?
Stun guns are legal in most of the states and can be purchased quickly without a license. However, there are few states and cities where there is restrictions on their use, or even possession or use is prohibited. So before purchasing be sure if they are legal in your state or city, and an easy way to do so is to check your laws, or to call a police department.
Tasers are mostly legal too, but they might need a license, training, and insurance at most of the states so, once again before purchasing a taser get to know your state restrictions, because the taser can add extra monthly costs to you
There are things that other deems to be essential for readers to know about what to look after in a taser or stun gun, but we believe that information is somewhat unimportant, because every taser or stun gun produced by the somewhat reliable company, can easily electrocute the attacker.
This list is not set to make any item better or worse, this list has picked out ten best stun guns/taser out of all, and these are our thoughts about them. (We did not try the shocking capabilities, as no one in the office wanted to get electrocuted for fun)
| | | | | |
| --- | --- | --- | --- | --- |
| | Stun guns | Features | Volts | Check price |
| Stun guns | | | | |
| Guard Dog Diablo II | | Lifetime warranty; Rechargeable battery; Includes LED flashlight | 5.000.000 | |
| Vipertek VTS-195 | | Lifetime warranty; Rechargeable battery; LED flashlight | 53.000.000 | |
| StreetWise Police Force | | Rechargeable battery; LED flashlight; Aluminium body | 12.000.000 | |
| Sabre Tactical Stun Gun | | Snatch prevention; Aluminium body; Can be used as a blunt weapon | N/A | |
| Vipertek VTS-989B | | Lifetime warranty; Snatch Prevention; Rechargeable battery; LED flashlight | 19.000.000 | |
| Tasers | | | | |
| Taser X2 | | Backup shot; Stun gun backup; One-year warranty; Laser assists in targeting; Built-in flashlight | 50.000 | |
| Taser X26C | | Stun gun backup; Laser assists in targeting; Built-in flashlight | 50.000 | |
| Taser Bolt | | LED light; Safety cover prevents accidental firings; Battery delivers 50+ firings; Laser assists in targeting | 50.000 | |
| Compact stun guns | 95d5db | 95d5db | | 95d5db |
| Stun Master Lipstick Stun Gun | | Compact; Easy to hide in a bag or pocket; Powerful; Rechargeable battery | 3.000.000 | |
| Vipertek VTS-880 | | Lifetime warranty; Rechargeable battery; LED flashlight; Non-slip rubber coating | 15.000.000 | |
The electric charge that is advertised by the manufacturers are mostly not real because on average they max out at about 50.000 volts, but just for your interest, we added them.
Guard Dog Diablo II Review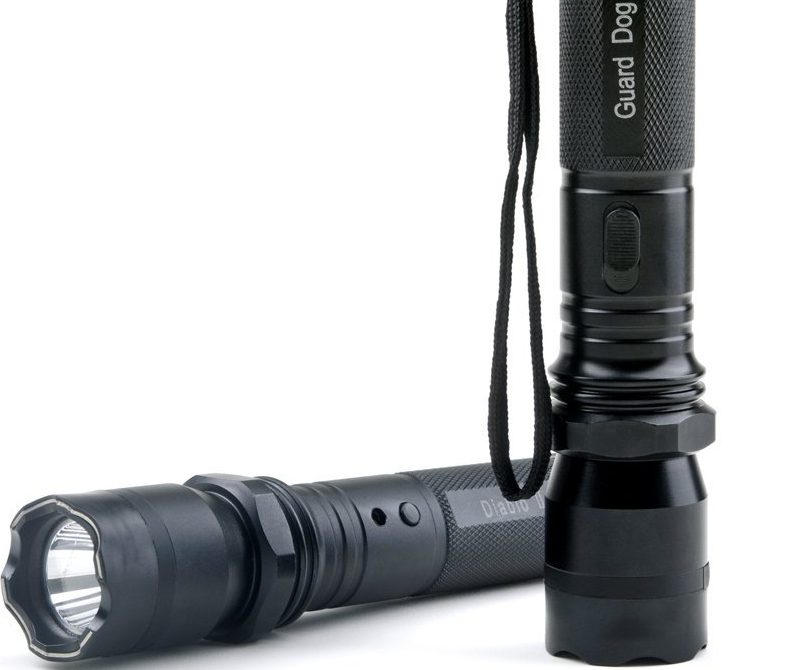 To begin this list let's look at stun gun that has more than one purpose. These are concealed stun guns which look different at first, or in this instance a flashlight, and it acts like one too.

This Guard Dog Diablo II is a great stun gun for those that have to work at night or likes to go on nightly walks. The idea is that you can flash the attacker before you try to stun them, thus ensuring that you will succeed. The flashlight has approximate 320 lumens, which is a bit more than the average flashlight and the stun gun itself can produce enough power, to stop anyone in their tracks.

Vipertek VTS-195 Heavy Duty Stun Gun Review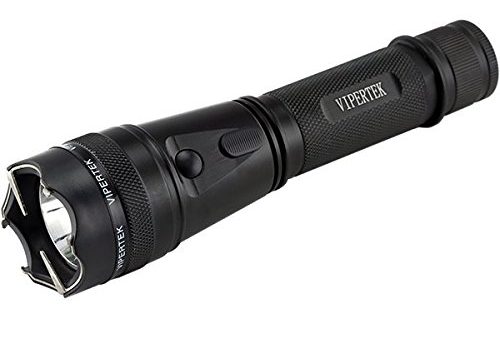 Another concealed stun gun this time from Vipertek is another great example what a stun gun should look and do for your safety. Just like Guard Dog it is made out of durable aluminum and has enough power to shock anyone.

Flashlight brightness is about 400 lumens, a bit more than the Diablo II. If anyone is wondering why is this worse than Diablo II, it`s not because it is tough to compare the stun gun capabilities and no one in the office wanted to get shocked.

StreetWise Police Force Review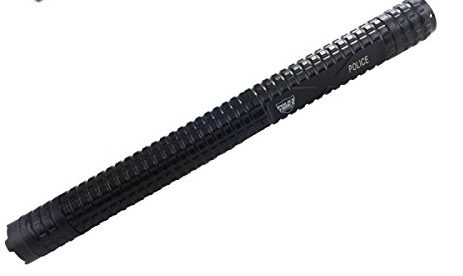 As previously mentioned that stun guns can be in various design and pack more than one purpose, well these stun batons have three. This StreetWise Police Force comes 3 in 1, with a flashlight, stun gun and a baton in one, making it more versatile. The flashlight is bright enough to use it as a regular flashlight and has approximately 150 lumens which are about an average flashlight.

The stun has more than enough power to repel any attack, plus the third feature is the baton itself, as it is sturdy and managed to withstand several hits to the wall. And that is why we believe it can easily be a striking weapon too, which is nice because you never know what can happen.

Vipertek VTS-989B Review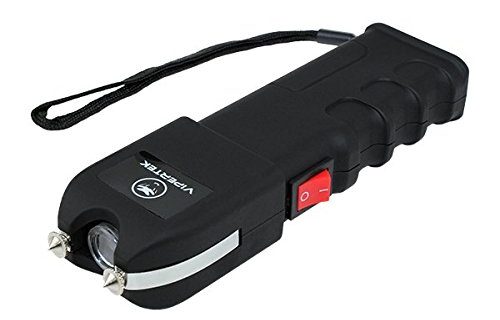 Vipertek VTS follows the more standard look but ensures maximal grip and control over this weapon. Quite sturdy and felt like if things went sideways, it could be used just to knock the attacker out by brute force.

We mostly liked the crackle that the electrical discharge made because it is the loudest one of these (we measured at about 104 dB) and will probably stop anyone with even a little bit of common sense to stop and run in the opposite direction. If they don`t VTS packs some serious punch which will help you take them down with ease.

Taser X2 Review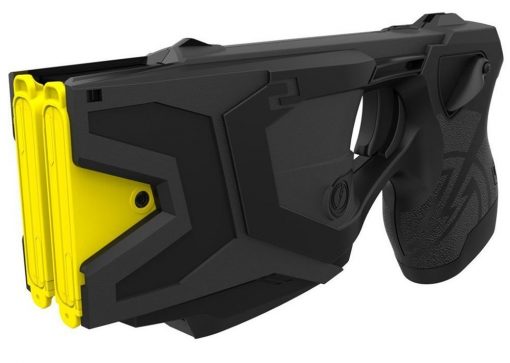 Taser X2 is for those that are willing to spend a big amount of money for their safety, to get the best possible taser. And X2 is that and more, made for even more safety due to the tasers capabilities to perform in close encounters. It has IPX2 waterproofing rating for weather and humidity protection and has capabilities to fire two shots without reloading which ensure that you will hit the attacker, or if there are more than one that you can stun more.

Taser X26C Review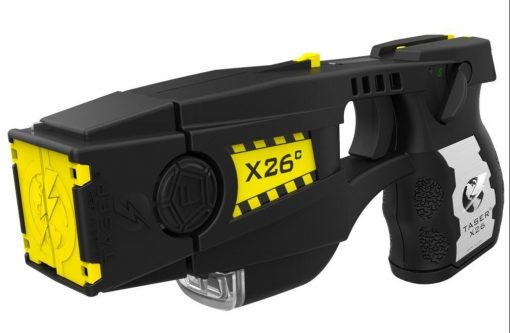 Taser X26C will take down a person by limiting their muscle control and overriding the central nervous system, and whit 30-second runtime it will give you enough time to run away to safety. Plus it has six cartridges and a training target so you can get familiar with your weapon. And like any other taser it comes with a safety switch, so you would not electrocute anyone or yourself by accident.

Taser Bolt Review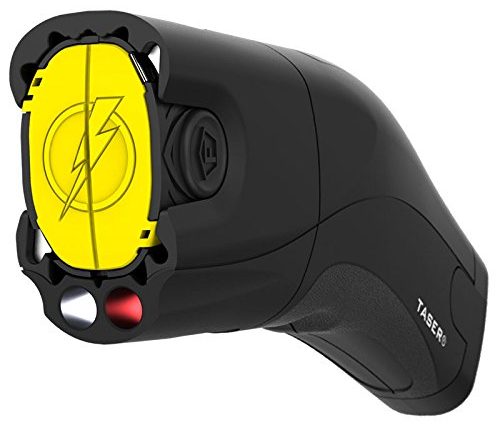 Taser Bolt is excellent starting taser for those that don`t want to pay up to 1000$ for a taser. It comes with a training target and one training cartridge so you can practice a shot without wasting those costly cartridges. It has two cartridges with it and has stun gun back up which is handy for that situation when you miss or don`t have the time to reload. The firing range for this taser is about 15 feet.

Stun Master Lipstick Stun Gun Review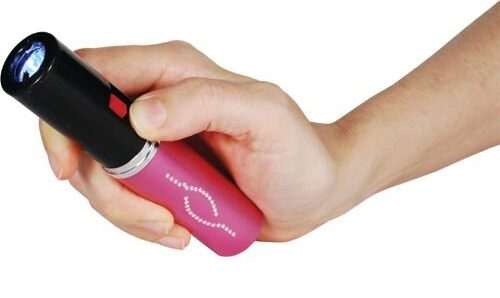 For those people that do not want to carry larger tasers or stun guns, a great choice is these compact stun guns, or in this case this specific lipstick stun gun. Which is made for female users to be carried around in a purse or pocket.

It has a small flashlight which isn`t very powerful but can illuminate near you and with enough power, it can easily detain anyone. Plus, the best part is that it is rechargeable, so you will not have to spend money on batteries.

Sabre Tactical Stun Gun Review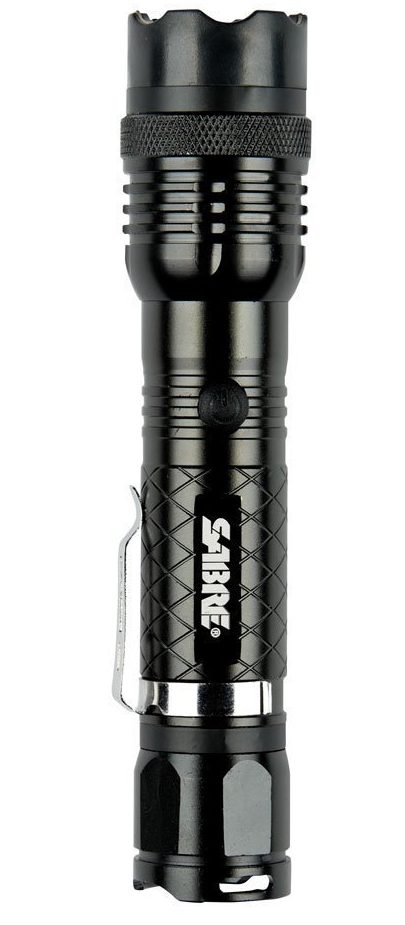 Sabre Tactical Stun gun is another flashlight type stun gun. With 80 lumen flashlight, it will manage to illuminate nearby surrounding so you could see the threat. Just like Vipertek, this stun gun has a loud crackle (Measured at about 96 dB) which is terrifying itself and can prevent anyone from closing near you.

The flashlight is made out of durable aluminum and can withstand some stress to it, which can be useful because it can be used as a striking weapon.

Vipertek VTS-880 Review
Just like the lipstick stun gun, the Vipertek VTS-880 is a compact stun gun which can be placed in a purse or glove box allowing for you to carry it around in your daily life. With rubber casing, it holds great in the hand and has a decent grip on it, which can prevent the attacker from taking it away from you.

Again, it has enough power to repel any attacker coming your way, and with a rechargeable battery, you will not need to spend money on them.
Conclusion
Stun guns and tasers are an excellent non-lethal weapon that can save you from trouble from other people and animals, but they have their restrictions and limitations that you should find out before you purchase a specific item to be sure that you do not get into trouble with the local authorities.
Safety first!
And for personal safety always check that the safety is on to make sure that you do not shock yourself by accident because it will one very painful lesson.