Sound, it plays such a huge role in gaming and affects your gaming experience by a lot. Hearing game sounds and noises properly can help you a lot in competitive games. In adventure or horror games it can set your mood and make you feel excited or maybe scared – feel like game developers would want you to feel while playing a specific game.
An excellent Xbox 360 headset can fulfill us with all those awesome emotions or maybe give You an advantage over enemies while playing first person shooter games.
We have created a list of top 5 Xbox 360 headset picks. Here we looked for the best sounding and qualitative headsets available today as well as best price and bargain deals.
Got Xbox One? Make sure you check out our Top 8 Xbox One headsets.
Xbox 360 headset comparison:
1. Turtle Beach - Ear Force X12 best quality/price ratio
The EarForce X12 is a superb budget headset. It offers a good sound quality for reasonable cost. This headset comes with everything you need to hook them up to an Xbox 360. This headset comes with many features:
Amplified Audio – Enhances game sounds for a more immersive experience
In-line Amplifier – Quick access to Turtle Beach gaming audio controls
Variable Bass Boost – Adds depth and realism to the Xbox 360 game audio
Microphone Monitor – Allows you to hear your own voice in the headset to avoid shouting
You also don't need any batteries with this headset as it draws current from USB.

Because of its soft ear cups and supportive headband, You can wear this headset for hours with ease. Pressure on your head is just right. It doesn't make you feel strangled but holds on your head well. As for audio quality, You won't get disappointed, the sound is rich and very clear. This is clearly our top pick when choosing Xbox 360 headset.

2. Tritton Trigger Stereo Gaming Headset for Xbox 360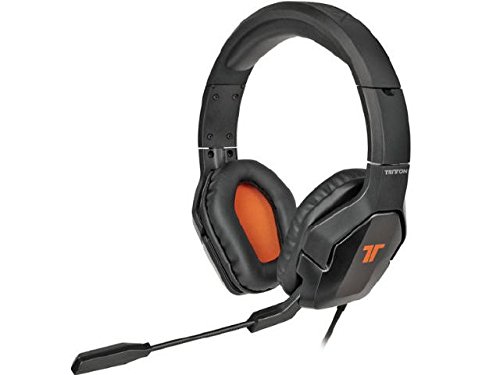 Tritton Trigger Stereo is another great budget headset for Xbox 360. It's very basic in many ways, but that's a good thing.

There is a special adapter included in the package that works well with PC too. With this headset also comes a lot of cabling, and the main connector is 14 feet(427cm) long, so you don't have to sit right in front of your TV and damage your eyes. Trigger Stereo is very lightweight and small compared to other members of Trittons family.

3. Turtle Beach - Ear Force PX51 Wireless Gaming Headset for Xbox 360
No doubt this is one of the best wireless gaming headsets. It does operate on a Dual-Band Wi-Fi wireless system and has a built-in Bluetooth. You might think it's short on battery life? Nope! Turtle Beach claims 15 hours of continuous battery life on a single charge. And how about audio quality? It's up to level as with all Beach Turtle headsets, and it offers a full Dolby Digital Surround Sound experience. There is also a cool feature called Dynamic Chat Boost – Chat volume automatically increases as the game volume gets louder.

4. Turtle Beach - Ear Force XL1 Amplified Stereo Gaming Headset for Xbox 360
This Turtle Beach product is aimed towards the budget end of the market. This headset has large ear cups and an adjustable mic. The ear cup paddings are covered with cloth, so they are comfortable and let your ears get some air. The headband is also adjustable and nicely padded. The Turtle Beach XL1 itself is very light. This headset also has features like:
Amplified Audio
Bass Boost
In-line Amplifier
This headset is just as good for Skype, watching movies and listening to songs as for gaming. The only thing that disappoints us with this headset is its flimsy build quality. However it's still Turtle Beach and that means it's a great Xbox 360 headset!

5. Turtle Beach - Ear Force Disney Infinity
A bargain price Turtle Beach headset that has a powerful amplifier for Xbox 360 and PC adds Bass Boost, mic monitoring, and volume controls. This headset is very comfortable and offers You a chance to play your favorite games for hours and hours, and ear cups are well padded just as the headband. Considering it's cheap price, this may be a very reasonable pick when choosing Xbox 360 headset.