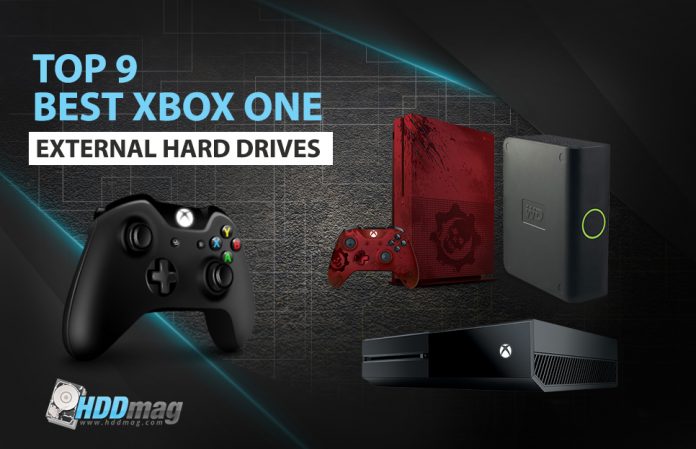 Searching for The Best Xbox One S External Hard Drive?
I'm sure that if you found this article, you are searching for Xbox One S (XBO) external hard drive. And that's no surprise, because if you bought your Xbox One S at launch, it's capacity is just 500GB or 2TB if you have the highest possible capacity.
The newest blockbuster games, like Halo 5: Guardians (46GB), Grand Theft Auto V (50GB) and Call of Duty: Black Ops III (48GB) can fill up the 500GB hard drive very quickly. Besides, you don't even get 500GB at the beginning because of OS and other installed data.
Xbox One S system let you add up to 16TB of external storage
The Xbox One supports all USB 3.0 external hard drives with at least 256GB of capacity. That makes Xbox One S external storage upgrade very simple.
All you need to do is to buy your Xbox One an external storage device and plug it in (also AC adapter for some drives). And that's all, your Xbox One S then should automatically recognize the drive, in case it doesn't you need to go into Settings –> System –> Manage Storage device to format it for use.
Is investing in Xbox One external hard disk drive (HDD) worth it?
And which is the best Xbox One external hard drive for you?
Well, it will depend on your budget. We will offer you the best storage devices you can get, as well as some buying advice.
Top 9 Xbox One S External Hard Drive (HDD) Comparison
Which is the fastest Xbox One external hard drive?
In this chart you can see sequential read/write speed comparison between all Xbox One external hard drives on our top-list. Please remember that WD My Book 6TB and Seagate Game Drive 2TB (not other capacities) in our testings were the fastest ones with Xbox One S. They booted and loaded games faster than any other devices on our list and that's the main reason why both of them are our top pick.
WD My Book 6TB Review
The Best Xbox One S External Hard Drive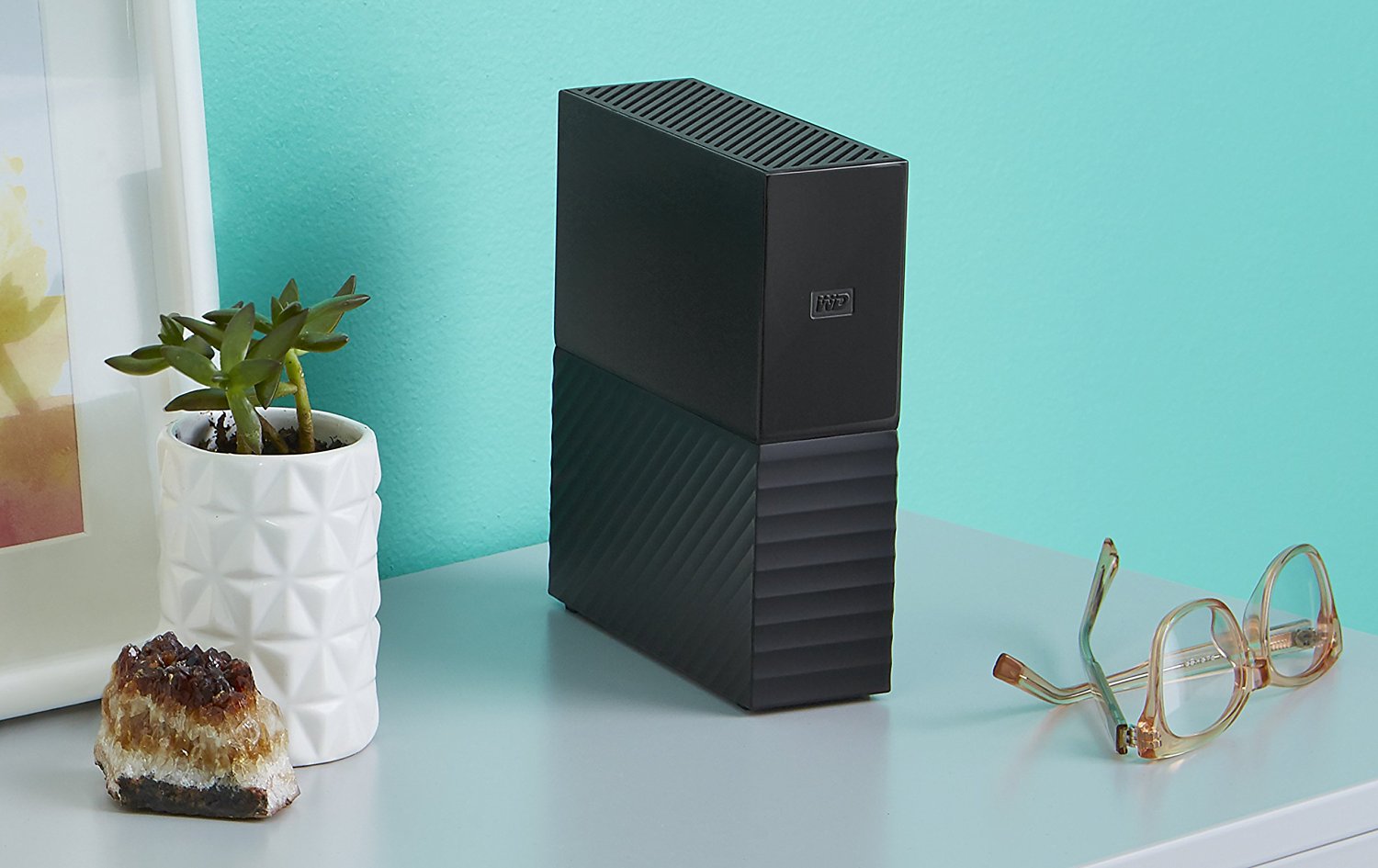 The WD My Book 6TB is the best external hard drive for Xbox One S gaming console. With its competitive price less than $32 per terabyte (6TB model) and nice performance boost over Xbox One S internal hard disk, the Western Digital is excellent choice both for hardcore gamers and beginners.
The WD My Book is available in five capacities with biggest up to 8TB, which will be enough for games, movies, music in other words for everything you got. Well, if even 8TB isn't enough for you there is a dual drive model with capacity up to 16TB. The WD My Book Duo is My Book's big brother.
Update: Western Digital have updated design for two of their most popular lines – My Book and My Passport. They haven't changed any internal parts so there is no performance improvements with this design update.
In our testings with Xbox One S the My Book did the job better than the original internal hard drive, on average 24 seconds faster. Everything happened faster on WD My Book. For example, it took 32 minutes and 20 seconds for the internal hard drive to install Battlefield 4, while it took just 31 minutes and 21 seconds for WD My Book.
Where does the My Book performance gain come from?
The two main reasons are spindle speed and hard drive interface. The My Book has a spindle speed of 7200RPM which is more than 5400RPM of Xbox One S internal hard drive. Also, My Book uses USB 3.0 (SATAIII) interface while Xbox internal HDD has USB 2.0 (SATAII) interface. As we all already know USB 3.0 has a higher theoretical (and practical) throughput rate than SATAII.
Is the WD My Book worth it?
Sure it is. It will give your Xbox One S a large mammoth storage and run games and installations a bit faster. It will be useful and reliable storage device not just for Xbox One S, but also for Playstation 4 (PS4). Also, other sites like IGN and Makeuseof concludes that WD My Book is the best Xbox One S external hard drive.

---
Seagate Game Drive For Xbox Review
Less Expensive Option Specially Designed for Xbox One S and Xbox 360

Seagate's 2TB Game Drive offers much more for gamers than just storing games and tons of downloadable content (DLC). It's a 2.5-inch USB 3.0 portable external hard drive that is bus-powered and doesn't have an AC adapter.
Seagate SSD Game drive for Xbox
Seagate has released
Seagate Game Drive for Xbox SSD
with 512GB capacity. It load games a lot faster and cost much more. It is even more compact, and you can store 15+ games.
Because of the Seagate's small form factor, you can easily take it with you. So if you have migrated games on the drive, you can continue to play them on any console.
Get your drive to a friend's house, plug it in, then sign in to your Xbox Gold account and you are ready for gaming. Another extremely useful feature is backward compatibility with Xbox 360 that extends to all free digital downloads given to Xbox Gold members.
Also, testing with Seagate's Game Drive showed improvement in loading times. For more subjective testing we migrated three full games without any DLC to the drive, which took less than 15 minutes on average. The Titanfall, even with its season pass DLC migrated to the new drive in just under 6 minutes.
The drive is available in two capacities 2TB and 4TB. The biggest Seagate Xbox Game drive downside is the short one year warranty. Overall Seagate's Game Drive is an affordable way to extend storage capacity and take full advantage of any future functionality.
Xbox Game Load Times with Seagate Game Drive for Xbox
---
Xbox One Bundle Deals – Often cheaper than Xbox One alone

In case you don't have Xbox console, but you are planning to get one, notice that now Xbox One with 1TB capacity is also available.
Besides bundle packages now are much popular and sometimes even cheaper than just "naked" Xbox One gaming console. For example, Tom Clancy's Rainbow Six Siege 1TB bundle is cheaper than Xbox One 1TB console with no games.
Among all the Gears of War: Ultimate Edition bundle is the most popular. Mostly because it's the cheapest way to get you a new Xbox One. Always check prices for all the bundles if you are considering to buy new Xbox One because very often they have great discounts and prices well below $300.
Which is the best Xbox One bundle deal?
But still, we recommend going for Xbox One Elite Bundle with a 1TB SSHD drive inside. The Solid State Hybrid Drive (SSHD) optimizes system and gives up to 20% faster performance. The re-designed controller offers better user experience and longer battery life. But you don't need to buy Xbox One Elite Bundle to get a speed boost. Our top pick best external hard drive WD My Book 6TB will improve system performance.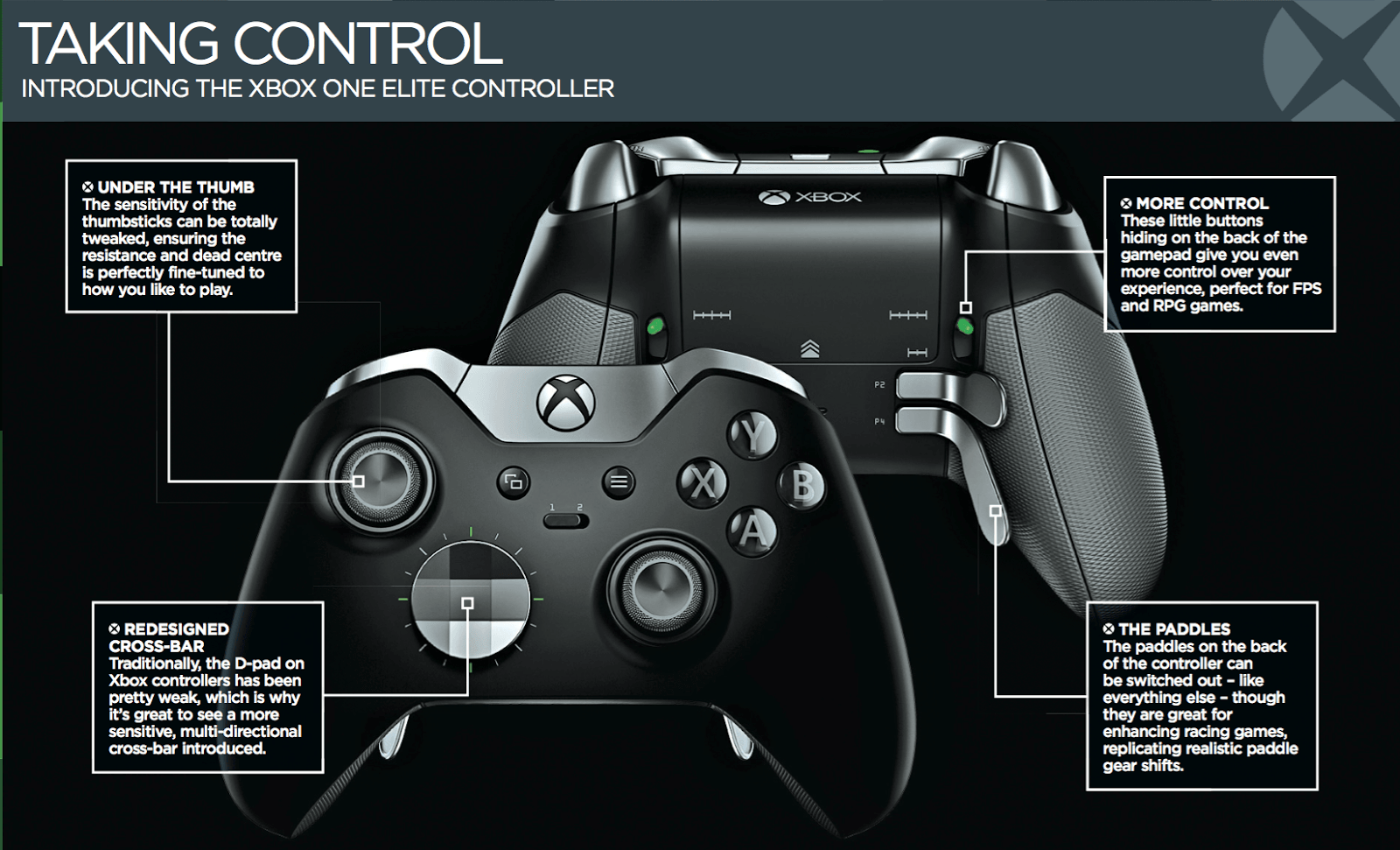 Convert your 3.5-inch or 2.5-inch HDD into a Xbox One S external hard drive

In case you already have a 3.5-inch internal hard drive lying around you can get an external hard disk for Xbox One S by spending just a few bucks. Just get a USB 3.0 hard drive (HDD) docking station.
We used this Plugable USB 3.0 hard drive, SSD and SSHD docking station that supports any 2.5-inch and 3.5-inch SATA drives up to any capacity. In our testings, it performed almost as well as WD My Book 6TB.
If you are low on budget, then you can simply buy a cheap internal hard drive. For example, WD Blue 1TB with 7200RPM combined with Plugable docking station will cost less than $80. But don't hope to get a similar performance like with WD My Book from this solution.
Recommended 3.5-inch internal hard drives (HDD)
How Big External Hard Drive You Should Buy For Xbox One S?
The short answer is – the bigger, the better!

Space requirements are hefty for both PS4 and Xbox. Both gaming consoles require you to install games onto the external hard drive before you can play them. You can take a look at game install sizing list to find out if you will have enough storage space.
For example, two very popular games Assassin's Creed Syndicate and Halo: The Master Chief Collection accordingly takes up to 40GB and 63GB.
Always remember, that even though your Xbox One S comes with a 1TB or a 500GB hard disk drive in practice, you will have less.
[alert variation="alert-info"]You will only have about 360GB of usable space from Xbox with 500GB hard drive.[/alert]
So if you installed the two previously above mentioned games, you will be left with around 255GB left on your hard disk. Install two games, and just 255GB left on your Xbox One S 500GB hard drive, even though those numbers don't include DLC and game updates, which can be as big as 18GB, like Destiny's update 2.0.
I managed to install only 10 games on my Xbox One S 500GB, I felt the need for xbox one external hdd just after one week of using it
On top of all, you get free downloads every month with Xbox Live Gold, via the Gold program games. Everyone will have quite a lot of stuff to store, even with just a few full retail games.
The System Integrates External Storage Nicely
Many people at the first think that it is very frustrating to add an external hard drive to Xbox but in reality, it's very easy. All you need to do is just plug in the drive, format it and you're ready to go. To use external HDD with Xbox One S you need to format it, but after that, you only will be able to use the drive with Xbox.
To use external HDD with other devices again you will need to re-format it again.You can even set external hard disk as default for new game installs, which is not a bad idea because of some performance benefits. While managing your game data, you can filter by games on external/ internal hard drive. The system will get everything together and show you how much total space there is left.
You Can't Upgrade Internal Xbox One S Hard Drive
It's relatively easy to change PS4 internal hard drive, but it's not technically supposed to do on Xbox One S.
The tests consist just from loading times; logos, menu navigations, and intros were not included.
To change internal HDD, you need to remove some screws and put everything together as it was at the beginning. It would take some time to backup everything and then restore it. As well as there might be some problems in finding internal HDD that works flawlessly with the Xbox One S. In the end, we don't advise you to change internal hard drive in case you're not an expert in this field.
What About External SSD for Xbox One S?
Unless you don't have a lot of money to waste stick with
HDD and forget about SSD. It's just not worth to buy external SSD. The performance difference between HDD and SSD is so small that you will barely notice it. Solid State Drives have much less capacity than HDD, so in case you buy an SSD, you will need a new one next year!
Some serious testing below: How do we tested?
A bunch of games was already installed on Xbox One S, we tested them and then transferred to an external SSD to test again. We ran each test for three times, and the average is shown in the table. Each result never varied for more than 1.5 seconds. For each game, the first test was a cold boot, but the following two tests were done after exiting the game from the Home screen.
The tests consist just from loading times; logos, menu navigations, and intros were not included.
What we used?
– Of course, Xbox One S gaming console, with a 500GB internal hard drive.
– The 2.5-inch hard drive enclosure – Sabrent EC-UASP USB 3.0
– And an SSD – Samsung 850 PRO 256GB – it's one of the most popular SSD on the market, with an excellent price per GB ratio. In other words, this SSD is fast, affordable and reliable.
The Samsung 850 PRO is one of the best SSD for the money. But a 256GB is not much, and we ran out of storage after installing just five games. The SSD will definitely give you a performance boost, but the capacity is quite tiny and costs a lot of money. Also, remember to choose an external enclosure that supports UASP and works well with solid state drives. Sabrent EC-UASP USB 3.0 worked very well for us, also it costs less than $15.
Main Things To Remember When Choosing an Xbox One S External Hard Drive
– The minimum Xbox One S external hard drive size is 256GB, buy you will need much more. There is not point purchase a drive that is 50% smaller than original internal HDD. Although now in 2017 it will be quite hard to find something smaller than 500GB.
– Choose between bus-powered USB 3.0 drives or drives with an external power source (AC adapter). You are free to choose, and it is entirely up to you, but usually desktop external hard drives (with AC-adapter) are more powerful, performs faster and lives longer.
– The external hard disk must have a USB 3.0 interface which is now standard and found on most products. You can find USB 2.0 on some older drives still on the market. Notice that USB 3.0 is backward compatible with USB 2.0 port.
– Next big thing is RPM – hard drive rotations per minutes. Most drives come with 5400RPM, but you want to go for 7200RPM. We recommend to spend few bucks more and get 7200RPM, they're worth it. Well, there is also drives with 10,000RPM (Toshiba for example), but you don't need that.
– The last thing to choose from is hard drive brand. The Top 3 you will find are Western Digital (WD), Seagate and Toshiba. If you go for something massive like NAS, then Synology, Qnap, and Asustor are the top 3 manufacturers. Despite Seagate HDD's have a pretty high failure rate they are very popular.
Xbox One S Storage Upgrade – Done!
We recommend buying WD My Book 6TB for Xbox One S. But of course, you need to analyze first, maybe portable drive, like Seagate Game Drive fits best for your needs. With WD My Book, you can just set it and forget it. Big capacity that allows you to install and play plenty of games, combined with an increased performance makes it the best external hard drive for Xbox One S, also a relatively cheap opt for almost everyone.
Which external hard drive did you choose for your Xbox One S?
Do you have some recommendations for others?
Share your experience in the comments below and help others, what can be more useful than that?
Some FAQs about Xbox One and Xbox One S