Few serious gamers are unfamiliar with Sony PlayStation-4. After all, PS4 is a much-improved version of Sony's first three video game consoles, the PlayStation 1 to 3. Loyal PlayStation fans appreciate PS4's improvements from PS3, such as the redesigned console controllers, better independent game development, increased hard drive capacity, and improved integration of PS4 external hard drives. Since its North American launch in November 2013, Sony has sold more than 40 million units and has shipped over 43 million consoles worldwide.
Despite PS4's numerous exciting features, most gamers find its insufficient storage capacity a serious flaw. The first line of PlayStation-4 only has only 500GB internal hard drive (HDD), certainly not enough to store all the games and content that users want. Imagine saving the entire Final Fantasy series (or at least those available for PS4) or Call of Duty but having only half a terabyte of storage space. It's disappointing, to say the least.


In response to user comments, Sony has recently released an updated version of PS4, this time with capacity up to 1TB. While Sony does a good job of listening to its users and improving their products, a 1TB internal HDD is still not enough for avid gamers, especially those who also play media files with their console.
Improving Your PS4 External Hard Drive Storage Capacity
Fortunately, whether you're a seasoned gamer or just starting out, you do not have to be limited by PlayStation-4's inadequate storage capacity. Users now have several options to increase the size of their external hard drive for PS4. These are the following:
Upgrade the internal hard drive of your PS4
This is the best option if you prefer to keep all of your games and movies in one place. Since you are keeping all your files on the internal hard drive of your video game console, you do not need to go through the trouble of transferring a game back to the console if you want to play. Data access is instant, so you have more time to play the actual game. The downside is that you are basically storing everything in one device, so there is a chance that you may lose all your files if your unit crashes or becomes corrupted. If you think about upgrading your PS4 internal hard drive we strongly recommend you to see our Best PS4 Hard Drives article.
Get an external hard drive for PS4
If you want an easy PS4 storage upgrade, get an external hard drive. After 4.5 System Software Update, you can install your games on PS4 external HDD.
The good thing about a PS4 external hard drive is that you can bring it with you without taking the whole console and they are much faster than portable external hard drives. So if a friend has another PS4 unit in a different location and you just want to play your saved games or watch a movie, you can bring your portable HDD and leave your own console behind. On the other hand, transferring files from the external HDD back to the game console can be tedious, depending on the transfer speed of your device and the size of your file. Note that you cannot play a game directly from the external hard drive, so you have to set a portion of your time transferring a file back to your PS4 before you can play the game again.
Upgrade your internal hard drive and get additional storage with an external hard drive
PS4 gamers can opt to do both, but most of them don't because it becomes redundant. Unless you are a professional gamer or you are very particular about backing up your important files, you do not have to go with this option. The good thing about choosing this, however, is that you can save a copy of the file twice — one in the internal hard drive and another in the external HDD. By doing this to your favorite games and movies, you can easily play them whenever you want, and still, have a backup copy in your external HDD in the event that your console gets broken.
Top 4 Desktop External Hard Drives for PS4
If you do not need to bring your files with you every day, you can choose a desktop external hard drive. PS4 consoles can be stored in a strategic location and connected to the unportable HDD, so it is easy to boot up any game you want to play, anytime.
PS4 Desktop External HDD Comparison Table
1. WD My Book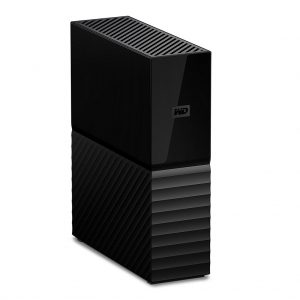 While the new version of WD My Book Desktop External HDD is praised for its sleek and classy design, this is not its only good point. This external hard drive also features automatic backup software. My Book is a great backup device for Playstation-4 and other game units because it is equipped with USB 3.0 connectivity, allowing you to easily move your files from your console to the HDD. My Book also comes in 3TB, 4TB, 6TB, and 8TB storage capacity, giving you a wide range of options for your storage needs.
2. Seagate Backup Plus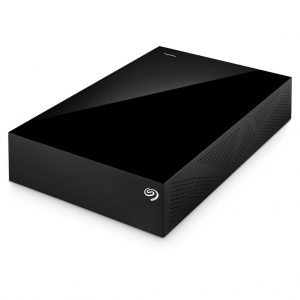 This desktop external HDD is a top choice for many gaming enthusiasts, and for good reasons. Tests showed that Seagate Backup Plus has one of the fastest file transfer rates among leading desktop external HDDs out in the market today. One added feature that users love is its two USB ports, which allows them to back up files into the HDD while using it as a charger for a smartphone or tablet at the same time. With a sturdy size of 7.1 x 1.6 x 4.6 inches, this backup drive can store up to 8TB worth of games, and comes with free
200GB OneDrive Cloud Storage
for two years.
3. Seagate Expansion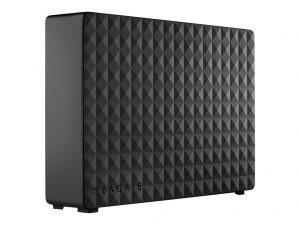 If you're looking for something easy to use, then desktop expansion HDD is perfect for you. Simply plug into your PS4 and start transferring files from your internal HDD to external. The Expansion also sells at a relatively lower price for 8TB storage capacity (compared to WD My Book's and Seagate Backup Plus's). Minor disadvantages are a slightly slower transfer speed, no automatic backup software, and shorter warranty (one year). However, reviewers praise it for its sturdy housing, fast transfer speeds, and fair price, especially for the 5TB model.
4. WD My Book Duo Desktop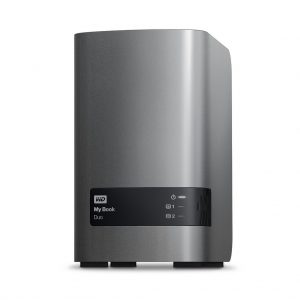 If you need masive amouts of space and ability to customize your storage device this is the hard drive for you. WD My Book Duo has two internal hard drives inside that you can easy take out and swap to upgrade your storage capacity or just change the My Book Duo stored data. It also features two USB 3.0 ports meaning that you can add another external drive to it in series or maybe even another My Book Duo. Another cool thing is that you can configure your hard drive for more speed (default setting: RAID 0), data protection (drive mirroring: RAID 1) or operate as two independent drives (JBOD).
Top 4 Portable External Hard Drives for PS4
A portable external hard drive is perfect for people with an active lifestyle. Since it is very lightweight, it is easy to carry in the bag. While you may not need to move your backup often if it only contains PS4 games, you can still consider the portable version if you want your files ready for access anytime you need them. One major plus of portable external hard drives is that they don't require an additional power cable.
Best PS4 Portable HDD Comparison Table
1. Our Top pick - Seagate Backup Plus Ultra Slim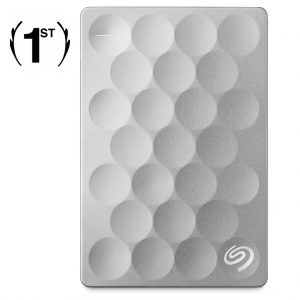 This portable hard drive comes in a very sleek and classy design. At 0.298 lb and 4.468 x 2.992 x 0.378 inches, it is one of the slimmest and most lightweight portable HDDs available in the market. With a capacity of up to 2TB, you can transfer your files at up to 120MB per second. It uses an USB 3.0 interface which is compatible to Playstation-4 and other digital devices, and surely is one of the best external HDDs out there.
2. WD My Passport Ultra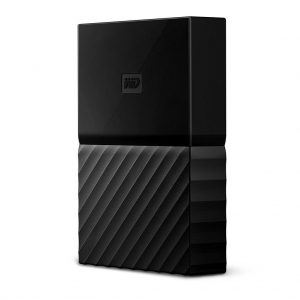 One of the highlights of My Passport is its automatic and cloud backup, which not only allows you to save your important games to the drive but also allows to use Dropbox. This portable HDD offers extra protection to your files with its password protection feature, although this isn't really important if you do not have any personal file you need to keep (unless you're very possessive of your games). Transfer rates are very similar to Seagate Backup Plus Slim. The WD external HDD has a sleek and modern design that comes in a variety of color choices.
3. Seagate Expansion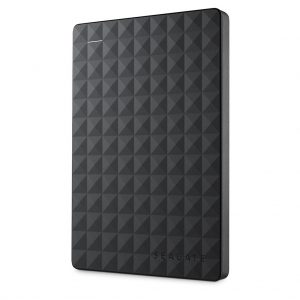 The Seagate Expansion HDD is a good choice if you wish to add additional storage space for your console. The Seagate Expansion can store up to 4TB of data, and weighs almost double of the Seagate Backup Plus Slim, at 8.3 ounces. Like its desktop version, it does not have backup software and only offers a one-year warranty. Still, it is cheaper and runs faster than the two other portable external hard drives.
4. Samsung T3 Portable SSD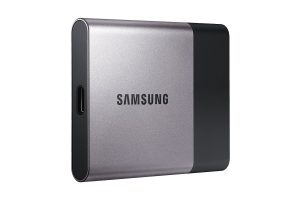 If performance is what you seek then the Samsung T3 Portable SSD may be just the right portable external hard drive for you. Speeds on this thing are amazing, average HDD is no match for T3 It has three versions of 250GB, 1TB and 2TB making it perfect even for massive games. Samsung T3 has USB C type cable so you don't have to worry about plugin it incorrectly.
Choosing an External Hard Drive for PS4
There are two types of external hard drives available for PlayStation-4. These are the desktop (unportable, 3.5-inch drives inside) external hard drive and laptop (portable, 2.5-inch drives inside) external hard drive. Desktop HDDs are designed to remain in one place for long periods of time and therefore are heavier and bigger in size. Laptop HDDs, on the other hand, are best used to store files that you need on the go, because they are quite handy and convenient to carry around.
Of course, using either version comes with its own advantages and disadvantages. To help you decide the best external hard drive for PS4, check out the list below:
PS4 Portable External Hard Drive
Pros
Portable
No need for a power outlet
Unlike the desktop variety, laptop external hard drives are very light and transportable, making it an ideal gadget for people always on the go. For example, the Seagate Backup Slim weighs only 4.8 ounces and is less than half an inch thick. Because it is very thin and light, you can easily place it in your bag and carry it with you throughout the day.
A laptop external hard drive gets its power from the USB port of the laptop or PC that it is connected to (or, in the gamer's case, the PS4 console). This means you don't need to worry about looking for another power outlet; all you need is to plug the cable into the USB port, and you can start transferring files immediately.
Cons
Portable External HDDs are generally more expensive per byte. For example, let's compare the prices of two of WD's best external hard drives, the desktop variety WD My Book and the laptop version WD My Passport Ultra. A brand new WD 4TB My Book sells for around $130 while the WD 4TB My Passport Ultra costs like $160. In essence, you're paying an extra $30 for the convenience of having your files with you wherever and whenever you want them.
Unfortunately, because laptop external hard drives are designed to be light and portable, they tend to be more fragile compared to the desktop variety. You have to exert extra effort to make sure you do not drop your HDD because it can easily get corrupted. And it's hard to extract backed-up files from corrupted hard drives, isn't it?
PS4 Desktop External Hard Drive
Pros
Heavy duty
Cheaper
Faster speeds
A desktop external hard drive is durable and is less likely to be damaged or corrupted than its laptop counterpart. It is sturdy and made of tough casing—usually metal or plastic—and its bulky size discourages users to keep moving it from its usual spot. The less the HDD is moved, the less likely it is to get damaged.
The desktop version is the more economical choice for most PS4 users if they are not too concerned about mobility issues. For example, the Seagate Expansion 4TB Portable External HDD costs $116.95 in Amazon, but you can get the Seagate Expansion 4TB Desktop External HDD for a lower price of $109.99. Same brand, same storage capacity, but the desktop version is a few dollars cheaper than the portable one.
Desktop hard drives can transfer files faster than the laptop variety. Most desktops operate at 7200 rpm (rotations per minute), while laptops run at 5400 rpm. Faster rpm means faster file transfer times, which means desktops beat portables with at least a 1800 rpm difference.
Cons
Bulky
Needs a power cable to run
Unportable external hard drives are bigger and heavier than portable ones, making it inconvenient to transport it from one location to another. For instance, the Seagate Backup Plus weighs 1.9 pounds and is 7.1 inches long, which makes it hard to fit into a regular-sized bag and then carry around the whole day.
Similar to a desktop computer, you need to plug a desktop external hard drive into a power socket for it to function. It does not have its own power source, and you cannot charge it because it does not contain batteries. This means you can't instantly access your files anywhere, and you need to look for a power socket before you can turn on your hard drive and start transferring files. Portable External Hard Drive.
Uses of PS4 External Hard Drives
Once you decide to buy an external hard drive to store your PS4 games and other files, you can now start the actual file transfer. External HDD can be used in the following ways:
Also, make sure you have downloaded and installed the latest PS4 firmware update
As a drive to install your games and apps

To set up your external hard drive, connect your hard drive to the USB port of your PlayStation-4. Both desktop and portable HDDs have a USB 3.0 connectivity interface, which is compatible with PS4 and other game consoles.
Format your external hard drive through the console by going >Settings>Devices>USB Storage Devices>"Your external HDD."
Now just click "Format as Extended Storage" and follow the steps.
You are done! Now you can install your games and apps directly on your external HDD.

As a backup for the games in your console.

To start the backup process, connect your hard drive to the USB port of your PlayStation-4. Both desktop and portable HDDs have a USB 3.0 connectivity interface, which is compatible with PS4 and other game consoles.
Go to Settings and open the System folder. Click on Backup and Restore and then to Back Up PS4.
 Select which items you want to backup and click Next.
Click the Back-Up button and wait for the system to restart. This should take only a few seconds. The backup will initiate once the system restarts. Make sure you don't turn off your PS4 during backup as this may cause the files to be corrupted.

 As a media file player.

Download the PS4 Media Player from the PlayStation online store and install it in your console.
Connect your external HDD to your game console and load up the PS4 Media Player.
A Media Player menu will pop up on screen, and from there you can select which media file you want to access.
To Sum up about PS4 external hard drives
Upgrading your internal HDD to a bigger storage capacity has its advantages, but so does buying an extra PS4 external hard drive as drive to install apps and games on and as a backup. It is up to you to decide which option fits your needs better. After system software update 4.5 you can install and play your games on external hard drive, making external HDD an easy way to increase PS4 storage capacity. Do you want instant access to all your games? Do you want the convenience of being able to bring all your files without bringing the rest of your console with you? Just remember: As a gamer, it is important to have a backup of your files, in the event that your Playstation-4 crashes. No gamer wants this to happen, but it's always better to have a backup of your files and be safe.