Few serious gamers are unfamiliar with the PlayStation 4. After all, PS4 is a much-improved version of Sony's first three video game consoles that brings a modern gaming experience to the fans of the previous models. Loyal PlayStation fans appreciate not only the most notable features of the PS4, like the improved graphics and design, but also the smaller, more practical improvements from the older consoles. One such feature is the ability to easily add external storage.
Despite PS4's numerous exciting features, most gamers find its insufficient storage capacity a serious flaw. The first line of PlayStation 4 only had a 500GB internal hard drive, which is certainly not enough to store all the games and content an average user might use. Even with following storage updates that gave the PS4 a 1TB storage, the default storage space is still not enough for avid gamers. This is where external hard drives come in, as they allow you to very easily add extra storage.
Increasing PS4 Hard Drive Storage Capacity
Although the default PS4 storage is quite limited, there are a couple simple ways of increasing it – with either an internal PS4 hard drive, an external hard drive, or a combination of both. As the headline suggests, in this article, we'll only mention the internal HDD option and will focus more on tips and recommendations for an external storage drive.
Upgrade the internal hard drive of your PS4
This is the best option if you prefer to keep all of your games and movies in one place. The process of changing the stock drive is rather easy, just remember to keep your save files backed up on a separate USB stick or external hard drive while you change the internal drive. The only real downside is being limited to only 2.5-inch hard drives, which are generally slower and a bit more expensive (per capacity) than a larger desktop drive you might get in an external enclosure.
Meanwhile, SSDs of the same form factor don't seem to provide enough of a performance boost to justify the high price difference, possibly due to various bottlenecks in the PS4's systems. If you consider upgrading your PS4 internal hard drive we recommend you to see our Best PS4 Hard Drives article.
PROS
No extra clutter around the console
Doesn't take up a USB port
CONS
PS4 supports only less convenient 2.5-inch HDDs or overly expensive SSDs
A bit more work than just plugging in a device
Get an external hard drive for PS4
If you want an easy PS4 storage upgrade, get an external hard drive. After System Software Update 4.5, you can install your games on a PS4 external HDD and run them from this drive as well. An external hard drive of any kind allows you to move a bunch of games between different PS4 consoles. Portable hard drives are the best for this, as most of them basically fit in the palm of your hand.
Meanwhile, stationary desktop external HDDs are not as mobile (though you can still easily unplug and carefully carry them around in a backpack) but most of them will provide better performance via 3.5-inch drives that are generally faster and often slightly cheaper than their smaller, 2.5-inch counterparts. The only noteworthy downside of this is that you'll use up one of your USB hubs to plug in the PS4 external HDD.
PROS
Easily move games between PS4 consoles
Simple installation
Allows for quicker desktop HDDs to be used with the PS4
CONS
The external HDD will take up a USB port as well as some space next to the console
Whichever method you use, it's always a good idea to have an additional external hard drive for backups. This hard drive should be formatted in FAT or exFAT, meaning you'll still be able to use its free space on other systems. This will keep your user data and save files secure even if either the PS4's internal system drive or your preferred external drive fails.
Top 3 Desktop External Hard Drives for PS4
If you don't need to bring your game files with you every day and have enough space for another "box" next to your PS4, you can choose a desktop external hard drive. All of the following drives feature a USB 3.0 connection and will utilize a separate power cable and adapter for power.
PS4 Desktop External HDD Comparison Table
1. WD My Book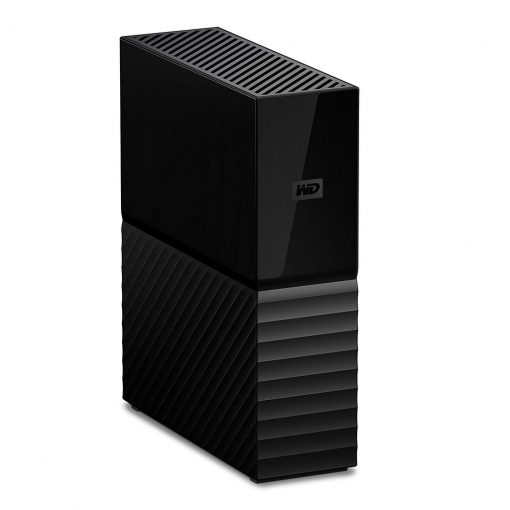 While the new version of the My Book desktop external HDDs is praised for its sleek and classy design, this is not its only strength. This hard drive comes in multiple capacities, ranging from 3TB all the way up to 8TB, though we'd recommend the smaller 4TB capacity (3TB costs only around $5 less) because anything more might become wasted space that you'll never fill up. Plus, seeing how 8TB is the top limit for external HDD capacity on PS4, you may run into compatibility problems with any hard drive model of this capacity.
Performance-wise, the WD My Book doesn't necessarily reach the highest speeds among similar drives, but it's fast nonetheless. What may be even more important is that the drive's speed is consistent, seeing how both user and reviewer benchmarks seem to mostly land in the same ballpark of 165-180MB/s (sequential read/write).
Overall, My Book is the best and most straightforward choice for an external PS4 hard drive as it combines reliable, high transfer speeds with a slightly lower price (lower than that of similar HDDs). It's worth noting here that you should avoid the My Book Duo models for your PS4, seeing how many users have found this two hard drive system to not work with their PS4.
---
2. Seagate Backup Plus Desktop (without hub)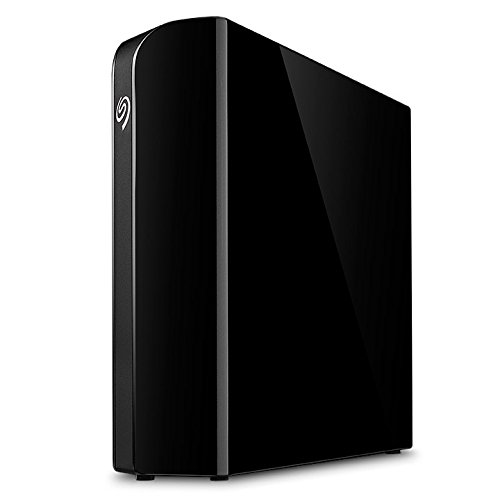 This newer, updated version of Backup Plus has only two capacities – 3TB and 4TB, but either one would be plenty for usage with the PS4. It features a slightly shorter warranty of only 2 years, but the drive's customer reviews are relatively quite decent.
The most noteworthy feature of this drive is its slightly higher performance, ranging between 170 and 185 MB/s most of the time. However, benchmarks of this drive are sometimes all over the place, meaning that this slightly higher performance is slightly less reliable than that of the My Book. Still, the drive performs well on the vast majority of occasions and beats most of its desktop HDD competition while doing it.
A footnote with this external drive is that, while it may seem like a "two birds, one stone" solution at first, you should avoid getting the Backup Plus HUB drive, as it has been confirmed by users to not work with any PS4 console due to the internal drive being connected to the PS4 via the added USB hub, as opposed to the necessary direct drive-console SATA connection.
---
3. Seagate Expansion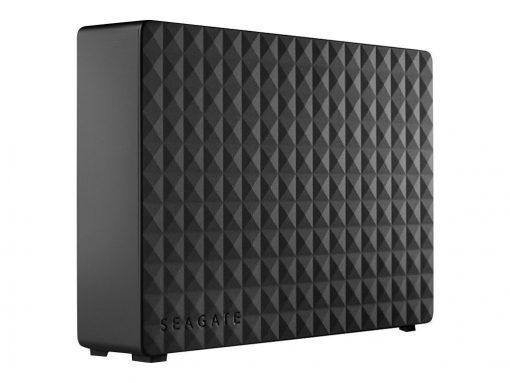 Another competitor to My Book, the Seagate Expansion desktop model, is the big brother of one of the most popular portable HDDs of the same name. The Expansion is available in 2TB, 3TB, 4TB, 5TB, and 8TB capacities, though, same as with the previous drives, the older, smaller capacities cost basically the same as the 4TB model, so no point in getting anything less than that. Same as with the Backup Plus, this Seagate external hard drive comes only with a 2-year limited warranty.
When it comes to performance, the Expansion is similar to the Backup Plus in the sense that the benchmarks are often times all over the place. Regardless, this drive more often than not lands somewhere between 160 and 180 MB/s.
Overall, the Expansion isn't the best PS4 external HDD option on our list, due to more inconsistent performance (hence why its last among similar drives) but will get the job done nonetheless. The short story with both Seagate drives – if they're cheaper than My Book, they're worth getting. If not, then the My Book seems to be as reliable and costs the same as the other two, except it delivers high transfer speeds more consistently.
Top 4 Portable External Hard Drives for PS4
A portable external hard drive is perfect for people with an active lifestyle. Since it is very lightweight, it is easy to carry with you in a bag. A portable PS4 HDD might be less useful for backups, but is a very good addition to your system if you often play on your friend's console, for example. Another major plus of portable PS4 external hard drives is that they don't require an additional power cable, reducing the clutter around your console even more.
Best PS4 Portable HDD Comparison Table
*The Seagate PS4 Game Drive is used primarily only with consoles, so very few PC benchmarks of it exist for a concrete, reliable comparison with the other HDDs. The drive is still fast, just take the numbers with a grain of salt.
1. WD My Passport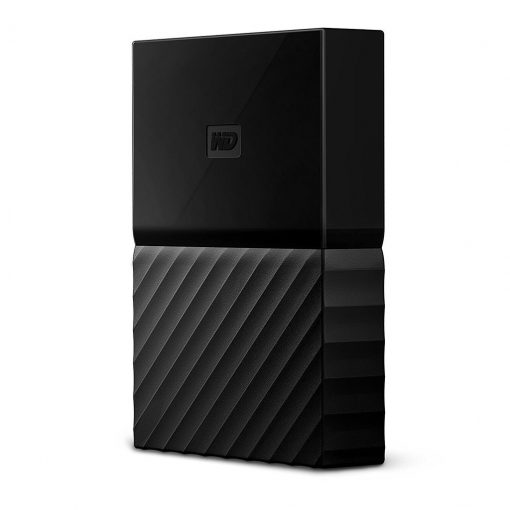 Same as with desktop external hard drives for PS4, Western Digital takes the lead in the portable department too with their My Passport. The drive's success is based mainly around its reliability, reassured both by a 3-year warranty and one of the best customer score among similar drives.
The drive comes in 1TB, 2TB, 3TB, and 4TB capacities, all of which are available in various bright drive case colors. The stylish design options also come at a relatively low price, ranging between 2.8 and 5.5 cents per GB (depending on capacity).
The difference between different portable HDD model performance is usually small and dependant on many factors, so their benchmarks are always to be taken with a grain of salt. Still, for the sake of comparison, the My Passport's benchmark results on UserBenhmark are around 80MB/s for both sequential read and write, which isn't the highest result among portable HDDs but is still quite decent.
My Passport is only slightly better than its similar portable HDD competition (like Seagate Expansion, Toshiba Canvio Connect II, etc.) but that is enough for it to be the first on our top list. It may be a couple MB/s slower than the other drives but this is well compensated by the drive's reliability that can save you money and nerve cells in the long term.
---
2. Seagate Backup Plus Slim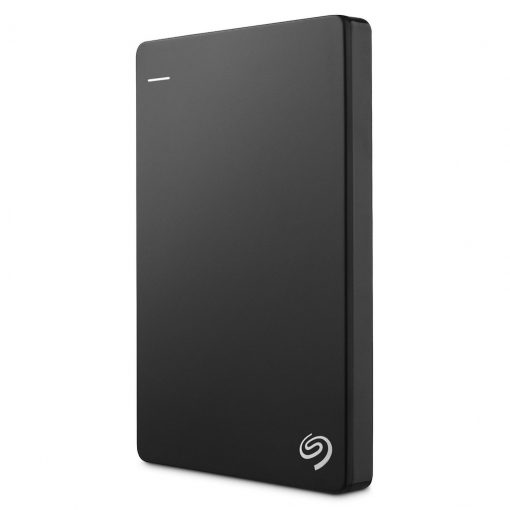 Second on our portable HDD list is the very popular Seagate Backup Plus Slim. The name is a bit of a mouthful but it's important to remember fully because there are different variations of the Backup Plus series that behave and are priced quite differently (like the desktop Backup Plus or the more costly Backup Plus Ultra Slim). The Backup Plus Slim is quite a simple drive but that is partially why so many people buy it – it simply does what it says on the can.
The Backup Plus Slim is available in 1TB, 2TB 4TB, and 5TB capacities (4TB and 5TB not quite as slim, see the size specs), which would cover any gamer's needs. The shorter warranty of only 2 years is one of the factors that give the My Passport a slight edge over the Slim, especially since both drives cost the same most of the time (between 2.8 and 5.5 cents/GB).
As for performance, the Backup Plus Slim achieves quite decent benchmarks, reaching around 80MB/s sequential read and 88MB/s sequential write on UserBenchmarks. Benchmarks with other software also put this drive in the top end of portable HDDs in terms of transfer speeds, and this should directly correlate to how quickly your games get loaded up.
Overall, Backup Plus Slim, similarly to My Passport, is the simple choice that does fairly well on all crucial aspects of portable hard drives, those being price, speed and reliability. It falls only slightly behind WD's most popular drive in terms the latter two factors, but is a good hard drive nonetheless.
---
3. Seagate PS4 Game Drive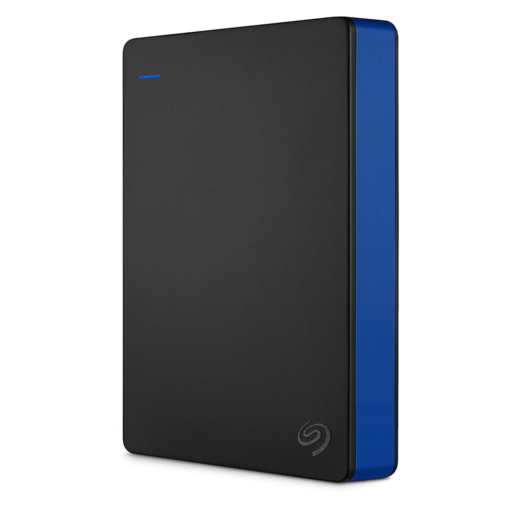 Quite similar to the Backup Plus Slim is Seagate's masterpiece, made specifically for use with PS4 consoles – the PS4 Game Drive. Fortunately, the fact that this drive was made specifically for PS4 is not the only factor that landed it on our top list because it's also quite fast and well received by its users.
The PS4 Game Drive is available only in 2TB and 4TB capacities, but one of the two will most likely fit your needs anyway. The drive does have the same, shorter 2-year warranty of the Backup Plus Slim and its customer rating is also about the same.
The PS4 Game Drive is the only one on this list to technically surpass the 100MB/s mark for sequential read/write on the UserBenchmark platform, reaching 118/115 MB/s sequential read/write. However, this is based on very few benchmarks, so it might not be a reliable enough result to objectively compare it to the other drives. Still, customers report a noticeable decrease in loading times when using this drive so, regardless of precise numbers, the drive is a top performer among portable HDDs.
Although the Game Drive may seem like simple recolor of the Backup Plus Slim thus far, there is one thing that clearly sets the two apart. Unfortunately for you, it's the drive's price. The Game Drive costs somewhere between 3.3 and 4.5 cents per GB – upwards of half a cent more expensive (per capacity) than the Backup Plus Slim.
If you like to match your gaming gear in terms of both performance and style, the PS4 Game Drive from Seagate would be the way to go. However, while it may have an edge in terms of performance, the drive will cost you a considerable amount more than the other, more conservative options on this list.
---
4. Toshiba Canvio Connect II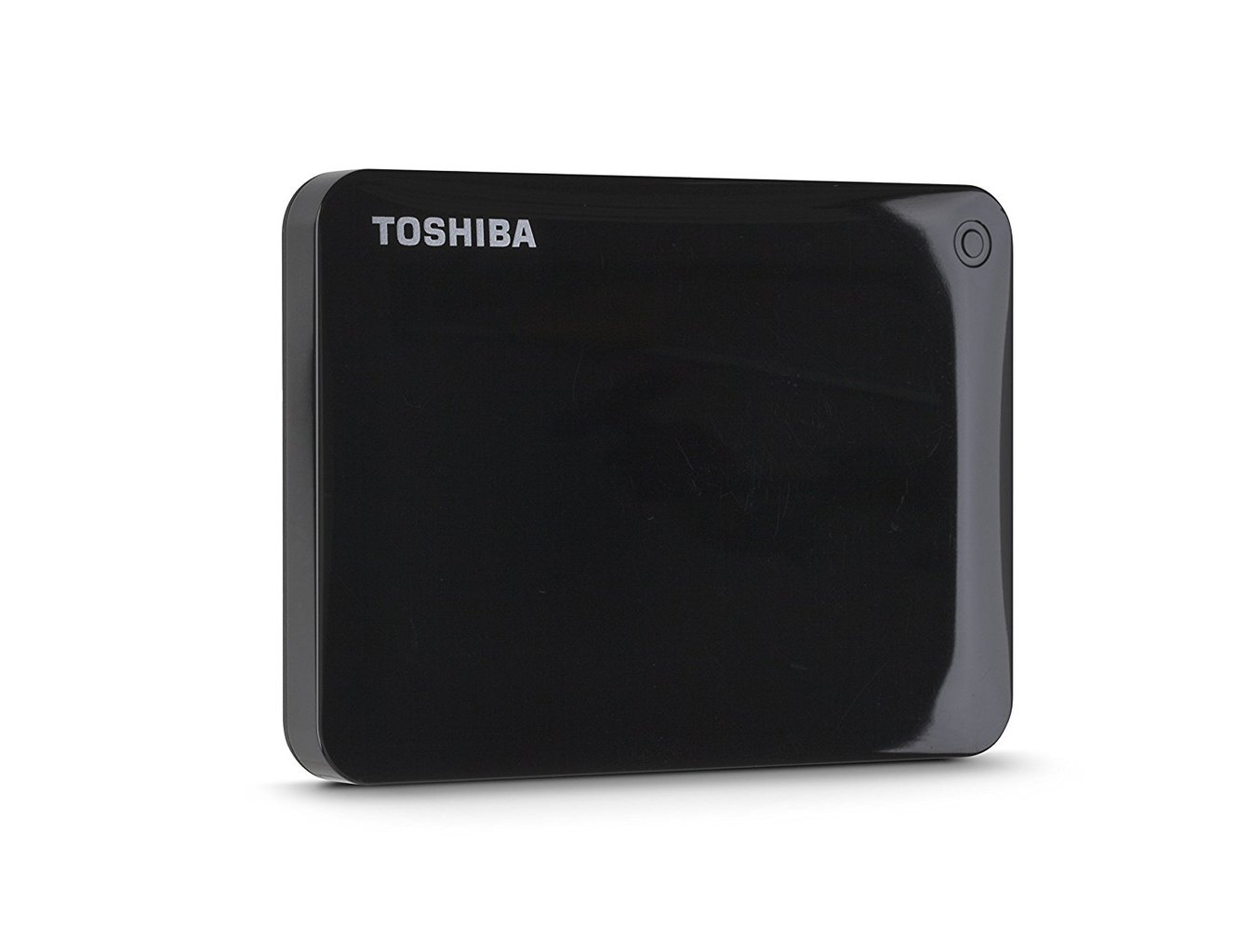 Most of our recommendations lists have been dominated by Western Digital and Seagate drives but, although they do have the richest experience and practice in the field, Toshiba has also provided a very valid competitor to these two giants. The Canvio Connect II is hardly the most popular, or the newest hard drive out there but it is both fast and sturdy and can compete with the best-known drives out there.
With 1TB, 2TB, and 3TB (and a slightly outdated 500GB) capacities, the Canvio Connect II may be a bit more limited in terms of data volume but, again, most PS4 gamers will find one of these capacities sufficient. The drive comes with a 2-year warranty, though the drive's customer reviews and overall user reception are very good.
The Canvio Connect II is also quite speedy since it reaches upwards of 85 MB/s sequential read/write speeds on UserBenchmark and achieves equivalentily high performance on other benchmarking platforms as well. Al of this comes at a price ranging between 3.2 and 5.2 cents/GB.
In short, the Toshiba Canvio Connect II is a very viable candidate for your PS4's new external hard drive. Again, the drive doesn't necessarily surprise you with anything, it's just fast and reliable, which is basically all you need from such a device.
Choosing an External Hard Drive for PS4
There are two types of external hard drives available for PlayStation 4 – desktop (unportable, 3.5-inch drives inside) external hard drives and portable (2.5-inch drives inside) external hard drives. Desktop HDDs are designed to remain in one place for long periods of time and therefore are heavier and bigger in size. This, in turn, allows them to deliver higher capacity and performance.
Portable HDDs, on the other hand, are best used to store files that you need on the go because they are quite convenient to carry around due to their small size. The downsides with these drives are their top capacity limitations (you can only fit so much data in a device that size) as well as speed limitations since due to their size and construction, 2.5-inch drives will generally be noticeably slower than their desktop counterparts.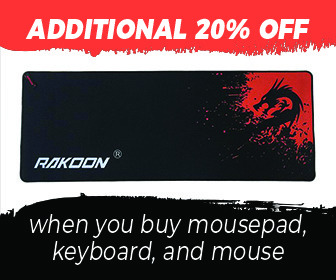 Of course, using either version comes with its own advantages and disadvantages. To help you decide on the best external hard drive for your PS4, check out the list below:
Portable External Hard Drives for PS4
Pros
Mobile
No need for a power outlet
Unlike the desktop variety, portable external hard drives are very light and transportable, making it an ideal gadget for people always on the go. For example, the Seagate Backup Plus Slim weighs only 4.8 ounces (0.14 kg) and is less than half an inch thick. Because it is very thin and light, you can easily place it in your bag and carry it with you throughout the day. This makes portable HDDs a clear choice for PS4 users who share games between their friend's consoles.
A portable external hard drive gets its power from the USB port of the laptop, PC, or (PS4) console that it is connected to. This is because 2.5-inch drives are made to use less power since if you're using a drive in a mobile fashion (in a portable case or inside a laptop), you'll probably want to use as little laptop battery power as possible. The USB-powering feature reduces the size of the pile of
cables
around your console and TV and leaves a power socket open as well.
Cons
Portable external HDDs are generally more expensive per byte. The difference has dropped a bit lately but it still exists. For example, most 4TB desktop drives will cost $10-20 more than their portable 4TB alternatives. This is due to the complexity of shoving the same capacity in a smaller space as well as 2.5-inch HDD's small additional shock and damage protection measures that are used to protect the drive when used inside their portable cases.
Unfortunately, even with some additional protection, the internal hard drives in portable HDDs are still very susceptible to damage with all of their delicate and small moving parts. While this also applies to the larger desktop hard drives, they don't get moved around nearly as often as the portable ones, thus defeating the problem.
PS4 Desktop External Hard Drive
Pros
The desktop version is the more economical choice for most PS4 users if they are not too concerned about mobility issues. The difference, as mentioned before, will often be around 10% of the price. It's not much of a difference, but there's no need to overpay if you're not bothered by any of the desktop hard drive's disadvantages.
Desktop hard drives can transfer files faster than the laptop variety. Most desktop external drives operate at more than 5400RPM (often 5900 or 7200RPM), while the fastest 7200RPM 2.5-inch hard drives can't be used in portable cases, so basically all portable HDDs will be 5400RPM, maybe 5900RPM at times. Plus, due to space differences and construction, a larger desktop HDD can produce higher actual data speeds than a laptop drive of the same RPM class.
Cons
Less likely to break
Bulky
Needs a power cable to run
As mentioned before, the fact that desktop external drives are stationary largely beats the problem of longevity right there and then. It's arguable whether the bulkier 3.5-inch drives themselves are actually sturdier but since you're not going to carry one in your pocket anytime soon, you'll get to worry a lot less about breaking it by accident.
Desktop external hard drives are designed for, well, your desktop. This means that they are quite heavy and quite large which makes them hard to carry around. Not to mention the fact that they're not built to be carried around, i.e. they have only the most basic protection against mechanical shock and damage, so moving one around is not only complicated but also not advised.
The bulkier desktop drives require quite a bit more power than their laptop counterparts which are designed to run on precious laptop juice and are therefore very economical. Desktop drives need so much power, in fact, that they use their own power supply that has to be plugged in separately. This means that a desktop external drive will use up one of your USB ports and one power socket.
Uses of PS4 External Hard Drives
Once you decide on which external hard drive to get for your PS4, you can now start the actual file transfer. External HDDs can be used in the following ways:
As a drive to install your games and apps

To set up your external hard drive, connect your hard drive to the USB port of your PlayStation 4. Both desktop and portable HDDs have a USB 3.0 connectivity interface, which is compatible with PS4 and other game consoles.
Format your external hard drive through the console by going to >Settings>Devices>USB Storage Devices>Your external HDD.
Now just click Format as Extended Storage and follow the steps.
You are done! Now you can install your games and apps directly on your external HDD.

As a backup for the games in your console.

To start the backup process, connect your hard drive to the USB port of your PlayStation 4. Both desktop and portable HDDs have a USB 3.0 connectivity interface, which is compatible with PS4 and other game consoles.
Go to Settings and open the System folder. Click on Backup and Restore and then select Back Up PS4.
Select which items you want to back up and click Next.
Click the Back-Up button and wait for the system to restart. This should take only a few seconds. The backup will initiate once the system restarts. Make sure you don't turn off your PS4 during backup as this may cause the backup files to become corrupted.

 As a media file player.

Download the PS4 Media Player from the PlayStation online store and install it in your console.
Connect your external HDD to your game console and load up the PS4 Media Player.
A Media Player menu will pop up on screen, and from there you can select which media file you want to access.
Also, make sure you have downloaded and installed the latest PS4 firmware update!
Other Tips for Buying the Best External PS4 HDD
Other than the major guidelines, there are a couple extra tips that may save you some money and/or headaches in the future.
Avoid special features (hubs, RAID)!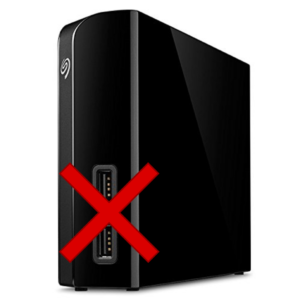 Although devices these days become more and more compatible with one another, there are still many issues to run into, even with some of the newest gaming consoles. PlayStation 4 consoles only relatively recently (since update 4.5) have begun supporting external hard drives for game storage and having full access to those games. However, the console itself wasn't built with the intent to support external storage in such way, so it's actually quite picky about what is compatible and what isn't.
For example, drives with additional USB hubs. These might seem like a "two birds, one stone" solution to external PS4 storage but they're actually not a solution to any of your external PS4 storage demands. It seems like most such drives, like the Seagate Backup Plus Hub, first run the USB 3.0 connection through the integrated USB hub, as opposed to directly connecting to the SATA drive which causes the PS4 to not recognize the drive itself.
It's a similar story with RAID and similar multi-drive systems, like the My Book Duo. RAID is quite a complex system that allows for multiple drives to be used as one, in order to achieve increased data security or transfer speeds. Needless to say, if computers need to be configured specifically to run this feature, your PS4 will reject it right away.
The SSD bottleneck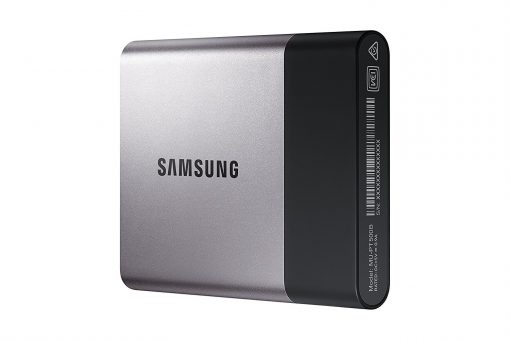 If you have at least some basic knowledge about storage drives, you'll know that Solid-State Drives (SSDs) are a completely different type of storage medium to hard disk drives. In short, SSDs are fully electronic and are therefore much faster than HDDs (around 4-5 times faster for SATA drives), though much more expensive as well (~$60 for a 1TB HDD vs ~320 for a 1TB SSD). Many PS4 users will have the funds to get an SSD, though it might not be the most optimum solution.
Although there isn't much consensus on what does this, the massive HDD-SSD speed difference that you'd see on PCs is heavily bottlenecked by the PS4. Most PS4 SSD users are usually left only with double the speed of an HDD (as opposed to the aforementioned 4-5 times on PCs). This still means that an SSD will be unquestionably faster than a hard drive, but the value proposition goes down the toilet with such speeds. This is why we recommend getting an external SSD for PS4-specific usage only if you have plenty of money to afford wasting it on bottlenecked (unusable) speed.
Summary of PS4 External Hard Drives
Upgrading your PS4's internal HDD to a bigger storage capacity has its advantages, but so does buying an extra PS4 external hard drive. It is up to you to decide which option fits your needs better. After system software update 4.5 you can install and play your games from an external hard drive, which makes external drives even more useful and appealing.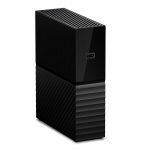 If you don't intend to move games between PS4 consoles and have a power socket to spare near your console, get a desktop hard drive. They're a bit cheaper and a bit faster than their portable counterparts. If you move a lot and need your PS4 games, backup, or any other data on the fly, a portable external HDD is the way to go. You give up some speed and pay a little bit more but you gain a lot more mobility with portable PS4 HDDs.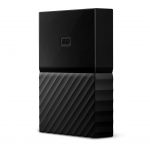 As for specific recommendations, the differences between various hard drives, both among desktop and portable HDDs, are quite small. Basically, any drive on both of our lists will work great with your PlayStation so you may as well go for the one that has a noteworthy discount (if one actually does).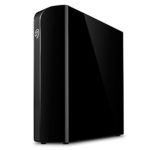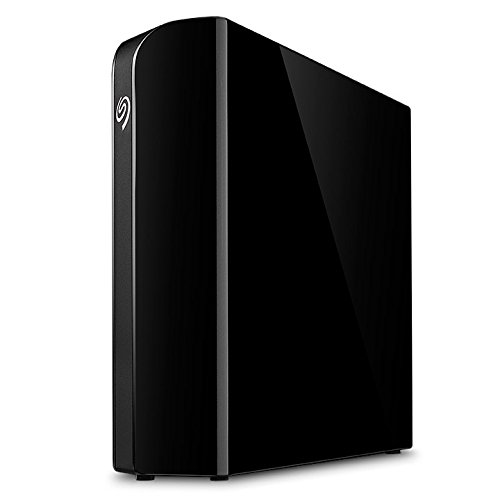 If you're not looking for a specific brand or model, WD's My Book would be the most reliable option among desktop external drives, while their My Passport would be the same for the portable variety. Seagate drives are also worth mentioning here since both Backup Plus Desktop and PS4 Game Drive are the fastest in their respective "weight class".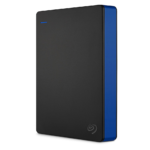 Whether used for backups or as a designated game storage, external hard drives are a great addition to your PS4 gaming system. Not only that, any of these drives can be used on most other USB 3.0 computer devices, though, in most cases, this would require reformatting the drive, thus deleting all of the games on it. Still, the versatility is useful, as is the simple installation of such drives, and their limited or full-on portability. At least for backups, we would recommend everyone to get upwards of a terabyte of external storage.