If you're curious about the Kingston A400, we've got all the information you need right here.
A proper Solid State Drive as the main system drive is a must-have. Even if you're on a super low budget, getting an entry-level SSD is very advisable. The thing is that you don't need anything fancy, a 120-240GB SSD will more than great for storing your operating system and any software or game you use frequently.
The Kingston A400 is a great drive that features one of the best cost-performance ratios on the market, but how does it stand up against other 2.5-inch SATA SSDs? Let's find out!
Buy on Amazon
Read related: Top 7 SSD 2.5-Inch Internal Hard Drives
Performance, specifications, and our tests
To test this drive properly we used our Multipurpose PC build which is running Windows 10 that has the following specifications:
CPU – AMD Ryzen 5 1600
RAM – Corsair Vengeance LPX 16GB
Motherboard – MSI Gaming AMD Ryzen B350
Video card – EVGA GeForce GTX 1060 3GB
Power Supply – EVGA 650 GQ, 80+ GOLD 650W
To perform tests, Kingston A400 120GB was plugged into the first SATA port and during benchmarks and tests, all power-saving features were disabled.
Buy on Amazon
Test applications
Two synthetic benchmarks were used to test Kingston A400:
CrystalDiskMark
HD Tune Pro
Usually, many readers ask: "Why only two benchmarks were used?" First, all storage devices we have tested – HDD's, SSD's, Flash drives and so on are tested on these synthetic benchmarks. Therefore, we can compare results with other drives to see how they compare and what's the relative performance. In fact, you don't need to perform a lot of benchmarks to speak about the performance, the main criteria are relative performance when compared with other drives. I mean people usually want to get the best they can for their money.
Benchmarks
One thing to mention is that during this review we not only tried these benchmarks but also did some real-world tests.
CrystalDiskInfo
The CrystalDiskInfo isn't really a benchmark, you can't determine your SSD's performance with it. However, it's a handy software to use if you want to see your solid state drive's specifications and overall health.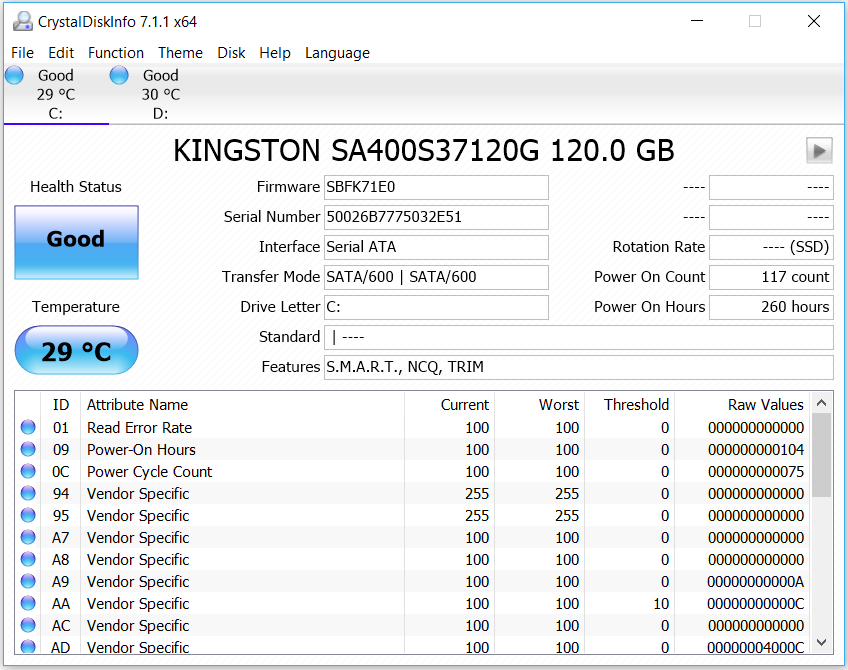 You can see the current temperature, health status, errors, power-on hours, and so on.
CrystalDiskMark
At first, we tested our Kingston A400 with CrystalDiskMark software. It's one of the most widely known and used benchmarks out there.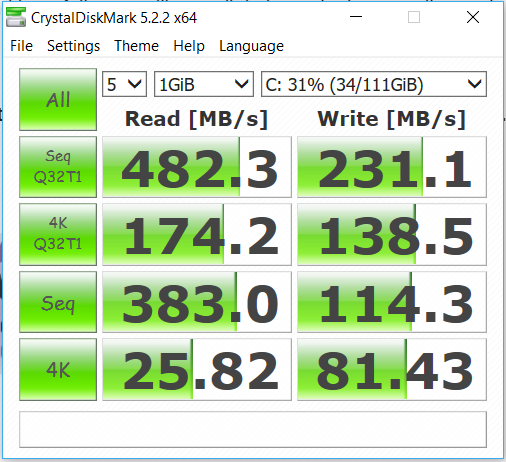 If we compare the results with Kingston's claimed 500MB/s read and 320MB/s write speeds, then there is quite a difference, especially in write performance. However, all 120GB SSD's feature significantly lower write speeds than read speeds. Overall, sequential performance is good, but not the best we have seen. When it comes to 4k, Kingston A400 beats some of its competitors like SanDisk SSD Plus 120GB.
HD Tune Pro
Unlike CrystalDiskMark, HD Tune Pro shows more detailed results of Kingston's A400 read/write speeds. You can track tests minimum and maximum as well as average values.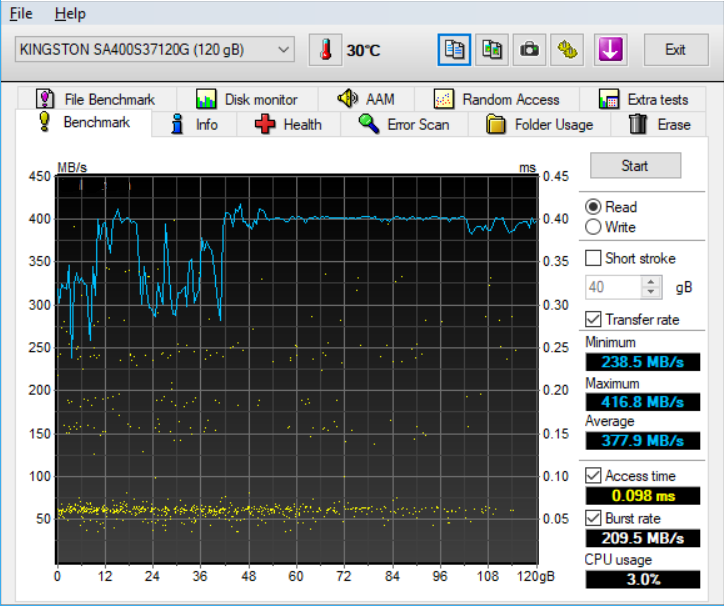 As you can see from the image above, Kingston A400 shows a stable 400MB/s average read speed. the graph may show some fluctuations at the start of the test. However, after some time this drive performs at a steady 400MB/s, which isn't bad at all.
Understanding Benchmarks
We have received numerous emails and questions about benchmark meanings. For example, what does "sequential" or "4k random" stands for and how important is it? For someone who is looking for a good Solid State Drive, but doesn't have a deeper knowledge of them, this terminology may seem confusing. Therefore, down below you can read explanations. Knowing what each variable means is an important factor when choosing an SSD.
Sequential read/write
This is the performance figure that everyone is after and storage device manufacturers advertise the most. Sequential read and write speeds show how fast you can move or transfer large amounts of data. For example, moving large media files, waiting on game loading screens and so on – all of this is affected by sequential read/write speeds.
4K random read/write
Unlike many consumers who think that "4k have to stand for transferring files at 4k resolution or something like that", 4K random speeds display how fast your hard drive is able to access small files that are randomly scattered across it. 4k random speeds are very important if you want to use your drive as your main system drive or do a lot of multitasking on it.
Minimum, maximum, and average
These variables are quite easy and straight forward. They determine maximum, minimum, and average data transfer speeds during a benchmark.
So what matters?
It all depends on how you are going to use your solid state drive. As the main drive combined with a secondary drive? Or as a stand-alone drive? Of course, in both of these cases, you want all performance ratings to be as high as possible. However, sometimes it's not possible to choose such a drive, and then you may have to choose between a high 4k random or sequential speeds.
If you want to use the particular drive as the system drive, you definitely want to look for 4k random speeds as high as possible as it will make your OS boot and work faster. However, if the drive will be used a secondary drive or mass storage utility, look for high sequential read and write speeds.
Should you buy it?
SATA SSD market is so large these days, there are tons of similar hard drives from many manufacturers and it may hard to decide which one is the most appropriate. The only way to consider if Kingston A400 is worth buying is by comparing it with other drives. To do this properly we have made a chart that includes high-end Kingston HyperX Savage 240GB, main competitor –  SanDisk SSD Plus 120GB, and the king of SATA SSD's – Samsung 850 EVO 120GB. Here are the results:
As you can see Kingston's performance is quite average when compared with more expensive drives like Kingston HyperX Savage or Samsung 850 EVO. Not only these drives feature higher sequential read/write speeds but also random 4k. However, they do cost significantly more. The main competitor to Kingston is SanDisk SSD Plus which shows similar results. Kingston A400 has slightly more write speed and lower read speed than SanDisk. The cost of these two is also quite similar.
Verdict
In a few words – Kingston A400 has an excellent cost-performance ratio. It's definitely not one of the fastest drives you can get on the market, however, it's one of the cheapest ones. This drive is a great solution for a system that's on a budget but wants to use SSD – HDD setup where SSD is used as an operating system and HDD as a mass storage drive.
Pros
Good 4k random speeds
Very low cost makes it great for budget builds
Cons
Sequential write speed is too slow. We have tested some hard drives with higher seq. write.
We also believe that A400 is a much wiser choice than UV400 as it costs more and has similar performance. Basically, A400 is the same UV400 just with a different controller.
Last update on 2020-08-20 at 15:37 / Affiliate links / Images from Amazon Product Advertising API