Once in a while, there's a small task that you could do within minutes, but because of tons of screwing and driving it appears to take you much more time. If that's the case an electric cordless screwdriver could help you out a lot to manage tasks like assembly, installations, screwing prebuilt furniture and so on. In every household or handymen's toolbox, there should be one cordless screwdriver to ease your life.
We have created this article to help you choose between the best cordless screwdrivers on the market. We have tested all of them and come up with our opinion.
Our Top 10 Best Cordless Screwdriver picks
1. Makita DF010DSE 7.2-Volt Lithium-Ion Cordless Driver-Drill
Makita is well known for its high-quality tools. When you get a product from this brand, you can be sure that will last for years and compete really well against other high-end products. In our tests, Makita DF010DSE scored the highest test results having the best performance, build and features.
The main specs of this cordless screwdriver are its 7.2-volt lithium-ion battery that combines both – it's longlasting and offers a hefty amount of torque. When working you can also choose between two speeds of 200 or 650 RPM depending what are you doing. Makita DF010DSE has 21 different clutch settings and auto-stop feature which is very handy not only for tightening screws properly but also to avoid overdriving them. This kit comes with two 7.2 volt lithium-ion batteries and a charger and, of course, a  tool case to store everything.
One of the main features is that you can retract to a straight position as well as hold it just like a conventional screwdriver. It's superb as now you can access screws you couldn't before.
Overall, it's a very well built tool that's strong enough to also manage some drilling tasks. It will definitely last much longer than cheaper cordless screwdrivers, although, it's quite expensive.
---
2. DEWALT DCD710S2 

12V 

Lithium-Ion Screwdriver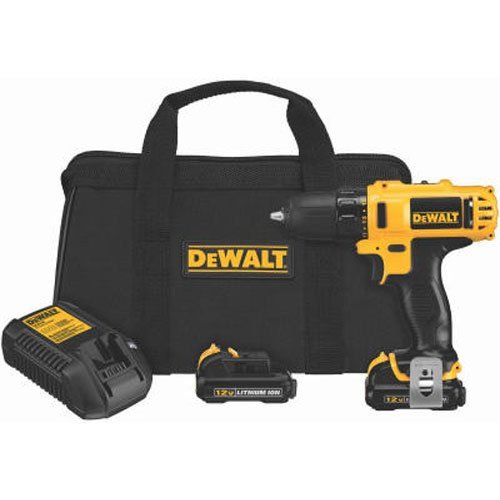 Just like our top pick, DEWALT DCD710S2 is another heavy task screwdriver/drill. It's super compact and clever designed, but yet it can manage some hard drilling that other cordless screwdrivers can't. The performance lies in its 12V Lithium-Ion battery and robust built. 
You get 15+1 different settings for a clutch and two speeds of 400 and 1500 RPM which is quite a lot. In the box, you get two lithium-ion battery packs, screwdriver itself, charger and bag.
DEWALT DCD710S2 is super pleasant to work with and packs quite a lot of power for its size. It will manage all medium-duty driving and drilling tasks easily. A perfect tool for all kinds of handymen like installer, electricians, and homeowners.
---
3. 

Bosch DDB181-02 18-Volt Lithium-Ion 

Compact Tough Drill/Driver Kit
Just like Makita and DEWALT, BOSH DDB181-02 is one of the best heavy duty cordless screwdrivers you can buy. It's a super great deal because it has only half of the Makita's price and it also comes with two battery packs, charger, and bag. It's powered by an 18 Volt lithium-ion battery, in the result you get 350 In.-Lbs. of torque and speeds of up to 1300 RPM. 
With this tool you will definitely be able to manage some medium duty drilling tasks not even talking about driving and screwing. Despite BOSH feeling robust and well built, it comes only 1-year warranty which is quite disappointing.
---
4. WORX WX255L SD Semi-Automatic Power Screw Driver
WORX WX255L is probably one of the best cordless screwdrivers you can have in your home. It's more than great for small DIY tasks – for example screwing furniture or any other task you can think of. The main feature about WORX is its semi-automatic bit changer and screw holder. It feels like holding a revolver and reloading it – really fun and also practical. Thanks to screw holder, you no longer have to use two screws – you can hold WORX WX255L in one hand and manage it all.
This is a true electric screwdriver, don't expect it to be a drill plus it's not great for heavy duty tasks. However, anyone who has dealt with hard accessible screws will truly appreciate this tool.
---
5. BLACK+DECKER LI4000 4-Volt Lithium-Ion SmartSelect Screwdriver
This cordless screwdriver is similar to a previous product – WORX WX255L. They both are fed by 4V lithium-ion battery, both have around 200 RPM and a shareholder and prices are also about the same. Blacker+Decker claims that LI4000's battery can hold its charge for whopping 18months! That's great if you do some mild jobs once in a while – you won't have to charge it every time before doing something. 
It's superb for small screwing tasks and is a great addition everyone's toolbox. Doing assembly or screwing tasks is super simple because you can manage everything with one hand and there is LED light to improve visibility. We loved that it comes with an 11 included bits and a wall mountable charging cradle.
---
6. Black & Decker AS6NG Alkaline Cordless Screwdriver
AS6NG from Black & Decker is probably the cheapest and most basic electric screwdriver you can buy, yet it's still quite decent. It's very compact and ergonomic meaning it will fit in even the smallest toolboxes. When it comes to performance, you will be good for some small tasks like screwing a screw to hand a picture, hang a curtain rod, install light-switches and so on.
This screwdriver is powered by four disposable AA batteries meaning they don't offer a punch that lithium-ion battery packs do and they have to be replaced once in a while. As we tested this screwdriver is not enough for screwing large and super tight screws, it doesn't have enough torque. However, for lighter tasks it's more than great plus, because of its low price, it's an absolute must get.
---
7. Genesis GLSD72A 7.2V Lithium-Ion 2-Speed Screwdriver
Genesis GLSD72A is a 7.2 Volt two-speed screwdriver that can also manage some light drilling. It has 1/4 in. hex, 16 torque/clutch settings, battery charge indicator, LED light and a decent warranty.
It's a very compact screwdriver that's easy to work with. To charge it you get a charger that plugs directly into the wall and on the other end of charging cable it has a conventional DC connector that plugs directly into Genesis GLSD72A.
Overall it's a very qualitative screwdriver that has enough pouch to tighten even large screws.
---
8. Tacklife SDH13DC Advanced Cordless Screwdriver 3.6-Volt
If you are looking for a versatile and modern screwing tool for small everyday jobs, Tacklife SDH13DC is one of your best choices. It's powered by a 3.6-Volt 2000mAh that's rechargeable with the most simplest USB charging cable. This means you can recharge it just about everywhere. Also, another handy feature is its 3 position handle which allows you to use this screwdriver in tight places so you can access everything.
It's great that this cordless screwdriver comes with included 31 driver bits, meaning if you get it, you will be able to deal with all types of screws.
---
 9. Hitachi DB3DL2 3.6 Volt Lithium Ion Dual-Position Cordless Screwdriver Kit
Want a screwdriver that has enough of torque to tighten even large screws in hard materials yet being compact? Also looking for a durable product that could last for years? If that's so, Hitachi DB3DL2 is a cordless screwdriver for you. It comes with lifetime warranty, has two speeds 260/780 which are way higher than on average cordless screwdriver and it's not super expensive.
On Hitachi, you get an adjustable handle, two 3.6 volt batteries, 21+1 position clutch, charger, hard case and one driver bit. We were impressed by how fast a dead battery can be charged – under 30 minutes plus you get two of them so you can always charge one while using another one. One thing to keep in mind – if you're left-handed, you should probably look for a different screwdriver as Hitachi won't be comfortable at all.
---
10. Black & Decker BDCS40G 4-Volt MAX Gyro Screwdriver
This is another product from Black and Decker. It has a 4-volt battery. Overall, it's pretty much the same as all compact screwdrivers – it's small and ergonomic, but doesn't have enough torque and power to drive screws through hard materials. It's mostly made for driving prebuilt furniture, power outlets, light switches and so on. So what's so special about it?
Unlike on all conventional screwdrivers that are trigger with pulling a switch with your forefinger, BDCS40G is turned on-off by movement of your wrist. This is exactly why it's called "Gyro". If you rotate your wrist cock wise, the screw will be screwed if you rotate it counter-clockwise it will be unscrewed. Switching to reverse and vise versa is super easy.
---
Conclusion
There are so many different cordless screwdrivers on the market that often it's hard to decide which one to get. Price range can be so different as well as products themselves. We advise going for a quality screwdriver made by a well-known manufacturer. You don't want to buy a super cheap product that doesn't have enough torque and power. Better get a more expensive yet trustful screwdriver that will serve you for years.