Technology is evolving with each day, we get better, faster and more efficient devices. Everything becomes better and better with each year, so do chargers. All devices become less and less wired to something. Take a stationary PC as an example, many years ago the only way how to get the internet on your computer was plugging was through the internet cable. These days almost everything is wireless.


Wireless technology improves continuously. Now you can get yourself a wireless charger. Keep in mind that you have to connect your wireless charging stand to a power outlet in order to get it working. But once it's done, forget about cables and plugging in your micro-USB or USB-C cables. Just place your smartphone on a wireless charger and see how your power bar slowly rises. You should know that wireless charger charges your phone slower than conventional wall charger if you want to get as fast or even faster charging from your wireless charger, you will have to wait for few more years.
Before getting a wireless charging stand, make sure your smartphone supports it. Not only wireless charging itself but also its standard. There are different standards on the market: the most popular is Qi. There is a possibility that you will need to change your phone's case.
We have created a list of Top 20 wireless charging stands on the market to help you choose your best fit.
Related: Best USB Wall Chargers, The Top 15 Travel Chargers, Best micro USB cables, Top 10 Apple charging stations
Our Top 20 wireless charging stand picks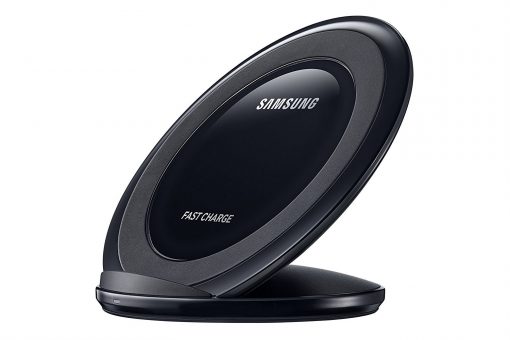 Samsung Fast Charge Wireless charging stand allows you to charge any Qi-enabled smartphone by simply placing it on the surface of the wireless charger. Smartphones who feature Fast Charge capability (Galaxy S6 edge+, Galaxy S7, Galaxy s8) will have an advantage as their phones will charge 1.4 times faster than phones who don't feature it. On the front of the panel, you can see a LED indicator that shows charging status. The Charging stand itself has to be plugged into a wall power outlet. You can do this only with the included 2A adapter. Any other adapters may cause damage to your charging stand.
This charging stand is available in four colors: Black, Gold, Silver and White to match a particular interior.
---

Pasonomi Wood Qi Wireless Charging Stand is a unique looking wireless charging stand that's main feature is its design. It features Fast Charge(compatible with S6 Edge +, S7,  S8+ Note etc.) that allows you to charge your smartphone up to 1.4 times faster than without Fast Charge. All that combined with an appealing wooden design makes this very desirable wireless charging stand.
---
This wireless charger offers not only charging wires but also an in-built electronic cooling fan that protects your smartphone from overheating. Manufacturers claim that with a cooling fan this wireless charger can charge for up to 1.2 times faster. That combined with a Fast Charge that also is featured on this devices, lowers the time you have to wait for your power bar to get full.
---
Turbot makes a very simple and minimalistic yet good wireless charger. You can get it in two colors: Black and White. It features no lettering only one LED indicator that can be whether green or blue, indicating if there is power and if the smartphone is charging. It has 3-Coils that offer you much wider charging area, meaning that you don't have to place your phone on the charger with great accuracy.
---
CHOETECH makes another very sleek and minimalistic looking wireless charger. It's compatible with all Qi-enabled Devices like Galaxy Note 5 / S8, S7,  S7 Edge, S6 Edge+ and others. For charging it uses two coils instead of one. The the result you can lay your smartphone in portrait or landscape orientation.
---
PLESON Wireless Charger is yet another very sleek looking charging stand that has two coils for charging your smartphone and can charge any phone with Qi-enabled like Samsung Note 5, Note 4, S5, S4, iPhone, LG G3, G4, and others. It also has a sharp looking LED indicator that features more than one color.
---
Bestand Aluminum QI Wireless Charger is a sleek looking Stand for charging your smartphone. It features an Aluminium build where only the charging pad itself is made from plastic. Three coils offer broader charging area. You can place your smartphone horizontally or vertically. Overall this is a very sleek looking, durable wireless stand for devices that are Qi-compatible.
---
Fleck Wireless Qi Charging Stand has a built-in wireless charger that features three coils so you can charge your phone horizontally as well as vertically. You also don't have to place your smartphone so precisely as you would with one coil wireless charger. The stand is made of plastic that looks like an organic glass. It will fit great in modern design interiors. It's also super cheap when compared with other three coil wireless charging stands.
---
The main feature of Coofun Foldable Wireless Charger is it's foldable build. You can adjust this charging stand to almost any angle. Now you can watch movies, read books and so much more while charging your smartphone. That combined with three coils, meaning you can place it horizontally as well as vertically, makes this charging stand an excellent choice.
---
Itian 2-coil Quick Wireless Charging Stand is a very simple and straightforward charger. It's made entirely from plastic and has a locked angle. You can't tilt it like Coofun Foldable Wireless Charger. It has two coils, meaning there is a space to move your smartphone and still charge it.
---
Itian Multi-coil Quick Qi Wireless Charging Stand as most Itian chargers feature two coils and Qi wireless charging standard. It will work great with Samsung and other Android phones that support wireless charging. This is an entry-level wireless charger that doesn't cost a fortune and does its job well.
---
Seneo PA046 offers a very straightforward wireless charger with two coils and Fast Charge feature. It is available in two colors: Black and white and features a LED indicator that can indicate blue or blue-green light. Blue-green light shows that device is fully charged and green shows that it is in charging mode.
---
iDOO Wireless Charger is another charger that has very nice and sturdy design. You can change the angle of tilt making it great for using media files while the phone is charging. Fast wireless charging that makes your phone charge 1.4 times faster than without it and Qi standard that's certified by WPC makes this stand a great choice.
---
Bestand 3-coil QI Wireless Charging Dock is another high-quality charging stand from Bestand. It's available in six colors for great personalization. Not only it looks good and offers sturdy design, but it also feature three coils, so you don't have to worry how to place your smartphone as with one coil chargers.
---
RAVPower Qi Wireless Charger Stand features three coils to ensure Qi device always get the full charge despite how it's positioned on the charger. It's compatible with all smartphones that support Qi like Samsung Galaxy S7 / S8/ S6 / Note 5 Nexus 7 2nd Gen; Nokia Lumia 920 HTC 8X; HTC America Butterfly; HTC Droid Incredible 4G LG Optimus.
---

ELEPHAS Wireless Charger Qi is a very simple looking wireless charger that comes with a black mat finish, features a LED indicator to show whether your smartphone is charging or it's already fully charged. ELEPHAS claims that you can save even 1 hour with this charger and that it charges 1.5 faster than other standard qi-enabled devices.
---
TYLT VU Qi Wireless Phone Charging stand is very basic and yet stylish charging stand, you can get it in one of four colors featuring: red, blue, black and yellow. It has 45-degree tilt angle and has three coils for an improved area of charging.
---
ASUS PW100 Wireless Charging Stand is like no other third-party manufacturers we have never heard about. Asus offers a stand that feels very durable and well made. Sadly you have to pay extra for that. It's about twice as expensive as Samsung Fast Charge.
---
Verizon Qi Wireless Charging Stand is another budget wireless charger. You can charge smartphones and tablets with it. Black design with red stripe makes it stand out from the competition.
---
Itian Wireless Charging Stand A15S is a very slim looking charging stand. It works great with all Samsung phones that support wireless charging. One thing to keep in mind is that as this stand is so slim in dimensions, you may only be able to charge your smartphone if it's in the vertical position.
Final words
Wireless technology is our future the only question that arises is it here yet? Yes, you can charge your phone with any of these wireless charging stands, but note that they also have to be plugged into the wall. On a wireless charger, your phone will also charge relatively slow when compared to the conventional USB charger. The wireless charger is a cool gadget to have, but we bet with the years, it will get only better. One day you maybe won't even have to use a wireless USB charger as you will be able to charge your smartphone from your home wireless network. Now that would be cool, wouldn't it?
If you have decided to get yourself a wireless charging stand, there are few things to keep in mind. First, is your smartphone compatible with wireless charging and if so then what standard it supports. The second one is that you might have to remove or buy a different smartphone case when charging your phone.