When looking for an internal hard drive for your computer, you usually come across two type hard drives: desktop and laptop. When you have chosen the form factor of your drive, next thing you should consider is its cache and rounds per minute or rotation speed. Unlike solid state drives, internal hard drives rely on physical data writing into a mechanical disk that rotates around its center axis. Rotation speed can determine data transfer speeds of your internal hard drive – higher the rpm is, higher read/write speeds you can get.
There are two main rotation speeds: 5400 rpm and 7200 rpm. Some brands like Western Digital manufactures very power efficient drives that can change their rotation speed over time, depending on load. Also don't be surprised to find 5900 rpm hard drives on the market.
Your asking "Why would you ever choose an internal hard drive with lower rpm? Always get the highest rpm you can have?" Well, this is only partially a truth. It all depends on what are you going to do with your hard drive. Believe or not, but there are a ton of reasons why you should choose 5400 rpm hard drive over similar 7200 rpm drive. In this article, we have selected top 8 best internal hard drives with a rotation speed of 5400 rpm to help you find your perfect fit.
Related: 20 Best Internal Hard Drives; Fastest Internal Hard Disk Drives; What to look for when choosing a hard drive
Why should you choose a hard drive with 5400 rpm?
Internal hard drive with 5400 rpm turns slower than a drive with 7200 rpm. Yes, that means that files are written to physical disk slower, but that is the only downside of 5400 rpm hard drive.
The biggest advantage of 5400 rpm hard drive is its price – they are usually cheaper than 7200 rpm drives, this is crucial if you need many internal hard drives for example for NAS. Also in the NAS(Network Attached Storage) case, if you already have one or two 5400 rpm hard drives into your NAS and you want to add some extra hard drive, it will also have to be a 5400 rpm drive.
Also if you're going to use your hard drive for storing large files and you won't use them frequently, then you should consider a 5400 rpm hard drive as you can save money with it. However, if you're going to use the drive as system drive and run applications from it, you should get 7200 rpm drive or, even better, a Solid State Drive.
And the last factor – power efficiency. Most of us don't care about it as the difference how much power 5400 and 7200 rpm hard drive uses is very slight, but if you have many drives, numbers add up. As 5400 rpm hard drives rotate slower, they are also more power efficient.
Our Top 8 5400 RPM Hard Drive picks:
1. WD Blue 1TB Desktop Hard Disk Drive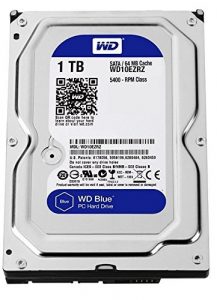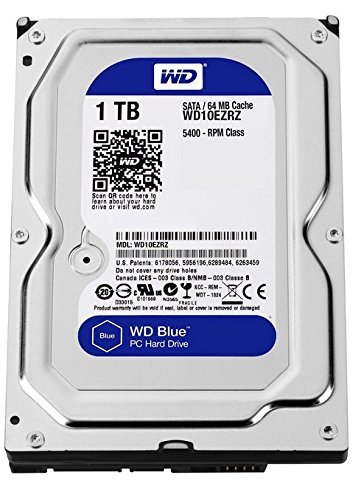 WD Blue is one of the most mainstream and popular internal hard drives you can get. It has SATA 6 Gb/s and 64MB of cache. If you need a good, reliable and cheap drive for your desktop computer, Wd Blue is a good choice.
---
2. Seagate BarraCuda 2TB 2.5-inch
Seagate BarraCuda is one of the most popular and best laptops internal hard drives. 5400 rpm version is available in three capacities. Seagate claims that this is a thinnest and highest-capacity 2.5-Inch Hard Drive available on the market.
---
3. Seagate FireCuda Gaming 2TB SSHD 2.5-Inch
For those who do care about the performance, there is a Seagate FireCuda Gaming SSHD. This is a solid state hybrid drive meaning it not only has a mechanical drive but also has an NAND-based flash memory. This combination makes this drive faster than conventional hard drives. It's very suited for gamers and is the best possible PS4, and Xbox One internal hard drive upgrade.
---
4. 

WD Red NAS 

2TB 

Hard Disk Drive 
WD Red drives are designed for NAS that has up to 8 bays. This hard drive is very reliable and is meant for 24/7 use, comes with three-year warranty. If you got a NAS than WD Red is one of the best drives you can have for your network storage system.
---
5. WD Purple 2TB Surveillance Hard Disk Drive
WD Purple is a hard drive that's made especially for surveillance. For example – security system surveillance. It's great for recording video files as it features reduced video frame loss, has streaming support. If you have a camera that's recording something 24/7, WD Purple is one of your best choices. As this is a 5400 hard drive, you will also get a lower power consumption than a similar 7200 rpm hard drive which is important if drive runs 24/7.
---
6. WD Blue 500GB Mobile Hard Disk Drive
WD Blue Mobile Hard Disk Drive is made for laptops and will work great also with consoles like PS4 or Xbox One. This is a product of Western Digital meaning that will last. It comes with many features like IntelliSeek, Data LifeGuard, and NoTouch Ramp Load Technology.
Great choice if looking for a low capacity 2.5-inch hard drive.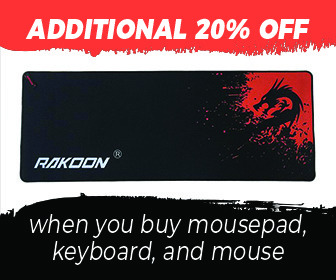 ---
7. Toshiba 1TB Notebook Hard Drive
Toshiba Notebook Hard Drive is another great 2.5-inch drive. It comes with SATA3/SATA 6.0 GB/s and has a cache of 8MB. You can also get it in 320GB and 500GB capacities. This is a great choice if you are on a thigh budget and look for a good quality drive. Performance is average.
---
8. HGST Travelstar 2.5-Inch 1TB
HGST is not so lound but also well known hard drive manifacturer. This is one of the most silent internal hard drives we have tested and it comes with a Bulk Data Encryption to keep your data safe from unwanted eyes. Performance is decent.
Verdict
Before getting yourself a hard drive, you should ask yourself: "What will I use it for?" If mainly for storing passive data, then 5400 rpm hard drive is a great choice – it will save you some money and will be more power efficient.
If you do need to get a 5400 rpm hard drive, we strongly advise you to get one from well-known brands like Seagate, Western Digital or Toshiba. By doing so, you can be sure that these drives will last and perform well. The truth is – some 5400 rpm hard drives are very actual even nowadays like Seagate FireCuda Gaming 2TB SSHD that offers great performance for both – PC users and console gamers who want to upgrade their systems internal hard drive.