Being able to play video games without interruption is key for serious gamers, and using an Xbox One Play and Charge kit will allow you to do just that. Without, you may be waiting what seems like forever to dive back into your new games like Resident Evil 7, or gripping tell-tale games like Life is Strange. Those who won't be able to put down the new Kingdom Heart when it releases should find themselves a play and charge kit below.
Best Xbox One Play and Charge Kits Comparisons Table: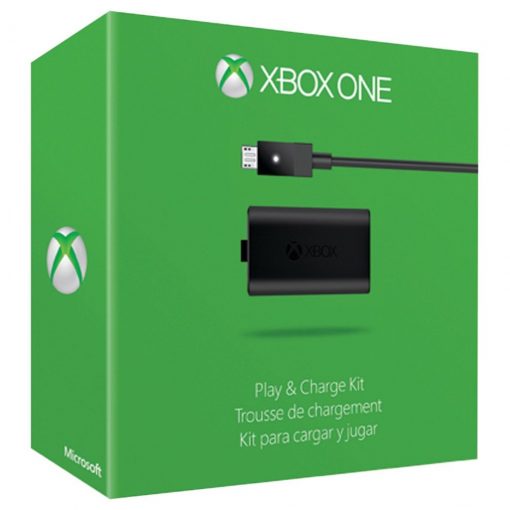 Manufactured by the big company themselves, the aforementioned play and charge kit boasts some features for the typical Xbox One user, including:
Compatibility with wireless controller, and even the newest Xbox Wireless Controller in White
Rechargeable battery pack is lithium-ion
Charging cable for even more convenience
Able to be fully charged in around 4 hours
No more disposable batteries
Breakdown of Xbox One Play and Charge Kit Features
There's nothing worse than throwing away hundreds of dollars on batteries, and with the new Xbox One Play and Charge kit, you can choose a charging cord or a battery pack that's lithium-ion. Regardless, you can have hours of usage on one charge that takes 4 hours or less. With the ability to be used with the newest model of wireless controller, you don't have to wait for another model to come out to adapt to your current controller collection. Say goodbye to disposable batteries and hello to the future where you'll never have to stop playing (unless you have responsibilities, of course).
---
[icons icon="star" color="#dd0000″] Sminiker Play and Charge Kit Review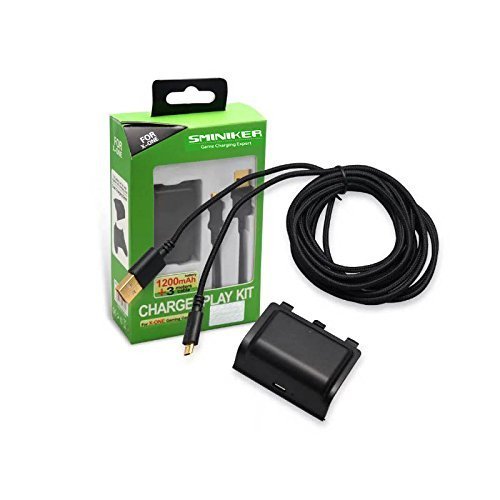 Manufactured by Sminiker Professional, this play and charge kit comes with some attractive features for quite the appealing price. Features include the following:
Dock charging kit
Easy connection capabilities
Short charging time (between 2 and 6 hours)
Recharge while playing
Breakdown of the Features
Whether you want to plug and play or let it sit on the dock for charging, you can do both! Having versatility in something as little but as powerful as a controller will allow you to have a better gaming experience. The average charging time is 5 hours, although it can range from 2 hours to 6 hours maximum. With easy connection capabilities through a USB power cable directly to the controller, plugging in, charging, and playing has never been more comfortable. Just because this isn't Microsoft manufactured, doesn't mean it will harm your controller set (if you're wondering). It's a professional made charging set from a reputable company – and at a very attractive price! Batteries are a thing of the past, and now is the time for modern gaming. With modern gaming comes stylish accessories; the future is now.
---
[icons icon="star" color="#dd0000″] Nyko Power Kit Plus – Play and Charge Kit Xbox One Review
Manufactured by Nyko, this Power Kit Plus is quite the conversation starter. Available for an appealing price that won't break the budget, this gaming accessory boasts quite a few features include:
NiMH rechargeable batteries
Long charge and play cable
Compatible with the wireless Xbox One controller
CE approved; utmost quality and safety
No more need for disposable batteries
Breakdown of the Features
I think it's time for disposable battery manufacturers to step aside or begin dabble in the world of lithium-ion or NiMH rechargeable batteries. Within this charge and play kit, you'll receive two of the highest quality NiMH batteries for the best performance possible, as well as promised longevity while playing. You won't have to charge every few hours. Compatible with the Xbox one controller and CE approved, you can safely use this without harming yourself or damaging your controller. Beyond this, your need for those expensive disposable batteries is eliminated. Those who will be using the charge and play cable will find solace in knowing the length measurements for mobility during usage.
---
[icons icon="star" color="#dd0000″] DreamGEAR Xbox One Charge Kit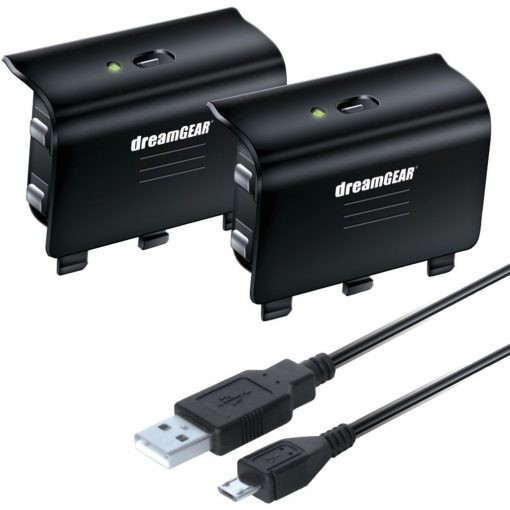 Another affordable charging kit that allows you to play at the same time, this sleek and easy to operate accessory for the Xbox one includes the following features:
Two rechargeable batteries for your Xbox One controller
10-foot sync and charge cable
Removal and insertion is easy as 1-2-3
LED indicator lights for charging
Breakdown of the Features
There's nothing worse than a charging product that doesn't indicate when the product is done charging. Regardless, this can be used while charging and even features a LED indication light that tells you when it's charging and when it's done charging. Beyond this, the sync and charge cable is quite a length of 10 feet, allowing you to sit further away from the television. Those with eye problems or have a weird seating arrangement can thank the gods at dreamGEAR for this one. Batteries do fit right into the Xbox One controller, and it's most certainly one of the easiest tasks to remove and insert said charging system.
---
[icons icon="star" color="#dd0000″] PowerA Play & Charge Kit – Play and Charge Kit Xbox One Review
Manufactured by BD&A, this plug, charge, and play kit is even better in price than some we've mentioned and has some features including the following:
Licensed by Microsoft themselves
Battery solution that's universal
Multiple ways to charge
Breakdown of PowerA Xbox Charge Kit Features
While BD&A manufactures it, it's licensed by Microsoft, so you know you won't be purchasing something that damages your controller. Beyond this, you can either charge by directly plugging into the battery back, or the controller itself while you play. A universal solution, you're able to use this with all of the PowerA charging stands available, as well as the stations. You won't have to go out and buy a compatible dock for this to begin working. Convenience and charging success within one product – and at a great price! You won't have to put down Final Fantasy XV anytime soon, so help Noctis and the boys on their mission! (Even if Prompto's not!) Simplistic in design and usage, you won't have to worry about spending a lot of money on batteries for you or your kids again.
---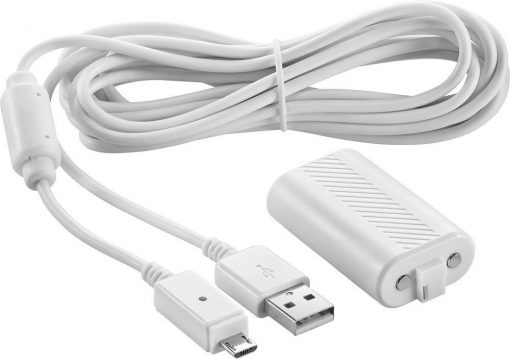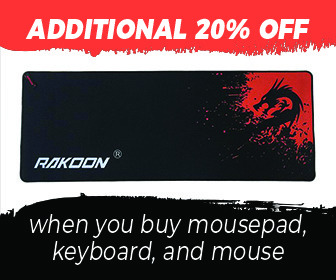 Manufactured by Insignia, this highly-requested charge and play kit have flown off the shelves all around. Available at a higher, but still attractive price for what it offers, features include the following:
Compatible with all Xbox One controllers
Ample charging cable of 10 feet
USB to micro-USB connection
Breakdown of Insignia Xbox Charge Kit Features
One of the primary selling points of this play and charge kit is that it does have an ample length of the charging cable. Being 10-feet long, and using the standard USB to micro-USB, you don't have to worry about any adapters or cords getting in your way because of the composition of this cord. Rarely tangled and giving great length, you can use this cord with ease without tying it up or tangling it during playing. There's nothing worse than a controller not working it's best because it's caught up – allowing you to charge and play perfectly at the same time.
---
[icons icon="star" color="#dd0000″] Smatree Rechargeable NI-MH Battery, Dual-Channel Charger for Xbox One Wireless Controller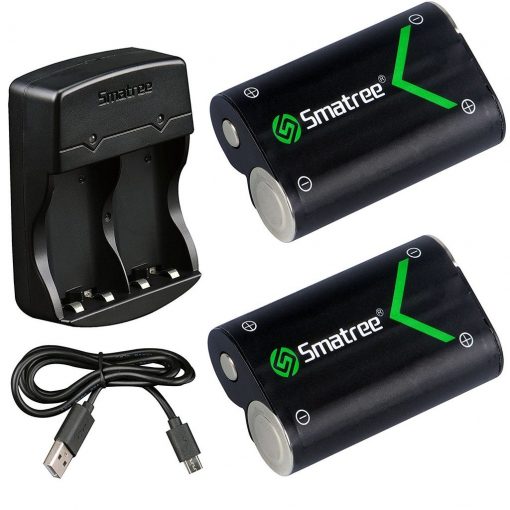 Manufactured by Smatree, this rechargeable battery set will allow you to play and charge at the same time, even with the brand-new Xbox One S wireless controller. There's nothing worse than buying adapters for new items, but you don't have to do that with this one. Other features of this rechargeable battery set for the wireless controller include the following:
Longer running time than the typical OEM battery
Overcharging time protection
Over-voltage protection
Overheat protection
Breakdown of the Features
With all three overcharging, overheating, and over-voltage protection, you don't have to worry about compromising the quality of the charge or the controller itself. You won't ruin or burn out the power of the controller, and there's even an indicator light to enable the controller to stop charging after it's fully charged. Having the aforementioned promotes longevity for charging, using, and the controller itself. Beyond this, the running time is longer than your typical OEM battery.