We all love to play video games, but to get the best experience out of it – you must have a qualitative gaming setup. The advanced gamers will tell you, that coolers are a must have thing, when it comes to hardcore gaming. High-quality games are consuming a lot of power and sometimes when you check the temperature of your computer or gaming console, after long hours of gaming – feels like you can cook eggs on it.
It is proven that overheating is indeed harmful to computers and other gaming devices. If you are looking for a cooling system for your Xbox One, you have come to the right place.
#1 S Vertical Stand Cooling Fan and Controller Charging Station with Game Storage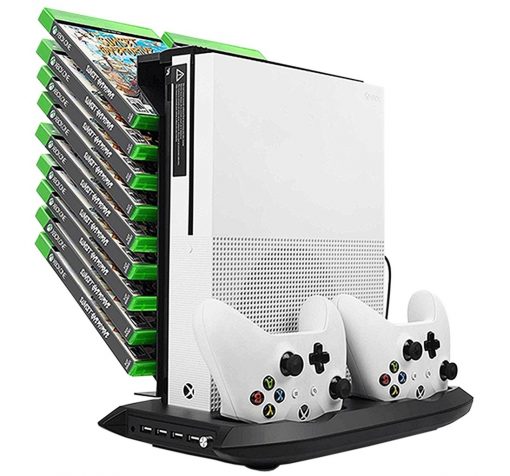 It can't get any better. With this beauty, you can not only cool your Xbox but store your games in one place and charge your controllers as well. Its distinctive look and cool design will fit in your bedroom and you can accommodate it to your preferences. The cool thing about this product is that you the game storage can be put on the the side of your Xbox one or you can use it as a stand-alone rack. Moreover, most of the coolers are noisy and disturbing, but not this one. The cooling fans are quiet and you can turn them on and off with one single button.
The S Vertical Stand Cooling Fan would be almost perfect if only the controller charger would be a little bit efficient. Don't get this wrong – they work very well, but the charging speed is a bit slow. On the other hand – while you are playing games by yourself, you don't need all your controllers, right? Also, this a bit slow charging will help to avoid overcharging and damaging your controllers.
---
#2 SUNKY Xbox One Cooling Fan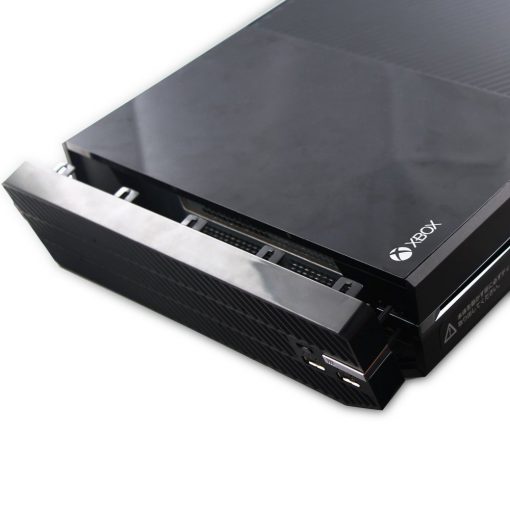 The SUNKY is a well know accessories producer for gaming consoles. It has 2 USB ports and a really cool design. If you ask our mother Google, you will find many good reviews about this product. Differently, from other Xbox one coolers, SUNKY Xbox One cooling fan will not offer you gaming storage or other features. The price is affordable and you will get what you pay for. Only disadvantage would be its noise. Sometimes, after longer hours of gaming, when the Xbox is too warm, SUNKY cooling fan goes on full speed.
---
#3 Xbox One S Vertical Stand with Cooling Fan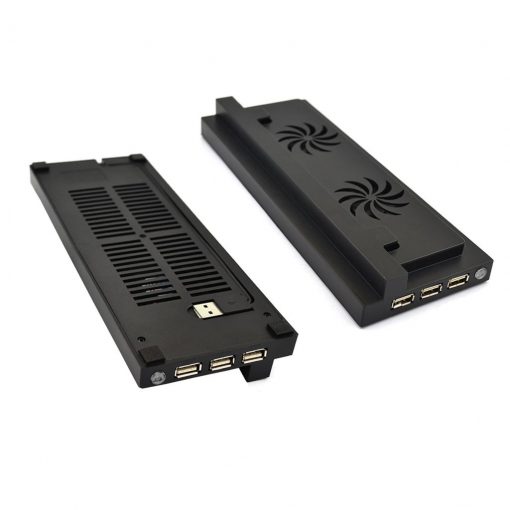 Its all in one vertical stand allows your consoles to sit vertically, at the same time cooling the console with two built in fans. This information might be hard to swallow for non-experience gamers, but this Xbox One S Vertical Cooling Fan includes two rechargeable lithium ion batteries. Basically, what this means, is that your storage and charging will work in an efficient way. A great feature is, that batteries can be charged through included play and charge cable, allowing you to enjoy gaming without any interruptions.
---
#4 Zadii Vertical Stand Cooling Fan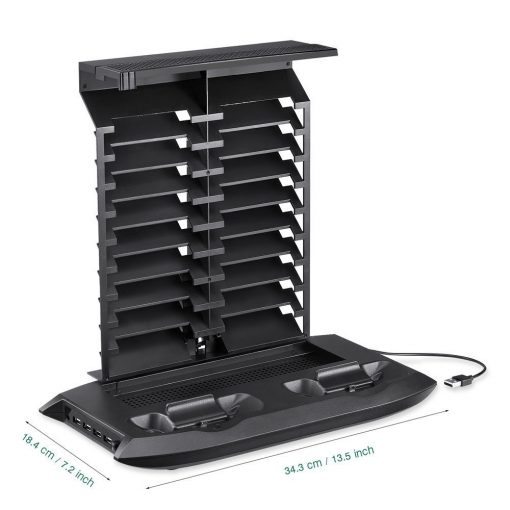 One cooler – many features. This stable vertical Xbox one cooler has ports for charging your consoles, 18 slots to store games and 4 extra USB ports. Can it get any better? For gamers who understand the real deal, it is worth to mention that the cooler works with 3000RPM speed, and what is even more surprising – it's quiet and not making any noises. Dual charging ports work great, without overcharging your consoles.
---
#5 YKS 4-in-1 Multifunction Cooling Fan for Xbox One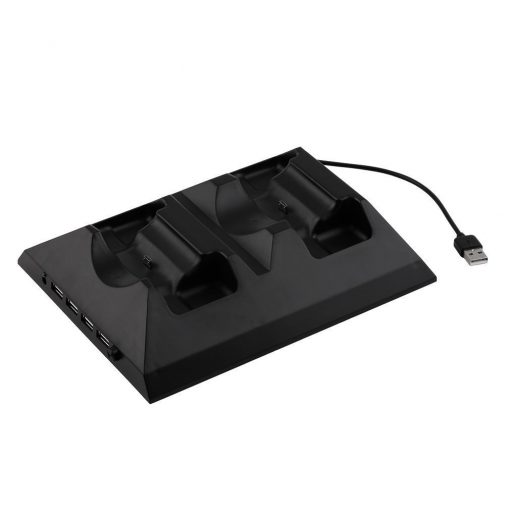 Its silence will let you enjoy your gaming and you will barely hear it. YKS cooling system adjusts its flow of air and will keep your Xbox one constantly cool. This is a perfect deal for gamers who have been frustrated with the Dual Shock cords being loose and falling out, while gaming. You can be sure that controllers will fit snugly and the charging speed is above the average. This is definitely a must have cooler and it will be 100% better than the Xbox one coolers what you find at your local Walmart.
---
#6 FastSnail Xbox One S Vertical Stand Cooling Fan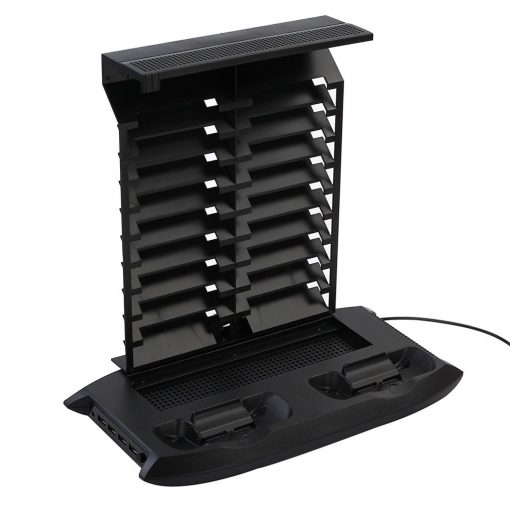 This great designed cooler got 18 slots to store your Xbox discs, USB and HUB ports. You can find various tests on this baby. It stands perfectly and without shaking. Many other coolers will not offer you cooler + stand for your games. At first, it may sound like nothing special, but having your controllers and games at one place allows you to maximize your game-space and maintain organized and clean space. The only bad side of this cooler is that you have to turn it on by yourself. It would be indeed great improvement if the cooler would automatically detect when the Xbox one temperature is increasing.
---
#7 New Replacement Internal Cooling Fan for Xbox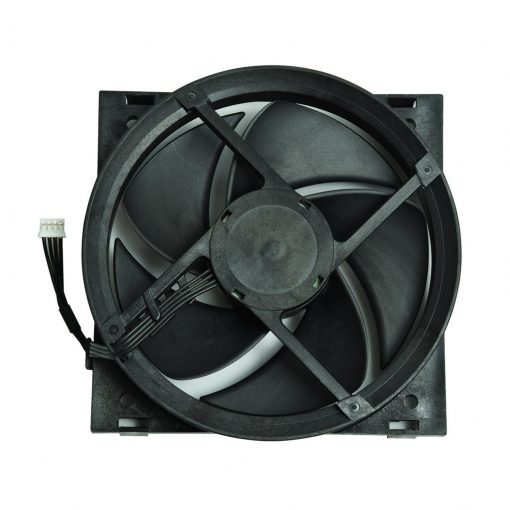 This is a little bit advanced toy for Xbox users. Not like other coolers, this one must be installed on your Xbox. You can find "How to" guide here – Xbox One Fan replacement
Steps are pretty easy and everyone should understand how to do it. These installed Xbox coolers are much more powerful and efficient than the regular ones. If you are afraid of installing it by yourself, it is recommended to ask professionals for a hand. Besides that, great and affordable cooler for your Xbox one.
---
#8 MoKo Xbox One Cooling Fan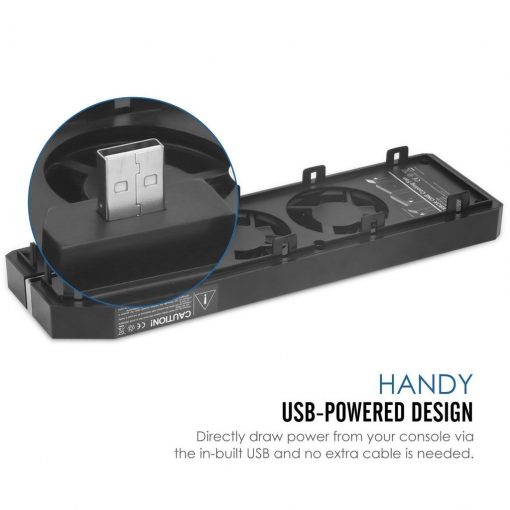 Looks cool, works perfect and is convenient – that could be a slogan for this Xbox one cooler. The cool thing about this product is that it has a dust cover. The fan is accelerating air circulation and it has two USB ports. Whether it's your gaming consoles, mobile phone or external hard drive for xbox – they will be charged efficiently and without overheating.
---
#9 Gam3Gear Auto-Sensing External Cooling Fan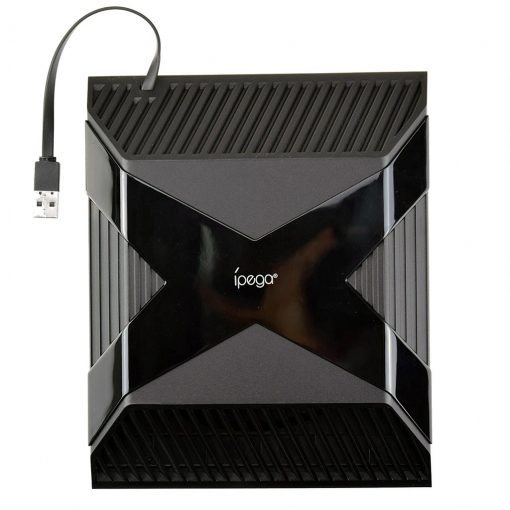 Simpler but still great cooler for Xbox one consoles. Its fans high-speed will start running within a minute and you will not even notice that it is working. Efficient heat dissipation and quiet sound make this cooler a must have thing for real Xbox gamers. This is a great alternative for youngsters, who got a limited budget. It's cheap, but still, will do its job perfectly and let you enjoy hours of gaming.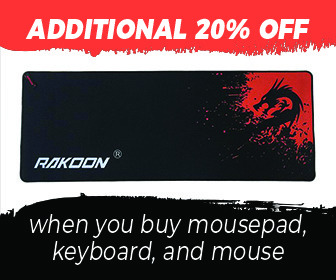 ---
#10 XFUNY(TM) Professional Cooling Fan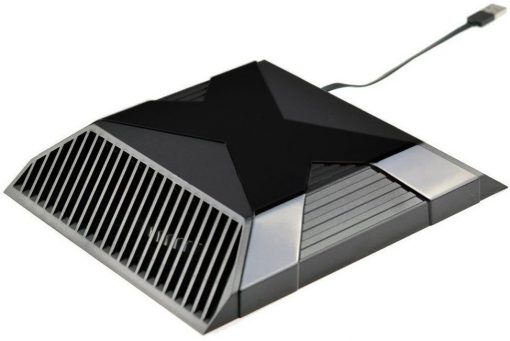 XFUNY(TM) Professional Cooling Fan is using an intercooler, which is the best way how to protect your Xbox one against poorly ventilated gaming setups. Basically, what it does, is pulling hot air out from your Xbox, in that way maintaining and keeping your console cool. It has a great feature – built-in temperature sensing technology. This is a great thing for games, who are too lazy to go and turn on their coolers while being in a middle of a game. It uses only one USB port, in that way allowing you to charge your consoles and access to other ports on the console.
---
#11 White Xbox One S Cooling Fan and Controller Charger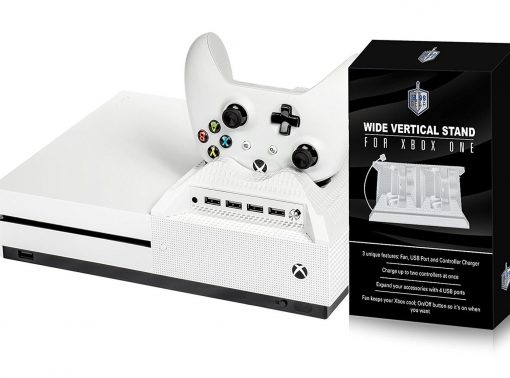 Convenient setup for a reasonable price. It will not only keep your Xbox cool but also allow you to charge controllers, while you are in a middle of a game. Xbox One users will agree, that sometimes it is complicated and annoying to charge devices with the Xbox while trying to finish the game. It is easy to setup this cooler and with your white Xbox one, it will look just perfectly.
---
Conclusion
There are a lot of options out there. Coolers with storage for your games up to installed coolers. Check what other people are saying and look up for different reviews. Depending on your budget, you can find a really good deals on Xbox one coolers.
Enjoy your gaming!