Sick of wires and want to try wireless charging that your smartphone supports? Take a look at wireless charging pads. They are cheapest wireless charging devices you can get on the market. They Come in various designs to fit your house or apartment interior as you probably won't plug them out from the power outlet when you did with charging your phone as you would with a conventional USB cable based charger. We have created a list of top 20 best wireless charging pads available on the market. Take a look!
Related: Best USB Wall Chargers, The Best Travel Chargers, Best micro USB cables, Apple charging stations, Wireless Charging Stands


1 coil, 2 coils or 3 coils?
Maybe you have noticed that when looking for wireless charging stand or a wireless charging pad often you can see the number of coils.What do these coils do and does they affect the charging speed? The answer is that through these coils the power is transmitted wirelessly to your device. This is done through an electrical induction.
But how does the count of them affects charging? More coils mean there is more area in which your device can charge. This means that you can place your smartphone on wireless charging pad with less precision, place it horizontally and vertically. However, when you compare the speed of 1 coil charging pad and three coils charging pad, you won't see a huge difference. The main thing that affects speed is charging pad power measured in Watts.
Our Top 20 wireless charging stand picks
Samsung EP-PG920IBUGUS Wireless Charging Pad is one of the best charging pads out there for Samsung smartphone. It comes in one of two colors: black or white and features circle design featuring lettering "Samsung" in the middle. Not only it can charge Samsung devices but also any other device that's compatible with Qi. In the box, you get Wireless Charging Pad, 2A Wall Charger, User Manual, Warranty Card. Keep in mind that Samsung wireless charging Pad is way cheaper than Samsung charging stand.
---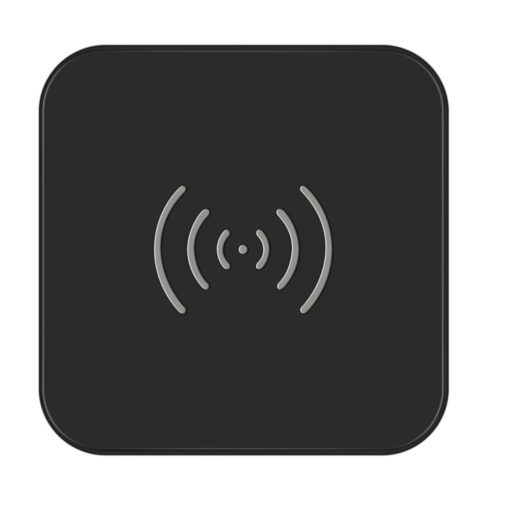 Choetech T511 is a very simple yet smart-looking wireless charging pad. It has a power of 7.5W. It's completely black and features a wireless logo on the top as well as a blue indicator light. 2 Amps AC adapter is required to power this charging pad. The Choetech T511 only works with Qi enables devices like Nexus 5, Galaxy S8, Galaxy S8 Plus, Galaxy S7. Note: it will also work with devices that don't feature wireless charging directly but can do it through the special receiver.
---
JETech Ultra-Slim Wireless Charging Pad is one of the most stylish charging pads on the market. It features black plastic that has red edges all around perimeter inserted into a transparent glass to make it look more desirable. Works with all Qi-enabled devices. JETech features a power-efficient idle mode, with this mode you can never overcharge your battery and you don't waste energy. In the box, you get a JETech Wireless Charger and micro USB cable that both come with a 6-month warranty.
---
This charging pad is one of our favorites as it features a very slim and minimalistic design, has enough of power – 10W and has a large surface area to place even large smartphones. It works with all Qi-enabled devices and will also work if your device doesn't support wireless charging, but you use a receiver. In the box, you get Wireless Charging PAD, Fast Charge 2A Wall Charger, Micro USB Cable and a User Manual.
---
Anker offers one of the most well build wireless charging pads on the market. Yes, it may cost a bit more than other similar charging pads, but it's worth it. It works great will all Qi-enabled devices and features two modes – 5W or normal charge mode or 10W or fast charge mode. In the box, you get an Anker PowerPort Qi 10, 3ft Micro USB cable, 18-month warranty. Sadly you don't get a wall charger, and the wireless charging pad features only one coil meaning there is less space for moving your device around while charging it.
---
This is another great wireless charger pad from Anker. The Fast Wireless Charger PowerPort is very slim in dimensions despite that it holds your device in place without any problems with its anti-slip rubber all around the edges of the charging pad. It also features temperature control which turns on at 107 degrees Fahrenheit to keep your device safe. All that with an included Micro USB cable (sadly no wall charger) and 18-month warranty makes this pad a great choice.
---
Choetech T513 is another very simple yet robust and fast wireless charger. It features a rectangular design with rounded edges. Charging pad itself is quite large and features three coils so you shouldn't worry about placing it a little bit off the charger. In the box, you get the CHOE 3 Coils Stadium Wireless Charger, USB Charging Cable that is 1.2 meters long and a User Manual. This charging pad supports all Qi-enabled devices.
---
Samsung mini Wireless Charging Pad is one of the nicest charging pads out there. It features a squire design with rounded corners and inscription of the brand name "Samsung". In hands, it feels very durable and well made. Unlike as with other cheaper wireless charging pads, Samsung has included a 2A wall charger. This is a smaller version of Samsung EP-PG920IBUGUS Wireless Charging Pad, so it doesn't feature a large surface area. Great for traveling around.
---
INTS Qi Wireless Charger is another very simple square shaped wireless charging pad that is available in four color variations: black side, G2 fast charger color, gold side, silver side. The package you get the Single-Coil Wireless Charger, micro USB cable, user manual as well as 30 days money back warranty.
---
As we all know Apple doesn't offer iPhones with wireless charging and that's a shame because Samsung and other well-known brands do. However, Kusda – a third-party manufacturer has come up with a Qi iPhone Wireless Charger kit so iPhone users can enjoy the benefits of charging smartphone wirelessly. You get a wireless charging pad itself and a receiver or a very small, thin paper pad that you have to attach to the back of your iPhone and plug it in. If you use a proper case, you won't even notice it being there. Now you can charge your iPhone wirelessly.
---
Samsung Tray Dual Wireless Charging Pad is perfect for those who want to charge two Qi-enabled devices at the same time. Perfect for those who use two smartphones or has family members that use a smartphone with supported wireless charging. This charging stand features a very solid and durable build. You can immediately tell that it's made by a Samsung, not a small third-party manufacturer that makes devices from a thin cheap plastic gluing everything together. it features two indicators LED light to show which phone is charging and which one is fully charged. This charging stand can be powered via USB cable.
---
PLESON offers us a very simple wireless charging pad that's ultra slim with a width of 0.25 inches making it one of the slimmest charging pads on the market. Pleson offers a hassle-free warranty meaning that in 60 days after purchase you can have a 100% full money back warranty if anything is wrong with your charging pad. It charges your phone if it's in an 8mm distance and it's sleep-friendly. The LED indicator will turn off while your device is charging. A great charging pad for a great price.
---
iDOO also offers a circular shape wireless charging pad. Why did we include it into our list? Mainly because it's super cheap. You can get one for under 6$! That's just a number that anyone with a smartphone that supports wireless charging can afford. If you want to test wireless charging but don't want to play a large price tag, then get iDOO wireless charging pad and test wireless charging yourself. Despite the low price, it's not a bad device. Ir runs great and works will all Qi-enabled devices.
---
This wireless charger pad offers a super simple and user-friendly design. It's made entirely from black mat plastic featuring a white stripe around it. Soft LED light makes this great device to sleep next to. No sharp red, blue or green lights that hurt your sleep. It also features tons of Safety Protection features like over-voltage prevention, short-circuits prevention, over-current prevention, and temperature control. Works with all Qi-enabled devices.
---
Got two smartphones that can be charged wirelessly? Maybe you and your family members have the devices that can support wireless charging? If so why to buy two wireless charging pads? Itian offers a Q300 Dual Qi Wireless Charging Pad that can charge two Qi-enabled devices at the same time. The AC adapter is included, but it doesn't feature a standard USB-micro cable but a DC connector. Itian Q300 Dual has a warranty of 1 year. Make sure that the case of your smartphone is no thicker than 3mm as it may result in a slower and no charging at all.
---
CHOETECH offers us another great product, this time it is a wireless charging pad that features a USB C cable and port. The design is very basic – square shape with rounded edges featuring inscription of "CHOETECH." With USB type C cable it's much easier to plug your device, or in this case wireless charger, to power, as you don't have to worry that you can plug it upside down. This charging pad feels very well built and has been certified by CE, RoHS, and FCC. It's fully compatible with all Qi-enabled devices or devices that use a receiver to be charged wirelessly (for example iPhone). Inside the box, you get a 1.2 meter long USB C to USB A Cable, the charging pad itself and a user manual.
---
SUNG-LL Universal Qi Wireless Charging Pad is very affordable and stylish. You can personalize it and get it in one of six colors. Works with all Qi enabled devices flawlessly. However, some users complain about build quality that it's not good enough. Overall we think this is a great wireless charging pad for the great money.
---

Pictek Wireless Charger is a very simple wireless charging pad that is available in two versions: Standard and Fast. It's super friendly to those who struggle to sleep when anything of light is on – blue, green or led light from the indicator of your chargrging pad. So Pictek uses a white breathing light so you can sleep peacfully. It is super slim with a width of only 7mm and weight of 60 grams.
---
SurgeDisk offers us a Wireless Charger that's very similar to chargers like the Pictek Wireless Charger, Ultra Slim Wireless Charger, and Samsung Wireless Charging Pad. However, SurgeDisk product stands out from the competition with its Bamboo design giving this charging pad a more premium feel. It's more pleasant to touch wood, not plastic. It also features a soft white breathing light helping you sleep peacefully while your smartphone is charging. It also comes with a bunch of security features like over-voltage protection, under-voltage protection and also short-circuit prevention. This charging pad weighs in at 60 grams and is 1/4 inch thick and has a diameter of 4 inches. Combining all previously mentioned at a very affordable price you get one great charger that will fit good in interiors that feature wood parts.