There are many video game storage towers available on the market, but choosing a cheap, sturdy one can prove to be difficult. To aid your decision, we have compiled and compared the top 15 video game storage towers.
1. Atlantic 2823-5872 Rotating Cube 4-Tier Espresso Multimedia Storage Tower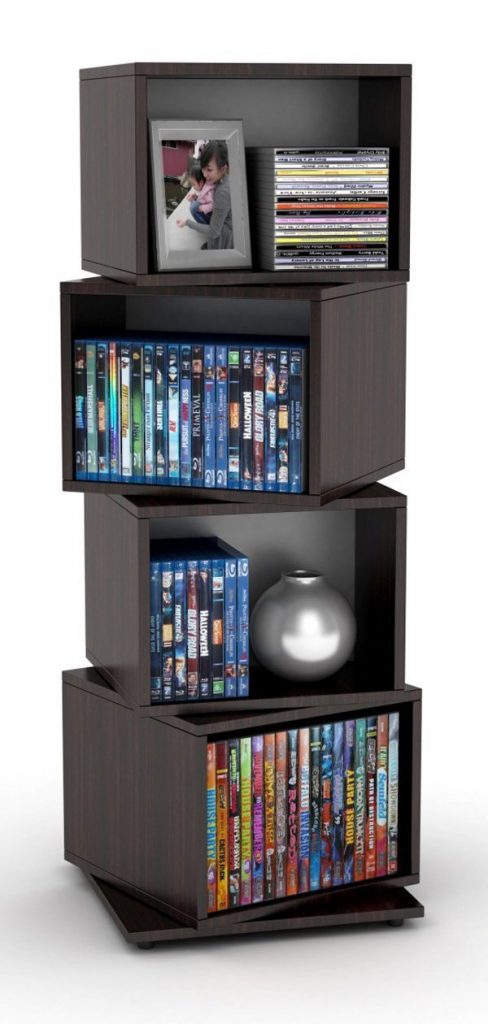 This product is not as cheap as the other products on this list but is worth its price. It is textured with an aesthetically pleasing wood grain design and has a sturdy composite feel.
However, its sluggish tiers do not rotate independently of each other. The inside of the cubes is white and plastic-like which is disliked by some customers.
Main Features
It holds up to 216 CDs or 144 DVDs. It comprises of 4 stacked cubes; the upper tier is fixed, while the lower three rotate. The steel rod crossbar support helps provide extra stability. The product is black and has a non-marring rubber foot to protect floors.
2. PS4 Multifunctional Game Disk Storage Tower Holder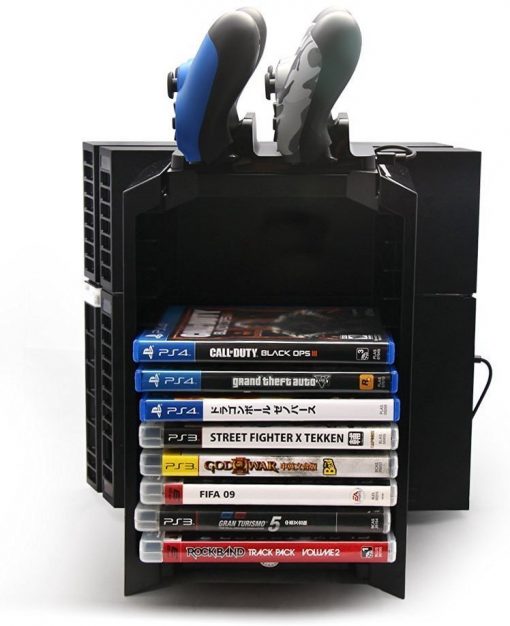 Although slightly pricier than the other towers, this sturdy product saves a lot of space. The charger is detachable but can be held in place with clear shipping tape.
However, it does not have the capacity to hold a lot of DVDs.
Main Features
Not only can this product hold PS4 games, Blu-ray films, and DVDs, it also supports the PlayStation 4 and two micro USB ports. It allows you to charge the controllers simultaneously. The tower is made of black, sturdy plastic that is easy to detach as well as put together.
3. Atlantic Summit Media Cabinet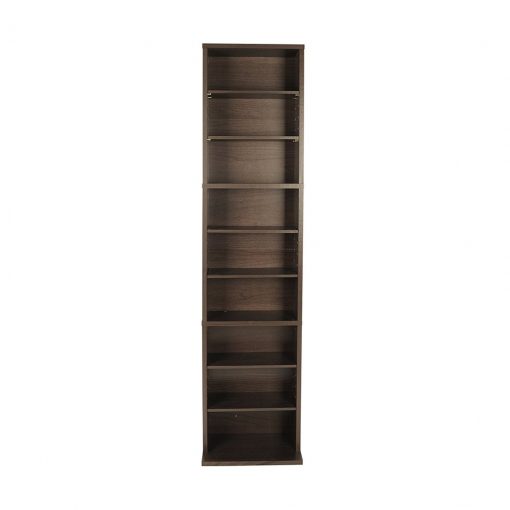 Holding positive reviews, this inexpensive tower has an elegant espresso finish. Its nine vertical shelves are adjustable for organizational purposes, and it has a wide base that aids stability.
However, one must be careful while assembling the cabinet as its initial instability can lead to breakage.
Main Features
It holds up to 261 CDs, 114 DVDs or 132 Blu-Ray discs. It only comes in one color and has a big storage capacity.
4. Atlantic 83035729 Venus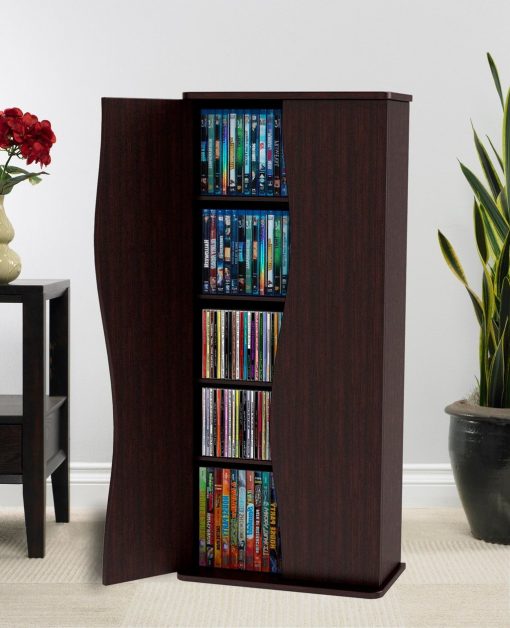 Resembling a cupboard, this tower is easy to assemble as it does not require any tools. It is sturdy enough to support the weight of over 100 CDs.
A drawback, however, is that it is only waist length. One must keep this crucial detail in mind while purchasing the tower.
Main Features
The product holds up to 198 CDs or 88 DVDs. It has an extended base for greater stability, and its curved doors contribute to its stylishness. It has five sliding dividers, and the shelves are adjustable for storage flexibility. There are two fixed shelves and four adjustable shelves.
5. Effect Wall Mounted Floating Media Console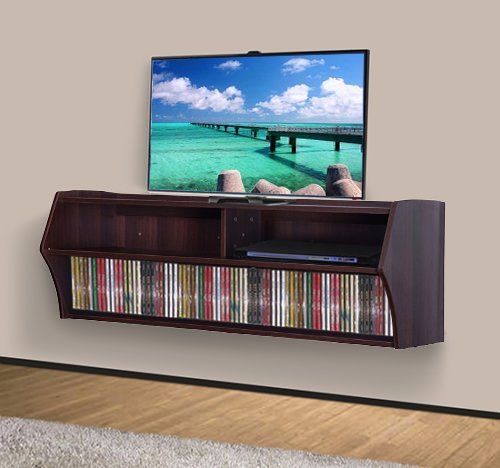 Although expensive, the product's shelves contain enough space to house a wide number of DVDs. Another advantage is that the Perfect customer service is prompt and accommodating, thus offering a full refund if any customer is left dissatisfied.
Customers must check for scratches along the wood surface.
Main Features
It includes two middle shelves, one at the bottom and an upper console. The bottom shelf can store over 100 Blu-ray disks. It also contains a hidden wire and cable management system.
6. Nintendo Wii Aperture Gaming Storage Tower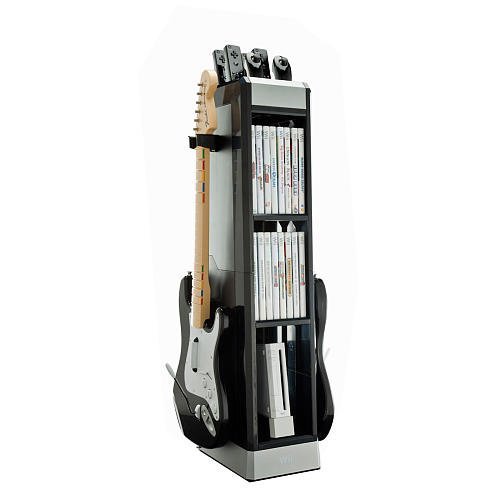 Main Features
The integrated controller dock is molded to hold Wii remotes, while the ribbed shelves are designed to hold Wii games and DVDs. Moreover, the ventilated and recessed storage bay houses the Wii gaming console. The soft guitar hooks also hold gaming guitar controllers. It has an effortless snap-together design.
A drawback, however, is that this product is 'overpriced' on Amazon.
7. Stackable Clear Plastic DVD Holder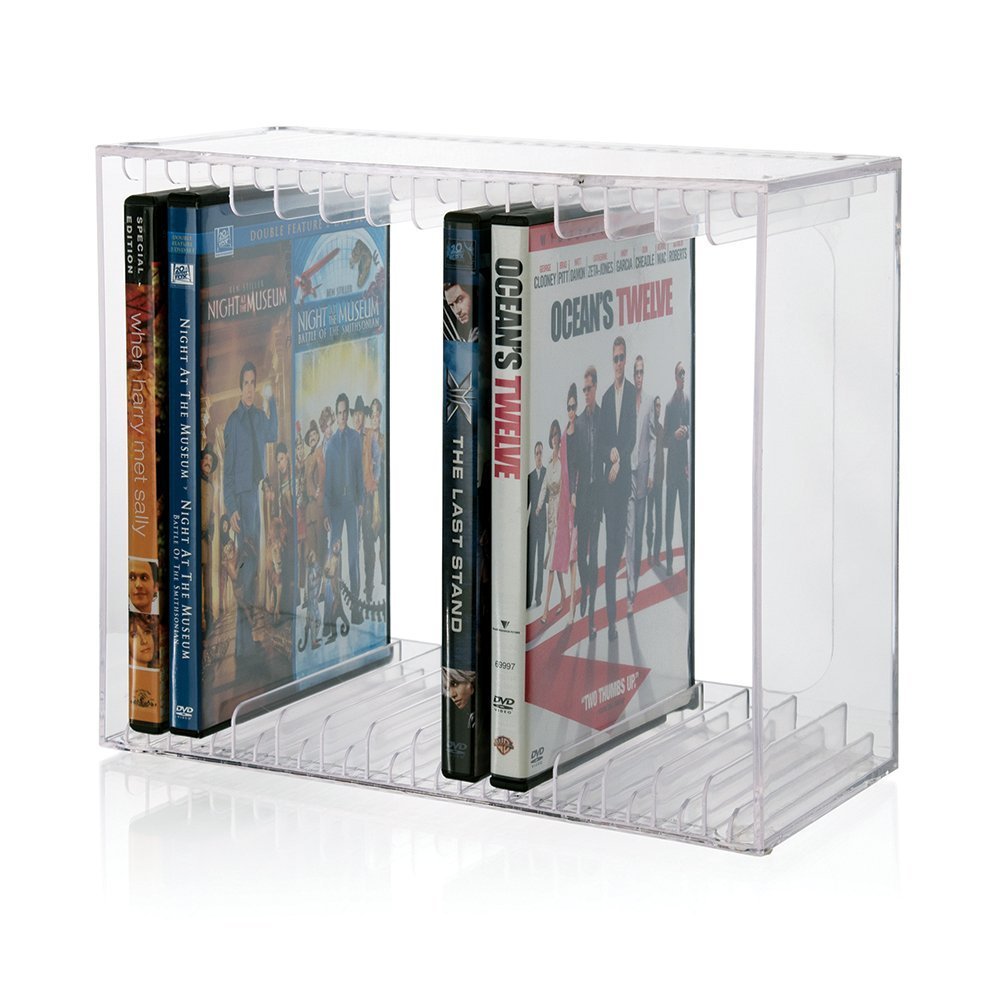 This video game storage is almost as cheap as the mDesign storage bin. Its durable plastic does not crack or melt while drilling, and it's bigger than its rival product mentioned above. Since this product is clear and transparent, it can blend into any decor.
One must keep a look out for cracks or any other damage this product might face during shipping. Stackable holds up to 14 games or DVD.
8. Furinno 99557BK/GY Turn-N-Tube 4-Tier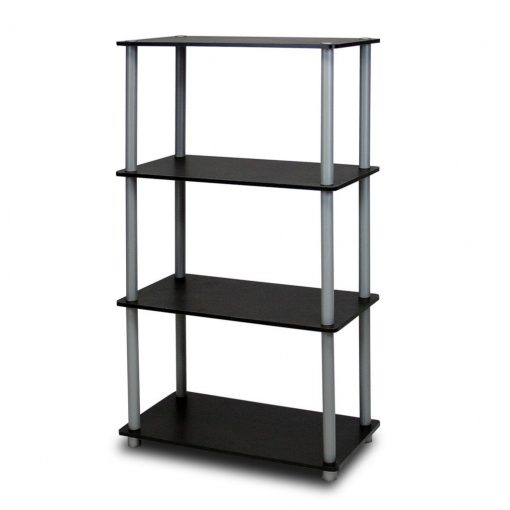 This cheap, stylish product comes in two colors, gray and black. Each of the four wooden planks can house a few CDs, but they will need to be piled up on top of each other. This may make it difficult to read the CD titles, but it saves loads of space and can be easily moved around, with the CDs still balanced on it.
However, the interconnecting poles are not made of metal but ordinary plastic.
Main Features
The product has a sturdy flat surface and comes in the form of a shelf, so no screws need to be hammered in.
9. Artisan Modern Wave Metal 2 x 35 Disc DVD/Blu-ray Storage Rack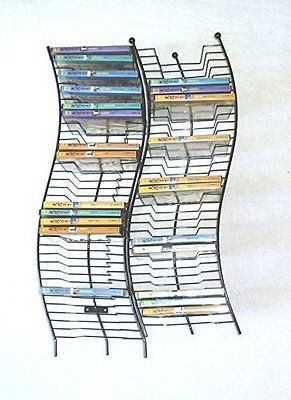 With a higher-than-expected price, the frame of this modern product can be either attached to the wall or kept on ground level. It can be used vertically or horizontally. Its aesthetic wave design contributes to its stylish fit.
However, this tower can only hold individual DVDs rather than a box of DVDs. It cannot be hung with the floor base on, and if removed, it gives an unfinished touch.
Main Features
The sturdy shelves can store up to 30 CDs. The racks are connected to make one long DVD rack, and the tower is made from a thick, sturdy metal frame.
10. NavePoint Media Stand Glass 4 Shelf Audio Video Component Storage Tower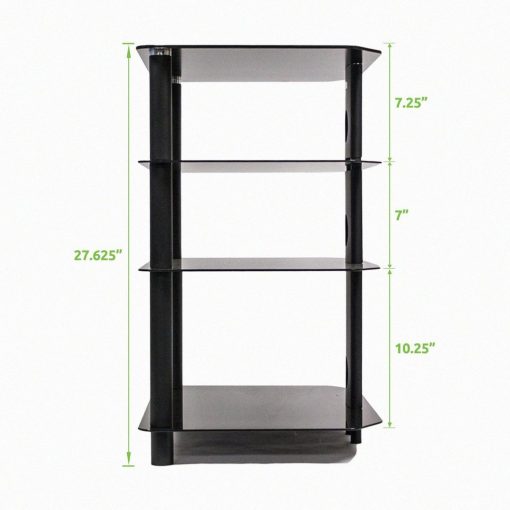 Though expensive, this product is easy to assemble and made of a sturdy metal frame. The only drawback is that it does not have enough depth and may seem inconvenient to some.
It has four shelves that are made of tempered glass and includes a cable management system. It can carry a total weight of 88 pounds per shelf, and CDs can be stacked on top of one another.
11. Leslie Dame CDV-500 High-Capacity Oak Veneer Multimedia Storage Rack

Although this lightweight product is the priciest so far, it has excellent quality. The oak rack is adjustable, and the CDs can be stored in a versatile manner.
However, one must be aware of the packaging as in some cases, shipping damages the product.
Main Features
The tall product contains ten shelves that can hold up to 500 CDs, 240 DVDs, and 120 VHS tapes. It has a deluxe oak finish.
12. Venture Horizon Revolving Media Tower
This is the only sturdy tower so far that can hold such a large quantity of DVDs. It can smoothly rotate 360 degrees and is available in different colors. It does not take up too much space and is easy to assemble.
However, there might be some minor issue with the screws and fitting.
Main Features
It houses up to 612 CDs or 288 DVDs, and the swivel plate is made of "super-strong" fiberglass. Nearly all shelves are adjustable. It is available in oak, cherry, walnut and black colors. It is constructed from durable, stain-resistant, laminated wood composites and is easy to clean.
13. WE Furniture 41
Although a little pricey, the tower is constructed with rich, textured wood. It is safely secured with double glass doors that allow the CDs to sit safely on the shelves and keep out dust.
However, it may take a time to assemble this product due to unclear instructions.
Main Features
This cabinet can store up to 100 DVDs, CDs, or discs. It has a stylish and sturdy design. It includes four colors: driftwood, espresso, black and brown.
14. mDesign Stackable Household Storage Bin
Though it's not really a game storage tower, it's the cheapest game storage you can get.
Most reviews on this storage bin are positive, and customers seem happy with it.
However, barcodes are placed all over the product, so removing them properly to avoid any glue residue can be tricky.
Main Features
The most highlighted feature of this product is that it is large, sturdy, and clear. Since it is built with hard plastic, the chances of it breaking are very low. It stores up to 27 DVDs and PS4 and Xbox One games.
Conclusion
After careful sifting, here are some key points to help customers with their decision:
The Venture Horizon Revolving Media Tower can hold the most DVDs.
The Stackable Clear Plastic DVD Holder can hold the least DVDs and is the cheapest.
Based on price and quality, all towers mentioned in this article will appeal to different people. We hope this detailed review was helpful and you can decide the most suitable DVD tower based on your needs.